Welcome to our latest drawing adventure! Today, we're going to learn how to draw The Punisher, an iconic and complex character from the Marvel Universe. Known for his relentless pursuit of justice, The Punisher is a powerful figure that has captivated fans for decades. So, why not grab your pencils and paper, and let's bring this legendary character to life!
Throughout this guide, we'll explore The Punisher's background, his unique appearance, and provide valuable drawing tips to help you create a stunning Punisher drawing.
The Punisher: A Glimpse into His Story and Appearance
Before we delve into drawing tips, let's take a moment to appreciate the rich backstory and distinctive design of The Punisher. Created by writer Gerry Conway and artists John Romita Sr. and Ross Andru, The Punisher first appeared in 1974 as a guest character in a Spider-Man comic. Also known as Frank Castle, he is a former Marine who becomes a vigilante after his family is murdered by the mob.
Driven by vengeance, The Punisher wages a one-man war against crime, utilizing his exceptional combat skills and an arsenal of weapons. While his methods often put him at odds with other Marvel heroes, his unwavering commitment to justice has earned him a loyal following.
When it comes to appearance, The Punisher is instantly recognizable by his iconic white skull emblem emblazoned on his chest. His tactical gear, military-style haircut, and stern expression all contribute to his imposing presence. As you work on your Punisher drawing, keep these distinct features in mind to capture the essence of this compelling character.
Introduction to the Drawing Guide: Tips for Sketching The Punisher
Now that we've explored The Punisher's background, let's dive into some helpful tips for creating your very own Punisher drawing. Remember, practice is key, so be patient and enjoy the artistic journey!
Tip 1: Use Basic Shapes as a Foundation
Start by breaking down The Punisher's form into simple shapes, like circles, ovals, and simple lines. This technique will help you establish accurate proportions and create a solid foundation for your drawing.
Tip 2: Focus on Facial Features and Expression
The Punisher's stern expression is a crucial aspect of his character. Pay close attention to his eyes, eyebrows, and mouth to convey his determination and intensity.
Tip 3: Study Reference Images
Collect reference images of The Punisher from various sources, such as comic books, movies, and action figures. Studying different interpretations of the character will inspire your creativity and help you capture his likeness accurately.
Tip 4: Emphasize the Iconic Skull Emblem
Don't forget to include The Punisher's signature white skull emblem on his chest. This distinctive feature sets him apart from other Marvel characters and is essential to his identity.
Tip 5: Experiment with Line Weight and Shading
Vary your line weight to add depth and interest to your Punisher drawing. Use thicker lines for the character's outline and thinner lines for details and shading. Also, practice different shading techniques to create a more dynamic and realistic look.
Tip 6: Consider Adding Accessories and Weapons
As a skilled combatant with an extensive arsenal, The Punisher often wields various weapons and tactical gear. Including these elements in your drawing can enhance its authenticity and make your character look more dynamic.
Tip 7: Incorporate Other Marvel Characters or a Background
To create an engaging scene, consider adding other Marvel characters like Daredevil, Deadpool, or Hawkeye. Alternatively, you can include a background that reflects his vigilante activities, such as a cityscape or a gritty alleyway.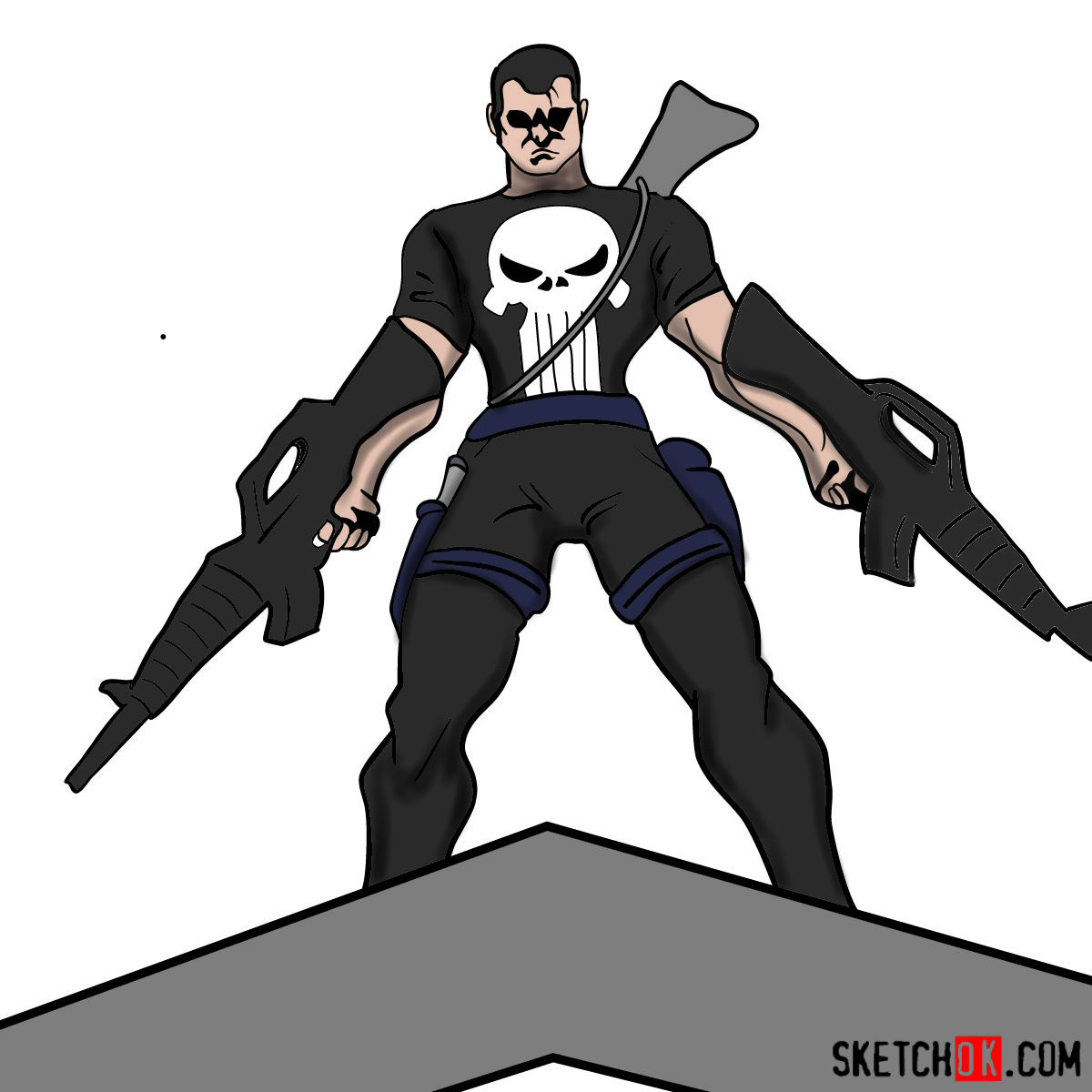 Wrap up Your Artistic Journey with The Punisher
By following these tips and embracing the creative process, you'll soon have a fantastic Punisher drawing to be proud of. Remember, art is a journey, so enjoy every step and never stop learning. Most importantly, have fun and let your imagination run wild!
Once you've completed your Punisher masterpiece, be sure to share it with friends, family, or on social media to showcase your artistic talent. If this tutorial has inspired you, feel free to check out our other guides on drawing Marvel characters.
Lastly, if you'd like to support my work and future tutorials, please consider buying me a coffee. Your support helps me continue creating valuable content for artists like you. Thank you, and happy drawing!