Are you a Marvel fan looking to improve your drawing skills? In this article, we'll explore tips, ideas, and advice on how to draw Doctor Doom, one of Marvel's most iconic villains. We'll focus on describing the character, his story, and appearance, and provide step-by-step drawing guide in a series of images.
The Origins of Doctor Doom
Before you start drawing, it's important to know the story behind the character. Doctor Doom, also known as Victor von Doom, first appeared in Fantastic Four #5 in 1962. Created by writer Stan Lee and artist Jack Kirby, Doctor Doom is a brilliant scientist, sorcerer, and ruler of the fictional country of Latveria. His intelligence and mastery of both science and magic make him a formidable adversary.
Doctor Doom's Complex Personality
One of the aspects that sets Doctor Doom apart from other villains is his complex personality. He is driven by a desire for power and revenge against those he believes have wronged him, particularly Reed Richards (Mr. Fantastic) of the Fantastic Four. Despite his ruthless nature, Doctor Doom adheres to a strict code of honor and genuinely cares for the welfare of his people in Latveria.
Key Features of Doctor Doom's Appearance
To accurately depict Doctor Doom in your drawing, it's essential to capture his iconic appearance. Here are some key features to focus on:
1. The Armor
Doctor Doom's armor is one of his most recognizable features. The suit is made of metal, with intricate designs and patterns. Pay attention to the rivets and seams, as well as the overall shape of the armor pieces.
2. The Cloak
Doctor Doom's cloak adds an element of mystery and elegance to his character. The cloak is usually depicted as dark green or black, with a high collar and gold clasps. Consider adding shadows and folds to make the cloak appear more realistic.
3. The Mask
Doctor Doom's metal mask is an integral part of his character. It is expressionless and intimidating, with a narrow eye slit and a small, downturned mouth. Focus on the shape and proportions of the mask to make it truly menacing.
Doctor Doom's Relationships with Other Characters
Incorporating other characters into your drawing can add depth and context. Here are some suggestions for characters to include alongside Doctor Doom:
1. The Fantastic Four
As Doctor Doom's primary adversaries, the Fantastic Four are an obvious choice. Consider drawing them in a confrontational or tense scene to emphasize the rivalry.
2. Silver Surfer
Doctor Doom and Silver Surfer have a complex relationship, with both characters being powerful and having a history of working together, as well as against each other. Including Silver Surfer in your drawing can highlight their dynamic and create an interesting composition.
3. Doctor Strange
Both Doctor Doom and Doctor Strange are masters of the mystic arts, and their paths have crossed on numerous occasions. Depicting them together can showcase the magical aspects of the Marvel Universe and provide an opportunity to explore the similarities and differences between the characters.
Drawing Doctor Doom
Now that you have a better understanding of Doctor Doom's story and appearance, let's start drawing: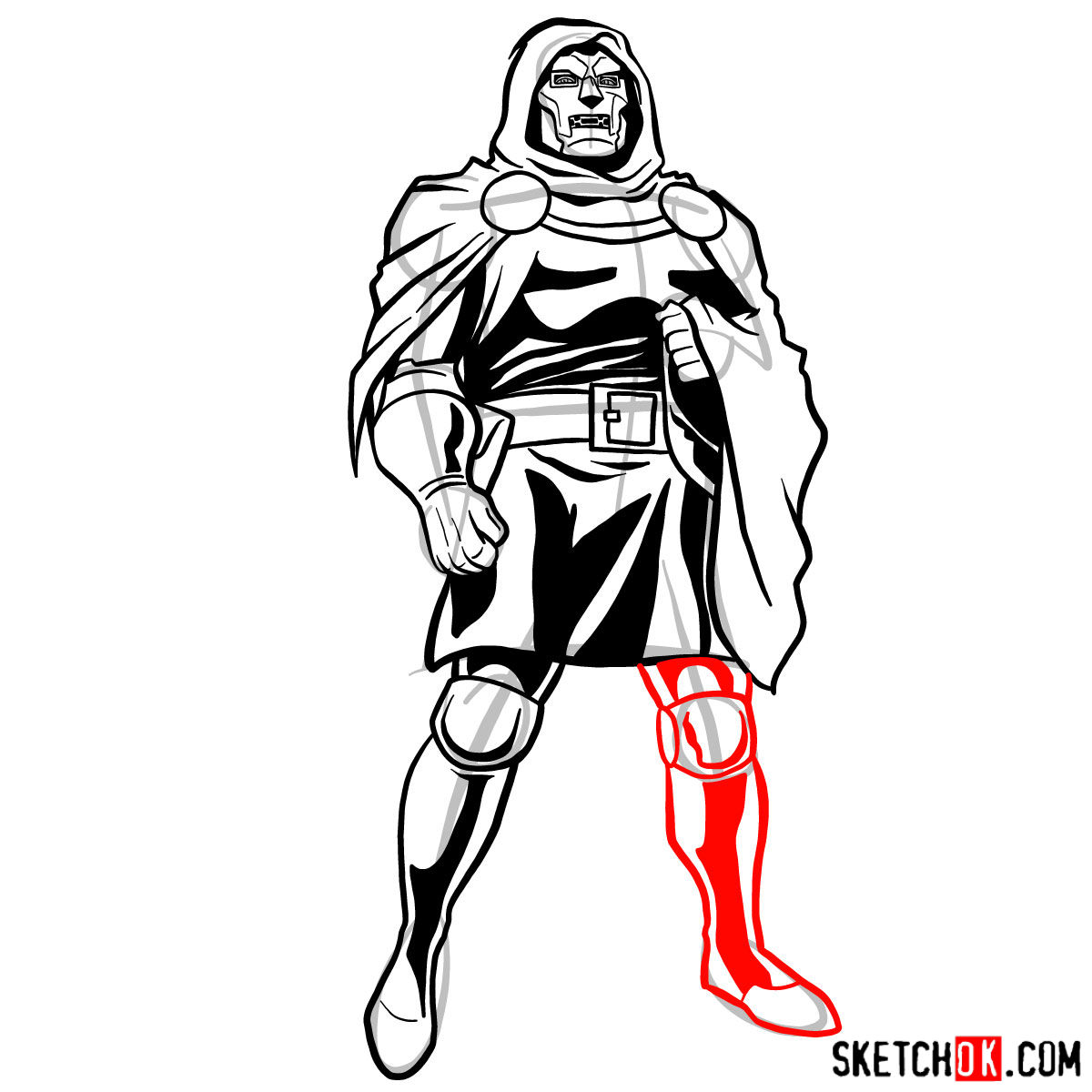 Conclusion
Drawing Doctor Doom can be a rewarding challenge that allows you to explore the rich history and design of this iconic Marvel villain. By understanding the character's story and appearance, incorporating other characters, and using the tips provided, you can create a unique piece of art. Remember, if you found this article helpful, feel free to support me on Buy Me a Coffee.
FAQs
1. What are the main differences between Doctor Doom's armor and Iron Man's armor?

While both armors are made of metal, Doctor Doom's armor has a more medieval and Gothic appearance, with intricate designs and patterns. Iron Man's armor is sleeker and more modern, with a focus on technology and functionality.

2. What other Marvel characters have a strong connection with Doctor Doom?

Some characters with strong connections to Doctor Doom include Namor the Sub-Mariner, Loki, and Black Panther. Each character has had notable interactions and storylines with Doctor Doom over the years.

3. How has Doctor Doom's appearance evolved over the years?

Doctor Doom's appearance has evolved with different artists and storylines, but the key elements (armor, cloak, and mask) have remained consistent. Some variations include changes to the armor's design or the color and style of the cloak.

4. Is Doctor Doom a purely evil character?

While Doctor Doom is undoubtedly a villain, his character is complex and multifaceted. He has a strong sense of honor and genuinely cares for the welfare of his people in Latveria. This complexity adds depth to the character and sets him apart from other villains.

5. Can beginners attempt to draw Doctor Doom?

Yes, beginners can definitely attempt to draw Doctor Doom. It's important to practice and use reference images to help with the character's intricate design. As your skills improve, you can tackle more complex aspects of Doctor Doom's appearance and experiment with different mediums and techniques. The key is to be patient and persistent in your practice.