Are you an aspiring artist and a fan of the X-Men universe? If so, you're in the right place! In this guide, we'll teach you how to draw Cable in X-Men costume, a powerful and fascinating character with a rich backstory. Mastering Cable's intricate design and unique features can be a thrilling challenge, but with our helpful tips, you'll be well on your way to creating an impressive Cable drawing.
Who is Cable?
Cable, also known as Nathan Summers, is a prominent figure in the Marvel Universe, particularly within the X-Men comics. He is the son of Cyclops and Madelyne Pryor, a clone of Jean Grey. Cable possesses telepathic and telekinetic abilities, and his signature X-Men costume features an array of advanced weaponry and technology. As a time-traveling soldier, he often fights alongside fellow mutants like Deadpool, Domino, and the X-Force team, working towards a better future for mutantkind.
With his powerful physique, cybernetic enhancements, and iconic X-Men costume, Cable is a visually striking character that offers a rewarding drawing experience. Before diving into our drawing guide, take some time to study Cable's appearance and familiarize yourself with his key features. This will help you better understand the character and create a more accurate and detailed drawing.
Tips and Advice for Drawing Cable in X-Men Costume
Now that you know more about Cable's backstory and appearance, it's time to start drawing! Here are some tips and advice to help you create an amazing Cable drawing in his X-Men costume:
Study the character's proportions: Cable is a muscular character with a strong, powerful build. Be sure to accurately depict his proportions, including the width of his shoulders, the size of his arms, and the length of his legs.
Focus on the costume details. Take the time to study the costume elements elements and incorporate them into your drawing to make it more authentic and visually appealing.
Pay attention to Cable's cybernetic enhancements: One of Cable's distinguishing features is his cybernetic enhancements, particularly on his left arm and eye. Make sure to include these details in your drawing to capture the essence of the character.
Experiment with dynamic poses: To make your Cable drawing more engaging, try placing him in a dynamic pose, such as holding a weapon or using his telekinetic powers. This will make your drawing more interesting and showcase Cable's abilities.
Practice shading and texture techniques: To give your Cable drawing depth and dimension, experiment with different shading techniques and pay attention to the textures of his costume, such as the fabric and armour.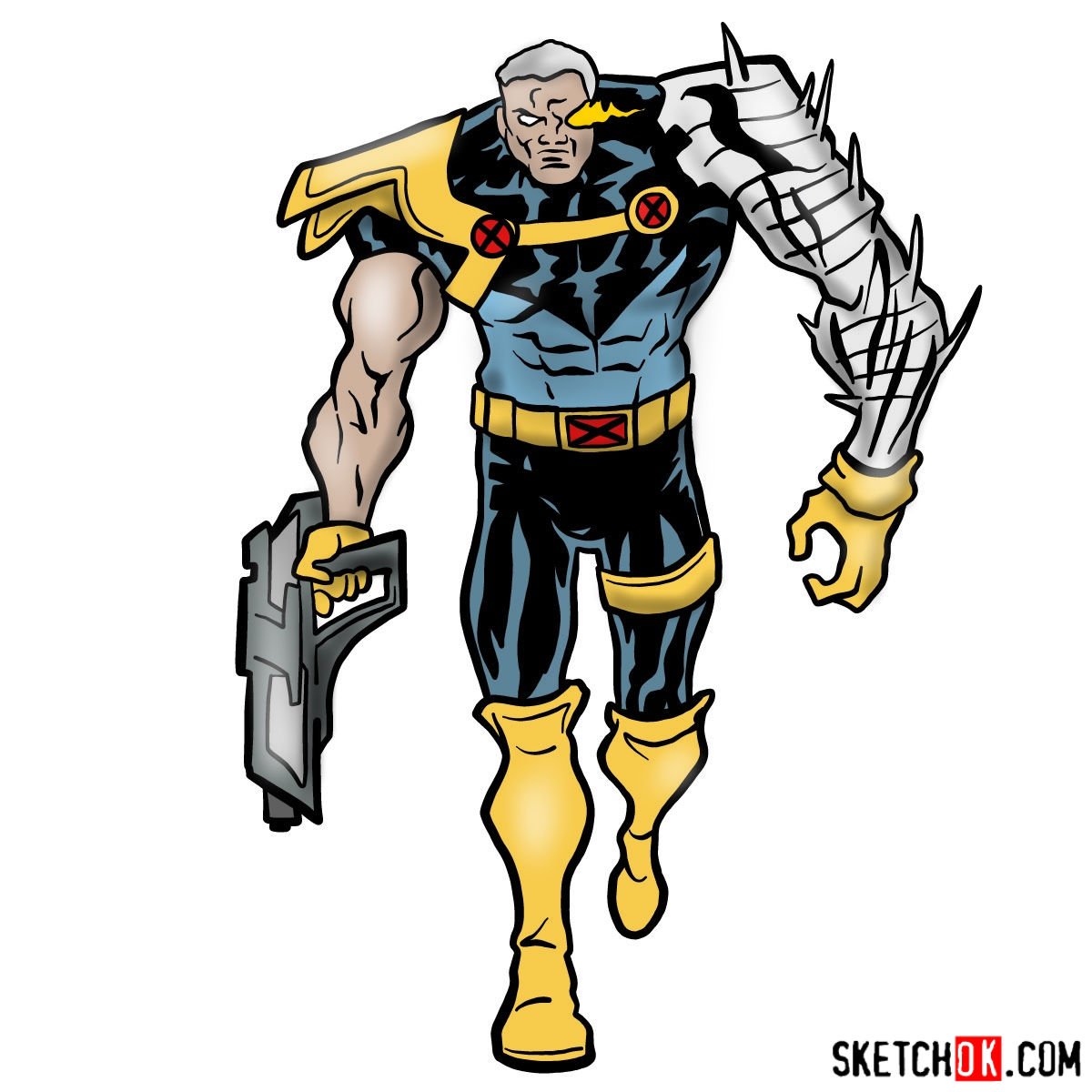 If you find this drawing guide helpful and want to see more content like this, please consider supporting me on Buy Me a Coffee. Your support helps me create more drawing guides and share my passion for art with aspiring artists like you. Thank you for your support!
In conclusion, learning how to draw Cable in X-Men costume can be a great experience for any aspiring artist. With our helpful tips and advice, you'll be well on your way to creating an impressive and accurate Cable drawing. Remember to study the character's appearance, focus on the details of his costume and cybernetic enhancements, and experiment with dynamic poses and shading techniques. Keep practicing and refining your skills, and soon, you'll be able to bring Cable and other X-Men characters to life on the page. Good luck and happy drawing!