When thinking of Hawaii, sandy beaches, surfboards, and 'ohana' instantly come to mind. Among the memorable characters that embody the spirit of 'ohana', none stands out more than Stitch. With his blue fur, large ears, and the unforgettable smile, he's become an iconic character in animation. Now, imagine this energetic extraterrestrial wearing glasses! This guide will navigate you through the process of how to draw Stitch's face in glasses.
Decoding Stitch's Unique Features
Complexion: A blue-furred, koala-like being that immediately stands out in a crowd.
Expressions: Aqua countershading around the eyes, a wide mouth revealing sharp white teeth, and those large, black, pupil-less eyes.
Detailing: Don't miss the tufts of fur that adorn the top of his head and chest.
Ears: Large rabbit-like ears with pink insides, but with their unique notches making them distinct.
For those looking to expand the drawing, Lilo can be great addition to illustrate the theme of friendship. And why not sketch Stitch's face without glasses, or even make a full body drawing next?
Understanding the Guide's Palette
Red Color: Marks the current step of the sketch you should concentrate on.
Black Color: Displays the lines you've already brought to life.
The guide has been designed with 20 comprehensive steps. As you progress, the image will slowly evolve, with Stitch's face in glasses emerging. After diligently following the steps, the final stage invites you to ink the sketch. Ensure the ink dries completely before attempting to erase the pencil sketch, preventing any smudging or distortion of your artwork.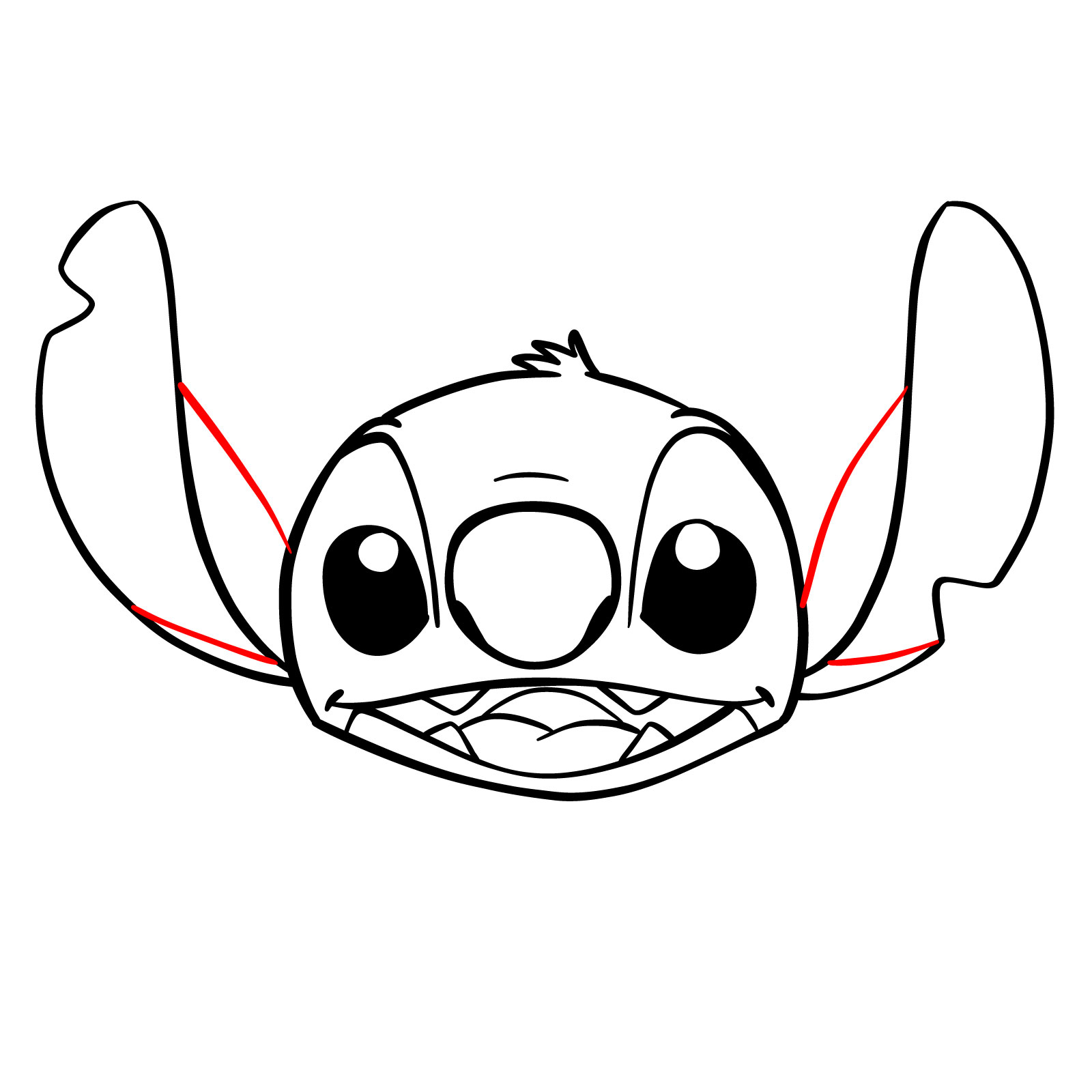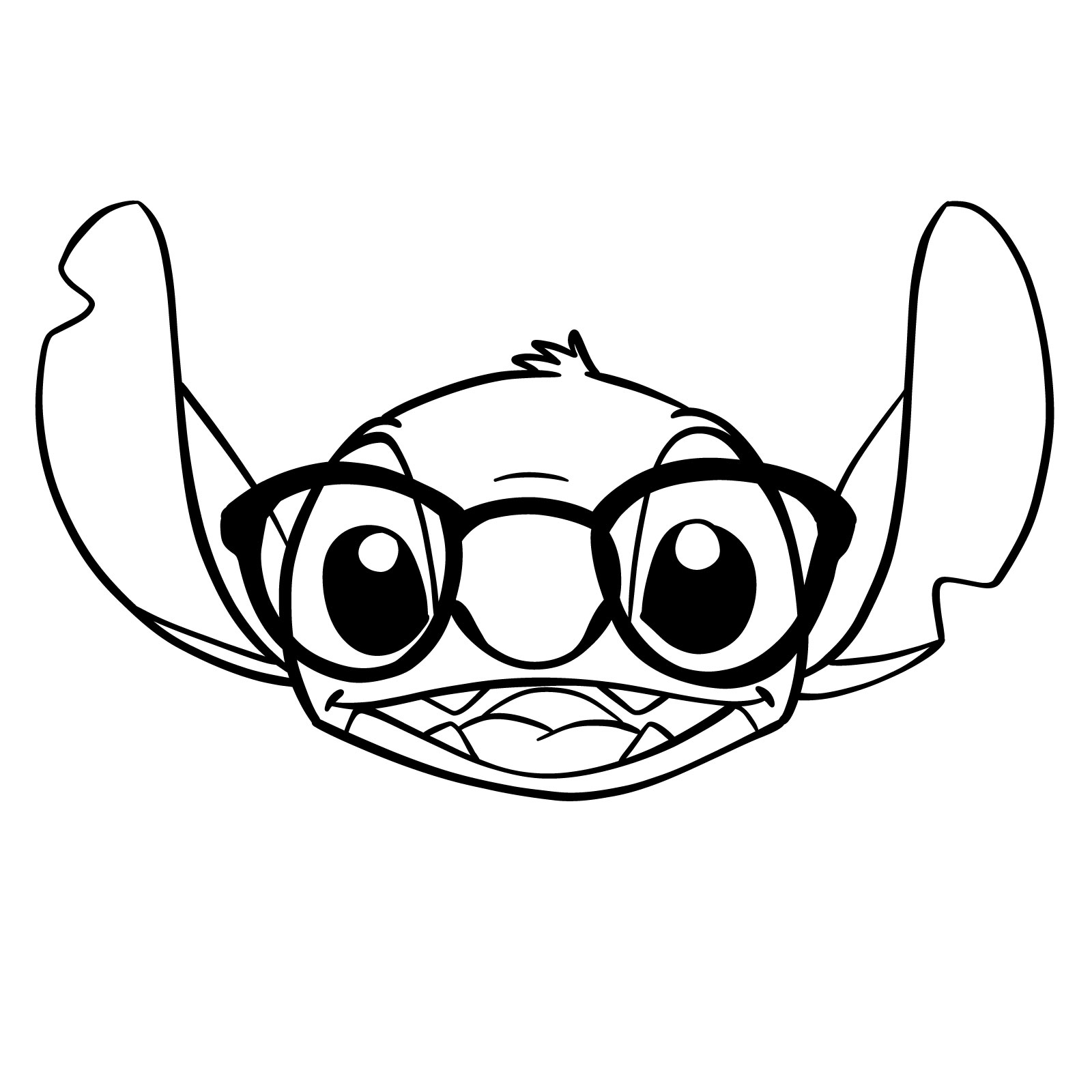 Frequently Asked Questions
What's the best approach to sketch Stitch's intricate ears?
When sketching Stitch's ears, start by drawing the general shape first, resembling a rabbit's ears. Next, add the inner pink details followed by the unique notches. This layered approach ensures that the ears' proportions and unique features are captured accurately.
How can I capture the essence of Stitch's eyes, especially with glasses?
Stitch's eyes are large, black, and filled with emotion. Begin with the basic shape, ensuring they're symmetrical. Once you've sketched the eyes, adding the glasses frame is relatively simple. Ensure the frame does not overshadow the eyes but complements them.
Any tips on sketching Stitch's distinctive mouth and teeth?
Absolutely! The mouth's wide curvature is pivotal. Once you've achieved the desired shape, focus on the teeth. Stitch's sharp teeth should be evenly spaced. They play a vital role in expressing his mischievous yet endearing character.
Hopefully, you've enjoyed this journey of discovering how to draw Stitch's face in glasses. If my guides have helped or inspired you, consider sharing the link with fellow art enthusiasts. Supporting the work here at SketchOk is easy. By donating, you not only aid in keeping these tutorials coming but can also suggest topics for future guides. Your suggestions are a priority, ensuring tutorials cater to your interests.
For those who wish to stay updated with SketchOk, don't forget to subscribe on Facebook, Instagram, and Pinterest. Let's keep the artistic spirit alive and continue drawing together!