Disney's charismatic and hilarious Donald Duck has been bringing joy to people's hearts for decades. Now, with our guided tutorial, you too can bring this animated icon to life on your sketch pad. Our step-by-step guide will teach you how to draw Donald Duck pointing and laughing, a pose that truly captures his lively and lovable character.
Identifying Donald Duck's Distinct Features
When drawing Donald, there are several key features that help to capture his unique character:
His elongated, wide beak with a cheeky smile.
His closed eyes.
His signature sailor hat and bow tie.
The exaggerated gesture of him pointing and laughing.
Once you've mastered drawing Donald Duck, why not try sketching his friends like Mickey Mouse, Goofy, or his beloved Daisy Duck to complete your Disney collection?
Understanding Our Guide
Our guide breaks down the drawing process into 17 steps. We've used a color-coding system to help you navigate through the process:
Red Color:

Highlights the current step you should be working on.

Black Color:

Showcases the lines you've already drawn.

Grey Color:

Marks the basic sketch and proportions guiding your drawing.
The initial 2 steps are focused on setting up your basic sketch structure. In the end, you may choose to ink your sketch, waiting until the ink dries before gently erasing the underlying pencil strokes. This will help to keep your final piece neat and crisp.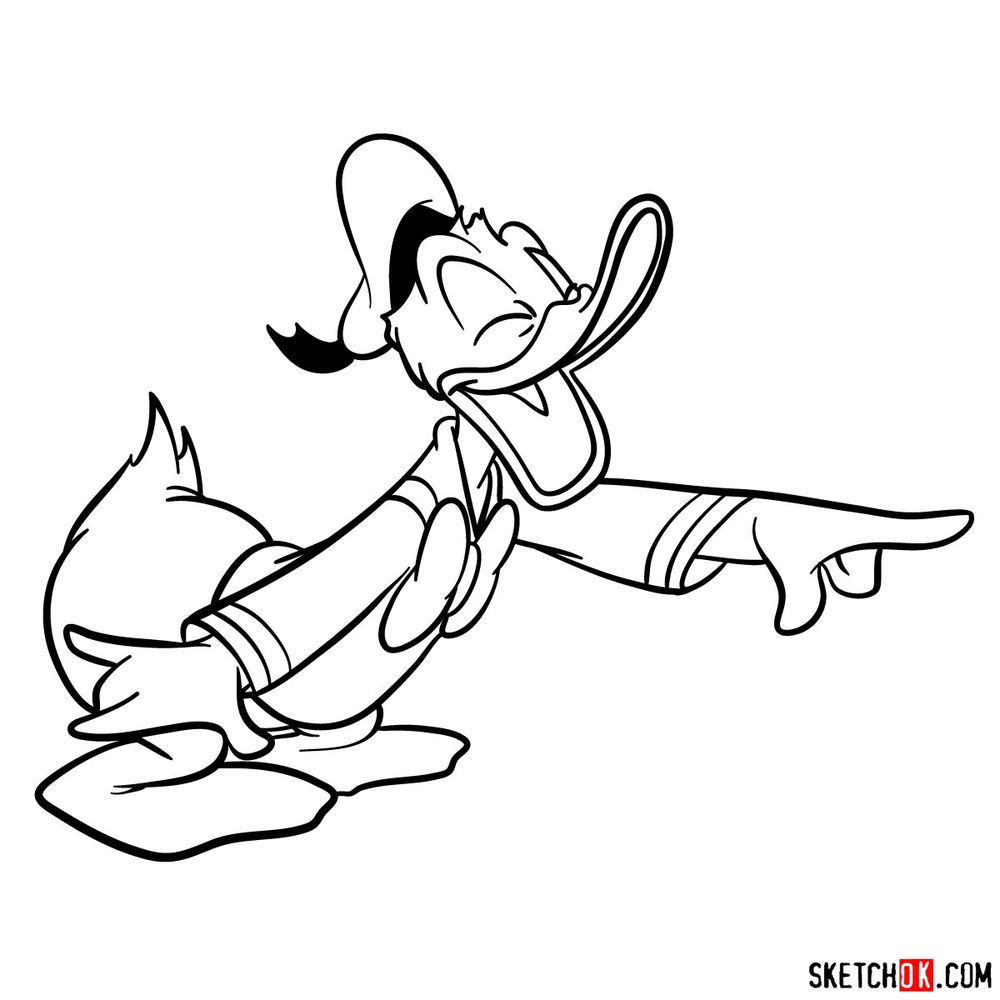 FAQs: Your Artistic Journey
How can I capture his laughing expression?
The key to Donald's laughing expression is in the eyes and beak. His eyes should be drawn as closed, showing that he's in the middle of a hearty laugh. The wide-open beak with visible tongue will amplify this jovial expression.
Any tips on sketching his pointing gesture?
Start by sketching a basic structure of the arm, considering the overall motion. The hand, especially the pointing index finger, should be emphasized, while the other fingers are curled into the palm. The use of clear lines will help to convey the dynamic motion.
Carrying the Torch of Creativity
As the author of this how to draw Donald Duck guide, I warmly invite you to help keep this project flourishing. Your donations not only keep the lights on but also let us create more free guides, expand our topics, and even consider your suggestions for future tutorials.
Also, let's not forget the power of sharing. Spreading the word about this guide can inspire more people to explore their artistic potential. Share the guide on Facebook, Instagram, or Pinterest.
If you're ready to support, feel free to donate here. Every contribution, big or small, makes a difference. Thank you for joining me on this artistic adventure, and let's keep the SketchOk community thriving!