Ever wanted to bring the cheerful and charismatic Daisy Duck to life on paper? You're at the right place! Our step-by-step guide enables you to draw the jovial Daisy Duck in just 15 easy-to-follow steps. Embark on this creative journey, and by the end of it, you'll have your very own masterpiece of this lovely character, with her head leaned on her hands, spreading happiness around.
Spotlight on Daisy Duck
Daisy Duck, known for her cheerful demeanor and iconic bow, is a beloved character from the Disney universe. When drawing Daisy, certain elements are quintessential. These include her expressive eyes, oversized bow, delightful beak, and her dainty hands. Other characters that share similar attributes and could be drawn along with Daisy for a complete scene could include her eternal love interest, Donald Duck, or her best friend, Minnie Mouse.
About Our Step-by-Step Guide
Our guide is simple and accessible, with a color-coding system to assist you throughout your drawing process:
Red Color:

Represents the current drawing step. It helps you focus on what you need to sketch in the present stage.

Black Color:

Showcases the lines that you've previously drawn. It gives you a sense of progress and continuity.

Grey Color:

Represents the basic sketch. It guides you with the proportions and positioning of the character.
In total, there are 15 steps, with the first 2 dedicated to sketching the basic structure of Daisy Duck. At the final stage, you have the option to ink your sketch. It's recommended to wait until the ink dries before erasing the pencil sketch. This prevents smudging and ensures a neat, professional finish.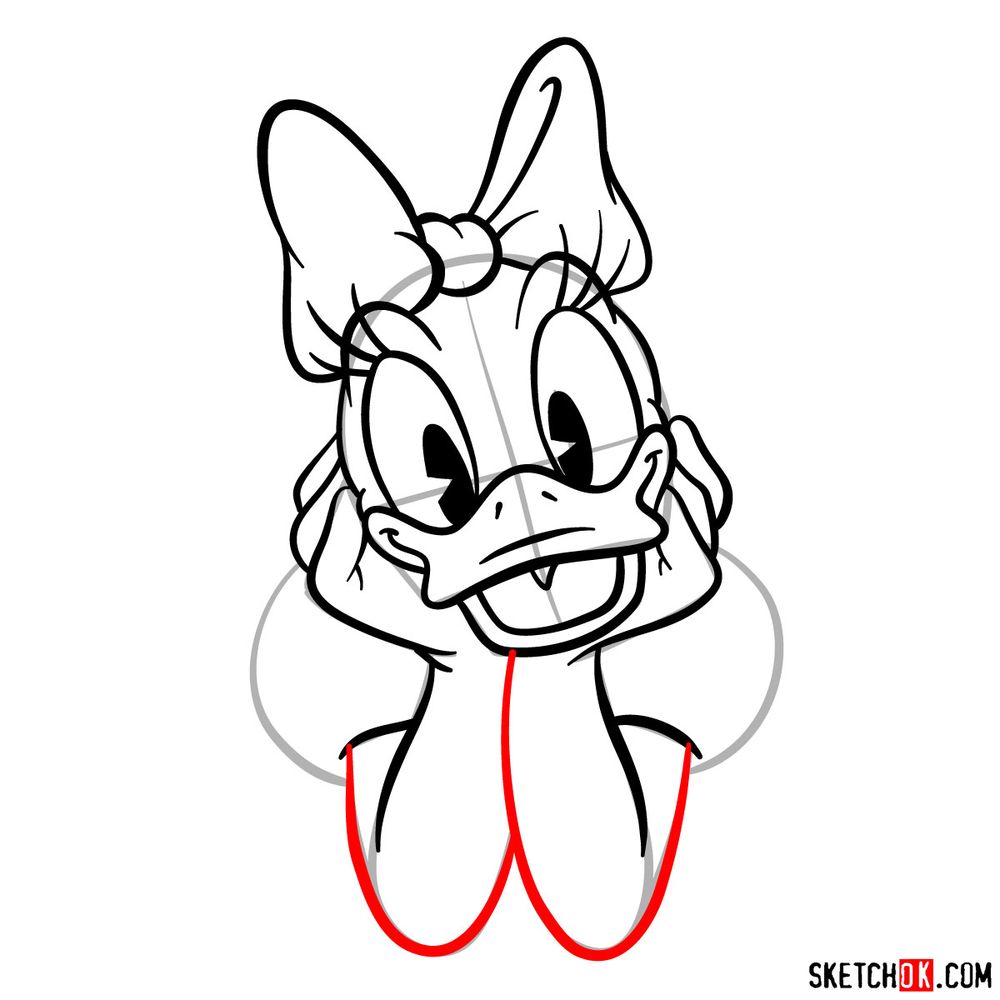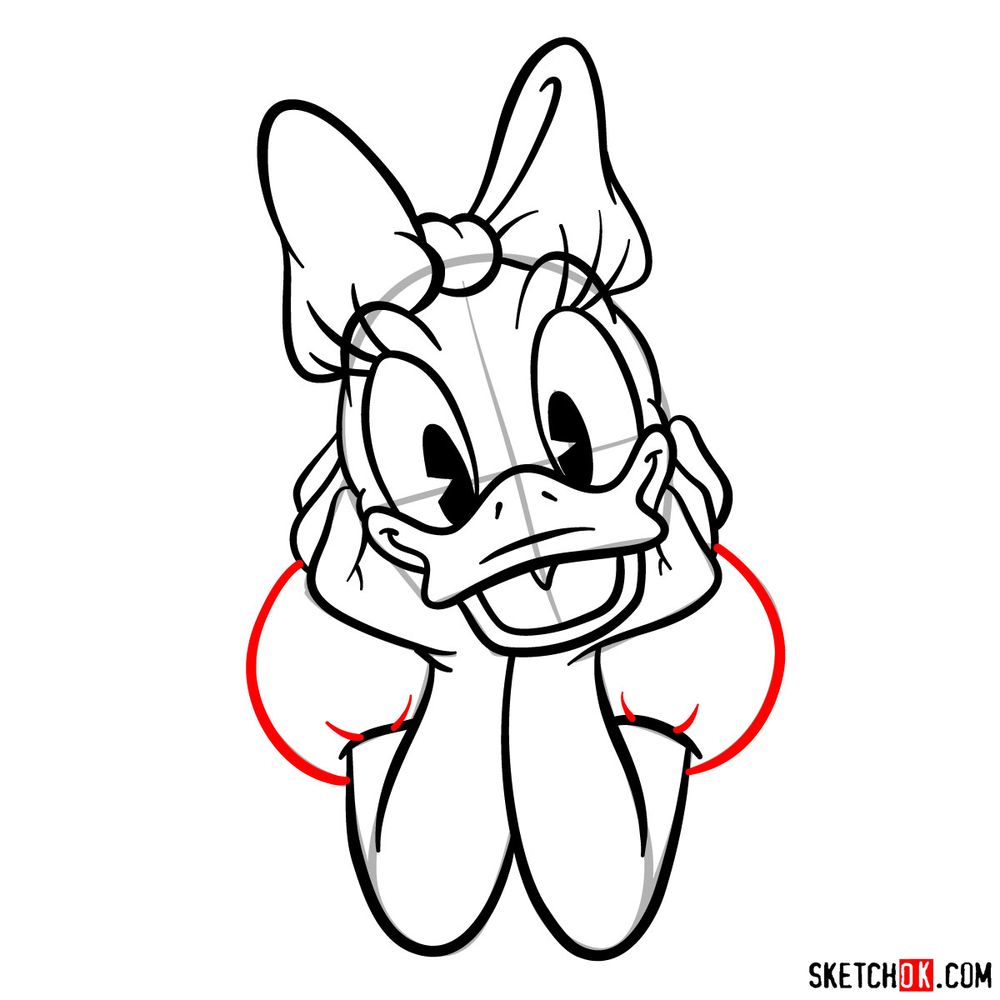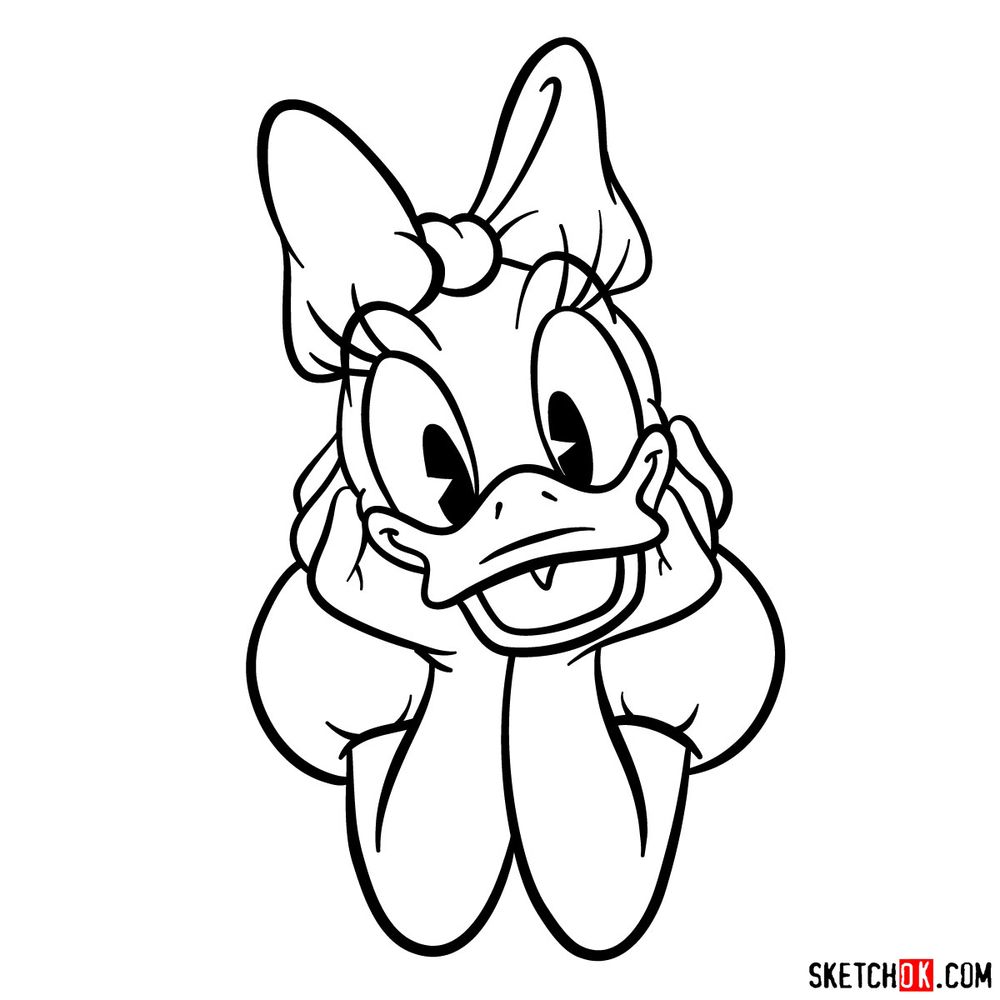 Frequently Asked Questions
What's the best technique to sketch Daisy Duck's expressive eyes?
Daisy Duck's eyes are her defining feature. Start with a basic oval shape and add extra lines for the lids to bring expression. The pupils should be large, as they are a key element in reflecting Daisy's vivacious character. Cosider leaving blanc triangles on the left sides of pupils for highlights.
How do I capture Daisy Duck's pose in this drawing?
To capture Daisy's pose, with her head leaned on her hands, start by sketching a rough structure using basic shapes. These shapes should represent her head, hands, and visible part of body. Once you have the structure, start adding details and refining the sketch. Keep in mind the proportions while doing so.
How should I draw Daisy Duck's oversized bow?
Daisy's oversized bow is a striking part of her character design. Start by drawing the center of the bow as a small circle. From this point, draw two almost symmetrical loops on either side. Fill them with lines to add texture and make it visually appealing.
Wrapping Up
Thank you for choosing this guide on how to draw Daisy Duck. Your support in spreading the word about our work is greatly appreciated. You can do this by sharing the link to this guide with others, or by subscribing to our social media channels:
We also appreciate donations, which help to keep the SketchOk project alive. Through your generous contributions, we can continue to create free drawing guides and respond to your requests for new tutorials. You can donate by visiting here.
Remember, learning how to draw is a journey. So, take your time, enjoy each step, and don't hesitate to start over. Each stroke brings you one step closer to becoming the artist you aspire to be. Happy drawing!