Drawing is not just about lines and shades; it's about capturing the essence of a character. And when it comes to a character as iconic as Michelangelo from the 2003 Teenage Mutant Ninja Turtles (TMNT), it becomes an adventure in itself. Known for his nunchaku skills, care-free nature, and that unforgettable orange headband, Michelangelo stands out as a fan favorite. Through this tutorial, we'll guide you on how to draw this beloved character in a serious, perhaps slightly angered, pose.
Michelangelo's Appearance and Key Points to Consider
Before diving into the drawing process, it's vital to understand the key elements of Michelangelo's appearance and personality. Here are the focus points:
Appearance: Similar to his brothers, yet distinguishable with his orange headband and weapon wrappings.
Personality: Care-free, artistic, extroverted, and often seen mocking his family with witty remarks.
Weapons: His trademark nunchaku, but occasionally uses grappling hooks and even borrows weapons from his brothers.
About This Drawing Guide
This step-by-step tutorial consists of 13 distinct steps, helping you draw Michelangelo with precision. Here's what you need to know:
Red Color:

Represents the current step you're working on.

Black Color:

Shows the lines you've already drawn.

Grey Color:

Indicates the basic sketch for proportions.
The first steps arecrucial as they lay the foundation for your sketch. Ensure you use light pencil strokes for the basic structure. Once you've traced out the character, you can opt to ink the sketch. Inking gives the drawing a polished look and makes the lines more defined. After inking, wait for it to dry before erasing the pencil lines. This ensures that your final piece remains clean and smudge-free.
Step 1
Step 2
Step 3
Step 4
Step 5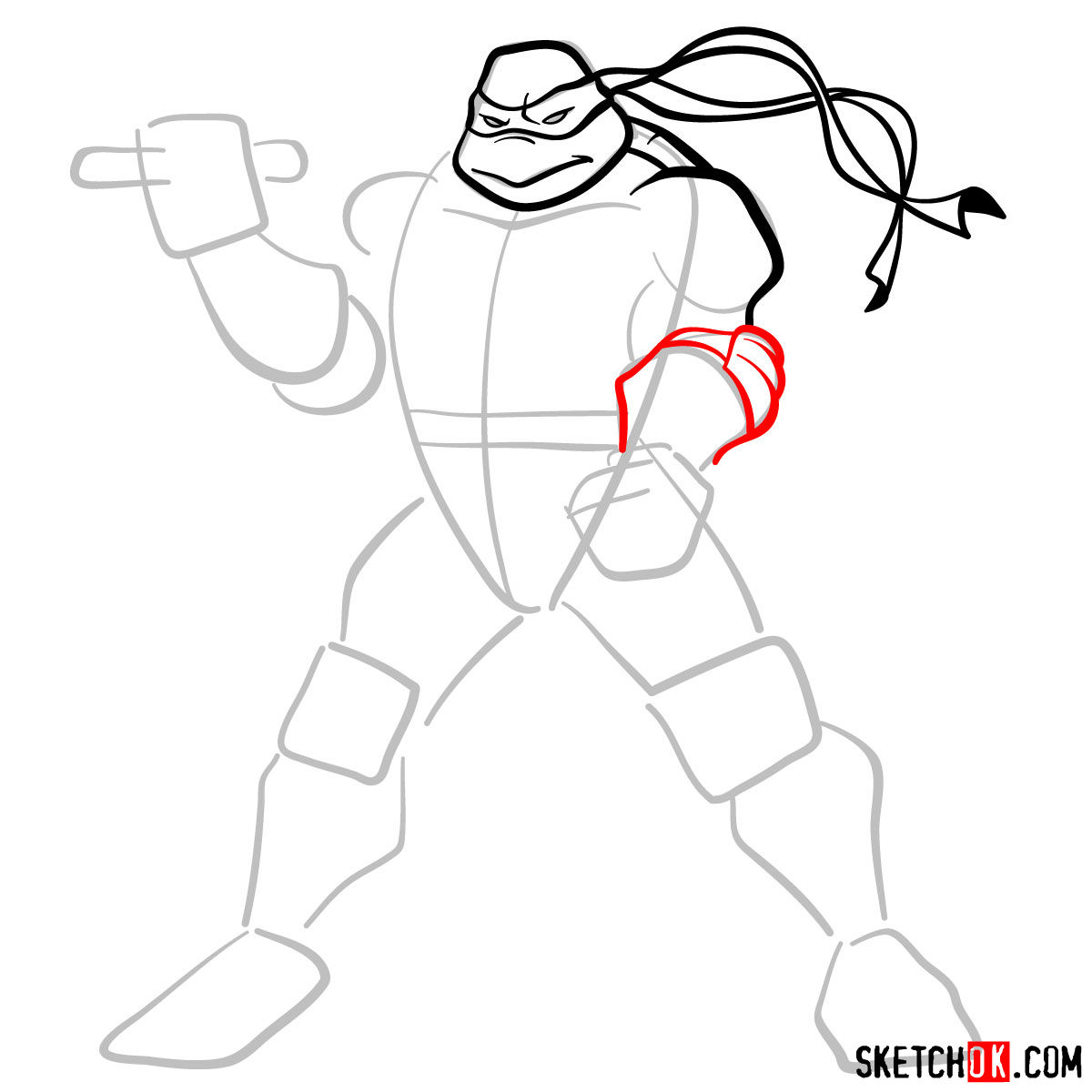 Step 6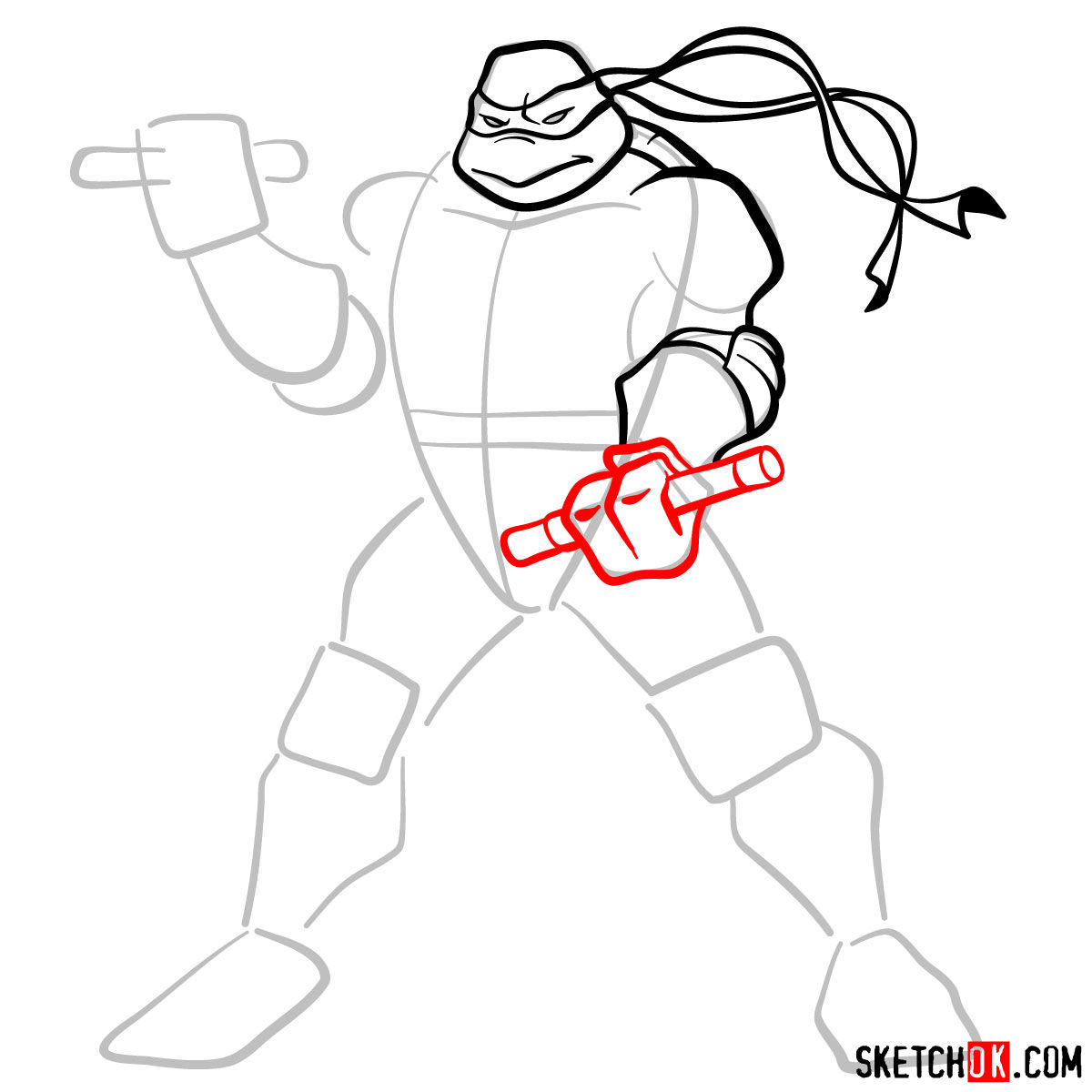 Step 7
Step 8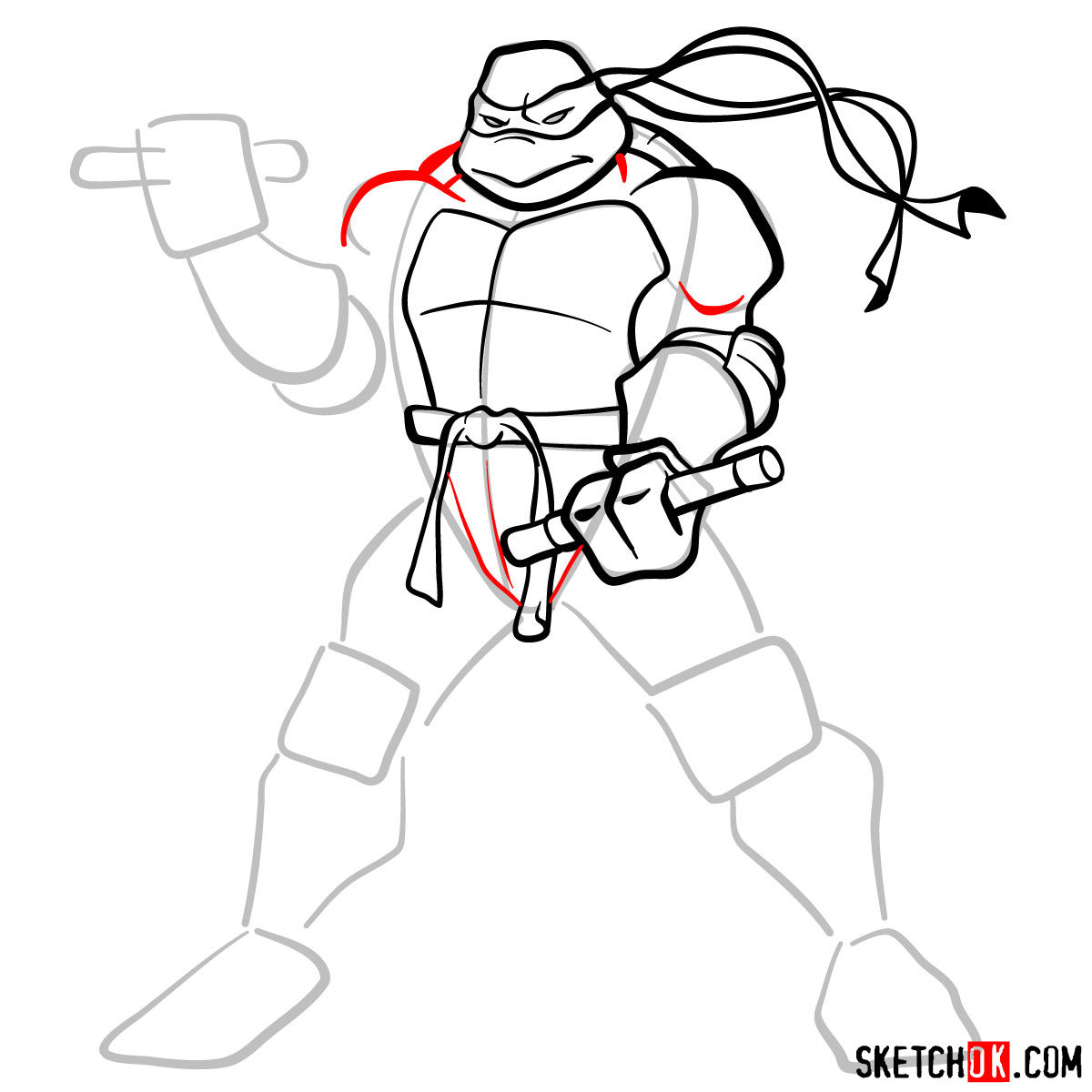 Step 9
Step 10
Step 11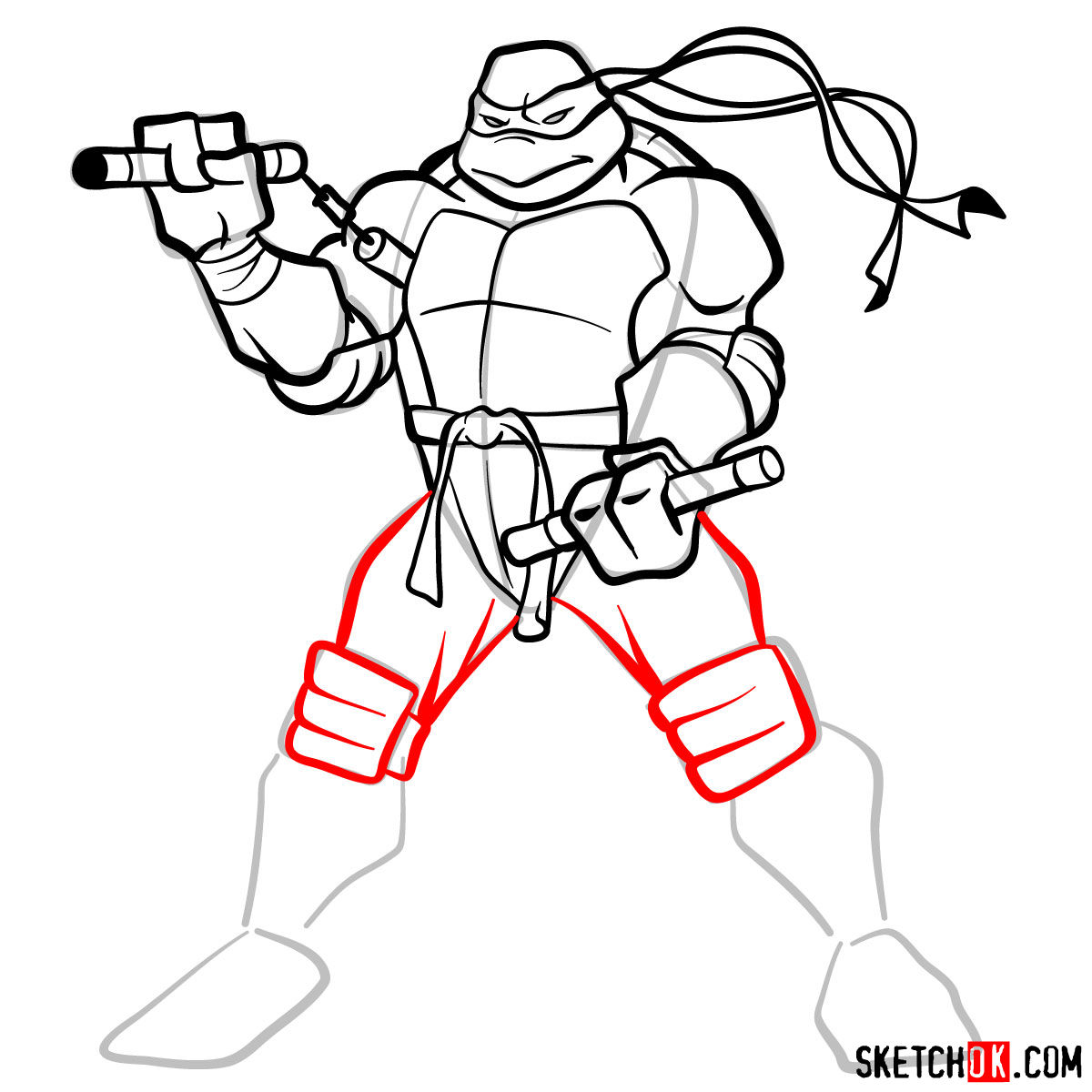 Step 12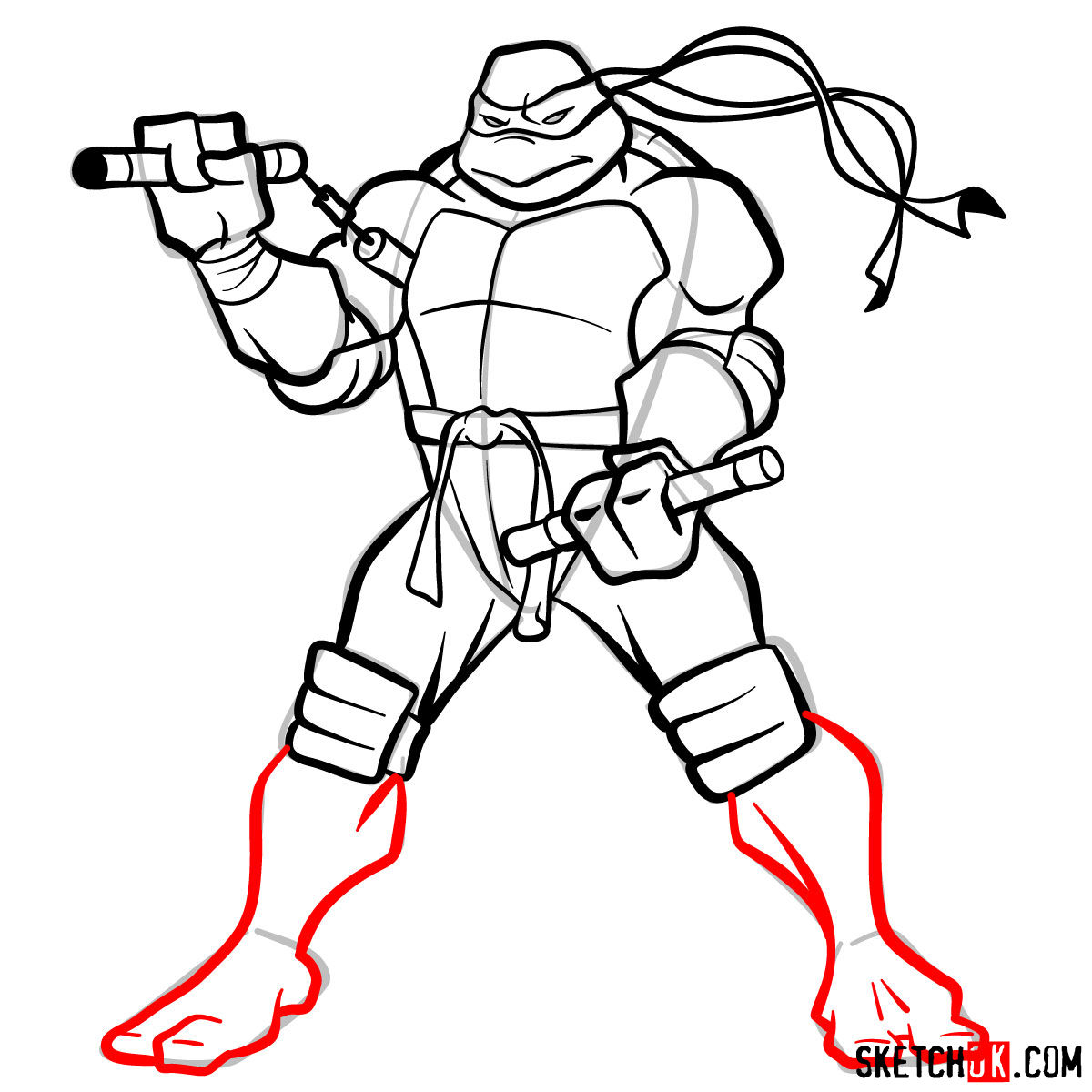 Step 13
That's it, fellow artists! By following this guide, you've now learned how to draw Michelangelo from the 2003 TMNT series. The journey of capturing his essence on paper is an exciting one. If you've enjoyed this guide and found it helpful, consider sharing the link with fellow enthusiasts. Your support means the world!
If you wish to support SketchOk further and have ideas for future tutorials, feel free to donate. With every donation on Buy me a coffee, you can suggest topics, and I'll prioritize bringing them to life for our community. Plus, let's stay connected! Follow SketchOk on Facebook, Instagram, and Pinterest for more sketches and tutorials.
Remember, drawing is not just an art, it's an expression. So, every time you sketch, you're telling a story. And now, with the guide on how to draw Michelangelo, you can narrate a story of wit, adventure, and ninja action!