The Streetwise Ninja Turtle: Introduction to Raphael
The hot-headed, smack-talking Raphael, often simply referred to as "Raph", stands out as one of the most iconic characters in the Teenage Mutant Ninja Turtles (TMNT) universe. His fiery temper, combined with an undeniable loyalty to his brothers, makes him a fascinating subject to draw. This guide will help you capture not only his distinctive look from the 2003 TMNT series but also a hint of his intense personality.
Understanding Raphael's Appearance and Key Features
Color Theme: Raphael is easily recognized by his

red bandanna

, which sharply contrasts with his deep emerald green skin, the darkest among his brothers.
Equipment and Attire: Donning brown knee and shoulder pads, his attire is pretty much consistent with his brothers.
Personality Traits: Raphael's confrontational nature and street-smart demeanor radiate through his stance and expressions. This is pivotal when aiming to capture his true essence on paper.
A Glimpse into the Drawing Guide
Our guide is divided into 14 detailed steps. The first two are crucial for establishing a basic sketch and ensuring proportions are on point. While following along:
Red Color:

Indicates the current step you should be on.

Grey Color:

Reflects the basic proportions sketch.

Black Color:

Represents previously drawn lines.
For those inclined to go the extra mile, the final stage allows artists to ink the sketch. Once the ink dries, the initial pencil sketch can be gently erased, resulting in a cleaner and sharper image.
Step 1
Step 2
Step 3
Step 4
Step 5
Step 6
Step 7
Step 8
Step 9
Step 10
Step 11
Step 12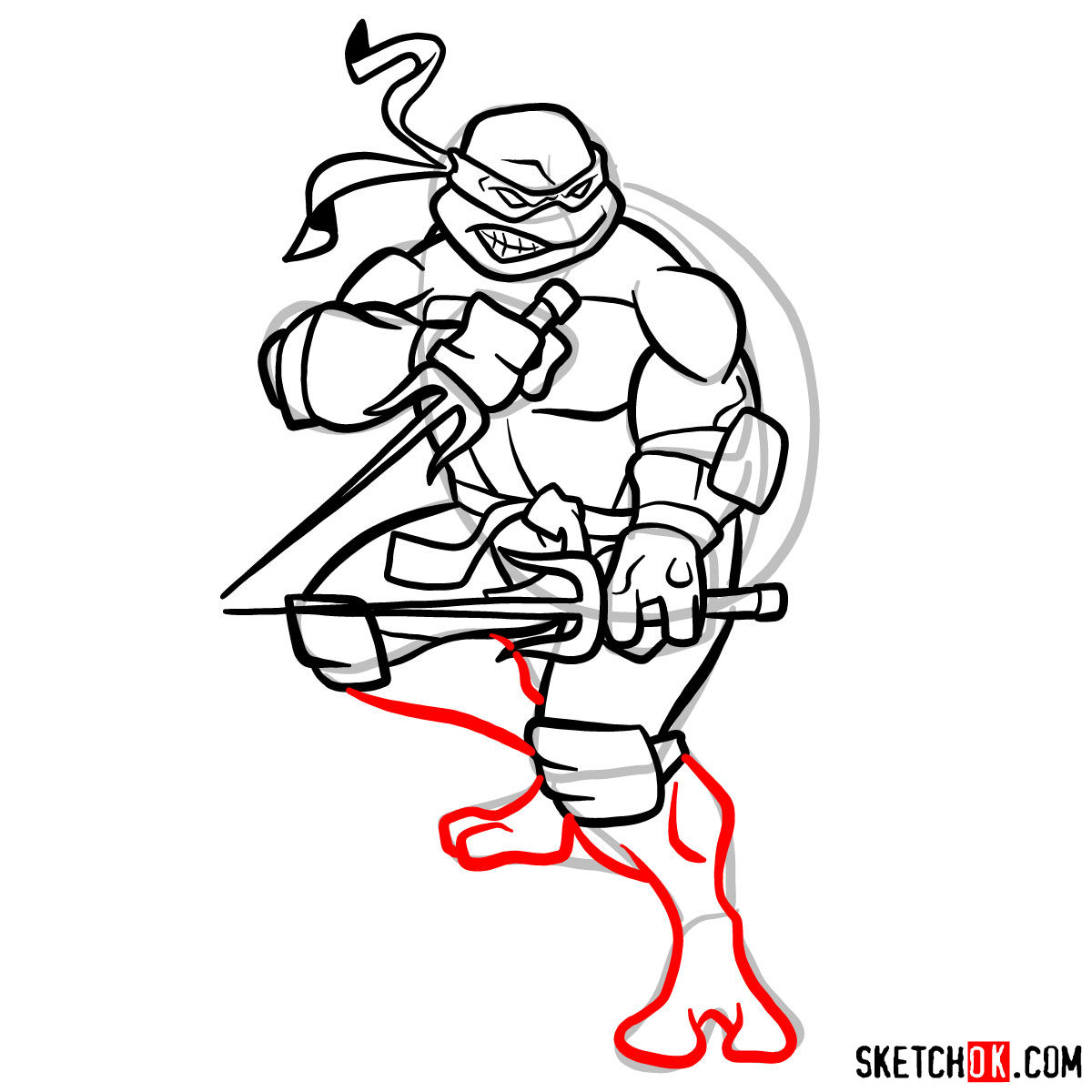 Step 13
Step 14
I hope you found this guide on how to draw Raphael from 2003 TMNT insightful. Sharing this tutorial with fellow artists would mean the world to me. If you're passionate about what I do and wish to see more content, consider supporting SketchOk. Your generous donations not only keep this platform running but also allow you to suggest future tutorial topics. Your ideas will always be in primary focus and realized faster.
Stay inspired and connected! Follow SketchOk on Facebook, Instagram, and Pinterest.