Hey everyone! Welcome to the guide on how to draw chibi Cyborg. Let's get to know the hero better before sketching him.
Victor Stone, or as we fondly know him, Cyborg, embodies a unique blend of human spirit and state-of-the-art technology. As a prominent member of Teen Titans and a leading figure in Teen Titans Go!, his character has carved a niche in the hearts of many. But what makes Cyborg truly stand out among peers like Robin or Starfire?
Physical Appearance: Most of Cyborg's human form is overlaid with a mix of white and gray armor. His mechanized appendages, arms, and legs can morph into a myriad of weapons and tools. One eye gleams red, a stark contrast to his human side, giving him an iconic look.
Personality Traits: Beyond his armored exterior lies a heart that yearns for pizza, video games, and camaraderie. Especially with his buddy, Beast Boy. Though sometimes perceived as lazy, when the situation demands, Cyborg's technological intellect and combat skills make him an invaluable asset to the Titans.
Origin Story: A tale of tragedy and perseverance, from a promising football athlete to a cyber-hero, his journey is one of transformation and redemption.
If you're looking to expand your drawing portfolio, why not include Beast Boy or Robin? Together with Cyborg, they make an unforgettable trio, representing different facets of teenage superhero life.
Understanding the Guide:
The essence of learning how to draw Cyborg from Teen Titans Go is captured in a series of meticulously crafted images. Here's what each color means:
Red Color:

Represents the current step. Focus here to build upon the previous ones.

Black Color:

Shows the lines you've previously drawn, helping you track your progress.

Grey Color:

Gives you a glimpse of the basic proportions and structure sketch, laying a foundation for the drawing.
In this 11-step guide, the initial stages are dedicated to the basic sketch. It's crucial as it helps in getting the proportions right. As you approach the finale, there's an optional step to ink the sketch. If you choose this path, ensure the ink dries before erasing the pencil marks. This not only provides clarity but adds a professional touch to your artwork.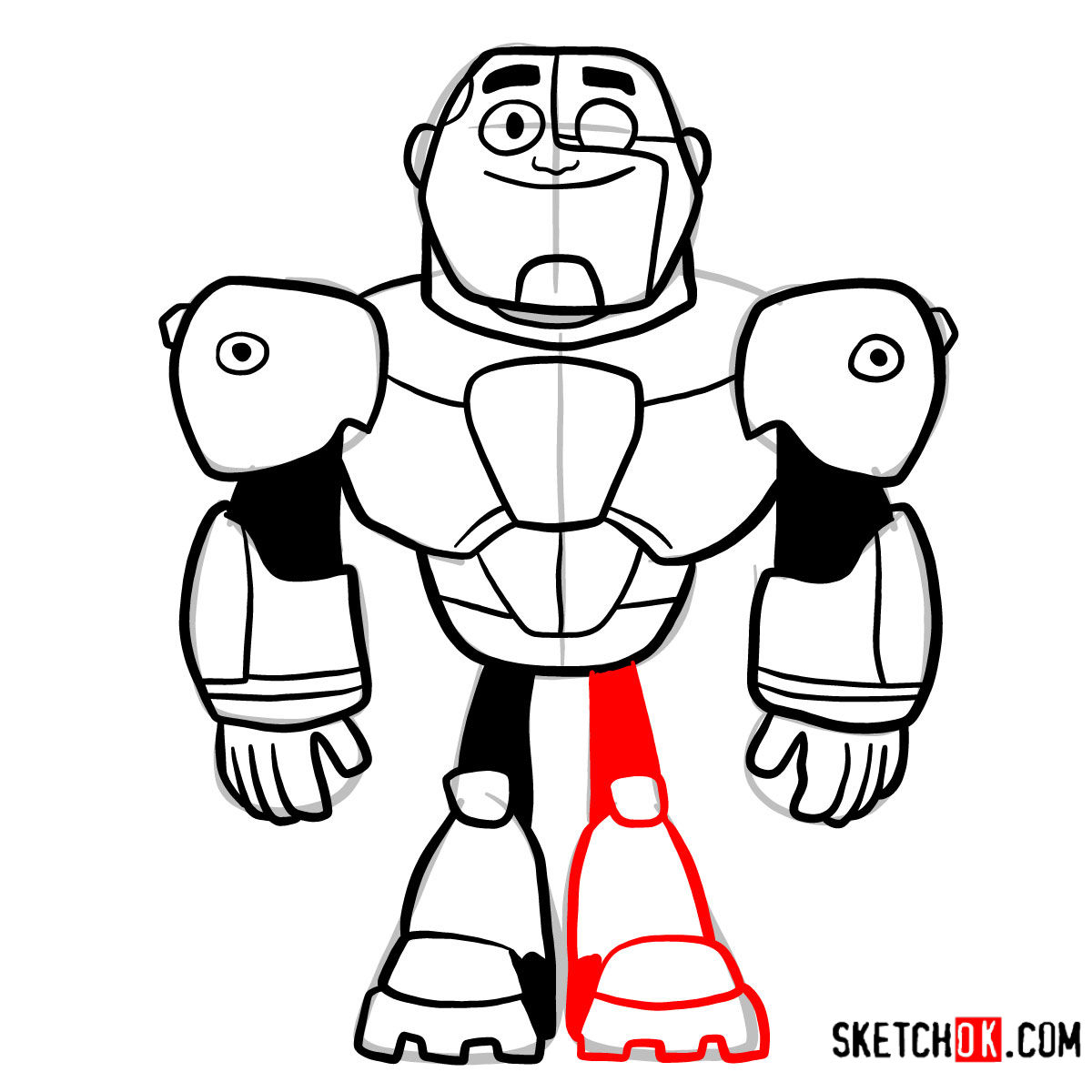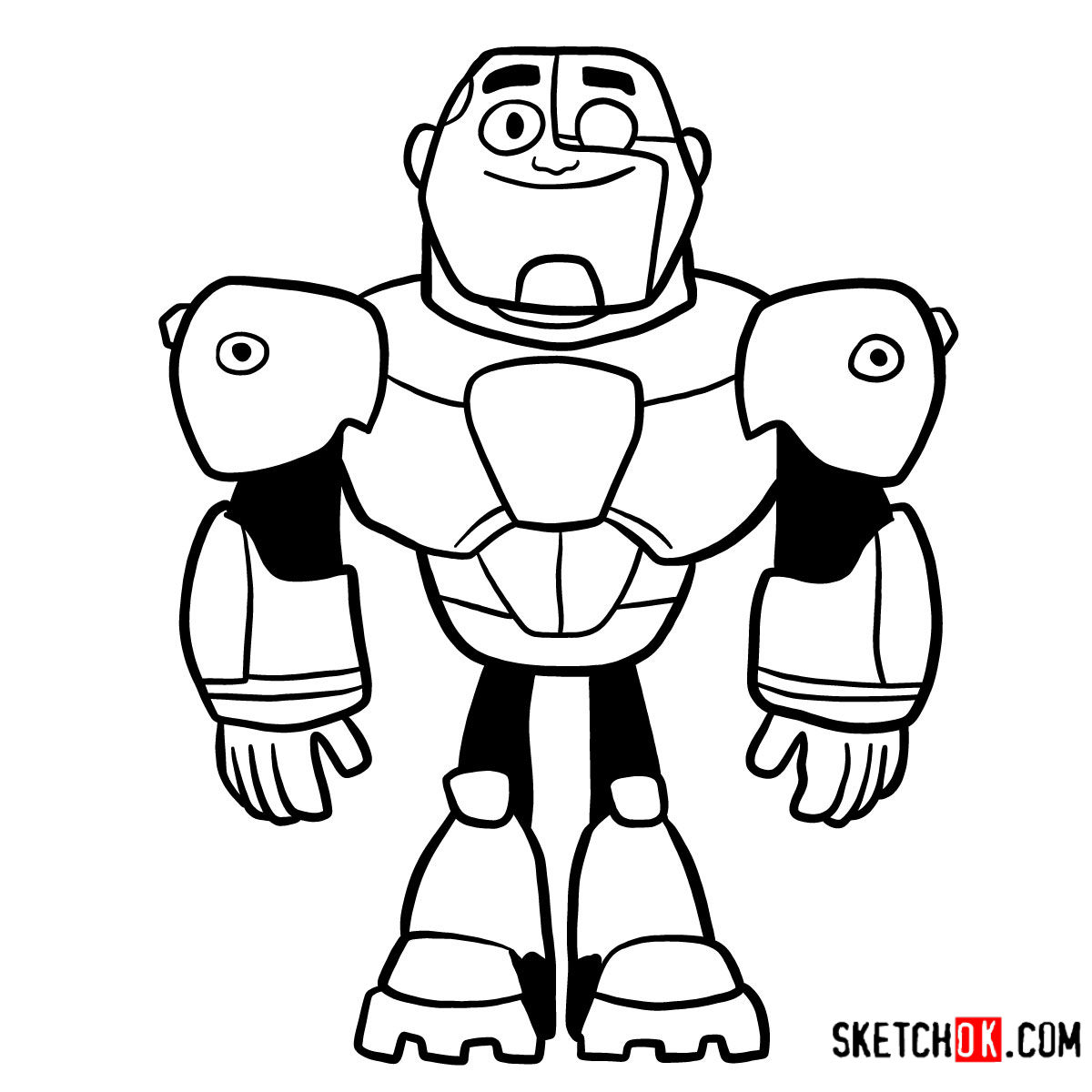 Frequently Asked Questions
How can I best illustrate his robotic limbs?
Focus on geometric shapes to get the machinery right. Break down each component into basic forms and then add details. Don't hesitate to refer to references or the guide itself.
There you have it! A comprehensive guide on how to draw chibi Cyborg from Teen Titans Go. As you venture into this artistic journey, remember to enjoy every stroke and detail. If you've found value in this guide, consider sharing it with fellow artists or on your social platforms.
For those who wish to support SketchOk further, every donation is deeply appreciated. Not just as a gesture of goodwill, but it also empowers you to suggest future tutorials. And guess what? Your suggestions will be given priority! Pour your thoughts and tutorial ideas through a donation message on Buy me a coffee.
Stay connected and get inspired:
Happy Drawing!