Cyborg, also known as Victor Stone or "Cy", is a central figure in the dynamic world of Teen Titans. As a half-cybernetic being, he offers a unique blend of human emotion and technological prowess, making him a captivating character to draw. In this guide, we'll walk you through how to draw Cyborg and capture his essence on paper, reflecting his journey from a promising athlete to a tech-driven hero.
Drawing Cyborg: Key Features to Focus On
Facial Features: Cyborg's face is a blend of his human side and red robotic eye. Ensure you give attention to this contrast.
Cybernetic Parts: This is what sets Cyborg apart. His robotic parts are intricate, with light circuits glowing in blue.
Physique: As a former athlete, Cyborg boasts a strong, muscular build. His stature is imposing, yet his posture often suggests an approachable nature.
Once you master drawing Cyborg, you can expand your Teen Titans portfolio by adding characters like Robin, Starfire, or even his occasional rival, Gizmo.
Understanding the Guide
This drawing guide spans 15 steps. Here's what the colors signify:
Red Color:

Indicates the current drawing step.

Black Color:

Highlights the lines you've already drawn.

Grey Color:

Represents the basic sketch, usually drawn with light pencil strokes.
The guide commences with creating the basic sketch, helping you set the right proportions. Once you've followed all the steps, you can choose to ink your sketch. It's essential to let the ink dry before gently erasing the underlying pencil marks to avoid smudging.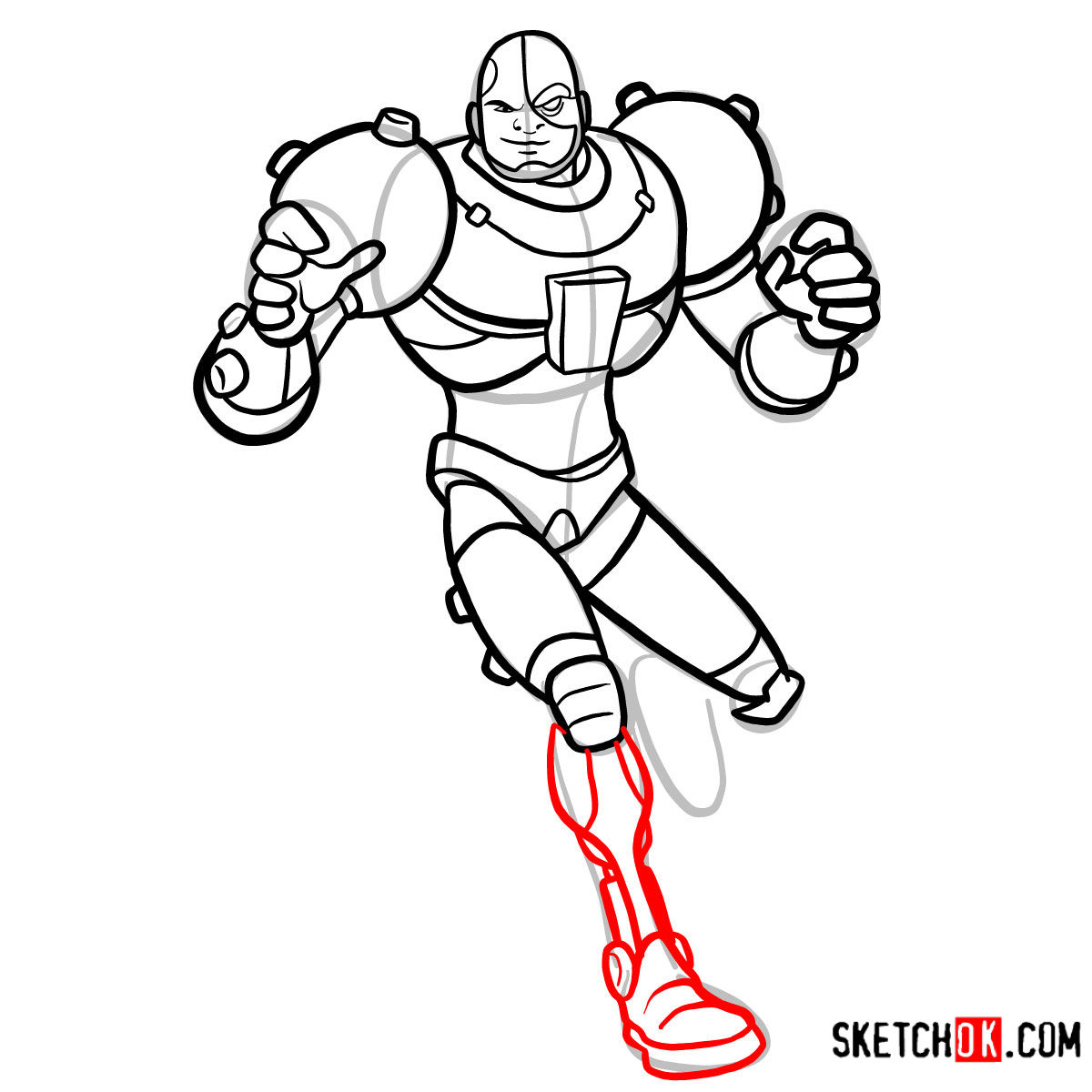 Drawing Cyborg: Frequently Asked Questions
What techniques work best for capturing Cyborg's robotic features?
To depict Cyborg's mechanical attributes accurately, utilize sharp, clean lines and geometric shapes. For added depth, use shading techniques on the metal parts, reflecting light and adding dimension.
How can I best represent Cyborg's unique facial features?
Cyborg's face is a blend of organic and mechanical. Use smooth lines for his human features, contrasting with the sharper lines of his cybernetic eye. This juxtaposition captures his duality effectively.
Thank you for choosing this guide to explore the world of Teen Titans and learn how to draw Cyborg. If you found this tutorial helpful and would like to support the creation of more content like this, consider making a donation. Your contributions not only keep this platform running but also allow you to suggest topics for future tutorials! Your suggestions will be given primary attention, ensuring we cater to what our community truly wants.
Support and suggest topics for future tutorials here: Donate
Stay updated and share your masterpieces! Connect with us on:
Facebook,
Instagram, and
Pinterest.
Remember, every artist starts with a single line, and with practice and dedication, you can master the art of drawing. Share this guide with others and embark on your artistic journey together!