Richard "Dick" Grayson, fondly known as Robin, isn't just Batman's former protégé. He's a symbol of leadership, leading the iconic Teen Titans with determination, albeit with a hint of obsessive perfection. As one of the five pillars of Teen Titans Go!, his character shines through, showing us that even in a chibi form, heroism has no scale. And now, with our guide, you'll get to replicate this energy on paper. Wondering how to draw Chibi Robin from Teen Titans Go!? Let's embark on this artistic journey together!
Robin's Chibi Avatar: Key Features
Green, skin-tight pants replacing the traditional speedo.
Boots tipped with metal, giving that extra edge.
An ever-present utility belt, packed with all things necessary.
Green gloves that hide his delicate baby hands.
The enigmatic cape, flowing with pride.
And of course, those hidden eyes, kept a mystery behind his mask. The icing on the cake? That meticulously spiked black hair.
While our beloved Robin has an aura of coolness, his teammates like Beast Boy and Cyborg often tease him for his shorter stature, making him the perfect subject for a chibi rendition!
Understanding the Guide's Essence
The heart of our guide lies in its clear color-coded instructions. When you lay eyes on our step-by-step images, you'll notice:
Red Color:

It indicates the present step. The lines you're meant to sketch now.

Black Color:

Reminders of your past accomplishments, these are the lines you've already drawn.

Grey Color:

These are the foundational lines, providing you a basic structure for your sketch. Remember, go light on these!
In total, we have 12 comprehensive steps, starting with the initial sketch, forming the basic structure. Once you reach the pinnacle, you can choose to ink your masterpiece. But be patient; let the ink dry before you gently erase the pencil lines to reveal the final artistry.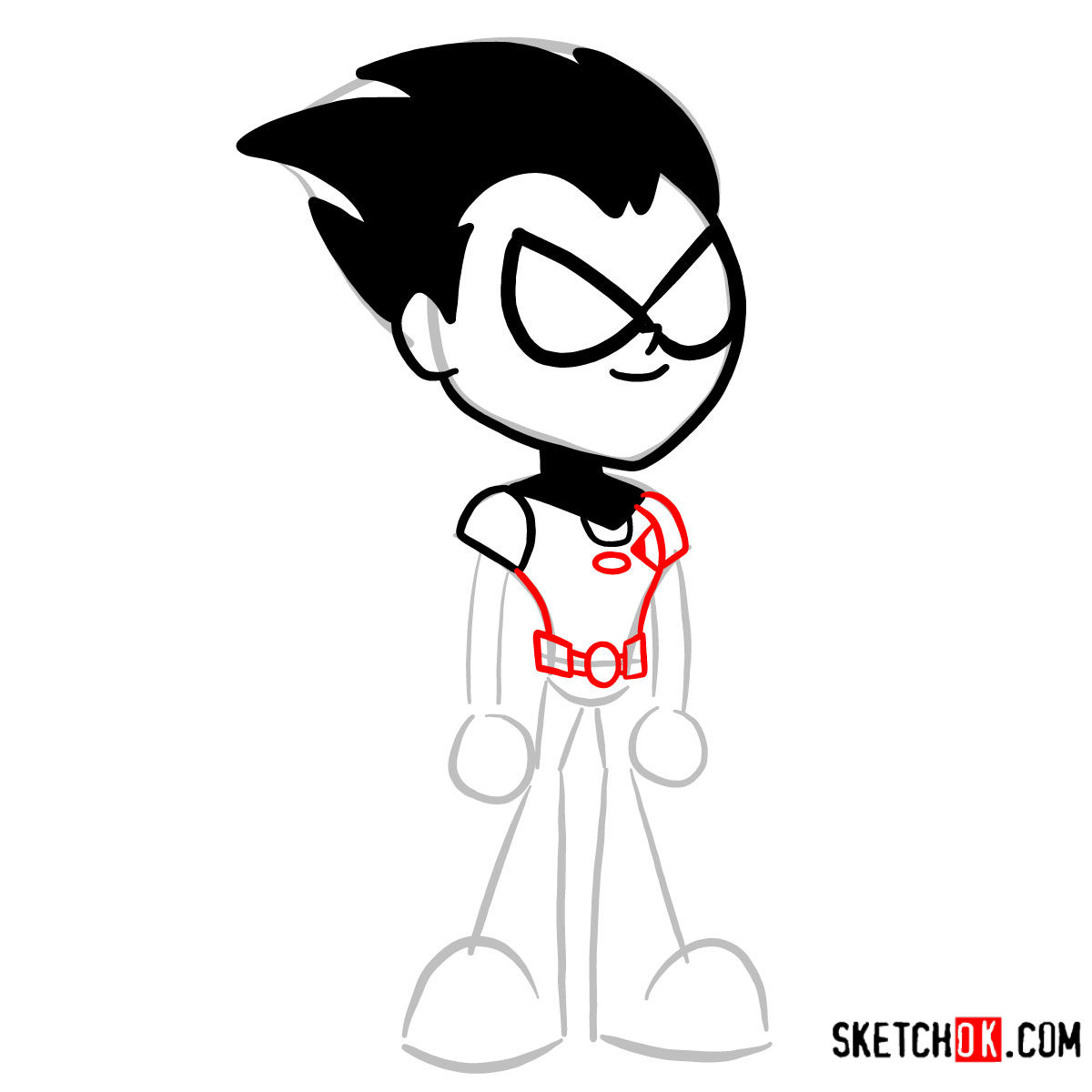 FAQs on Drawing Chibi Robin
How to ensure Robin's hair looks on-point in the sketch?
The key to Robin's iconic hair is capturing its spikiness. Start with a light outline, focusing on the direction and flow of the spikes. Once you're satisfied, fill it with black color.
How can I capture the chibi essence in Robin's facial features?
Chibi characters are known for their exaggerated features. For Robin, emphasize his large eyes (even if hidden behind the mask) and keep his facial expression lively and vivid. A slightly larger head compared to the body can also enhance the chibi look.
Conclusion: Sharing the Chibi Love!
There you have it, a comprehensive guide on how to draw Chibi Robin from Teen Titans Go!. Found it helpful? Don't keep it to yourself! Share the link with fellow art enthusiasts. If you wish to support the continuous efforts behind SketchOk, consider donating. As a token of gratitude, you can even suggest topics for future tutorials in your donation message. Not just that, these suggestions take priority, ensuring the art community thrives! Don't forget to stay connected via Facebook, Instagram, and Pinterest.