Step into the vibrant world of Teen Titans Go!, where two very special twins, Más y Menos, dazzle with their superhero prowess. This guide will walk you through how to draw Más y Menos with precision and flair. Whether you're a seasoned artist or a budding illustrator, this guide is crafted for everyone who wants to bring these delightful characters to life.
Decoding Más y Menos: Key Features to Highlight
Dynamic Duo: Always seen together, capturing their synergy is crucial.
Speed Streaks: Remember, they're always on the move. Add streaks to denote speed.
Power Charger Beep: Located on their arms, this indicates their energy levels.
Spanish Accent: Their vibrant cultural background can be subtly hinted in the sketches.
If you're keen on expanding your Teen Titans repertoire, consider adding characters like Robin or Cyborg who have shared memorable moments with Más y Menos!
Understanding the Sketch Guide
Red Color:

Indicates the current drawing step.

Grey Color:

Denotes the foundational sketch lines.

Black Color:

Represents the previously drawn lines, guiding you through the process.
Our guide is spread over 15 detailed steps. We commence by sketching the basic structure with light strokes, ensuring proportions are accurate. As you progress, these sketches will be your guiding star. When you reach the pinnacle, you have the option to ink your sketch. It's pivotal to wait until the ink dries before erasing the pencil sketch to ensure the final image is pristine and unblemished.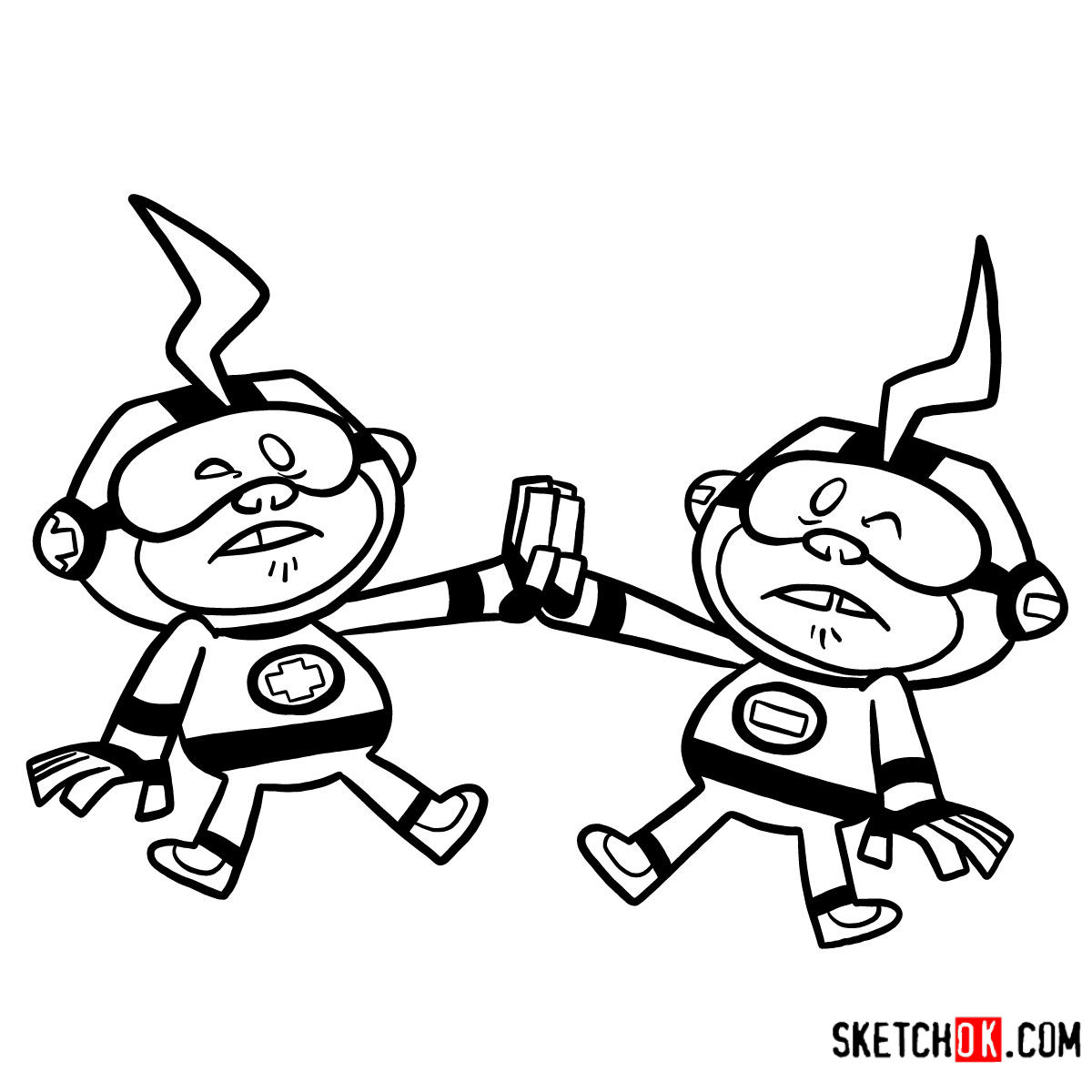 Thanks for joining us on this artistic journey on how to draw Más y Menos! Sketching is a portal to express and explore, and by following our guide, you'll surely master these Teen Titans' characters. If you found value in our guide and wish to support SketchOk, please consider donating. By doing so, you can also suggest topics for our next tutorials. Your suggestions will be given top priority! Don't forget to share this guide link with fellow artists and connect with us on our Facebook, Instagram, and Pinterest pages. Your support keeps the art alive!