Welcome to our detailed guide on how to draw Chibi Beast Boy from Teen Titans Go! Whether you're a seasoned artist or just venturing into the realm of sketching, this guide aims to make the process fun and instructive. Dive into the vibrant world of Garfield Mark Logan, a.k.a Beast Boy, and bring his character to life on your sketchbook.
Character Insights: Beast Boy
Background: A member of Teen Titans and a pivotal protagonist of Teen Titans Go!, Beast Boy's life journey is as unique as his ability to transform into various animals. From being left on the doorstep of the Doom Patrol's house to meeting Robin and securing membership on the Teen Titans, his journey is one filled with surprises.
Personality: Relaxed, laid-back, and a tad bit lazy, Beast Boy loves his TV, snacks, and fun activities, with his superhero responsibilities often taking a backseat. Despite his carefree attitude, there are moments when Beast Boy shows genuine care and concern for his friends and the city he pledges to protect.
Appearance: Beast Boy stands out with his green skin and hair, pointy ears, and his iconic magenta and black costume. His power to transform into any animal also gives him a dynamic visual appeal, ensuring that drawing him is never a dull affair.
About This Guide
This guide consists of 9 steps, designed to make your sketching process intuitive and enjoyable. To ensure clarity:
Red Color:

Represents the current drawing step.

Black Color:

Highlights the lines previously drawn.

Grey Color:

Showcases the basic proportions sketch.
The initial stages emphasize the importance of a basic sketch to get the proportions right. As you advance, you'll transition into refining your sketch. Once you're satisfied, you can opt to ink your drawing. Always remember to allow the ink to dry completely before erasing the underlying pencil lines to prevent smudging.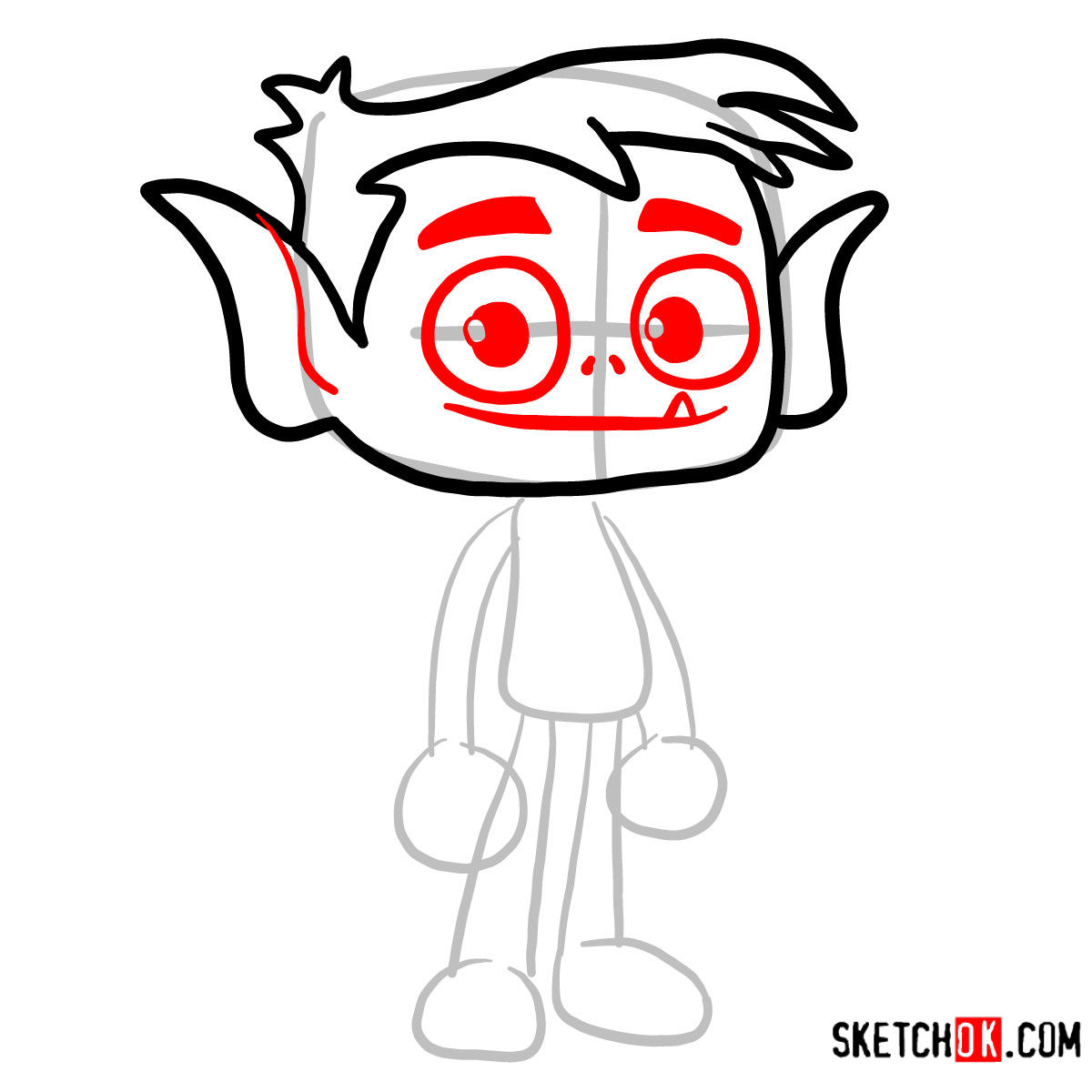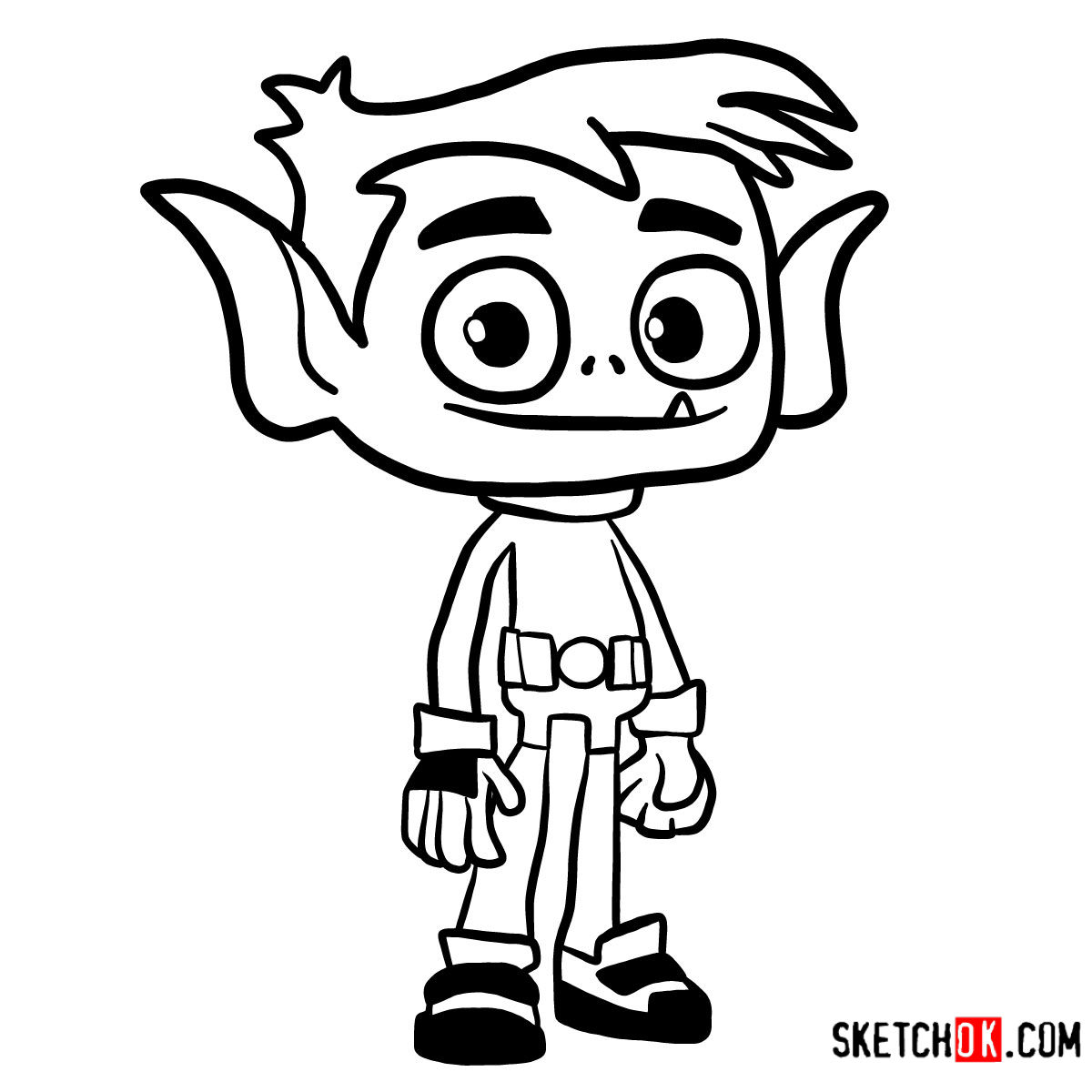 Frequently Asked Questions
What's the best technique to sketch Beast Boy's unique hairstyle?
Beast Boy's hair is one of his defining features. Start by sketching the basic shape and then add the specific spikes and details. Keep your hand light to allow for adjustments.
How can I capture his dynamic expressions and poses?
Focus on the facial features, especially the eyes and eyebrows. For poses, consider the context – is he transforming, lounging, or in action? Sketch a basic pose structure before adding details.
How should I go about sketching his unique costume details?
Start with the overall structure and silhouette of the costume. Once you're satisfied with the proportions, delve into the details like his utility belt, paw print on the sneakers, and the distinct color patterns.
Wrapping Up
I hope this guide enlightens your artistic journey as you venture into how to draw Chibi Beast Boy from Teen Titans Go!. If you've found this guide valuable, consider sharing it with fellow art enthusiasts. Should you wish to support SketchOk further and suggest topics for future tutorials, your generosity is most welcome. By donating, you not only bolster the art community but also get a chance to suggest topics for upcoming tutorials, ensuring they're crafted faster.
Connect with SketchOk on our platforms:
Happy sketching, and remember, every line you draw brings you one step closer to mastering the art.