Dive into the world of Kung Fu Panda and learn how to draw Master Mantis, the agile and formidable member of the Furious Five. Voiced by Seth Rogen, Master Mantis is much more than meets the eye. Despite being the smallest among his peers, he holds strength incomparable to his size, moving with superhuman speeds. With Po by his side, they have proved that size is not an indicator of a warrior's prowess. Drawing him is not just about sketching a character, but encapsulating his essence.
Character Highlights and Drawing Focus Points
Proportional Strength: Master Mantis may be small, but his muscular structure is a testament to his strength. Focus on this by emphasizing his broad shoulders and strong limbs.
Superhuman Speed: Capture the swift nature of Master Mantis through dynamic poses, hinting at his lightning-fast movements.
Expressive Eyes: His eyes tell a story of a warrior who's seen much. They should be drawn large, expressive, and alert.
Mantis Antennae: A defining feature of his appearance, these antennae should be gracefully arched.
And if you're looking to expand your Kung Fu universe, why not add Tigress, Monkey, Viper, or Crane by his side? The Furious Five would be incomplete without them!
About This Drawing Guide
This guide is crafted to assist both beginners and seasoned artists. With a total of 10 steps, we begin with a basic structure, helping you establish proportion with light strokes. Here's a brief on our color coding:
Red Color:

Denotes the current step to focus on.

Grey Color:

Indicates the basic proportion sketch.

Black Color:

Showcases the lines from previous steps.
Upon completion of the sketch, artists can opt to ink their masterpiece. But remember, patience is key. Wait for the ink to dry thoroughly before erasing the pencil marks to avoid any smudges.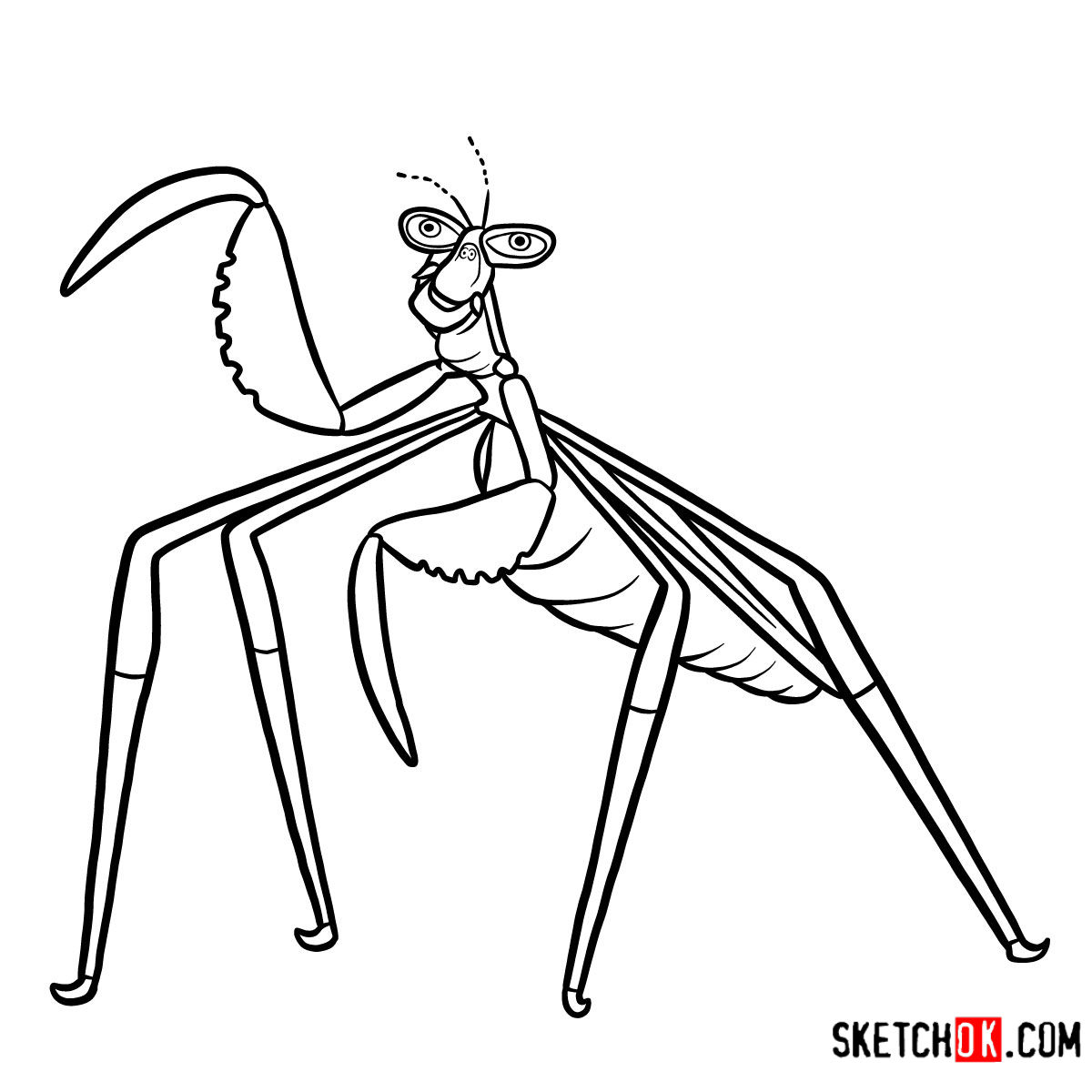 Thank you for choosing this guide on how to draw Master Mantis. Each stroke brings the world of Kung Fu Panda closer to you. If you've enjoyed this tutorial and wish to support SketchOk further, consider donating. By donating, you get a say in future tutorials, which will be prioritized based on suggestions. Don't forget to share the guide with fellow enthusiasts and stay connected with us on Facebook, Instagram, and Pinterest.