If you're a fan of Adventure Time, the name Princess B'Onangutan surely resonates with memories of vibrant water parks and the mischievous Daddy Sad Heads. Drawing this unique character, with her orangutan-like features and distinct design, is a delightful challenge for both novices and seasoned artists. With our guide, you'll be sketching the princess in no time!
Understanding Princess B'Onangutan: Key Visual Elements
Orangutan Resemblance: Her design draws inspiration from orangutans, particularly the ginger-colored hair enveloping most of her body.
Skull & Crossbones Physique: An intriguing aspect of her design is her body structure, subtly echoing a skull and crossbones. The bones dangling below her limbs add depth to her design.
Facial Features: Unlike typical orangutans, Princess B'Onangutan's face is bare, free from the ginger hair that covers her body.
Tiara: Symbolizing her royal status, she sports a tiara adorned with a prominent pink gem. This is an essential element to capture her true essence.
While you're at it, consider drawing other Adventure Time royalty, like Princess Bubblegum, for a regal collection!
Grasping the Guide: Color Codes & Steps
Understanding the guide's color coding is vital:
Red Color:

Represents the current drawing step. This is where your focus should be at any given moment.

Black Color:

Showcases lines from previous steps. It helps in understanding the progression.

Grey Color:

Denotes the foundational sketch. You should start here, using light strokes to map out the character's proportions.
The guide is divided into 9 steps, beginning with an initial sketch. This foundational step is essential as it lays the groundwork for the entire drawing. The culmination of your efforts will be in inking the sketch. Inking not only provides definition but also enhances the sketch's visibility. After inking, it's crucial to let the ink dry to avoid smudging. Once dried, gently erase the initial pencil sketch, leaving behind a clear and refined drawing. Although this guide centers on sketching, the final image displays a colored rendition of Princess B'Onangutan, serving as a color reference should you decide to paint her in vibrant hues.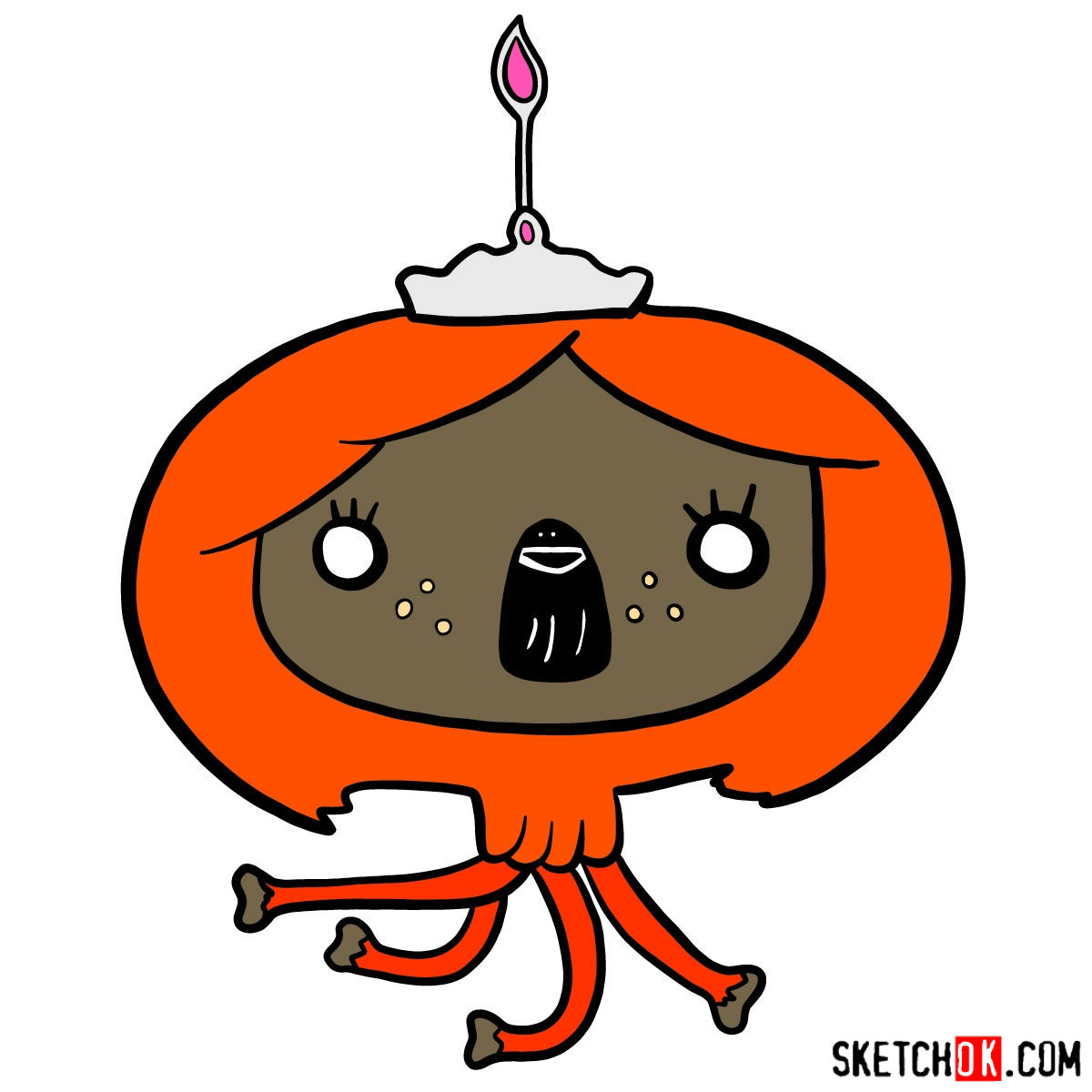 I'm thrilled you chose our tutorial on how to draw Princess B'Onangutan. If you found this guide beneficial, I encourage you to donate. Your contributions not only keep the SketchOk project alive but also allow us to develop free drawing tutorials continuously. By donating, you can suggest ideas for new tutorials, shaping the content we produce.
Furthermore, spreading the word about our guide aids fellow artists in their creative journey. Sharing the link on your preferred social media platform can make all the difference. Stay updated and connected with us on Facebook, Instagram, and Pinterest.
Remember, every stroke on your canvas brings you closer to mastery. So, keep practicing, keep drawing, and most importantly, enjoy the process.