For fans of the iconic anime and manga series, One Piece, Luffy's Gear 3 transformation without haki isn't just a technique—it's an art form. As the Straw Hat Pirates journey across the Grand Line, the Gomu Gomu no Mi unveils new strengths, and one of the most awe-inspiring among them is Gear 3. Today, we dive deep into bringing this legendary transformation to paper.
Capturing Luffy in Mid-Air Majesty
The Inflated Fist: It's all about the size, with details giving it the necessary depth and sense of weight.
Dynamic Pose: Luffy's airborne stance is not only about elevation but the raw emotion and anticipation of a mighty strike.
Expression: The determination in Luffy's eyes, the gritted teeth—all scream of the impending action.
Just a quick note:
We also have another Luffy's transformation drawings for you to enjoy: Gear Second, Gear 3 with armanent haki, Gear 4 Snakeman, Nightmare Luffy.
Guiding Colors in Your Journey
Drawing is all about evolution – beginning from a basic structure and moving to intricate details. To simplify your journey, this guide uses a color-coded system:
Red Color:

Indicates the current step, focusing on the immediate lines and strokes.

Black Color:

Showcases lines previously crafted, guiding continuity.

Grey Color:

The foundational sketch, crucial for proportion and structure.
Spanning 44 steps, this guide starts with the first three focusing on the skeletal structure. Remember, this is just the beginning, the blueprint. Towards the end, after breathing life into Luffy's Gear 3, you can choose to ink your sketch. But patience is key! Let the ink dry, lest it smudge, before erasing the pencil traces.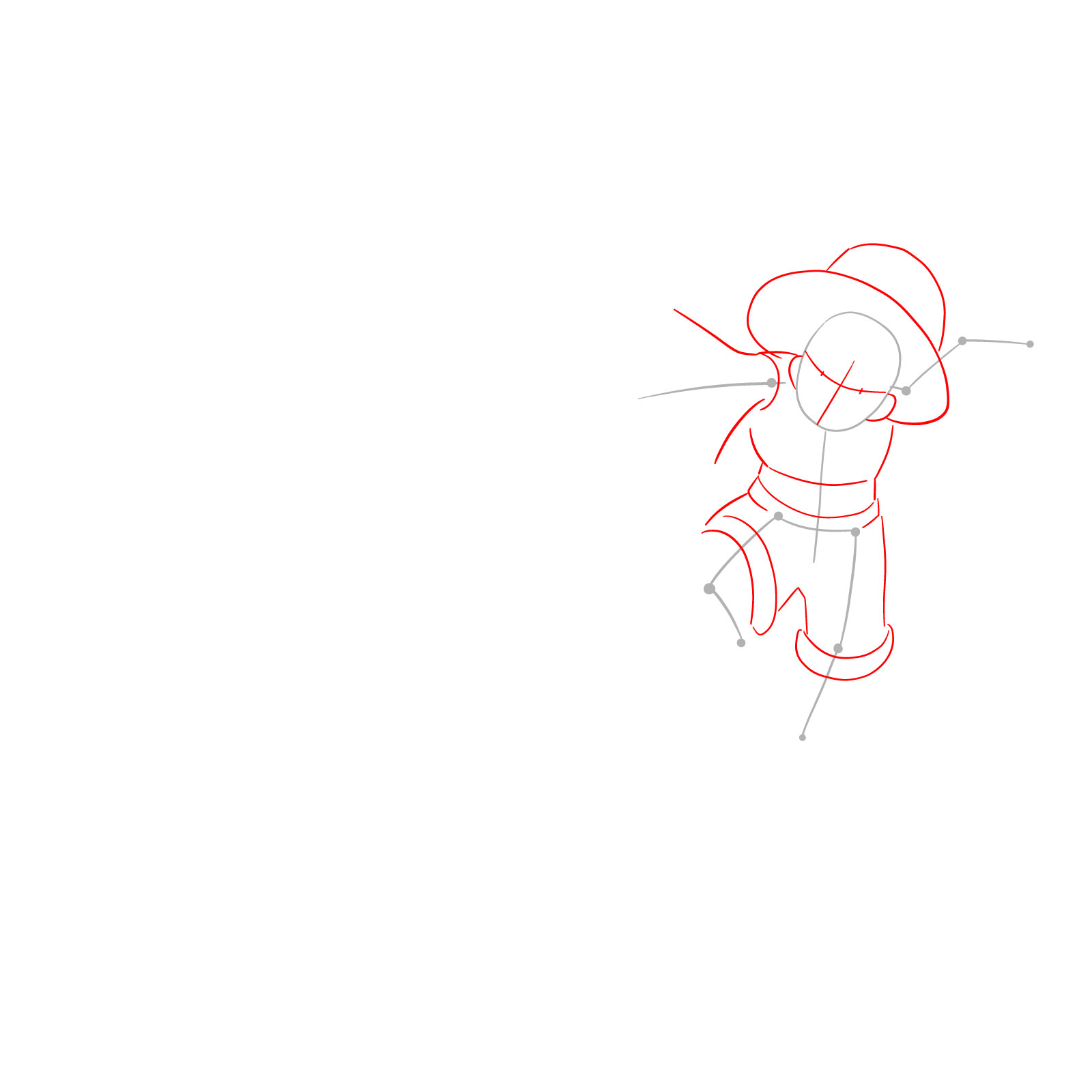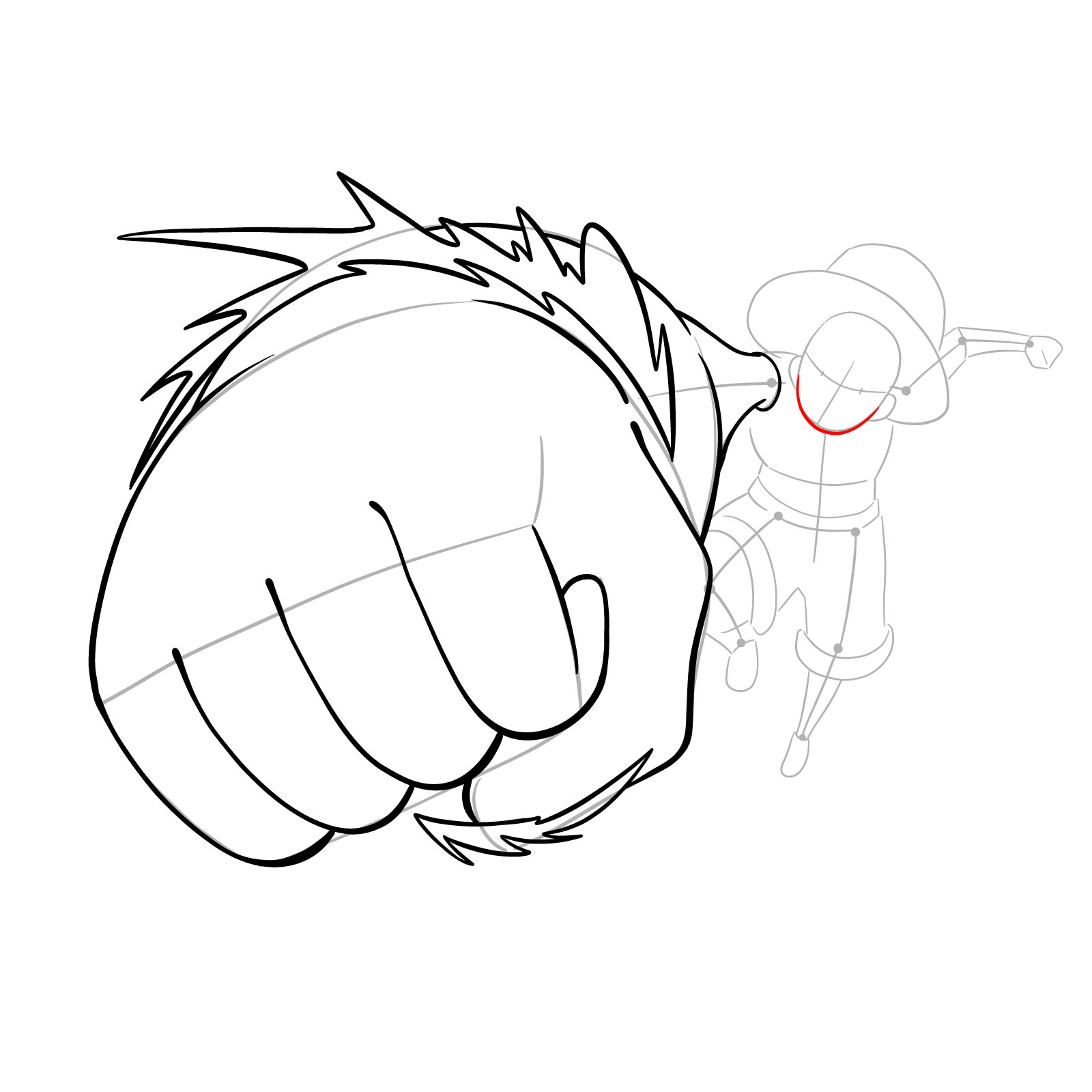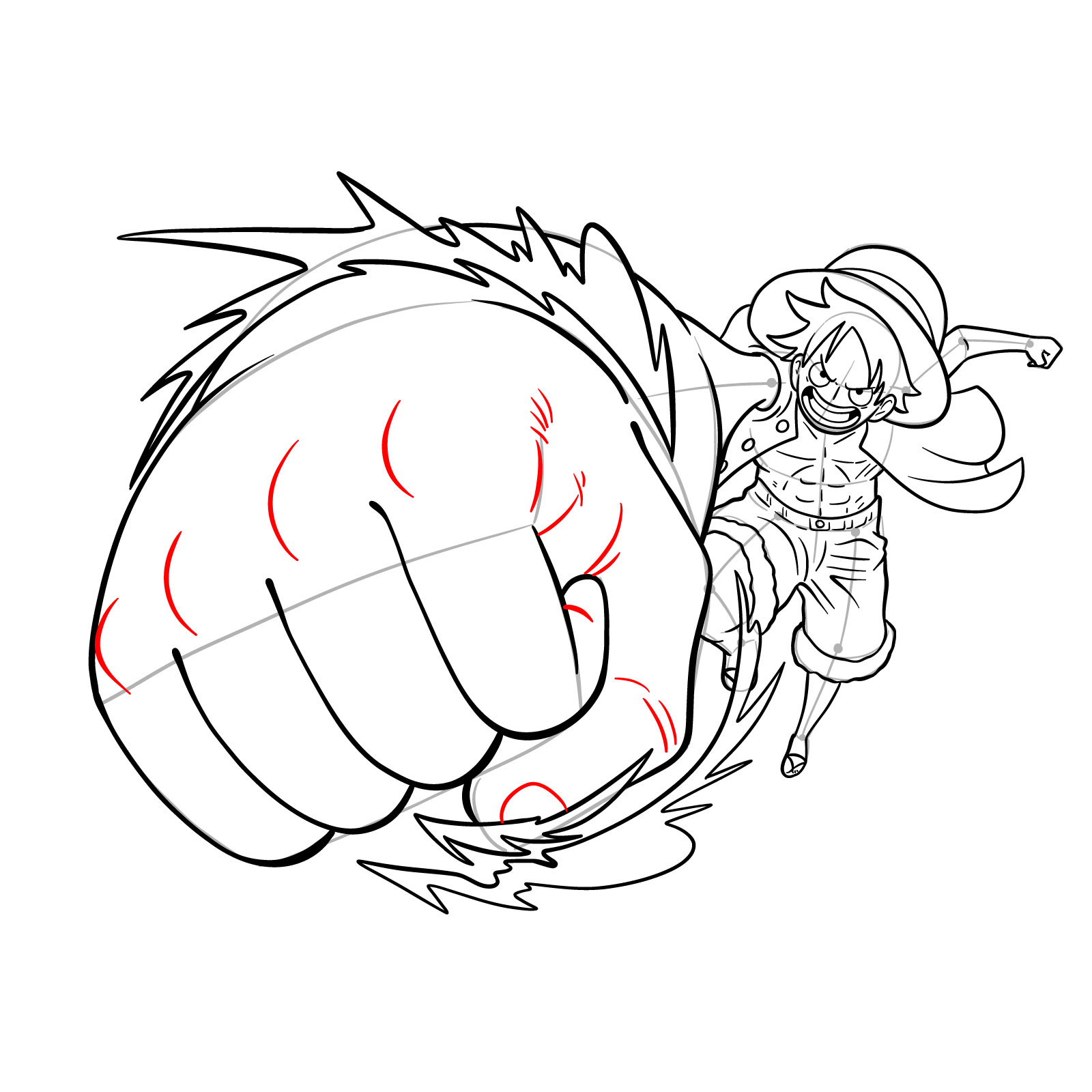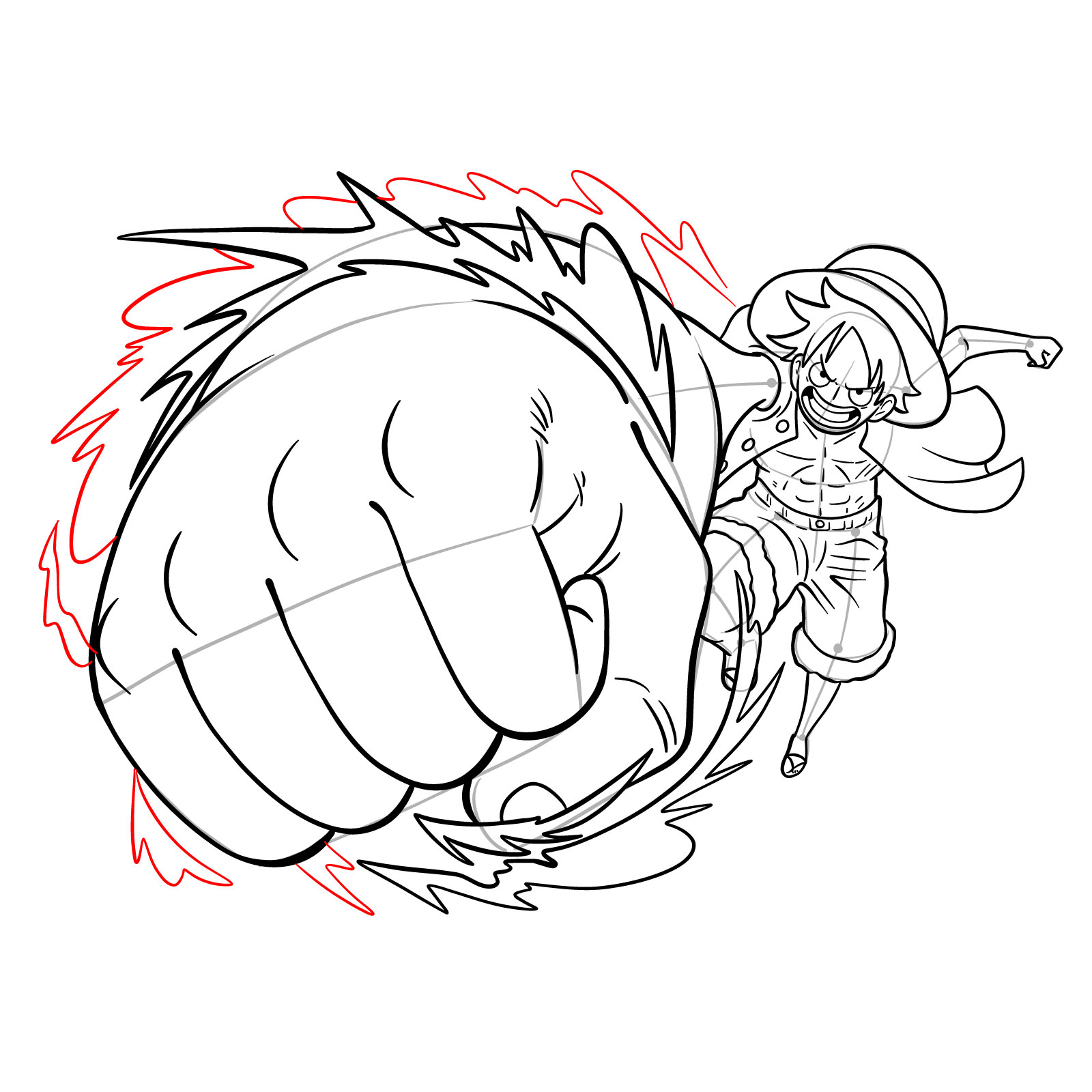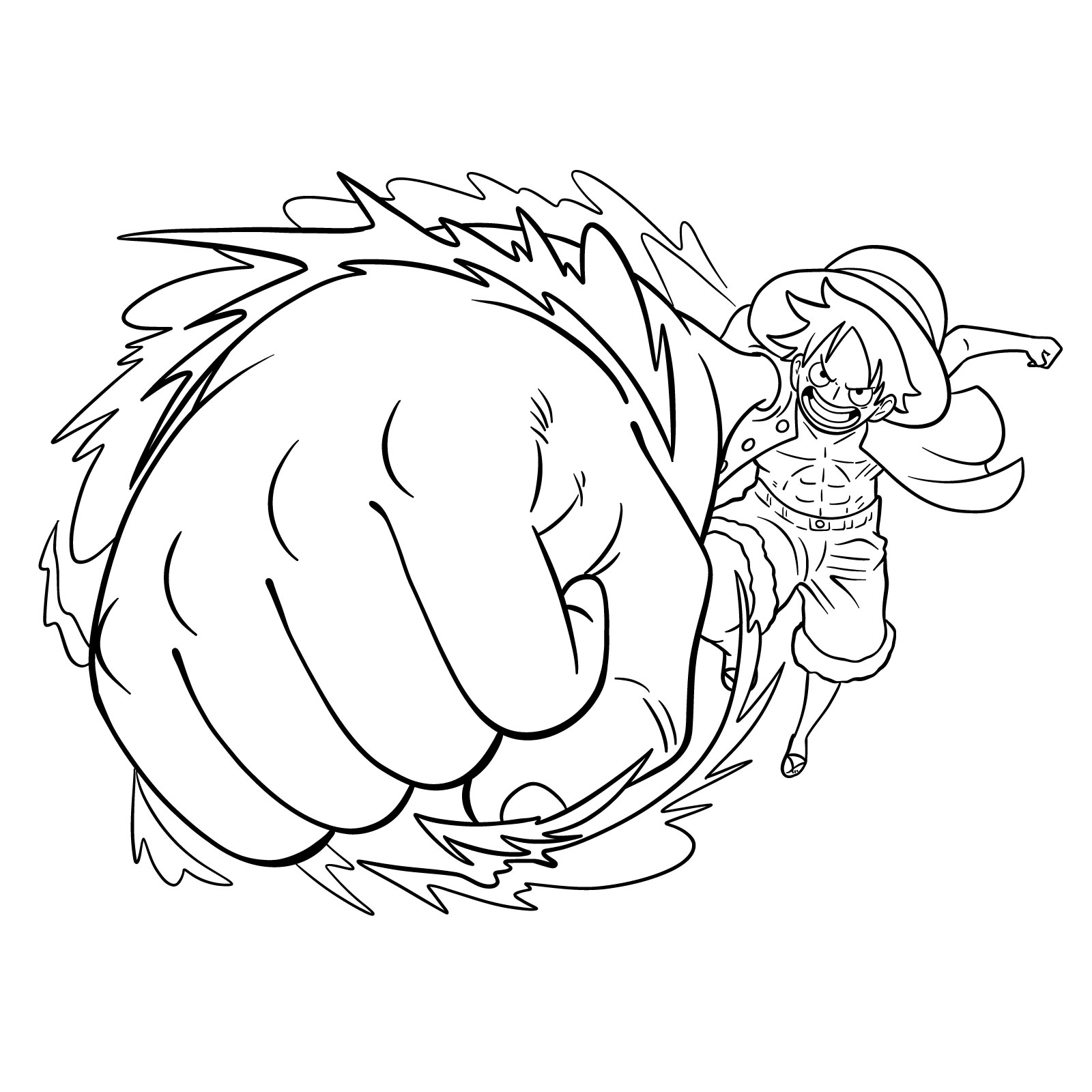 Puzzled? Let's Clear Some Clouds
What's the best approach to draw Luffy's inflated fist in Gear 3?
Given its immense size and intricate detail, it's advisable to start with a basic rectangular shapes for proportion. From there, add contours and details to depict its enormity and power. Remember, it's not just size, but the weight of the fist that needs to be conveyed. Shadows and depth can help with this.
How do I ensure the dynamism of Luffy's jump is captured?
Dynamism comes from the interplay of motion lines, body posture, and expression. Use swift, bold strokes to indicate movement, and angle Luffy's body in a way that suggests momentum. His facial expression, especially the eyes, will inject the emotion into your drawing.
How can I add more realism to the inflated bones?
Unlike Luffy's standard balloon form, Gear 3 has a hardness and structure to it. To depict this, focus on rendering tight skin stretches, slight creases, and shadows. The interaction of light will greatly enhance the solidity of the form.
Concluding Your Gear 3 Expedition
Embarking on this journey, we hoped to bring you closer to the world of One Piece and the magic of drawing. But remember, each art piece is a stepping stone, a chapter in your artistic journey. So, share this guide! Let fellow enthusiasts bask in the joy of crafting Luffy's might.
Why not take it a step further? Donate and support SketchOk. Your contributions keep us afloat, letting us churn out free guides and heed to your ideas for fresh tutorials. Follow us on Facebook, Instagram, and Pinterest for more art-tastic content!