Have you ever been captivated by the world of One Piece, particularly the savvy navigator of the Straw Hat Pirates, Nami? If you've wished to bring her to life on paper, you're in the right place. In this tutorial, we'll delve into how to draw Nami full body, highlighting her distinctive features and attire.
The Allure of Nami: Key Features to Capture
Physique and Stature: Nami is a slender young woman of average height with vibrant orange hair and captivating brown eyes. Her physique has matured and evolved throughout the series.
Tattoo and Symbols: She boasts a black (or blue in the anime) tattoo on her left shoulder, representing mikan and pinwheels. This is an homage to her past and the significant figures in her life.
Outfit and Accessories: Nami is often seen in a short dress adorned with ruffles and swirl patterns. She dons high-heeled gladiator sandals, a wristband on her left hand.
Companions: Drawing Nami alone? Why not add Luffy in Gear 3 or other Straw Hat members to create a complete scene?
About This Drawing Guide
This tutorial consists of 34 comprehensive steps. Here's what you need to know about our color-coded guide:
Red Color:

Represents the current step you should be focusing on.

Black Color:

Showcases the lines you've previously drawn.

Grey Color:

Illustrates the basic proportion sketch. During the initial phase, ensure you sketch lightly for easier adjustments.
The first part of this guide is centered around creating the basic structure for proportions. By the end of this tutorial, you'll have the option to ink your sketch. Remember, it's essential to allow the ink to dry fully before erasing any pencil lines, ensuring a crisp and smudge-free artwork.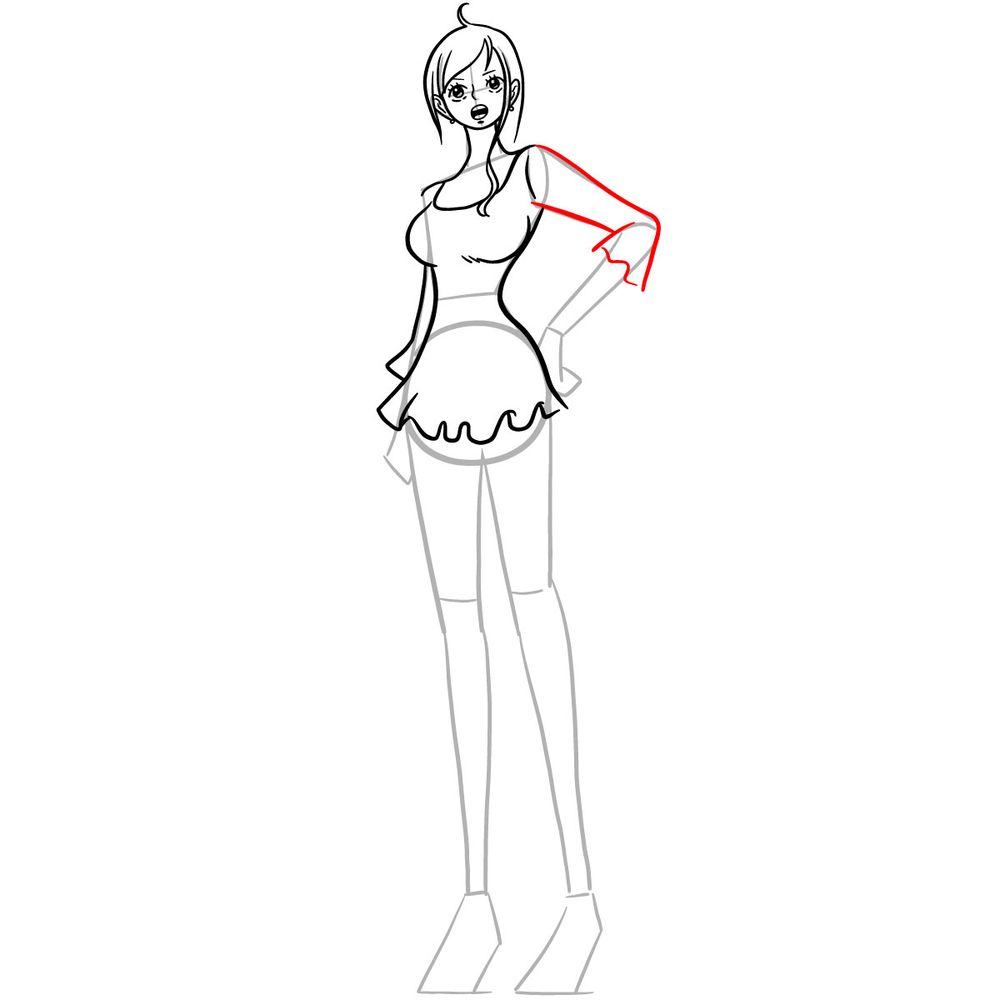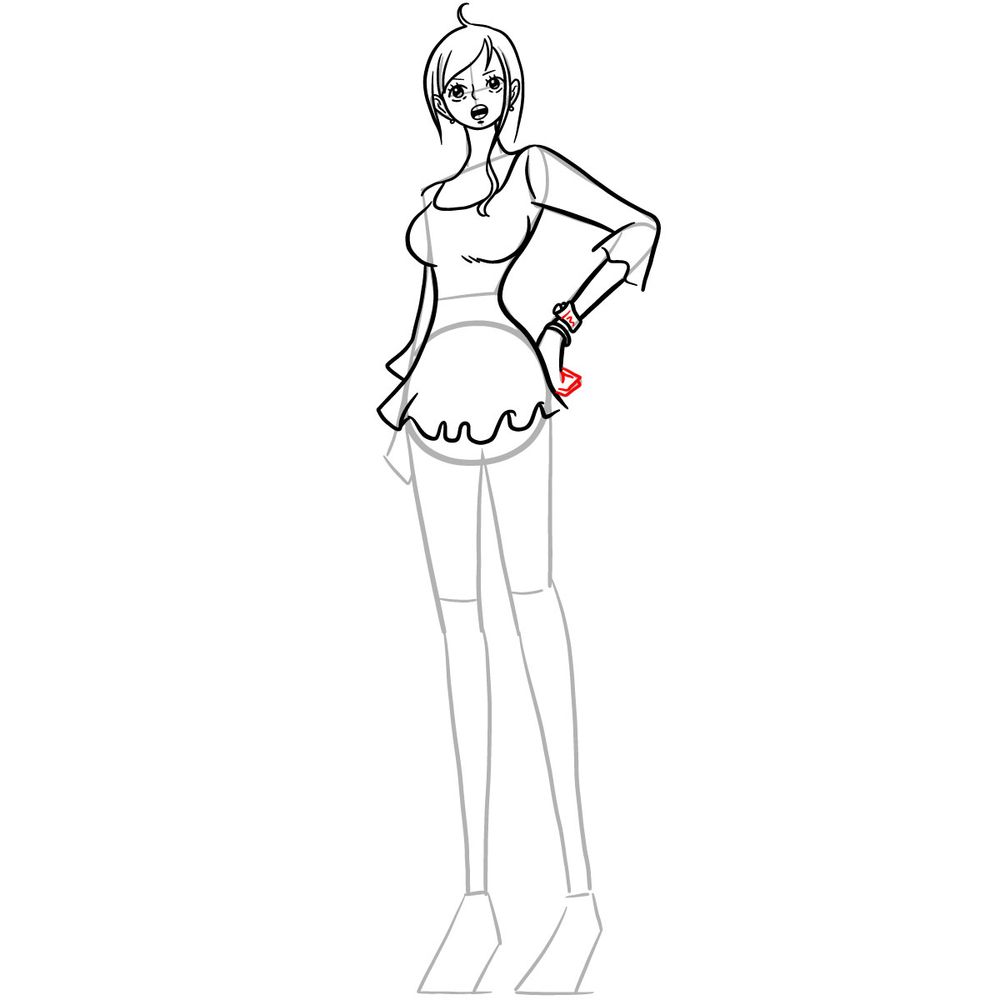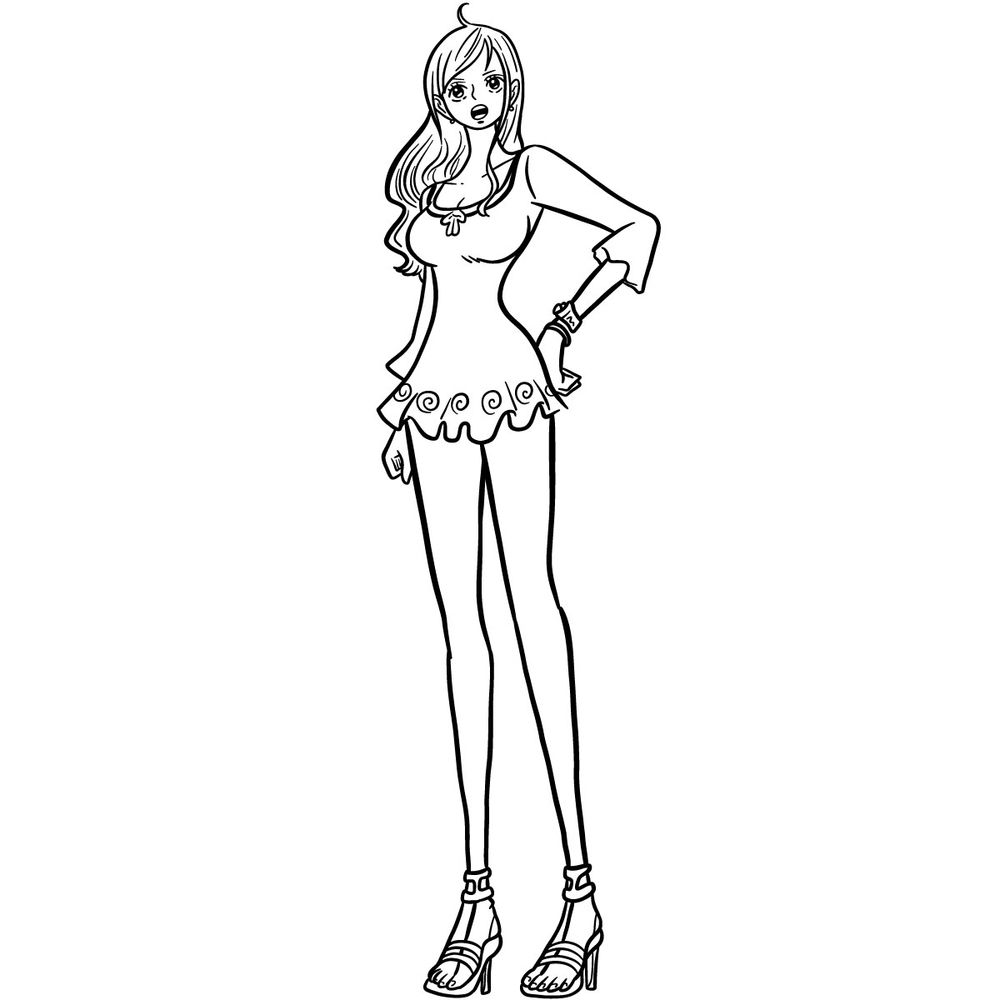 Frequently Asked Questions
What's the best technique to capture Nami's hair?
Nami's hair is one of her standout features. Start by sketching the general shape and flow, then add individual strands for volume and detail. Remember to capture its vibrant orange hue and varying lengths, especially if it's flowing in the wind or has a dynamic movement.
How do I draw her high-heeled gladiator sandals accurately?
Start by sketching the basic foot structure. Next, draw the heel, ensuring the angle and height are proportionate. Add the straps, paying close attention to their placement and design. Gladiator sandals can be intricate, so take your time to capture the details.
Wrapping Up Your Artistic Adventure
Thank you for choosing this guide on how to draw Nami full body. If you've enjoyed this tutorial and wish to support further creations, feel free to donate here. Your kind contribution not only fuels the passion but also allows you to suggest topics for future tutorials. Your suggestions will be prioritized, helping shape the future of SketchOk. If you'd like to stay updated on new tutorials, consider subscribing to our Facebook, Instagram, and Pinterest channels. And remember, sharing is caring! If you've found value in this guide, share it with fellow artists and enthusiasts.
Happy sketching, and may your artistic journey with the Straw Hat Pirates be as adventurous as their tales!