Welcome to the world of Fairy Tail, where magic runs wild and the characters are as cool as ice. Today, we're going to focus on one of the most iconic mages from this beloved series: Gray Fullbuster.
Gray is known for his icy demeanor and powerful ice magic, but there's more to this character than meets the eye. In this guide, we'll show you how to capture Gray's essence by drawing his face with ease. Whether you're a beginner or an experienced artist, this tutorial will help you master Gray's features and bring them to life on the page. So grab your sketchbook, sharpen your pencils, and let's get started!
About the Character
Gray Fullbuster is a powerful mage and member of the Fairy Tail guild. He specializes in ice magic, which he inherited from his teacher and surrogate father, Ur. Gray is known for his cool and collected personality, often coming across as aloof and detached. However, he cares deeply for his friends and will do anything to protect them.
In terms of appearance, Gray is a tall, muscular young man with spiky black hair and dark blue eyes. He's often seen wearing minimal clothing, as his magic allows him to control his body temperature and withstand the cold.
Drawing Guide
To draw Gray's face, start by sketching out the basic shapes and proportions. Use reference images from the guide. Next, add in the details of his face, including his sharp jawline, defined cheekbones, and distinctive eyebrows. Don't forget to add in his signature tattoo on his chest.
When shading, focus on capturing the contrast between light and dark, especially around the eyes and jawline. Use hatching and cross-hatching techniques to add depth and texture to the drawing. Remember to be patient and take your time to get the details just right.
Here are some tips to keep in mind when drawing Gray's face:
Start with a light sketch and gradually build up the details.
Use reference images to help you capture his likeness.
Pay attention to the angles of his face, especially his sharp jawline and chin.
Don't be afraid to experiment with shading techniques to create depth and texture.
Practice, practice, practice!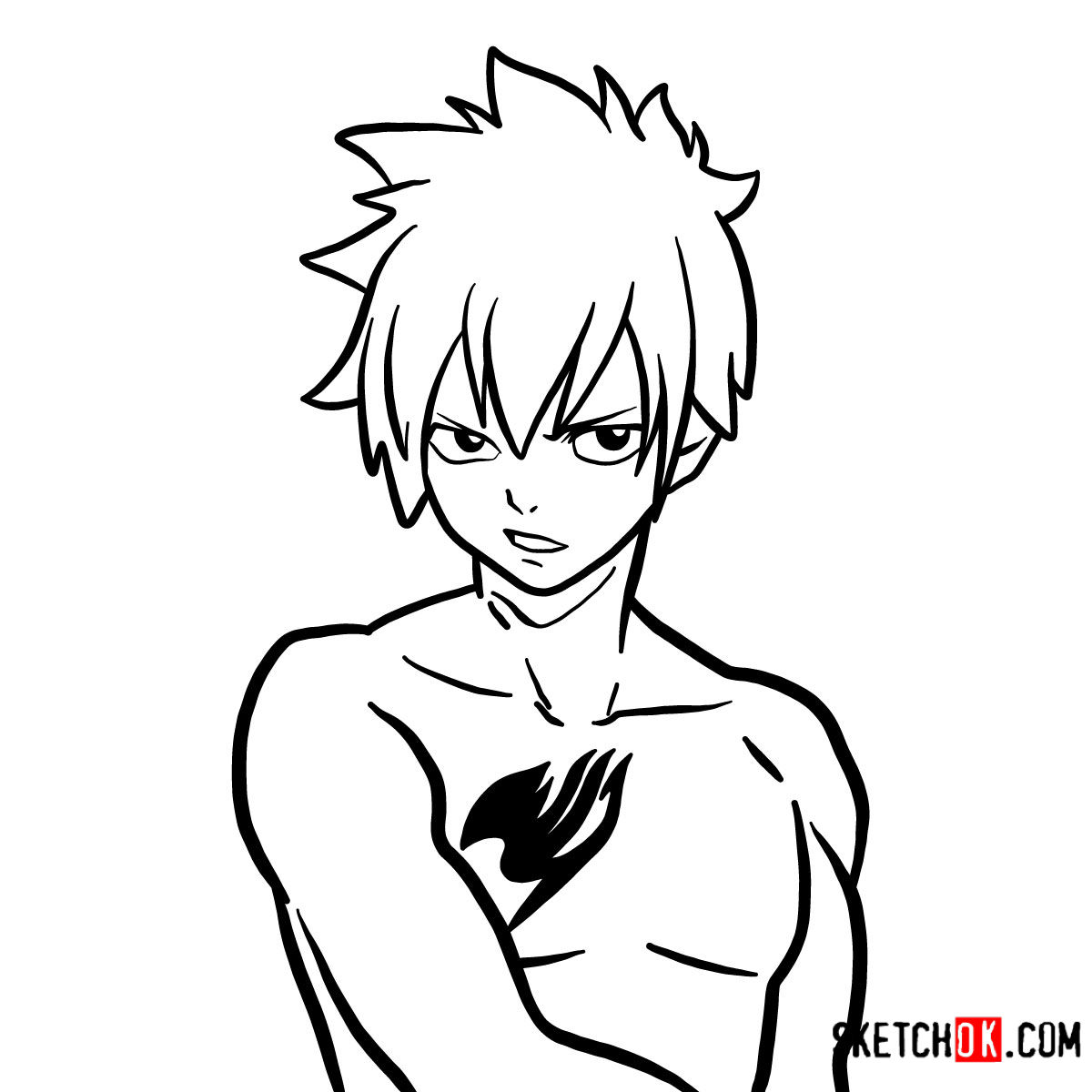 Other Characters to Draw
If you're a fan of Fairy Tail, there are plenty of other characters to draw beyond Gray Fullbuster. Some other popular characters to try include:
No matter which character you choose to draw, remember to have fun and let your creativity run wild. And if you enjoyed this tutorial, consider supporting us on Buy Me a Coffee. Your support helps us continue to create free content and share our love of art with aspiring artists everywhere.
So go forth, my fellow artists, and let your pencils fly!