Ah, Erza Scarlet. The knight in shining armor of the Fairy Tail Guild. The only person who can pull off wearing armor while still looking drop-dead gorgeous. And now, you can learn how to draw her face with our step-by-step guide! Whether you're a beginner or a seasoned artist, we've got you covered. Get ready to impress your friends and show off your skills!
Erza Scarlet: An Overview of the Queen of the Fairies
Erza Scarlet is one of the most iconic characters in the anime and manga series, Fairy Tail. She is a powerful S-Class Mage of the Fairy Tail Guild, known for her formidable strength and unwavering determination. Her striking red hair, beautiful brown eyes, and impeccable fashion sense make her a fan favorite. Her personality is a mixture of sternness and compassion, making her a beloved member of the Fairy Tail family.
A Step-by-Step Guide to Drawing Erza Scarlet's Face
Are you ready to draw Erza's face? Let's get started! First, make sure you have all the necessary materials, such as a pencil, eraser, and paper. Then, follow these easy steps:
Start with a light sketch of the basic face shape. Erza's face is oval-shaped with a pointed chin.
Add in the facial features, such as the eyes, nose, and mouth. Erza has thick lashes, a small nose, and full lips.
Sketch in her iconic scarlet hair. Her hair is long and wavy, with a section that is tied up on the left side of her head.
Add in the details of the upper part of her armor.
Darken the lines to finish the sketch. Use shading to add depth and dimension to the drawing.
Tips:
Practice makes perfect! Don't be discouraged if your first attempt isn't perfect. Keep practicing and you'll improve in no time.
Use reference images to help guide your sketch.
Experiment with different styles and techniques to make the drawing your own.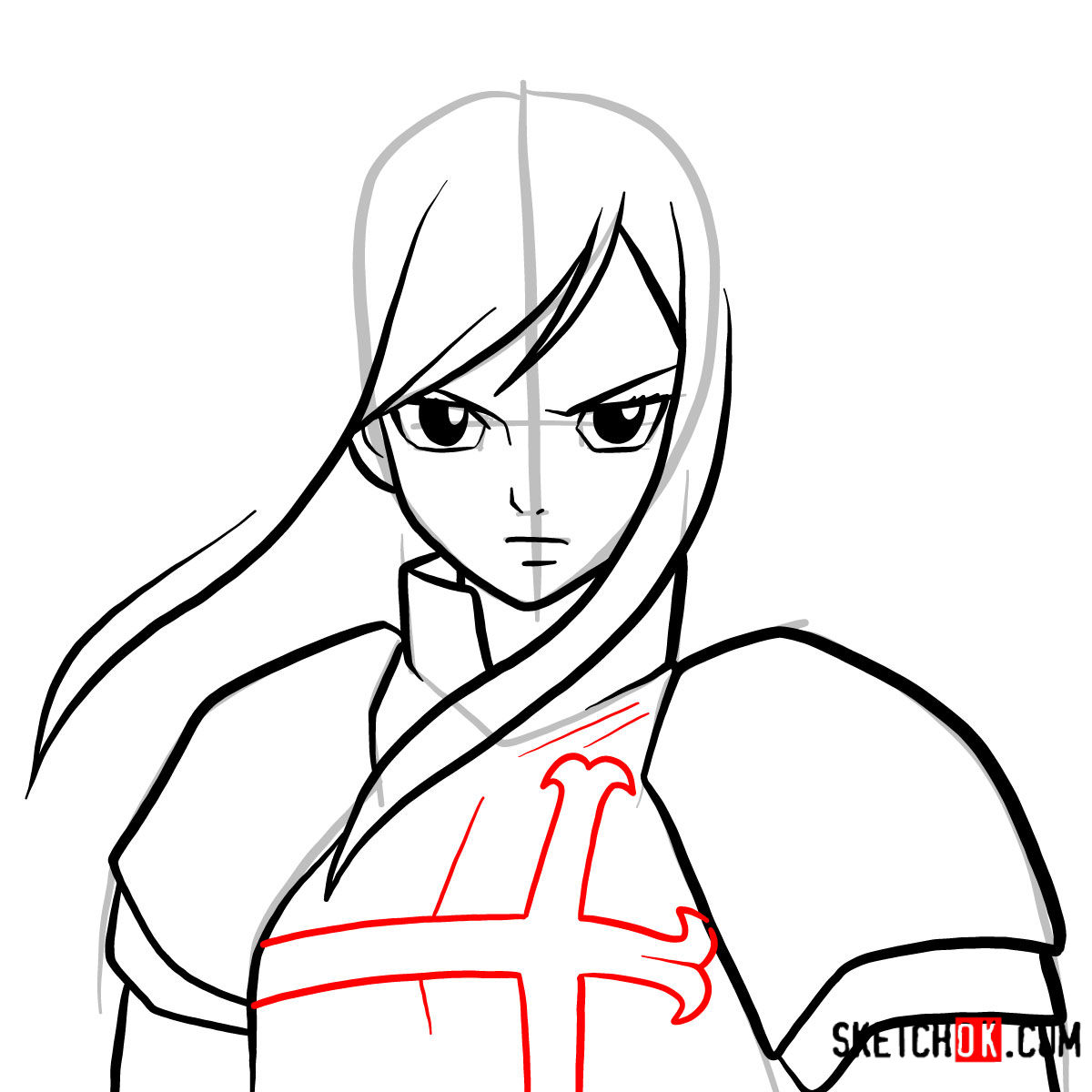 Looking for more characters to draw? Why not try your hand at Natsu Dragneel, Lucy Heartfilia, Gray Fullbuster, or Juvia Lockser from Fairy Tail? Or perhaps you want to draw characters from other anime or manga series? The possibilities are endless!
And there you have it, aspiring artists! A step-by-step guide on how to draw the beautiful face of Erza Scarlet. We hope you had fun and learned something new. If you enjoyed this guide, consider supporting us on Buy Me a Coffee. Your support helps us continue creating helpful content for artists like you. Happy drawing!