Welcome to our guide on sketching Yahaba's full body, the enigmatic antagonist from Demon Slayer. In this tutorial, we will walk you through the process of capturing Yahaba's unique appearance and personality through precise pencil strokes.
Unveiling Yahaba's Appearance
When drawing Yahaba, it's essential to capture his unique appearance and distinctive features. Here are some key points to focus on:
Facial Features: Yahaba has an average build with pale, gray-tinted skin. Pay attention to his very short hair and the eyes that he keeps shut. Don't forget to depict the additional pair of pale-ringed orange eyes on the palms of his hands, a defining characteristic of his demonic nature.
Attire: Yahaba wears a plain olive-green kimono with a brown obi and a dark gray haori. Take note of the large pearls of his akoya necklace. Ensure that you accurately depict the intricate details of his clothing and accessories.
Expression and Posture: Yahaba exudes a sense of maturity and clean sophistication. Capture his composed demeanor and sadistic personality while maintaining a clean and dignified appearance. Pay attention to his posture and body language to accurately convey his character.
As you practice drawing Yahaba, consider exploring other characters from the Demon Slayer series to further develop your artistic skills. Here are a few notable characters you may consider drawing:
By drawing a diverse range of characters, you'll not only improve your drawing abilities but also gain a deeper understanding of the unique traits and personalities within the Demon Slayer universe.
Our drawing guide for Yahaba's full body provides a systematic approach to help you master the art of sketching this intriguing character. Let's delve into the details of the guide:
Color Scheme and Step-by-Step Process
Throughout this tutorial, we will use a clear color scheme to guide you through the steps:
Red: The red color signifies the current step in the drawing process, indicating the focus areas and elements to work on.
Black: The black color represents the previously finished steps.
Grey: The grey color indicates the basic sketch from the first 3 steps.
With this color scheme, you can easily distinguish between the different stages of the drawing and maintain clarity throughout the process.
Our drawing guide consists of 33 steps in total, carefully designed to guide you from the initial rough sketch to the refined and detailed representation of Yahaba's full body. The first three steps will focus on creating a solid base rough sketch, establishing the overall proportions and structure of the character.
By following each step diligently and taking your time to refine your sketch, you will gradually bring Yahaba's full body to life on paper.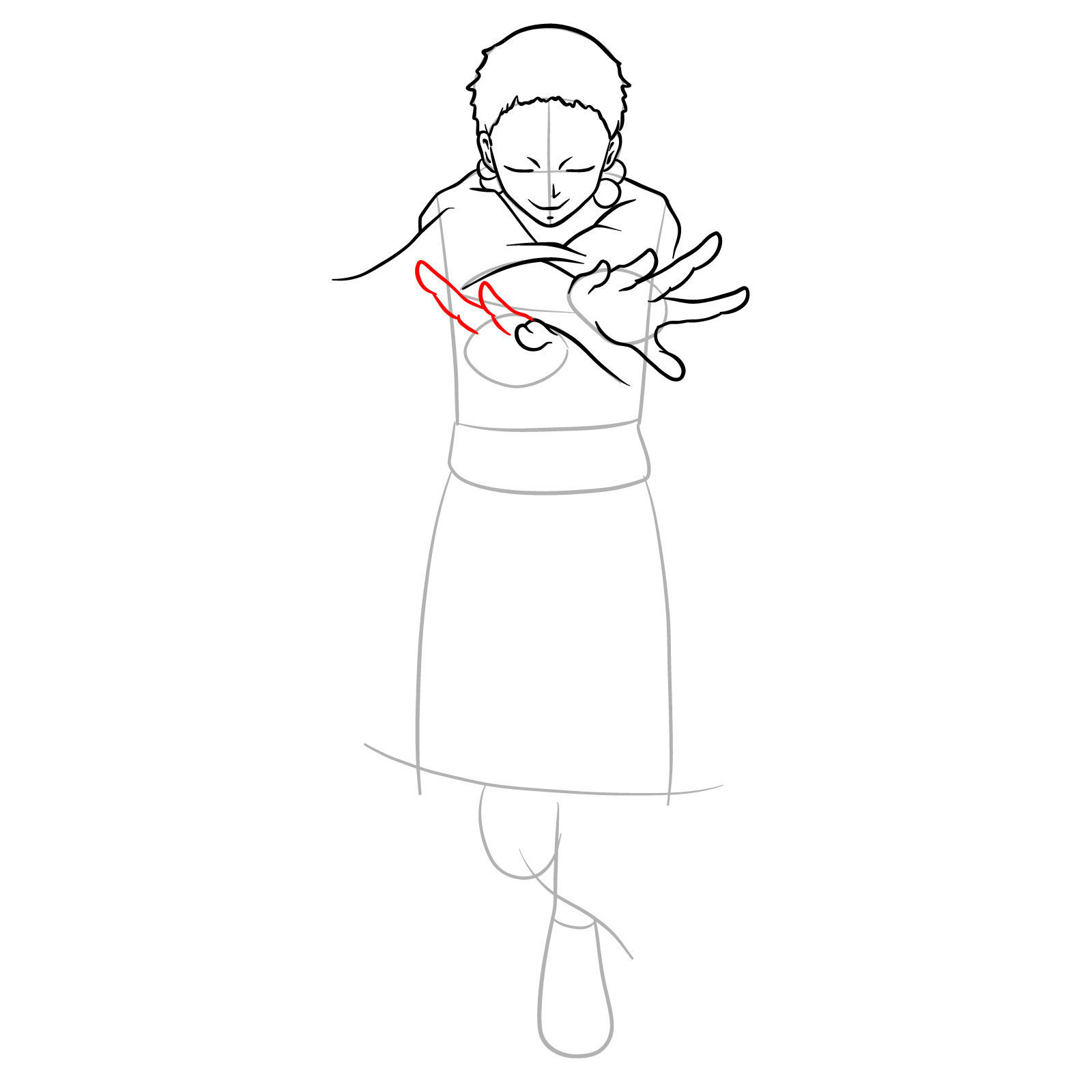 Don't Stop Drawing!
Congratulations on learning how to draw Yahaba from Demon Slayer! By following this drawing guide, you've honed your skills and captured the essence of this intriguing character. Remember, practice makes perfect, so keep refining your artistic abilities and exploring new subjects.
If you found this guide helpful and enjoyable, I invite you to consider supporting our efforts by making a donation. Your contribution will enable us to continue creating more drawing guides and resources for aspiring artists like you.
Donate: Donate Now
Additionally, please consider sharing the link to this drawing guide with your fellow art enthusiasts. Spread the knowledge and inspire others to embark on their artistic journey with Yahaba and other captivating characters from Demon Slayer.
Stay connected with us on social media:
Join our community and be a part of the vibrant world of art.