Welcome to our drawing guide on how to draw the face of Kyogai, the enigmatic and formidable antagonist from the Tsuzumi Mansion Arc in Demon Slayer. In this tutorial, we will delve into the intricacies of Kyogai's appearance, providing you with valuable insights and techniques to recreate his captivating visage. Prepare to unlock the secrets of his dark charisma and bring this mesmerizing character to life on your canvas.
How to Draw the Face of Kyogai: Unleash the Drum Demon's Dark Charisma
In this drawing tutorial, we will delve into the art of capturing the enigmatic face of Kyogai, the Drum Demon, from the popular series Demon Slayer. We will explore the intricacies of Kyogai's appearance and provide you with essential tips to help you bring his dark charisma to life on your canvas.
Character's Appearance and Key Focus Points
Before we dive into the drawing process, let's familiarize ourselves with Kyogai's distinctive appearance and the key elements an artist should focus on:
Grayish Skin: Kyogai possesses a tall and muscular humanoid form with grayish skin that adds to his eerie presence.
Drums Protruding: Unique to Kyogai, his shoulders have drums protruding from them, showcasing his Blood Demon Art.
Eyes: Pay close attention to Kyogai's intense gaze, characterized by blood-red sclera with no pupils, and pointy ears.
Expression: Capture Kyogai's angry look and demonical grin.
By focusing on these key aspects, you'll be able to authentically portray Kyogai's unique features and bring his character to life in your artwork.
Understanding the Drawing Guide
This step-by-step tutorial comprises a total of 23 carefully curated steps, each designed to help you master the intricacies of Kyogai's appearance.
When it comes to the color scheme in this drawing guide, it is essential to employ a methodical approach. The color guidelines are as follows:
Step-by-step Progression:

As you progress through the guide, pay attention to the current step in red, symbolizing the ongoing focus of your work.
Completed Steps: Completed steps are marked in black, indicating your progress and giving you a clear overview of your journey.

Basic Rough Sketch:

Grey is used for the initial steps (the first two) of making a basic rough sketch, allowing you to see the foundational structure.
By adhering to these color guidelines, you will maintain clarity and organization throughout the drawing process, ensuring a methodical and professional approach to capturing Kyogai's face.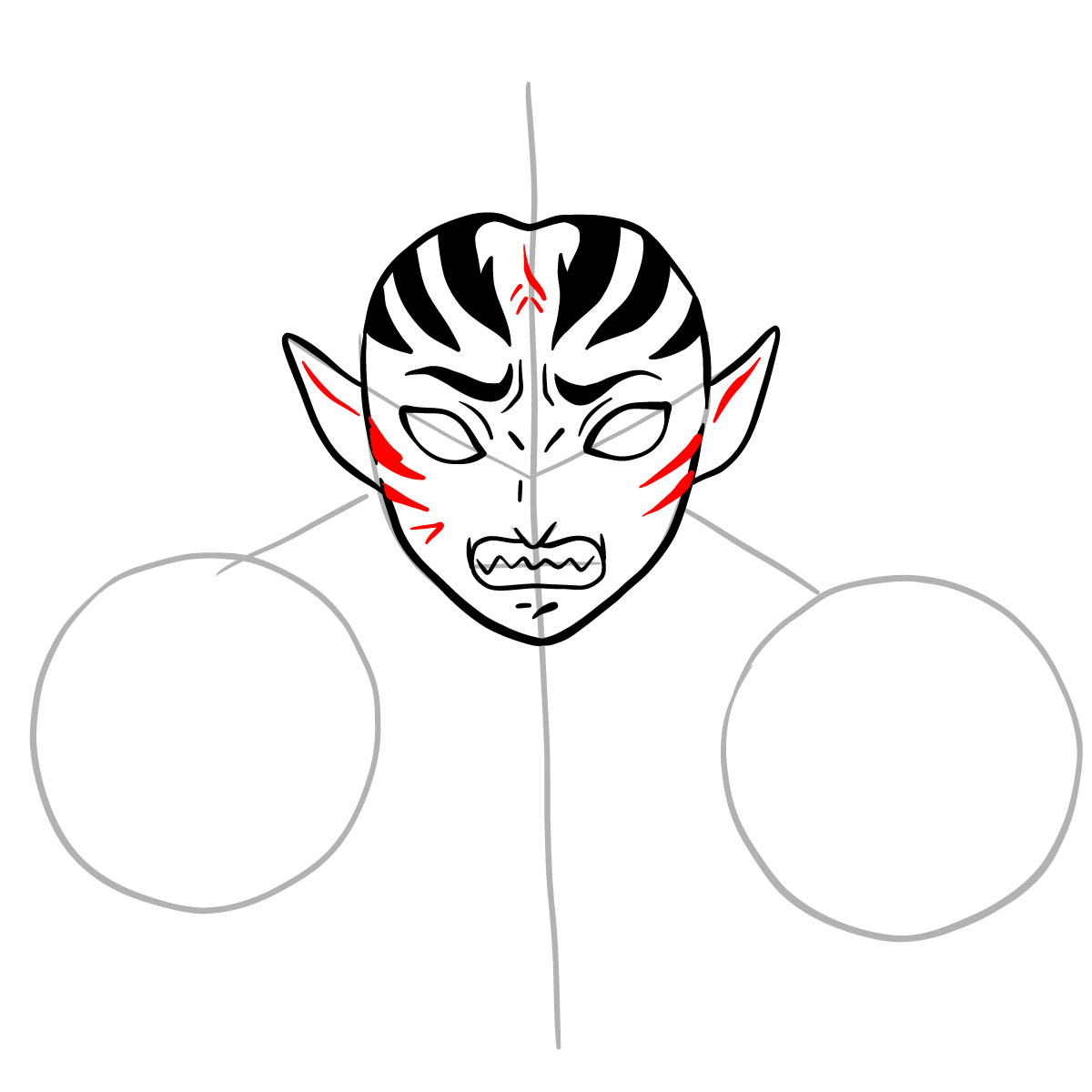 Expand Your Artistic Horizons: Characters to Draw Next
After mastering how to draw the face of Kyogai, it's time to broaden your creative repertoire. Here are some captivating characters you can consider drawing next:
Exploring these characters will not only enhance your artistic skills but also deepen your connection with the rich world of Demon Slayer.
Support SketchOk
Creating comprehensive drawing guides requires time, effort, and resources. If you found our guide on drawing Kyogai's face valuable and would like to see more high-quality tutorials in the future, we kindly invite you to consider supporting us.
There are several ways you can contribute:
Donate: By making a donation through our Buy Me a Coffee page, you can directly contribute to the development of new drawing guides and resources.
Share the Link: Help us reach a wider audience by sharing the link to this drawing guide with your friends, fellow artists, and enthusiasts.
Your support enables us to continue providing valuable resources to aspiring artists like you. Together, let's nurture and celebrate the world of art.
Thank you for your generosity and passion for art!