Welcome to our drawing guide where we will help you master how to draw Kanao Tsuyuri from Demon Slayer: Kimetsu no Yaiba. As a major supporting character in the series, Kanao possesses a unique charm and a captivating appearance that make her a favorite among fans. Whether you're a beginner or an experienced artist, this guide will provide you with step-by-step instructions to bring Kanao Tsuyuri to life on paper. So grab your pencils and let's get started!
Character's Appearance
When drawing Kanao Tsuyuri, it's important to capture the essence of her distinctive features. Here are some key aspects to focus on:
Eyes: Kanao's eyes are a prominent feature, characterized by their large, gentle, dark lilac color. Pay attention to the shape and expression, as they convey her calm and observant nature.
Hairstyle: Kanao's black hair is tied into a ponytail on the right side of her head. Notice the placement and details of the butterfly ornament, a meaningful accessory that adds a touch of symbolism to her character.
Facial Structure: Capture Kanao's delicate and youthful appearance. Take note of her straight fringe and the two loose strands that gracefully frame her face, enhancing her overall charm.
Outfit: Kanao wears a slightly purple-tinted version of the standard Demon Slayer uniform. Pay attention to the knee-length pleated skirt instead of the traditional pants, as well as the short white cloak fastened with a dark pink triple knot. Detail the white boots with tan accents to complete her ensemble.
By focusing on these aspects, you can ensure that your drawing of Kanao Tsuyuri captures her unique beauty and stays true to her character design.
Understanding the Drawing Guide
The drawing guide for Kanao Tsuyuri will take you through the process of creating a stunning depiction of this beloved character. Here are some important guidelines to follow:
Color Guidelines: To enhance your drawing and bring Kanao to life, we recommend following these color guidelines:

Red:

This color indicates the current step you should be working on.

Black:

Once a step is completed, it's showed in black in the next images.

Grey:

I use grey to indicate the basic proportional sketch that we will make in the first steps.

Total Steps: The drawing guide consists of a total of 16 steps, taking you from the initial sketch to the final touches.
Basic Proportional Sketch: The first two steps focus on creating the basic proportional sketch of Kanao. This establishes the framework for the rest of the drawing process.
Inking and Erasing: On step 15, you have the option to ink your drawing and carefully erase any pencil marks, resulting in a clean and refined artwork.
Coloring Reference: Step 16 provides a reference for those who choose to color their drawing.
By following these guidelines, you'll be able to create a captivating portrayal of Kanao Tsuyuri, showcasing your artistic skills and attention to detail.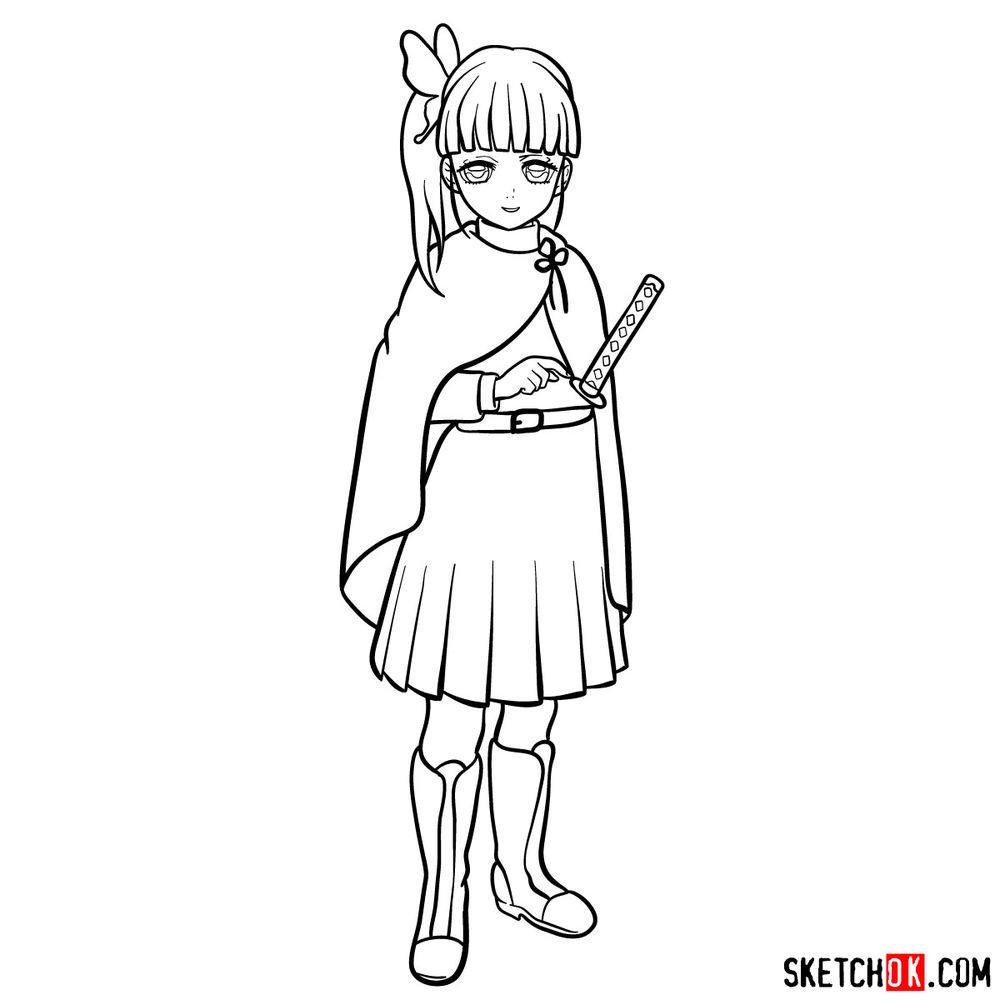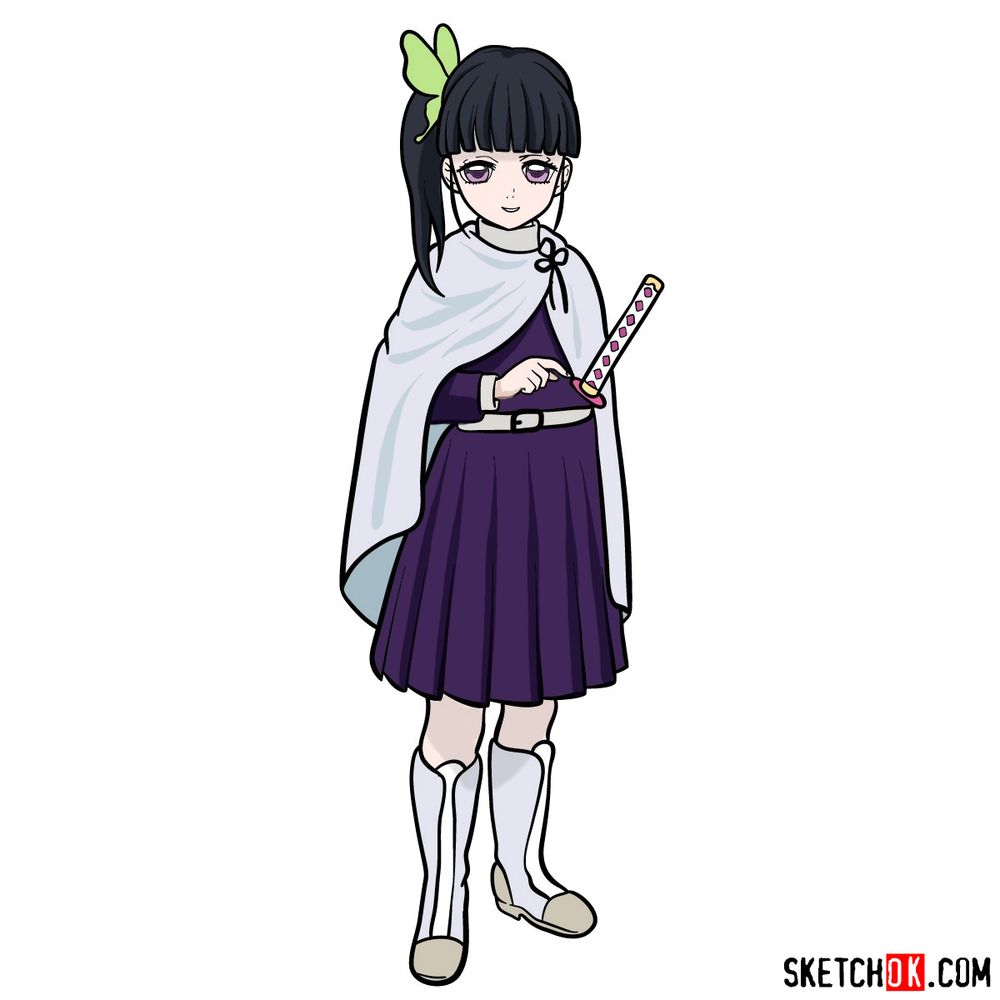 Other Characters to Draw Next
Once you've mastered drawing Kanao Tsuyuri, there are plenty of other fascinating characters from the world of Demon Slayer that you can bring to life with your artistic talents. Here are some suggestions:
Each character offers a unique design and personality, allowing you to explore different artistic styles and techniques. So don't hesitate to dive into these characters and expand your artistic repertoire!
Support and Connect with SketchOk
Creating these drawing guides takes time and effort, but I love sharing my passion for art with you all. If you've found value in the tutorials and would like to support me, there are a few ways you can do so:
Donate: Consider buying me a coffee through Buy Me a Coffee. Your contribution helps me continue creating more drawing guides for you to enjoy.
Share the Link: Spread the word about SketchOk by sharing the link to the drawing guide with your friends, fellow artists, or on social media. The more people who can benefit from these tutorials, the better!
Your support and engagement mean the world to me. Together, we can continue to nurture our artistic journeys and create amazing art!