Welcome to a realm where glitches come to life and legends take form. In this artistic journey, we will explore the enigmatic world of the FNF: Glitched Legends mod and learn how to draw one of its most captivating characters, Shadow Bonnie. Prepare to venture into a glitched dimension where art and imagination collide!
The Glitched Elegance of Shadow Bonnie
Shadow Bonnie, a central character in the mod, embodies the essence of glitch and mystery. This enigmatic being is a glitched version of the original Bonnie, with a twisted and distorted appearance that captivates the imagination. In this mod, Shadow Bonnie showcases a unique blend of darkness and glitch effects, making it a challenging but rewarding character to draw. Through our step-by-step instructions, we'll unravel the secrets behind capturing the essence of character's glitched form, allowing you to create a stunning portrayal of this captivating being.
Dive into the Drawing Process: Our Approach to Capturing Shadow Bonnie
In this drawing guide, we will take a unique approach to capturing the essence of Shadow Bonnie from the FNF: Glitched Legends mod. Get ready to dive straight into the drawing process without a preliminary proportional sketch. This method allows for a more dynamic and intuitive experience as you bring Shadow Bonnie to life on your canvas.
Color-Coded Guide
To ensure a smooth and enjoyable drawing experience, we have color-coded the guide. The colors will help you navigate through each step with ease and clarity.
Red:

The red color indicates the current step you should focus on. It guides you through the specific details and features of Shadow Bonnie that you will be working on at that moment.

Black:

The black color represents the previously drawn lines. These lines serve as a reference and foundation for the subsequent steps.
By following the color-coded guide, you will gradually bring Shadow Bonnie to life, capturing the glitched essence that defines this character from the FNF: Glitched Legends mod. Embrace the unique approach and let your creativity flow as you embark on this artistic adventure!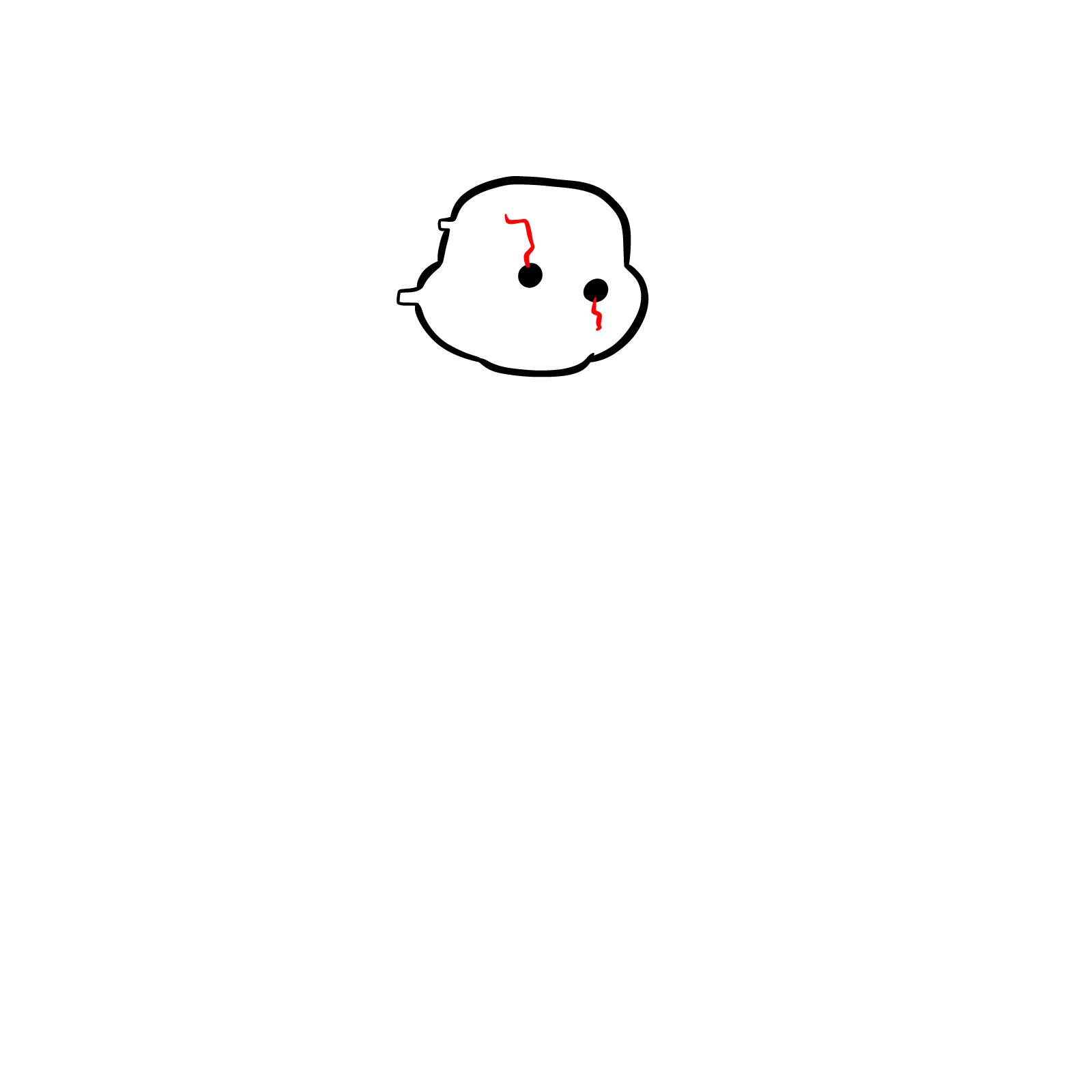 Explore Similar Characters to Expand Your Artistic Repertoire
As you continue to refine your drawing skills, why not venture into drawing other similar or related characters? These diverse and iconic characters offer a range of artistic challenges and creative opportunities. Let's explore a few suggestions:
1. Freddy
Another beloved character from FNAF, Freddy, is a perfect choice to further hone your skills. Capture the essence of his mischievous grin and playful personality as you bring this iconic animatronic bear to life on your sketchpad.
2. Glitched SpongeBob
For a twist of glitched humor, consider drawing Glitched SpongeBob. This fusion of glitch effects and everyone's favorite sponge offers a unique challenge in capturing both the recognizable SpongeBob characteristics and the glitched aesthetic.
3. Thomas Jasper Cat Sr
Tom, a timeless character from the classic cartoon series appeares in the same FNF mod.
4. Red J. Bird
Bring a touch of avian adventure to your drawings by taking on the challenge of Red Bird as he appeares in Glitched Legends..
Wraping Up
We hope this step-by-step drawing guide has inspired you to capture the essence of Shadow Bonnie and explore other exciting characters. Remember, practice is key to mastering your artistic skills, so keep drawing and experimenting!
If you found this guide helpful, please consider supporting me and the SketchOk project by sharing the link to this tutorial with your fellow artists and friends. Your support is greatly appreciated!
If you'd like to stay updated with our latest tutorials, tips, and artistic inspiration, I invite you to subscribe to our social media accounts:
Thank you for joining me on this artistic journey! Keep creating, keep exploring, and keep honing your drawing skills. Happy drawing!
P.S. Please help me continue creating valuable free content by donating on Buy Me a Coffee.