Join us on an artistic journey as we delve into the world of Steins;Gate and learn how to draw the beloved character, Faris NyanNyan. Known for her role as a part-time employee and owner of the renowned maid café MayQueen+Nyan, Faris captures the hearts of fans with her unique style and cheerful personality. Whether you're an experienced artist or a beginner, this step-by-step tutorial will guide you through the process of bringing Faris to life on paper. Grab your pencils and let's embark on this artistic adventure together!
Character Appearance: Faris NyanNyan
Faris NyanNyan is a captivating character with a distinctive and playful appearance. She stands as a petite figure, with long pink hair that she prefers to tie into two drilled pigtails, adding to her adorable charm. Her pink eyes sparkle with a hint of mischief and curiosity.
Faris is often seen in her work uniform, a delightful maid outfit complete with a headdress, an apron adorned with a ribbon at the back, and black leggings paired with black shoes. A red ribbon gracefully adorns her neck, matching the ribbons on her headdress. She adds a touch of elegance with a wristband featuring black with white frills, complementing the frills on her skirt.
Step-by-Step Process of Drawing Faris NyanNyan
In this  drawing guide, we will walk you through the process of bringing Faris NyanNyan to life on paper. Follow the step-by-step instructions and unleash your creativity!
The guide is color-coded to help you navigate each step with ease:
This color represents the current step. Focus on the specific details and lines indicated in red as you progress through the guide.
Black signifies the previously drawn lines. Use these lines as a reference while adding new elements in each step.
Grey indicates the basic sketch from the first three steps. This initial sketch serves as a foundation for the drawing, helping you map out the main features of Faris NyanNyan.
Throughout the guide, you will find a total of 42 steps, each building upon the previous one. Take your time and enjoy the process as you bring Faris NyanNyan to life. Remember, practice makes perfect!
In the final step, you will have the opportunity to ink your drawing, giving it a clean and finished look. You can then erase the basic sketch, revealing your completed artwork in all its glory.
Now, let's dive into the step-by-step instructions and let your creativity shine!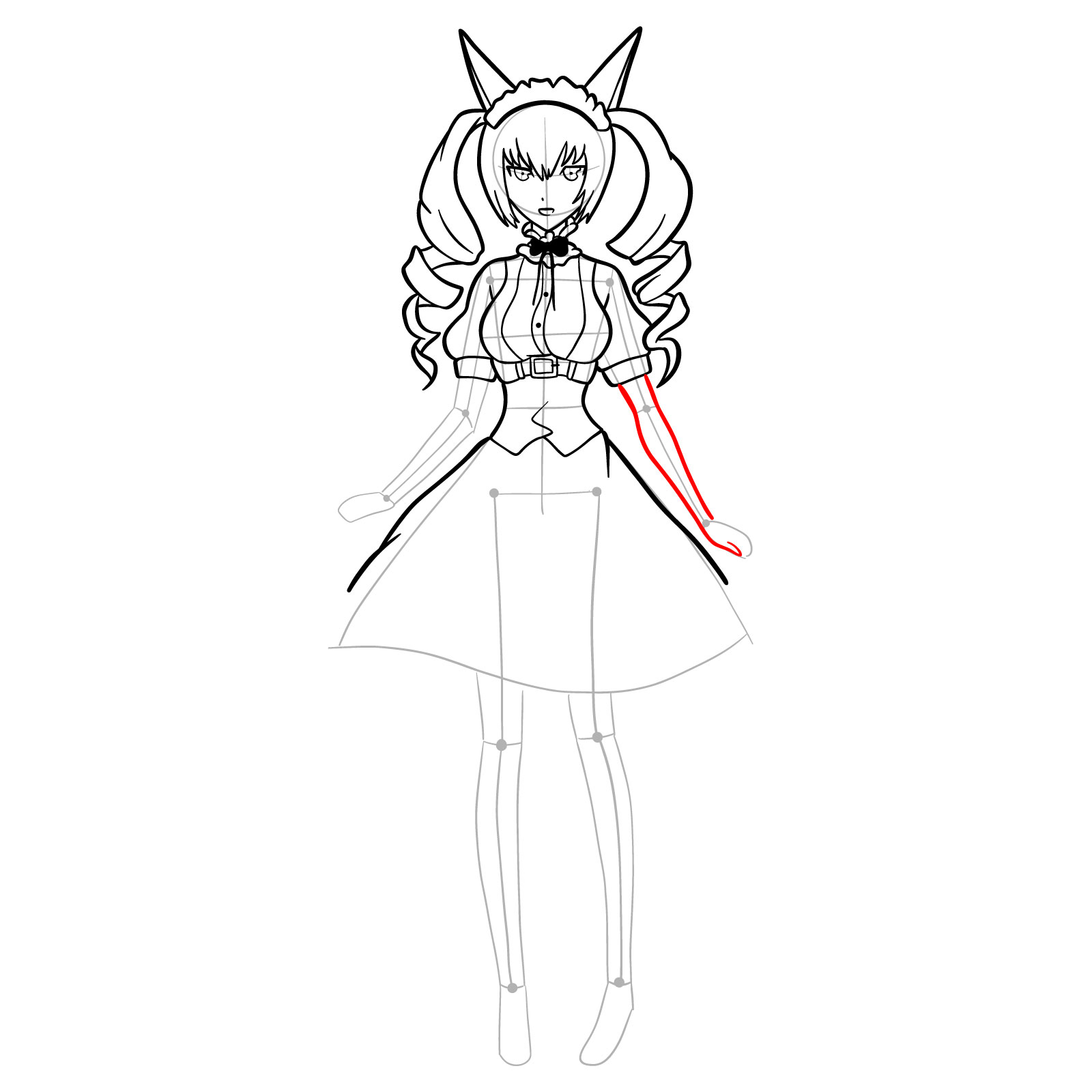 Explore More Characters to Draw
Once you have successfully brought Faris NyanNyan to life, why not continue your artistic journey by exploring other captivating characters? Here are a few suggestions to inspire your next drawing:
Suzuha is a time-traveler and key character in the Steins;Gate series, known for her determination and role in the fight against dystopia..
Capture the eccentric personality of the main protagonist in Steins;Gate, with his iconic lab coat and mad scientist persona.
Bring the innocence and charm of Faris NyanNyan's coworker and friend to your artwork, with her adorable style and radiant smile.
These are just a few examples of the diverse characters waiting to be brought to life through your artistic skills. Feel free to explore different styles, poses, and expressions to make each drawing uniquely yours.
Wrap Up and Show Your Support
Congratulations on completing the Faris NyanNyan drawing guide! We hope you had an enjoyable and rewarding experience. Remember, practice and persistence are key to improving your artistic abilities.
If you found this guide helpful and would like to show your support, consider making a donation to help us continue creating more drawing tutorials. Your contribution will enable us to provide even more valuable resources for aspiring artists like yourself. You can donate by visiting our Buy Me a Coffee page.
Additionally, don't forget to share this guide with your friends and fellow art enthusiasts. Spread the joy of drawing and inspire others to embark on their creative journeys.
Stay connected with us for more exciting drawing tutorials and updates by following our social media accounts:
Thank you for choosing SketchOK as your artistic companion. Keep drawing, exploring, and unleashing your creativity!