Welcome, fellow artist! In this step-by-step tutorial, we'll explore the exciting world of Boyfriend from FNF VS Pibby Sonic L-sides and learn how to draw this charismatic character with confidence. Get your pencils ready as we dive into the groove!
Materials and Tools: Setting the Stage
Before we begin, let's gather the materials and tools needed to create our masterpiece:
Sketching paper or a sketchbook
Range of pencils (HB, 2B, 4B) for sketching and shading
Eraser
Sharpener
Black ink pen or fine liner for inking
Remember, these are recommendations, and you can use any tools you're comfortable with. The most important thing is to enjoy the creative process!
Note: If you want to sketch Boyfriends opponent from the same Friday Night Funkin' mod, here's the tutorial to draw L-Side Sonic.
Step-by-Step Drawing Guide: Groove to the Beat
Now, let's dive into the step-by-step process of learning how to draw Boyfriend from FNF VS Pibby Sonic L-sides. Each image in the tutorial will guide you through the stages of creating your artwork. Remember, the red color in the images indicates the current drawing step, while the grey color represents the basic proportions sketch, and the black color shows previously drawn lines.
Part 1: Basic Sketch
Begin by creating a basic structure for Boyfriend using light pencil strokes. Focus on capturing the overall proportions and pose. Pay attention to the size and placement of his head, body, and limbs. Take your time with this step to ensure a solid foundation for your artwork.
Part 2: Refining the Sketch
In this stage, refine the basic sketch by adding more details and refining the proportions. Pay close attention to Boyfriend's facial features, hair, clothing, his microphone and a gun. Use confident pencil strokes to bring out the character's personality and style. Don't be afraid to make adjustments as needed to achieve the desired result.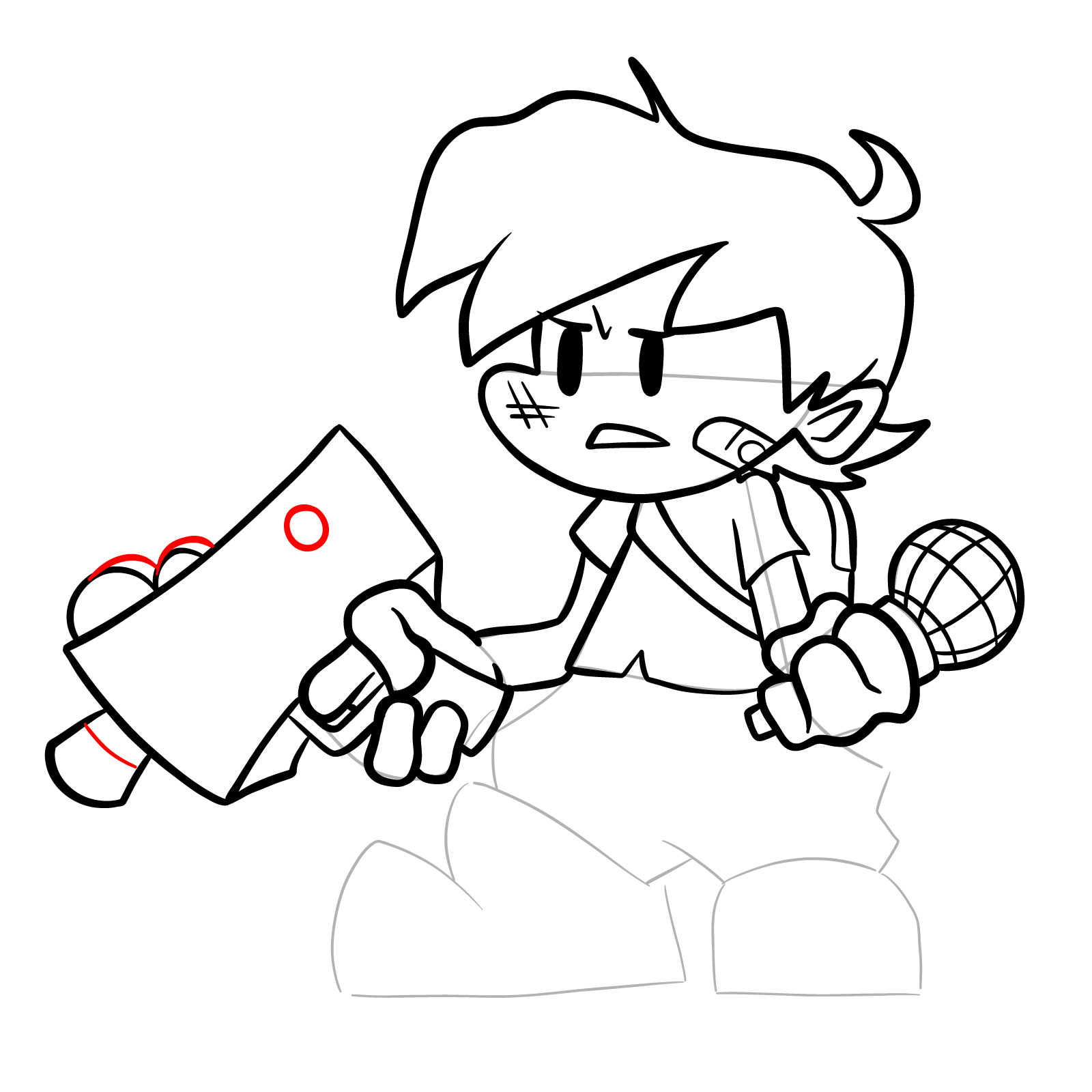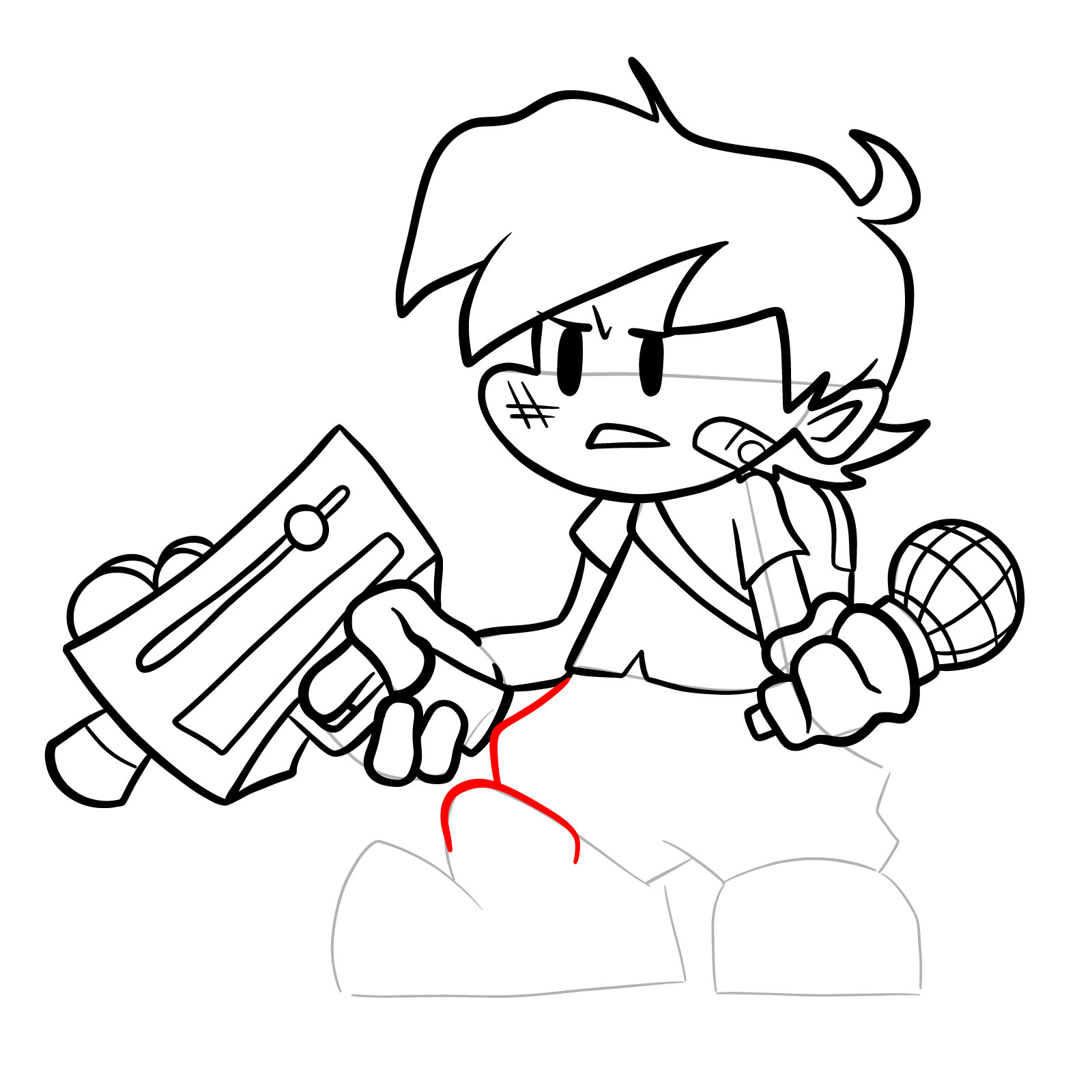 Part 3: Inking
Now it's time to ink your drawing and give it a bold, clean outline. Use a black ink pen or fine liner to trace over the refined sketch. Be patient and steady as you create smooth and confident lines. Take your time with the intricate details and ensure that Boyfriend's features and outfit stand out. Wait while ink dries and gently erase the pencil sketch.
Tips and Techniques: Enhance Your Artistry
Here are some additional tips and techniques to take your artwork to the next level:
Experiment with different poses and expressions to showcase Boyfriend's dynamic personality.
Study reference images of dancers or musicians to capture movement and rhythm in your drawings.
Practice using cross-hatching, stippling, or blending techniques to add texture and depth to your artwork.
Play with colors to create a vibrant and eye-catching composition that reflects Boyfriend's energetic spirit.
Don't be afraid to add your personal flair and make the artwork uniquely yours.
Congratulations! Now you are equiped with the knowledge on how to draw Boyfriend from FNF VS Pibby Sonic L-sides! You've captured the essence of this groovy character with your artistic skills. Remember, the more you practice, the more your artistry will flourish.
Share your artwork with the world and inspire fellow artists by sharing the link to this tutorial. Consider supporting our content creation by donating on Buy Me a Coffee. Your support helps us continue providing valuable resources for artists like you for free.
Stay connected with Sketchok Tutorials for more exciting drawing tutorials:
Follow us on Facebook for inspiration and updates.
Get a glimpse into our artistic journey on Instagram.
Explore our curated collection of artwork on Pinterest.
Keep drawing, keep grooving, and let your creativity soar!