Aspiring artists and Marvel fans alike, you're in for a treat! In this guide, we'll show you how to draw Thanos with 5 Infinity Stones, capturing the Mad Titan in all his glory. Not only will Thanos be sporting his iconic armor, but he'll also be standing victoriously with one foot on Captain America's shield and Iron Man's mask lying nearby. This powerful scene showcases Thanos's dominance over the Avengers and his relentless pursuit of power.
Thanos, created by Jim Starlin, is a powerful and feared supervillain in the Marvel Universe. His quest to collect the six Infinity Stones and wield their combined power with the Infinity Gauntlet has been a central theme in the Marvel Comics and the Marvel Cinematic Universe. Thanos's ambition and ruthlessness have made him a formidable adversary for the Avengers, the Guardians of the Galaxy, and many other heroes.
The Essence of Thanos: Key Features and Appearance
To draw Thanos with 5 Infinity Stones, it's essential to familiarize yourself with his distinct appearance and characteristics. The Mad Titan is a massive, muscular figure with purple skin and an unmistakable chin with vertical lines. His armor is a combination of gold and dark blue hues, with intricate patterns and details. The Infinity Gauntlet, which houses the five Infinity Stones in this sketch, is a powerful artifact that amplifies the wearer's capabilities.
Other superheroes that play a significant role in the storyline involving Thanos and the Infinity Stones include Captain America, Iron Man, Thor, Hulk, Doctor Strange, and Black Widow. These heroes, along with many others, have faced the consequences of Thanos's actions and struggled to protect the universe from his destructive intentions.
Drawing Tips: Capturing Thanos's Power and Dominance
Before diving into the drawing process, let's go over some essential tips and advice to help you create an impressive sketch of Thanos with 5 Infinity Stones:
Start with a rough sketch: Begin by drawing a basic outline of Thanos's figure and the surrounding elements, such as Captain America's shield and Iron Man's mask. This initial sketch will serve as a foundation for adding details later.
Pay attention to proportions: Thanos is a massive character with a muscular build. Ensure that his body proportions are accurate, and don't forget to emphasize his powerful stance.
Focus on details: Thanos's armor and the Infinity Gauntlet are intricate and full of details. Take your time to capture these elements accurately to make your drawing stand out.
Use reference images: To create a faithful representation of Thanos and other elements in the scene, refer to images from the comics or movies as a guide. This will help you capture the characters' essence and maintain consistency in your drawing.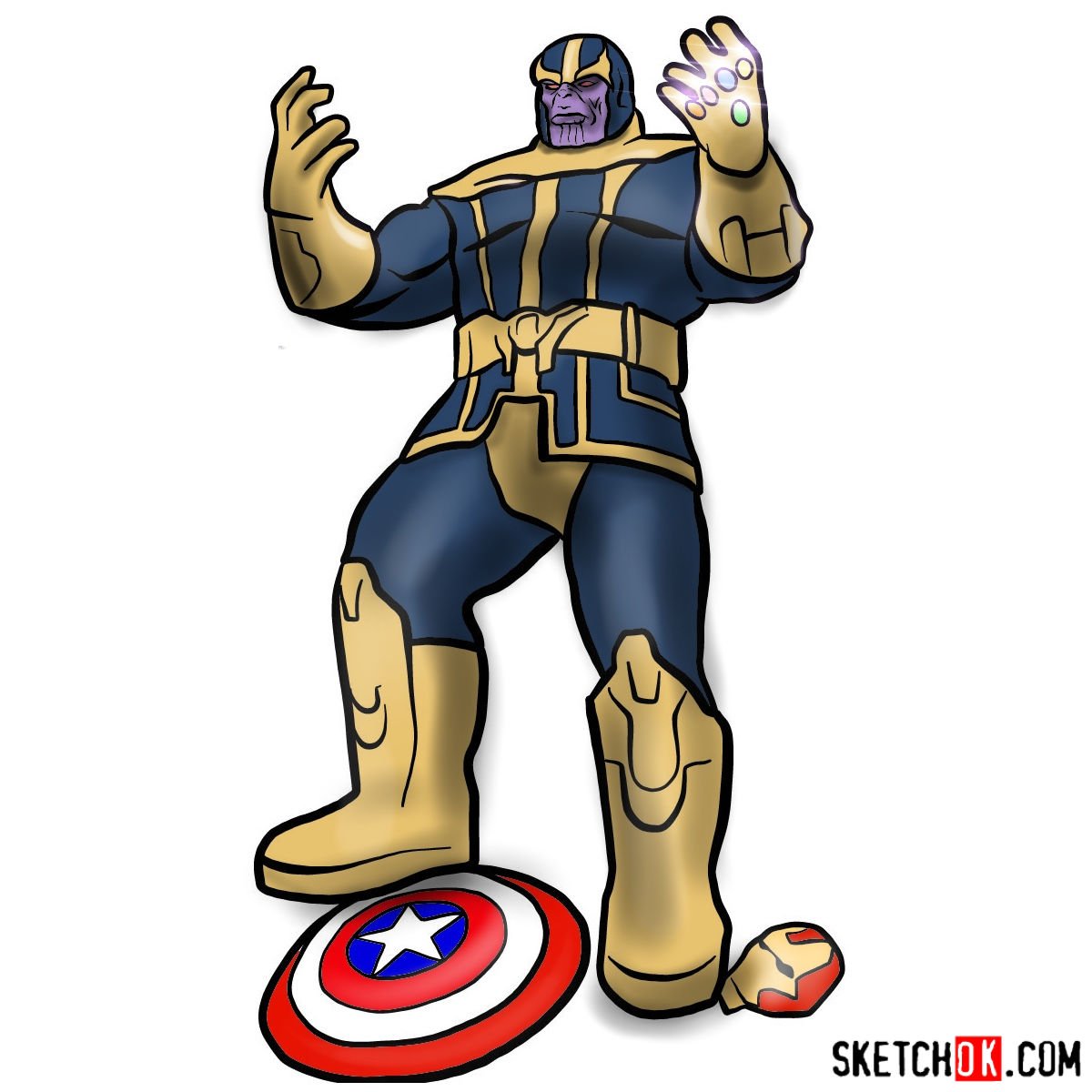 Conclusion: Showcasing the Mad Titan's Might
With dedication and practice, you'll be able to create a stunning sketch of Thanos with 5 Infinity Stones, capturing his power and dominance over the Marvel Universe. As you hone your skills, consider drawing other characters from the Marvel Universe, like the Avengers or the Guardians of the Galaxy, to further expand your artistic abilities. Remember, each character has its unique features and challenges, so don't be afraid to experiment and learn as you go.
If you enjoyed this guide and found it helpful, please consider supporting me by buying me a coffee. Your support helps me create more in-depth and engaging content for aspiring artists like you. Also, don't forget to share your completed sketches with fellow art enthusiasts, and keep practicing to refine your skills. Happy drawing!