Introduction: Embarking on a Galactic Art Adventure
Welcome, aspiring artist, to a step-by-step drawing tutorial that will guide you through the process of creating a stunning portrait of Nebula, the fierce warrior from Guardians of the Galaxy. Whether you're a fan of Marvel comics or the blockbuster films, this guide will help you bring Nebula's character to life in your own unique style. So, grab your pencils, pens, and colors, and let's embark on a thrilling journey into the world of comic book art!
A Glimpse into Nebula's Universe: Origins and Evolution
Before we dive into the drawing process, let's take a moment to appreciate the character we're about to depict. Nebula, created by Roger Stern and John Buscema, first appeared in The Avengers #257 in July 1985. Initially portrayed as a supervillain, Nebula later evolved into an antihero and a member of the Guardians of the Galaxy. The character has appeared in various forms across different media, including animated series, video games, and of course, the Marvel Cinematic Universe films, where she is portrayed by Karen Gillan.
Nebula's journey from supervillain to antihero adds depth to her character and offers a range of emotions and expressions for artists to explore. In this tutorial, we'll focus on capturing her essence, strength, and resilience, as well as her intricate appearance.
Tools of the Trade: Gathering Your Art Supplies
To embark on this artistic adventure, you'll need a few essential tools to create your masterpiece. While you may use any tools you prefer, we recommend the following:
Pencils (HB or 2B) for sketching
Fineliners or inking pens for outlining
Colored pencils, markers, or paints for coloring and shading
Eraser and paper (preferably a sketch pad or drawing paper)
The Art of Drawing Nebula: A Step-by-Step Guide
Now that we've set the stage, let's dive into the drawing process. Our step-by-step guide is divided into four parts, each focusing on a different aspect of the drawing. As you follow the tutorial, pay attention to the colors used in the images: red represents the current drawing step, grey represents the basic proportions sketch, and black represents previously drawn lines.
Part 1: Laying the Foundation with a Basic Sketch
In the first part of our guide, we'll create the basic structure of Nebula's form using light pencil strokes. This step is crucial for establishing accurate proportions and ensuring that your drawing stays true to the character's appearance. Remember, it's essential to keep your lines light at this stage, as they'll serve as a foundation for future steps.
As you sketch, focus on capturing the character's posture and overall form. Don't worry about the finer details just yet; those will come later. For now, concentrate on creating a strong and accurate framework for your Nebula drawing.
Part 2: Adding Details and Perfecting Proportions
With the basic structure in place, it's time to refine your sketch by adding details and improving proportions. Carefully study Nebula's features, such as her facial expressions, intricate headpiece, and unique costume design. Pay attention to the placement of these elements and how they relate to the overall form you established in the first step.
During this stage, you can gradually darken your lines and add more detail to your drawing. However, be mindful not to overwork the sketch, as you'll need to maintain a clean and clear foundation for the next steps.
Part 3: Inking and Outlining
Now that your sketch is refined, it's time to bring Nebula to life with inking. Using fineliners or inking pens, carefully trace over your pencil lines to create bold, clean outlines. Be mindful of line thickness and variation, as these elements can add depth and dimension to your drawing. Once you've inked the entire drawing, let it dry for a moment and then gently erase any remaining pencil marks.
With your inking complete, you can now focus on adding any final touches, such as additional details or textures that will enhance your drawing.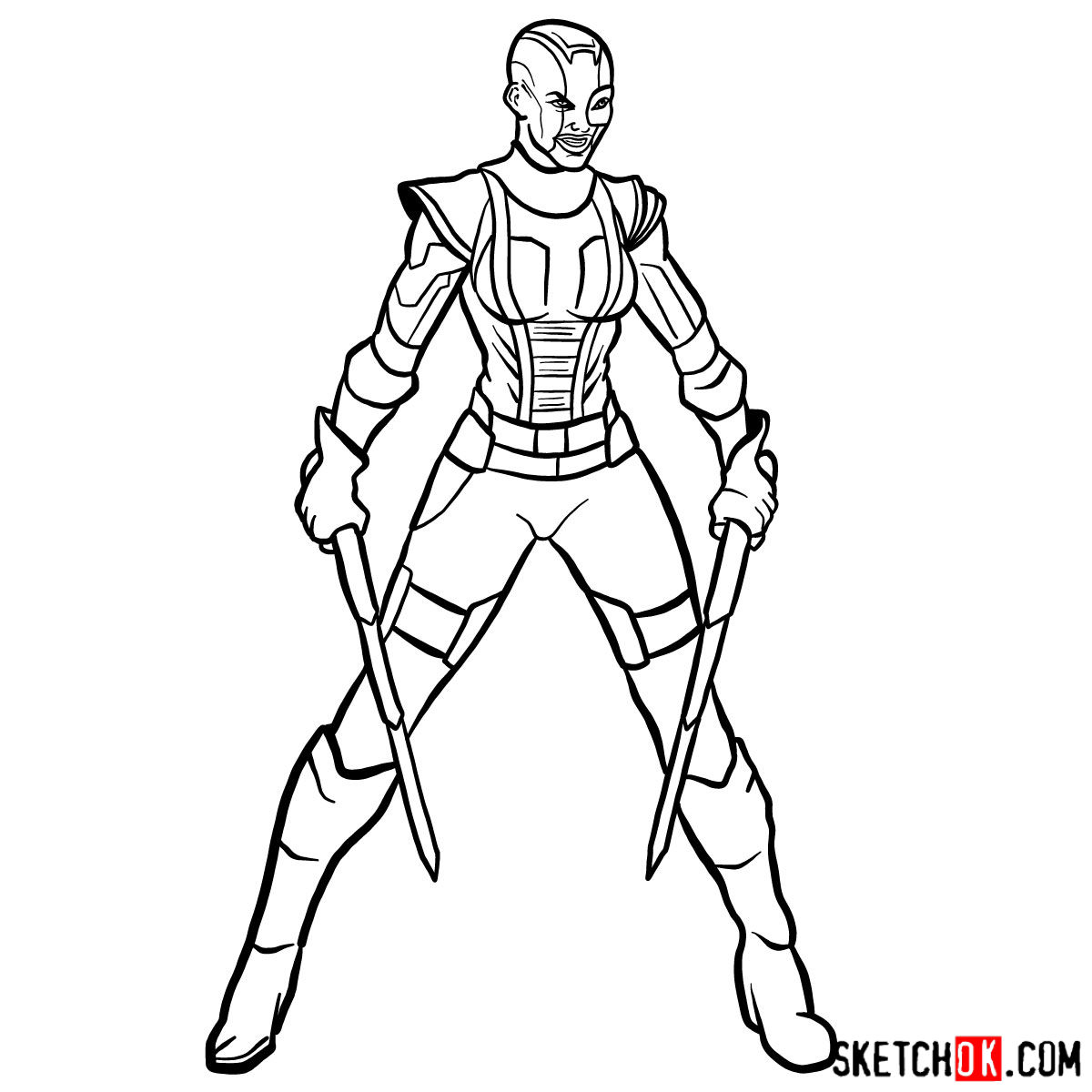 Part 4: Coloring and Shading
Finally, it's time to bring color and depth to your Nebula drawing. Select your preferred coloring tools, such as colored pencils, markers, or paints, and begin by applying base colors to your drawing. Then, gradually build up layers of shading and highlights to create a sense of depth and dimension. Pay close attention to the character's color scheme and the way light interacts with her features, costume, and environment.
Remember, practice makes perfect, so don't be afraid to experiment with different techniques and color combinations to create a unique and engaging representation of Nebula.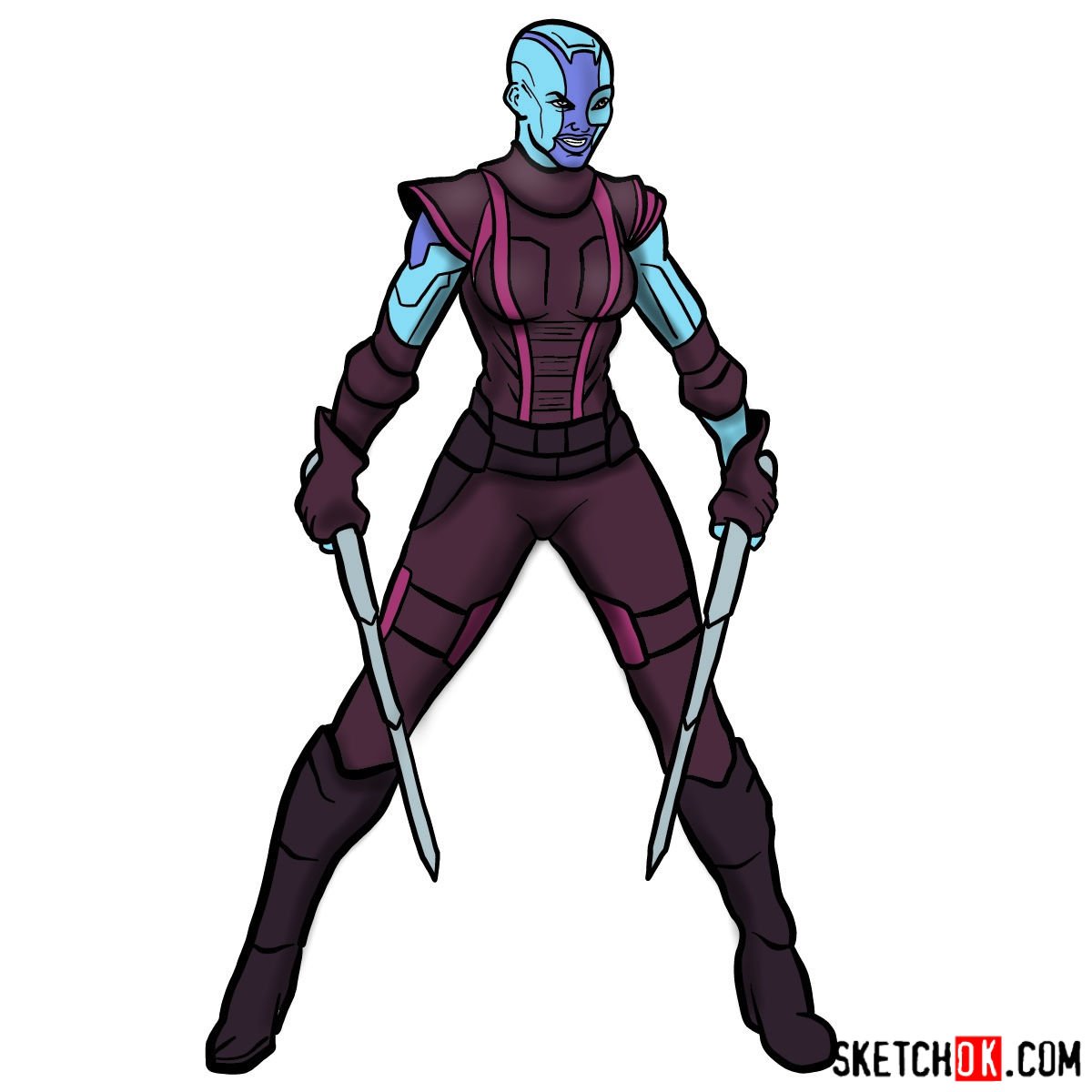 Mastering the Art of the Galaxy: Tips and Techniques
As you continue to develop your skills and refine your drawing technique, consider these additional tips to enhance your Nebula artwork:
Study reference images of Nebula and other related characters, such as Gamora, Star-Lord, and Rocket Raccoon, to gain a deeper understanding of their unique features and design elements.
Practice different facial expressions and poses to capture the full range of Nebula's character and emotions.
Experiment with various shading techniques, such as cross-hatching or stippling, to create texture and depth in your drawing.
Frequently Asked Questions
What drawing techniques can I use when sketching Nebula?
Consider using techniques like gesture drawing to capture the character's dynamic movement and form, or contour drawing to focus on the character's unique silhouette and shape.
How can I improve my proportions when drawing Nebula?
Using a reference image or a grid can help you maintain accurate proportions and scale when drawing. Practice sketching basic shapes and breaking down complex forms into simpler elements to strengthen your understanding of proportions.
And there you have it! A step-by-step guide to drawing Nebula from Guardians of the Galaxy. We hope this tutorial has inspired you to unleash your artistic talents and create your own unique renditions of your favorite characters. Remember, practice makes perfect, so keep drawing, experimenting, and exploring new techniques. Don't forget to share your artwork with friends, family, and fellow art enthusiasts!
If you enjoyed this tutorial and found it helpful, consider showing your support by donating to the creator on Buy me a Coffee to ensure the regular release of free drawing guides on SketchOk. You can do so by clicking here. Your support is greatly appreciated and helps keep the creative juices flowing!
So, grab your tools, and let's continue our artistic journey through the Marvel Universe, drawing more fascinating characters like Groot, Baby Groot, or even Thanos himself. Happy drawing!