Introduction: A Marvel-ous Drawing Adventure
Calling all aspiring artists and Marvel fans! Are you ready to embark on an artistic journey through the cosmos? In this step-by-step drawing tutorial, you'll learn how to draw Yondu Udonta, the blue-skinned, fin-headed space pirate from Guardians of the Galaxy. With our guidance and your creativity, you'll soon have a fantastic Yondu Udonta drawing to display with pride!
The Fin-tastic World of Yondu Udonta
Yondu Udonta, a captivating character from Marvel Comics, is best known for his role in the Guardians of the Galaxy franchise. This blue-skinned warrior sports a striking red fin and possesses the unique ability to control his lethal arrows through sound waves, most notably by whistling. Michael Rooker's portrayal of Yondu in the Marvel Cinematic Universe films has further cemented the character's popularity among fans.
Yondu's story has evolved over the years, with his comic book roots dating back to the 31st century as a founding member of the original Guardians of the Galaxy team. In recent years, Yondu has appeared in the Guardians of the Galaxy animated TV series and several video games, delighting fans and further expanding his influence in the Marvel Universe.
As you set out to draw Yondu Udonta, you'll not only be capturing his unique appearance but also embracing the spirit of a character who has captured the hearts of fans across generations. So grab your drawing tools, and let's get started!
Recommended Materials and Tools
While you're free to use any drawing materials you prefer, we recommend the following for an optimal Yondu Udonta drawing experience:
Pencils (varying hardness)
Erasers
Fineliner pens or markers
Colored pencils, markers, or pastels
Drawing paper or sketchpad
A Cosmic Step-by-Step Drawing Guide
In this drawing guide, you'll progress through a series of images that will help you create an out-of-this-world Yondu Udonta sketch. Each step will be represented by a different color: red for the current step, gray for the basic proportions sketch, and black for previously drawn lines. With a little patience and practice, you'll have a real masterpiece in no time!
Part 1: Laying the Foundation
Start by creating a basic sketch of Yondu's proportions, using light pencil strokes to establish the underlying structure. This initial step is crucial for ensuring that your drawing is well-balanced and accurate.
Part 2: Refining Your Cosmic Creation
Now it's time to refine your sketch and add details to Yondu's appearance. Carefully examine your basic structure, making adjustments and enhancements as needed to accurately capture the essence of the pirate.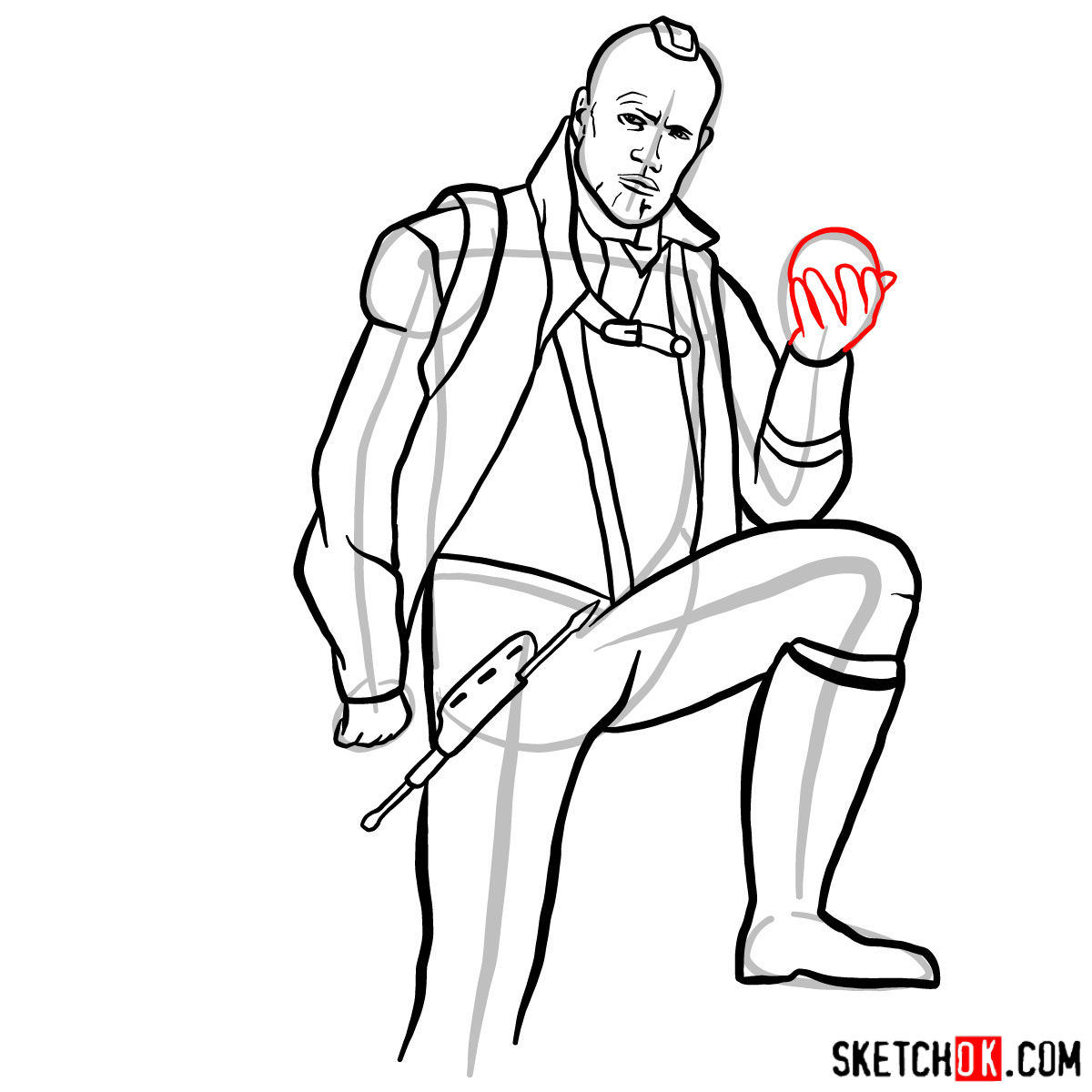 Part 3: Inking the Space Pirate
With your refined sketch in place, it's time to bring Yondu to life by outlining your drawing with ink. Use fineliner pens or markers to emphasize the contours and details of his appearance. Remember to let the ink dry completely before moving on to the next step.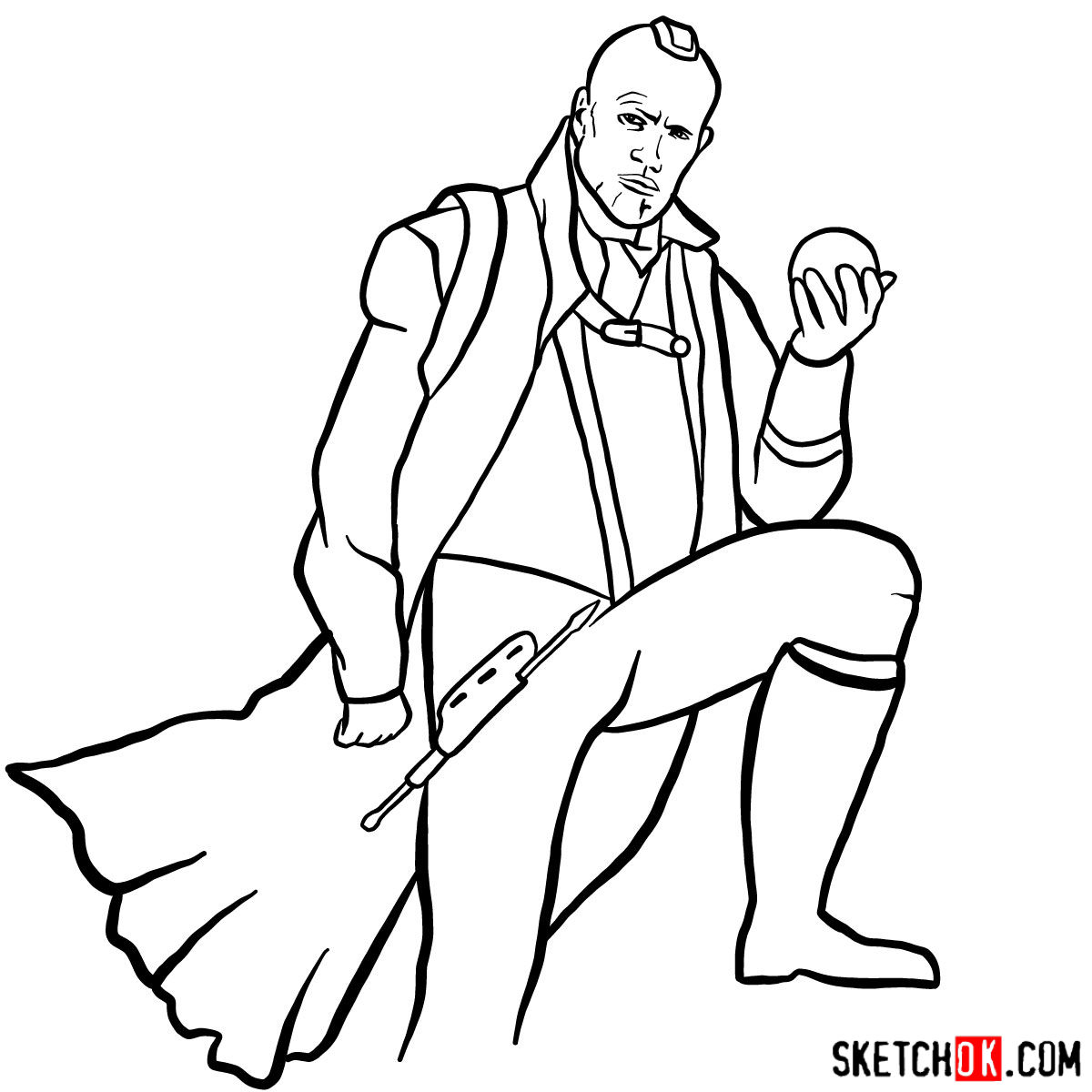 Part 4: Coloring the Cosmos
Finally, add color, shading, and highlights to your Yondu Udonta drawing using colored pencils, markers, or pastels. Pay close attention to his signature blue skin, red fin, and the unique costume. The careful application of color will make your drawing truly stand out and bring the character to life.
Extra Tips and Techniques for Aspiring Galactic Artists
To take your Yondu Udonta drawing to the next level, consider incorporating these additional tips and techniques:
Experiment with various shading techniques to create depth and texture.
Use references from comic books, movies, and other media to ensure accuracy and consistency in Yondu's appearance.
Practice drawing his signature arrow and other accessories to enhance the overall composition.
Consider adding a background or other characters from Guardians of the Galaxy to create a more dynamic scene.
Don't be afraid to make mistakes and learn from them – every great artist has a journey of growth and discovery.
Frequently Asked Questions
Q: How can I make Yondu's fin look more realistic?
A: To make Yondu's fin appear more realistic, pay close attention to the shape, size, and curvature of the fin in your reference material. Use shading techniques to create the illusion of depth and dimension, and consider adding highlights to emphasize the fin's unique texture.
Q: What is the best way to draw Yondu's facial features accurately?
A: To draw Yondu's facial features accurately, start by focusing on the overall proportions of his face. Use reference images to ensure consistency, and pay close attention to the placement and shape of his eyes, nose, and mouth. Practice drawing Yondu's facial features individually to hone your skills and gain confidence.
Draw Onward, Cosmic Creators!
Congratulations on completing your Yondu Udonta drawing! Remember, practice makes perfect, so keep honing your skills and exploring new characters, such as Star-Lord, Nebula, or Rocket Raccoon. Share your artwork with friends, family, and fellow fans, and consider supporting us by donating on Buy Me a Coffee. Happy drawing, and may the creative cosmos be with you!