As an aspiring artist and Marvel fan, you may have wondered how to draw Juggernaut in action pose. Juggernaut, also known as Cain Marko, is a powerful and unstoppable force in the Marvel Universe, making him an exciting subject for your artwork. This blog post will provide you with insights into the character and helpful tips for your Juggernaut drawing, as well as the detailed images on each step. By following our guidance, you'll be able to create an impressive action-packed depiction of this iconic character.
Get to Know Juggernaut: The Unstoppable Force
Before you start drawing Juggernaut in action pose, it's essential to know more about the character. Juggernaut, created by Stan Lee and Jack Kirby, first appeared in X-Men #12 in 1965. Cain Marko, Professor X's stepbrother, became Juggernaut after discovering the mystical Crimson Gem of Cyttorak. The gem granted him immense power, turning him into an unstoppable force with superhuman strength, invulnerability, and the ability to generate force fields. Juggernaut has been a longtime foe of the X-Men and has also been part of other Marvel teams like the Excalibur and the Thunderbolts.
Drawing Juggernaut: Key Features to Focus On
Now that you have a better understanding of Juggernaut's background, it's time to focus on the essential aspects of your drawing. Keep in mind these crucial features while working on your Juggernaut drawing:
Powerful build: Juggernaut's physique is massive, with bulging muscles and a broad chest. Emphasize his size and strength to convey his intimidating presence.
Distinctive helmet: Juggernaut's iconic helmet is a crucial part of his appearance. It's large, covering most of his face, with slits for his eyes and an opening for his mouth and nose. Pay close attention to the helmet's shape and details.
Action pose: Since you're drawing Juggernaut in action pose, think about dynamic movements, such as charging forward or smashing through obstacles. Try to capture the energy and momentum of his unstoppable force.
Helpful Tips for Your Juggernaut Drawing
Here are some helpful tips to keep in mind while working on your Juggernaut drawing:
Study comic book references: Look at how various comic book artists have depicted Juggernaut over the years. This will give you a better understanding of his anatomy, costume details, and action poses.
Use dynamic lines: When drawing Juggernaut in action, incorporate dynamic lines and angles to emphasize movement and power.
Focus on perspective: To make your drawing more engaging, experiment with different perspectives, such as a low angle to emphasize Juggernaut's imposing size.
Practice shading and textures: Juggernaut's costume has a mix of textures, from the smooth metal of his helmet to the fabric of his suit. Practice shading and texturing techniques to bring these elements to life
Add a sense of depth: To create a more immersive and believable scene, consider adding a background or environment that showcases the destruction caused by Juggernaut's unstoppable force. This will add depth and context to your drawing.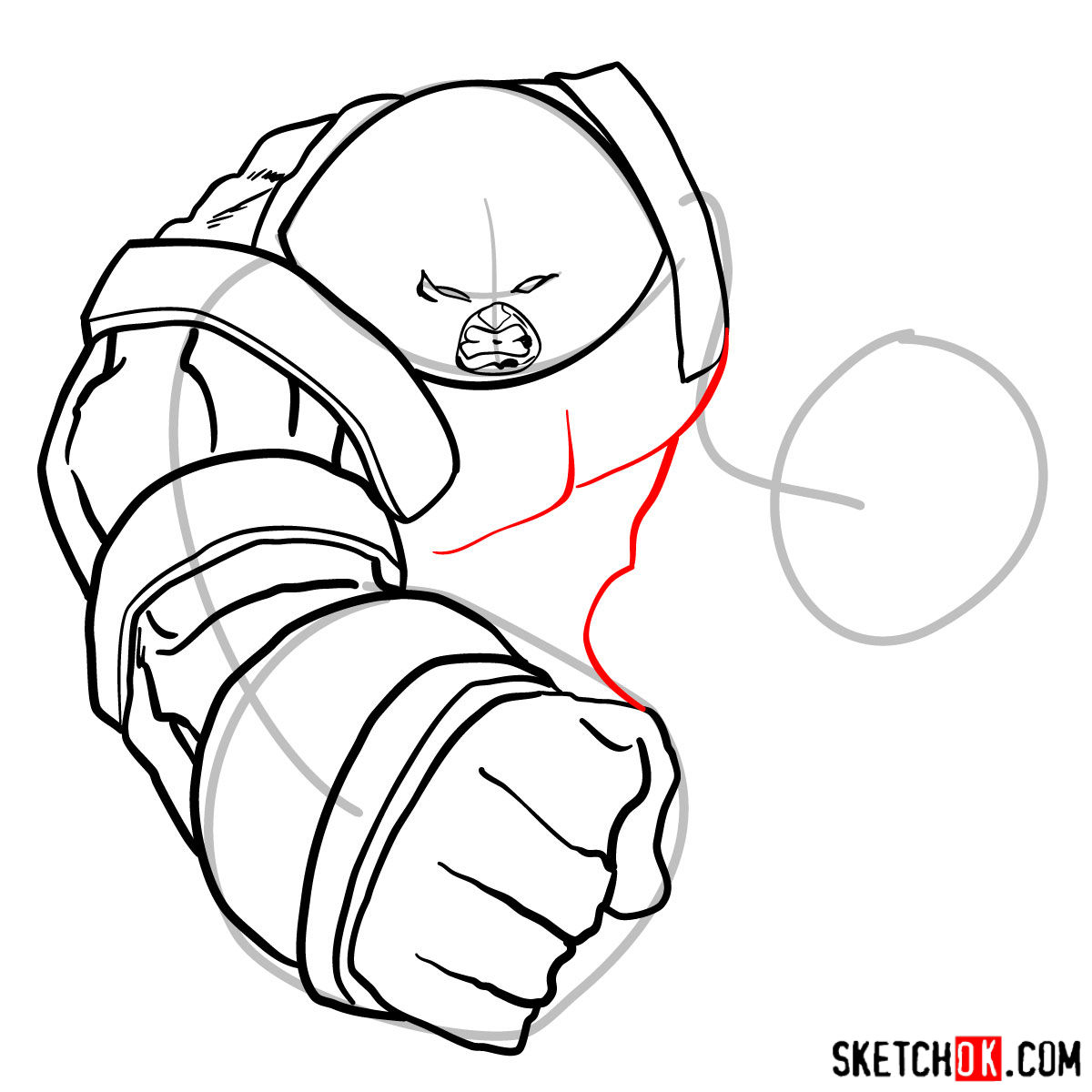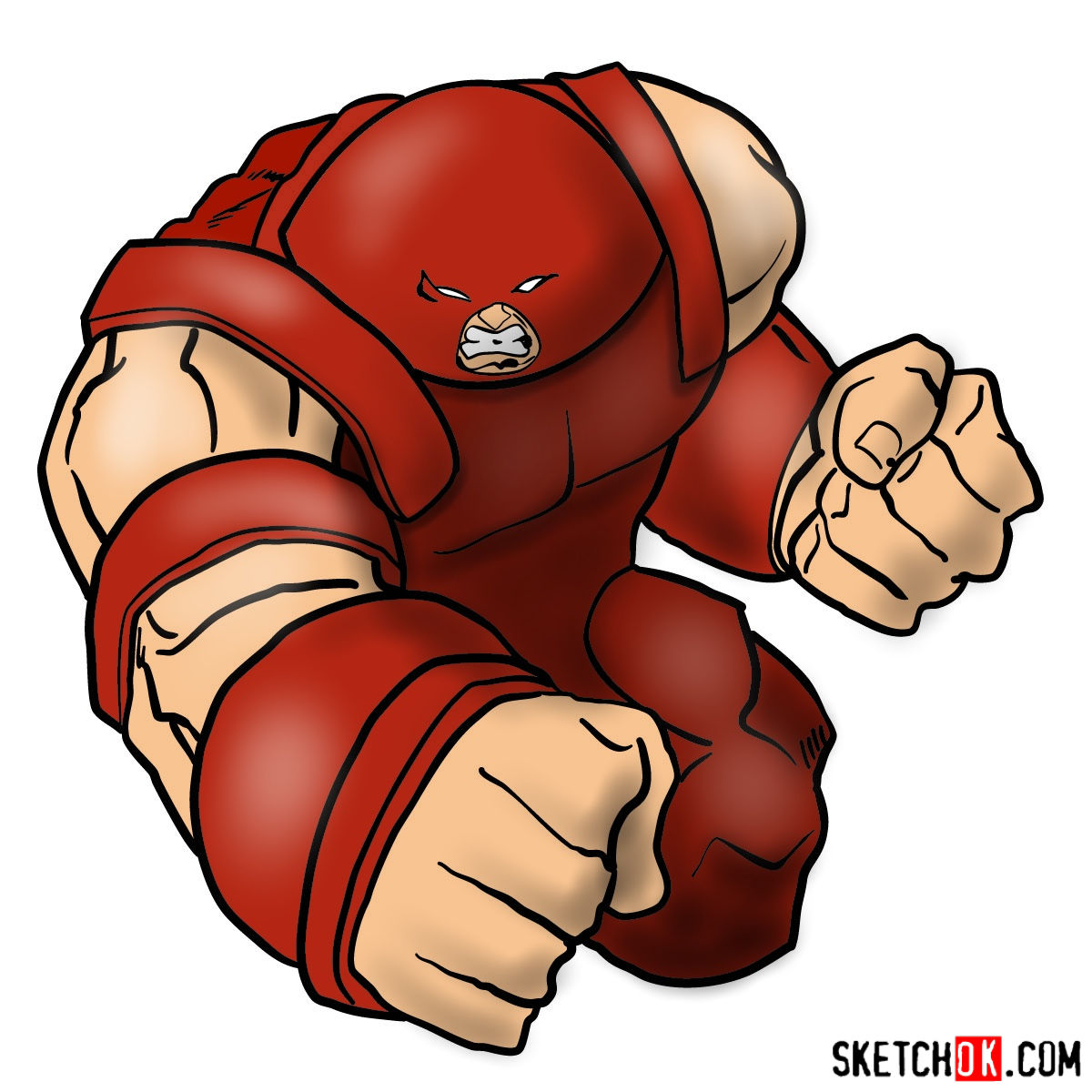 Other X-Men to Explore
Juggernaut's story is intertwined with many other Marvel characters. You might also consider exploring the following characters in your artistic journey:
Cyclops: As the leader of the X-Men, Cyclops has often faced off against Juggernaut, making him an interesting character to study and draw.
Colossus: The metal-skinned X-Man has had his fair share of battles with Juggernaut. Drawing Colossus can be a great way to practice depicting metallic surfaces and powerful physiques.
Magik: As Colossus's sister and a powerful sorceress, Magik has crossed paths with Juggernaut on multiple occasions. Her mystical abilities and unique costume design can be a fascinating subject for your artwork.
If you've enjoyed this blog post and found it helpful, please consider supporting my work by buying me a coffee. Your support helps me create more content like this and share my passion for art and drawing with others. Click here to show your support.
Learning how to draw Juggernaut in action pose can be an exciting and rewarding experience. By studying the character's background, focusing on key features, and incorporating dynamic poses and perspectives, you can create an impressive Juggernaut drawing that captures the essence of this unstoppable Marvel character. Remember to practice, experiment with different techniques, and, most importantly, have fun on your artistic journey!