Are you captivated by the world of superheroes and want to learn how to draw Spider-Woman? You've come to the right place! In this blog post, we'll dive into the thrilling story of Jessica Drew, aka Spider-Woman, and guide you through creating an impressive Spider-Woman drawing. With practice and dedication, you'll be able to master the art of drawing this powerful and fascinating character.
Jessica Drew: The Woman Behind the Mask
Before we jump into the drawing tips, let's explore the intriguing background of Spider-Woman. Jessica Drew, a skilled superhero and private investigator, first appeared in Marvel comics in 1977. Born with unique powers after her mother was exposed to a special spider serum during pregnancy, Jessica eventually adopted the identity of Spider-Woman. Her abilities include superhuman strength, agility, wall-crawling, and venom blasts.
Throughout her comic book journey, Spider-Woman has been associated with various teams, including the Avengers, S.H.I.E.L.D., and the X-Men. Some of her most notable allies are Spider-Man, Captain Marvel, and Black Widow. By understanding the character's background and relationships, you'll be better equipped to capture her essence in your Spider-Woman drawing.
Drawing Spider-Woman: Tips and Tricks
Now that you're familiar with Jessica Drew's story, it's time to get started on your Spider-Woman drawing. Here are some tips to help you create a dynamic and detailed sketch:
Focus on proportions: Pay close attention to the proportions of Spider-Woman's body, including her limbs, torso, and head. This will help you achieve a more accurate and realistic drawing.
Capture her costume: Spider-Woman's costume is an essential aspect of her design. Be sure to include the red and yellow color scheme, the triangular emblem on her chest, and her small wings.
Experiment with poses: Try sketching Spider-Woman in various action poses to convey her agility and strength. This will also help you improve your understanding of anatomy and movement.
Study references: Use reference images from comic books or the internet to get a better understanding of Spider-Woman's design and details. This will make your drawing more accurate and compelling.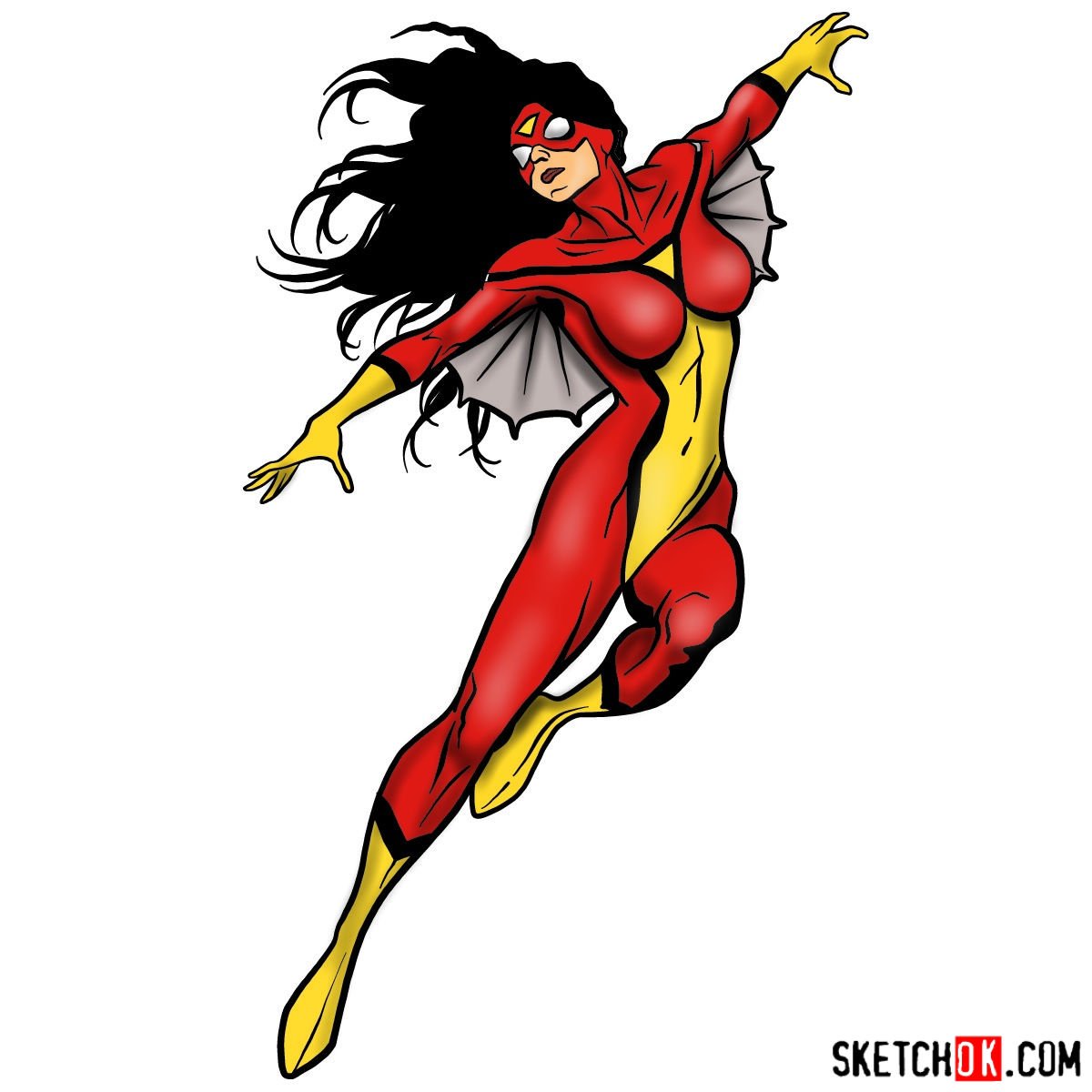 By following these tips and immersing yourself in the world of Spider-Woman, you'll be well on your way to creating a striking and detailed Spider-Woman drawing. Remember to practice different poses, pay attention to proportions, and study reference images to enhance your skills. Most importantly, have fun and enjoy the creative process!
Expanding Your Superhero Sketch Collection
Once you've mastered your Spider-Woman drawing, consider exploring other captivating characters from the Marvel Universe. Here are three more characters you might want to draw next:
Spider-Gwen: Also known as Ghost-Spider, Spider-Gwen is an alternate universe version of Gwen Stacy with spider-like abilities. Her distinct costume design and backstory make her an exciting character to draw.
If you found this guide helpful and would like to support my work, please consider supporting me on Buy Me a Coffee. Your support helps me continue creating informative and engaging content for aspiring artists like you. Happy drawing!