Are you ready to explore the fascinating world of comic book art and learn how to draw Captain Marvel? This guide will provide you with ideas, tips, and advice, focusing on the character's story, appearance, and relationships with other characters. Let's dive into the exciting universe of Captain Marvel and unleash your artistic powers!
Discovering Captain Marvel: Carol Danvers
Before you start drawing, it's important to understand who Captain Marvel is. Carol Danvers, the current Captain Marvel, is a powerful superhero with a rich history in the Marvel Universe. She started as a United States Air Force officer before gaining superhuman abilities through an accident involving alien technology. Carol Danvers' powers include super strength, flight, and energy manipulation. As a result, she has become one of the most powerful and respected heroes in the Marvel Universe.
Over the years, Captain Marvel has been involved in numerous storylines and has worked alongside various teams, including the Avengers and the X-Men. Her iconic red, blue, and gold costume symbolizes her strength and determination, making her an exciting character to draw and explore.
Tips for Drawing Captain Marvel
1. Study the Character's Design
Begin by studying Captain Marvel's design, paying attention to her costume, hairstyle, and facial features. Research various iterations of the character, as her appearance has evolved over the years. Focus on the version that resonates with you the most.
2. Use Reference Images
Find reference images of Captain Marvel from different angles and poses. These references will help you understand the character's proportions and body language, which are essential for creating a dynamic drawing.
3. Practice Facial Expressions
Experiment with different facial expressions to convey Captain Marvel's emotions and personality. Try drawing her in various emotional states, such as determination, anger, or joy, to create a more lifelike and engaging piece.
4. Experiment with Different Techniques
Explore different drawing techniques, such as shading, cross-hatching, and contouring, to add depth and dimension to your Captain Marvel drawing. This will help you develop your unique style and improve your overall drawing skills.
5. Don't Forget the Background
Consider adding a background to your drawing to provide context and enhance the overall composition. You can choose a simple or complex background, depending on your preferences and skill level.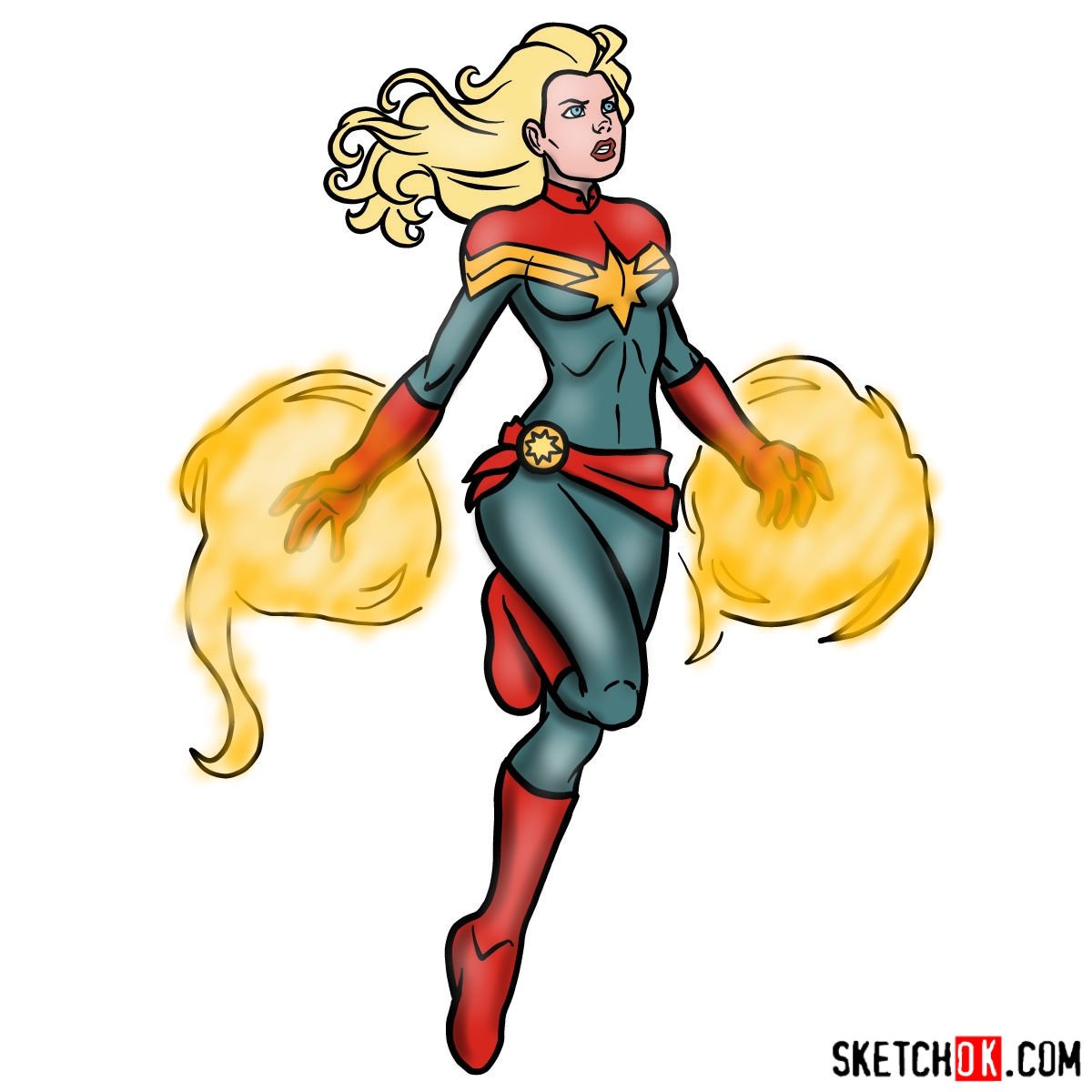 Expand Your Marvel Universe: Other Characters to Draw
Once you've mastered drawing Captain Marvel, you can explore other Marvel characters to expand your artistic universe. Consider drawing characters like Iron Man, Thor, or Black Widow, each with their unique appearances and backgrounds. Drawing multiple characters will help you improve your skills and develop a diverse portfolio of comic book art.
If you enjoy our drawing guides and want to support the creation of regular free content, consider donating to SketchOk on Buy Me a Coffee. Your support helps us release more free drawing guides and helps aspiring artists like you to develop their skills.
Drawing Captain Marvel is an exciting experience, allowing you to explore the Marvel Universe while developing your artistic abilities. Remember to study the character's design, use reference images, practice facial expressions, experiment with different techniques, and consider drawing other Marvel characters.
Frequently Asked Questions
1. What materials should I use to draw Captain Marvel?
You can use various materials, such as pencils, pens, markers, or digital tools, depending on your preferences and skill level. Experiment with different materials to find what works best for you.
2. How can I improve my drawing skills?
Practice regularly, study reference images, and experiment with different techniques to improve your drawing skills. Additionally, consider seeking feedback from others to gain new perspectives and insights.