Are you ready to dive into the world of Spider-Man and learn how to draw Green Goblin? This sinister villain, also known as Norman Osborn, has been a thorn in Spider-Man's side since his first appearance in 1964. With his menacing look, goblin-themed weapons, and a complex backstory, Green Goblin makes for a captivating drawing subject. In this guide, we'll provide helpful tips and advice to create your very own Green Goblin drawing, so let's get started!
Green Goblin: A Brief History
Before we begin our drawing journey, it's essential to understand the character's backstory. Norman Osborn, a wealthy and powerful businessman, transforms into the Green Goblin after an experiment goes awry. As a result, he gains superhuman strength, agility, and intelligence, but also loses his sanity. Green Goblin quickly becomes one of Spider-Man's most formidable foes, and their battles are legendary in the Marvel universe.
Over the years, different characters have taken up the Green Goblin mantle, but Norman Osborn remains the most iconic. His distinctive appearance, featuring a goblin-like mask, purple costume, and hoverboard called the "Goblin Glider," has captured the imaginations of artists and fans alike.
Notable Characters in the Spider-Man Universe
As you explore Green Goblin and his role in the Spider-Man universe, you might want to draw some other characters as well. Here are three notable figures to consider:
Spider-Man: The web-slinging hero himself, Peter Parker, is an essential character to draw alongside Green Goblin. Their battles and contrasting personalities create a dynamic artistic composition.
Venom: Another famous villain in Spider-Man's rogues' gallery, Venom is an alien symbiote that bonds with various hosts, including Peter Parker and Eddie Brock. This monstrous character provides a unique drawing challenge with its shape-shifting abilities and terrifying appearance.
Mary Jane Watson: As one of Peter Parker's primary love interests, Mary Jane Watson adds a human element to the story. Drawing her alongside Green Goblin can help showcase the emotional stakes of Spider-Man's battles.
Helpful Tips for Drawing Green Goblin
Now that we have some background information, let's dive into the drawing tips that will help you create an impressive Green Goblin drawing:
Study reference images: Collect various Green Goblin images from comic books, movies, and other media to understand his costume, facial expressions, and pose variations.
Pay attention to proportions: Green Goblin's body proportions are similar to a regular human, but with exaggerated muscularity. Keep this in mind while sketching to maintain accuracy.
Focus on the face: The goblin mask is one of Green Goblin's most iconic features. Spend extra time refining the facial details and expressions to capture the character's menacing nature.
Include the Goblin Glider: The hover board is an essential part of Green Goblin's arsenal, so you may want to add it to your drawing. Consider the perspective and angle of the glider in relation to Green Goblin's pose.
Experiment with dynamic poses: Green Goblin is an agile and powerful character. Try sketching him in various action poses to bring your drawing to life.
Consider the background: Adding a background, like the cityscape of New York or a battle scene with Spider-Man, can provide context and depth to your Green Goblin drawing.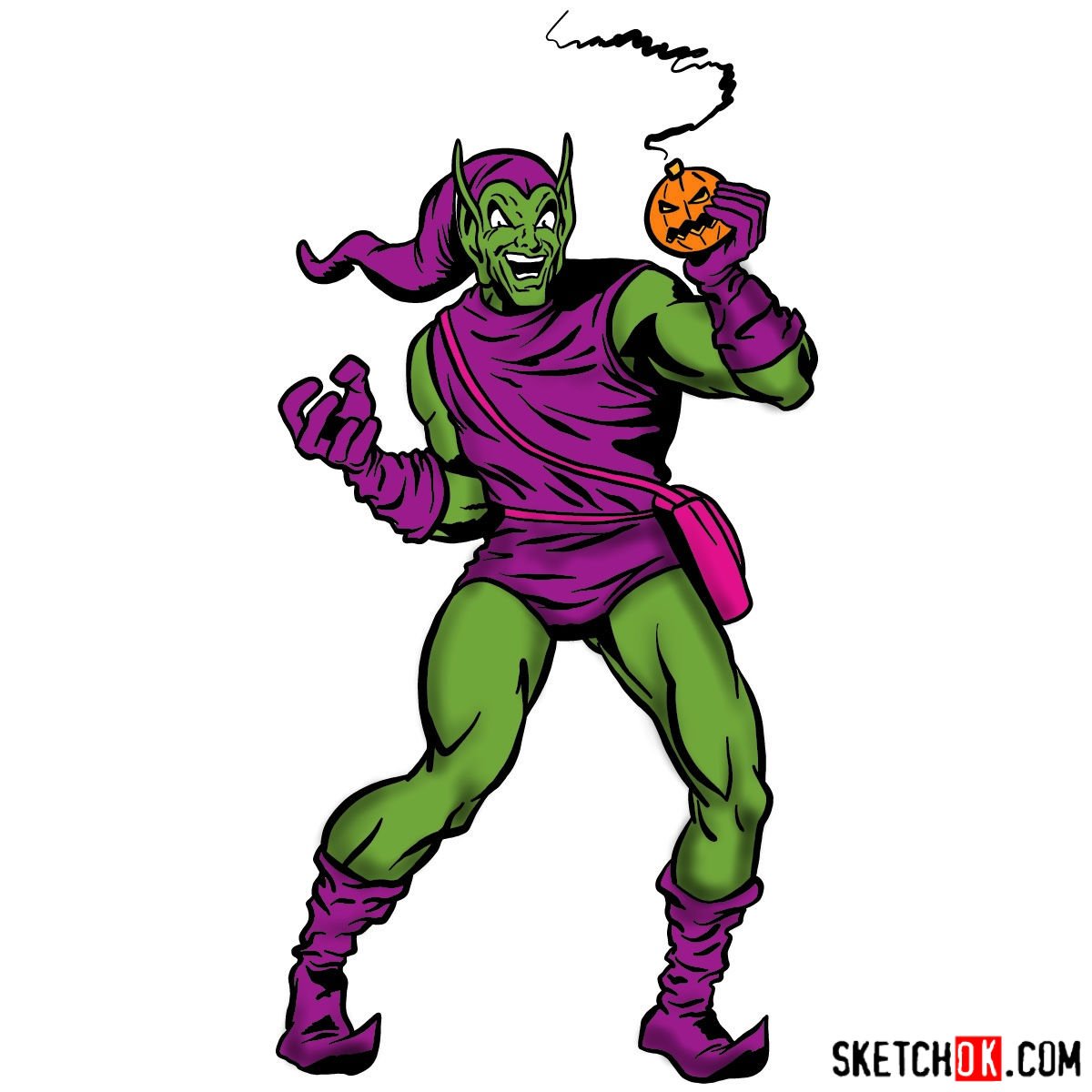 Finishing Touches and Conclusion
As you wrap up your Green Goblin drawing, take a moment to review your work and make any necessary adjustments. You might want to add shading, refine details, or even consider coloring your drawing if you feel inclined. Remember, practice makes perfect, so don't be discouraged if your first attempt doesn't turn out as you'd hoped. With persistence and patience, you'll improve your skills and create an impressive Green Goblin drawing!
In conclusion, learning how to draw Green Goblin is an enjoyable and rewarding experience. By understanding the character's history, considering related characters, and applying our helpful tips, you'll be well on your way to creating an impressive piece of art. We hope this guide has inspired you to explore the world of Spider-Man and expand your artistic abilities. If you found this guide helpful, please consider supporting us on Buy Me a Coffee. Happy drawing!