When you think of the iconic characters that have left an indelible mark on the world of cartoons, Donald Duck certainly stands out. In this article, we are going to explore the fascinating world of sketching, focusing on how to draw Donald Duck's face. This step-by-step guide will walk you through the entire process, breaking it down into easily manageable parts. Regardless of your skill level, we are confident that by the end of this guide, you'll be able to sketch this distinct and vibrant personality.
Key Features of Donald Duck's Face
Before we dive into the drawing process, let's familiarize ourselves with some distinct features of the face of Donald Duck that make him unique:
The Bill: Donald Duck is known for his yellow-orange bill, a primary feature of his face.
The Eyes: His eyes are always filled with expressions, reflecting his mischievous and temperamental personality.
The Sailor Cap: Donald is rarely seen without his sailor cap, a significant part of his appearance.
Facial Expressions: Donald Duck is notorious for his varied expressions, depicting his pompous personality.
If you enjoy drawing Donald Duck, other similar Disney characters like Mickey Mouse, Goofy, and Donald's nephews – Huey, Dewey, and Louie can be a fun addition to your sketchpad.
Understanding the Guide
This guide is divided into 8 steps, starting with the basic sketch of Donald Duck's face. Here's what the different colors represent in our guide:
Red Color:

Indicates the current step you should be focusing on.

Black Color:

Showcases the lines you have previously drawn.

Grey Color:

Displays the basic proportions sketch.
In the final stage, you can choose to ink the sketch. Remember to carefully outline the sketch, then wait for the ink to dry completely before gently erasing the pencil sketch. This approach will prevent smudging and keep your drawing clean.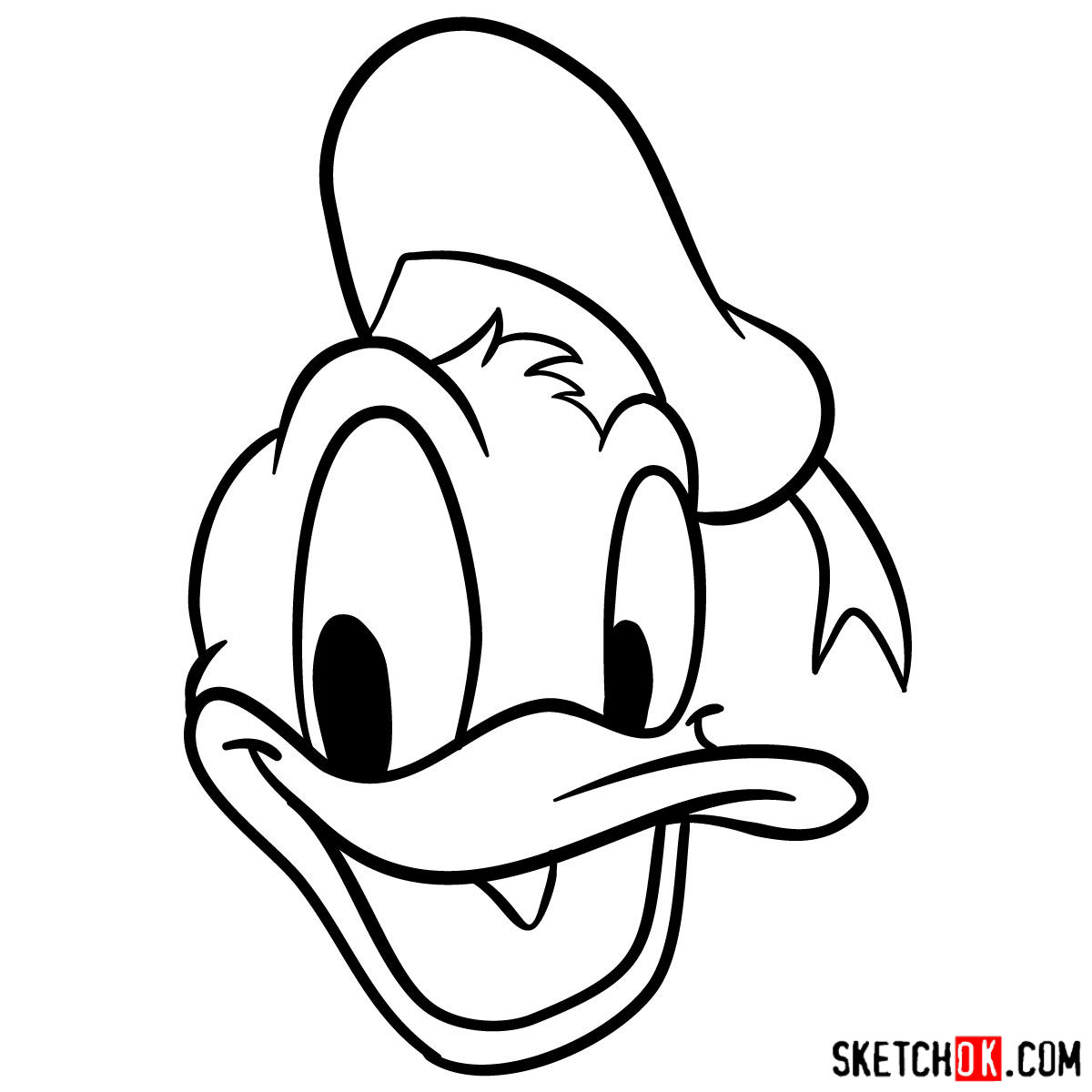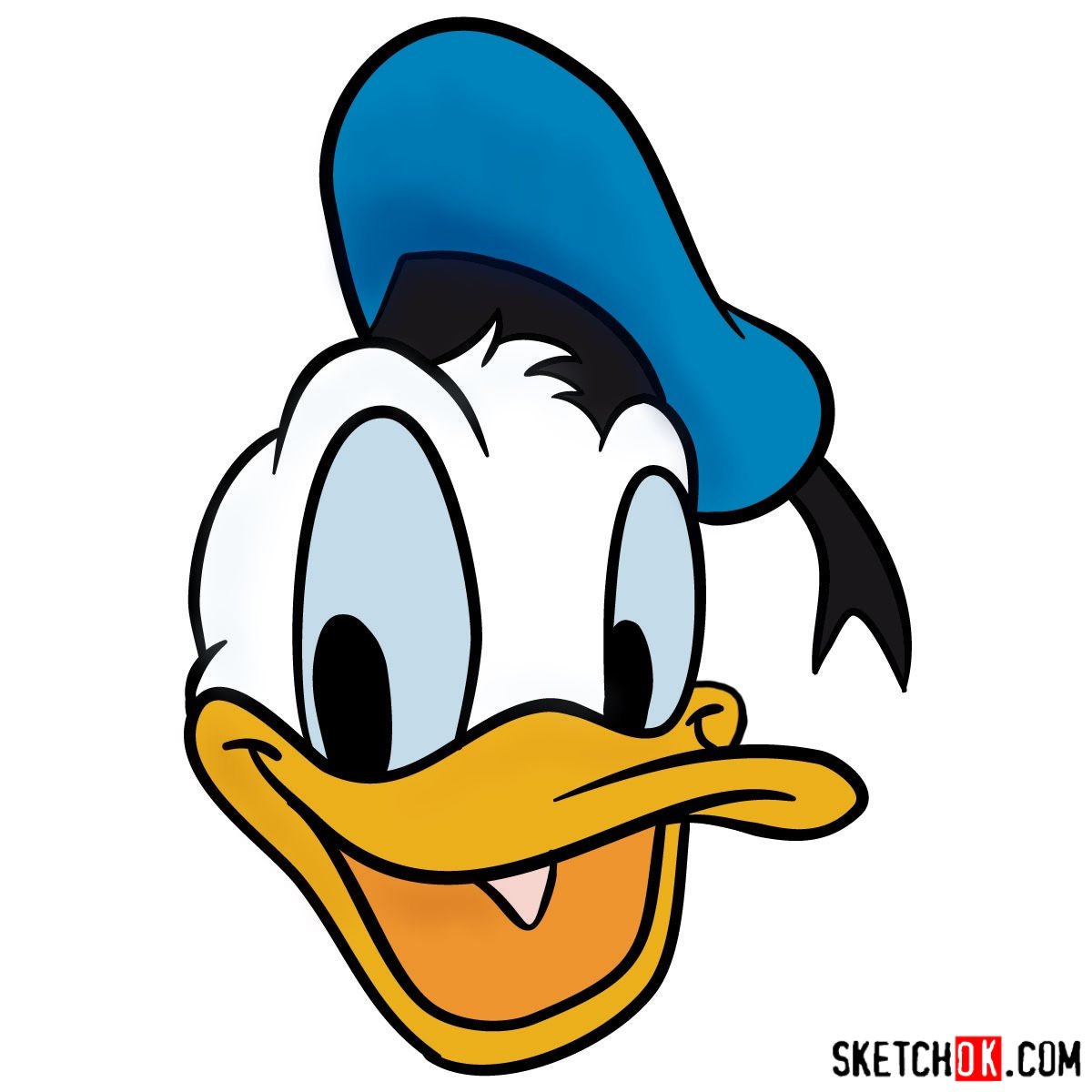 FAQs About Drawing Donald Duck's Face
What are the common mistakes to avoid while sketching Donald Duck's face?
Common mistakes include not paying attention to proportions, using hard strokes in the initial sketching phase, and rushing to finish. Take your time, observe each step carefully, and use light pencil strokes to make adjustments easier.
How can I make the sketch more expressive?
Expressiveness in a sketch is achieved by focusing on facial features. Pay special attention to Donald Duck's eyes and bill as they are key to capturing his lively personality.
What tools do I need for sketching Donald Duck's face?
You need a pencil for sketching, an eraser for corrections, and quality ink pens for outlining. You might also find a ruler handy for maintaining proportions.
Wrap-Up
We hope you enjoyed this guide on 'how to draw Donald Duck's face'. It is our aim to spread the joy of sketching, and you can help us achieve that goal by sharing this guide with your friends and on your social media platforms.
Your generous donations are what keep this project alive and free for all. Every contribution, big or small, enables us to create more guides like this one. If you find these guides helpful, please consider supporting us on BuyMeACoffee.
Stay updated with our latest guides by following us on Facebook, Instagram, and Pinterest. Remember, practice makes perfect. Keep sketching and keep improving!