Whether you're a seasoned artist or a newbie wanting to hone your skills, drawing iconic characters like Raphael from TMNT can be a delightful experience. This guide will provide you with step-by-step instructions on how to draw a simplified toy version of Raphael, bringing that bit of nostalgic toy charm right onto your sketchbook.
Raphael's Character Highlights
Mask: Raphael's signature red mask is his standout feature, with long and flowing ends that extend backward.
Shell: The toy's shell is slightly exaggerated in size and carries significant details, including battle scars and wear.
Stance: Even in toy form, Raphael exudes a strong and dynamic stance, symbolizing his fiery spirit.
Companions: When sketching Raphael, consider adding Leonardo, Donatello, and Michelangelo to create a complete TMNT set.
Understanding the Guide's Structure
Drawing can be a meticulous process, and to ensure clarity, we've incorporated a color-coding system in our guide:
Red Color:

This represents the current drawing step, guiding your pencil in the right direction.

Black Color:

Highlights the lines you've already mastered in the previous steps.

Grey Color:

This shows the basic proportions sketch, ensuring your drawing maintains its scale and balance.
The guide includes 10 crucial steps. Begin with light strokes in the first two stages to establish a foundational sketch. Once you've reached the end, opt to ink your sketch if desired. Ensure you let the ink dry thoroughly before gently erasing the initial pencil lines to reveal a clean, polished drawing.
Step 1
Step 2
Step 3
Step 4
Step 5
Step 6
Step 7
Step 8
Step 9
Step 10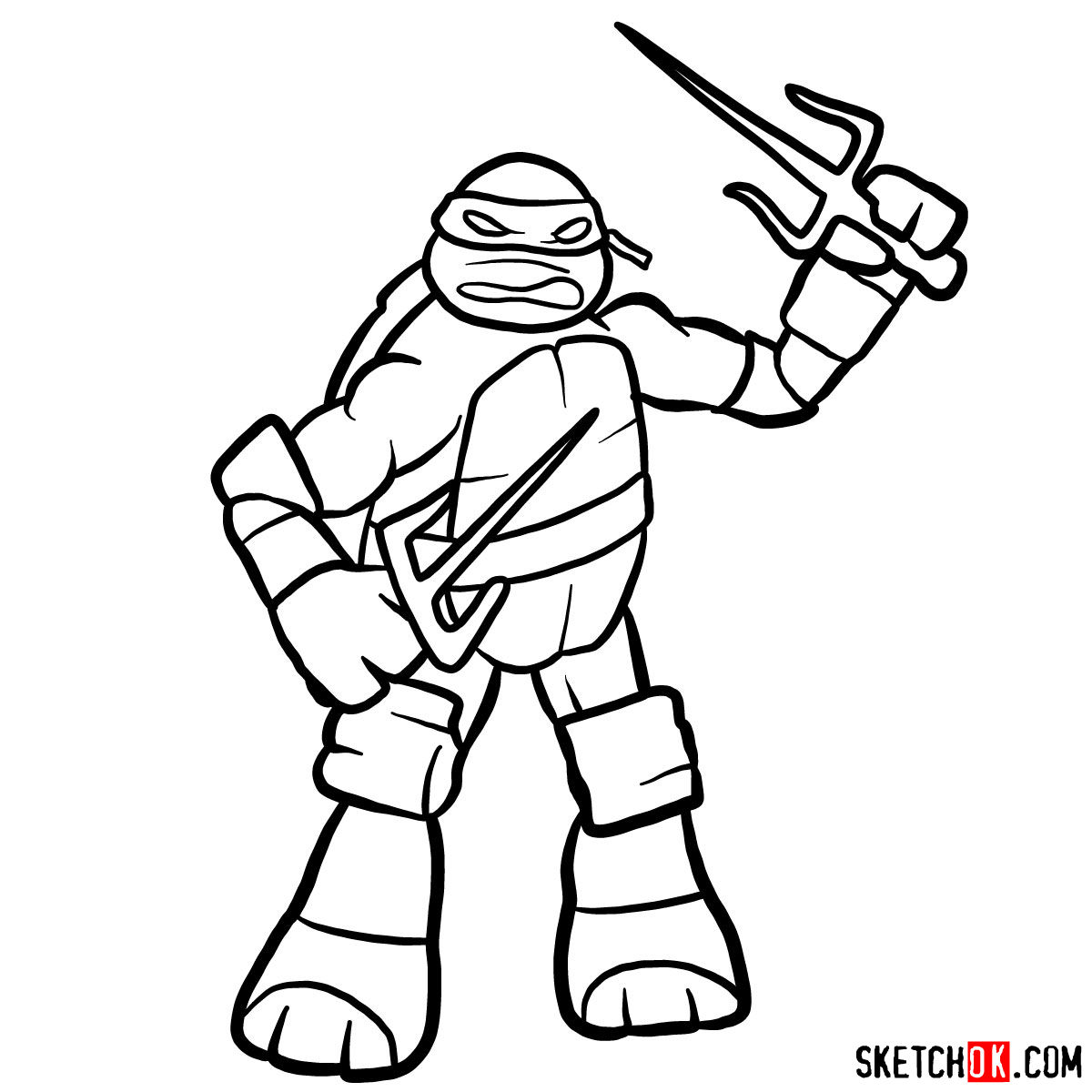 I hope you enjoyed this journey, learning how to draw Raphael from TMNT. If you'd like to share your masterpiece with others or show appreciation, please consider sharing this guide's link with fellow artists and enthusiasts. For those wishing to support my work further, a donation can make a world of difference. Not only does it provide encouragement, but by adding a message to your donation on Buy me a coffee, you can suggest future tutorial topics. I'll prioritize these suggestions, striving to bring more content to you faster.
For daily sketches, tips, and updates, do follow SketchOk on Facebook, Instagram, and Pinterest. Thank you for being part of this art-filled journey!