King Triton, renowned as the Sea King, is a central figure in Disney's 1989 animation, The Little Mermaid. Commanding the undersea realm of Atlantica, he's not just a ruler but also a devoted father. As you embark on this journey, we will guide you through the intricacies of capturing King Triton's powerful and compassionate essence in your artwork. And who knows, maybe next, you'll be inspired to draw his curious daughter, Ariel, or the vilanious Ursula!
King Triton's Signature Features
Facial Features: White flowing hair and beard, intense blue-gray eyes, and a commanding brow.
Physique: A muscular and broad frame that exudes strength and authority.
Mermaid Tail: An expansive navy-blue tail with translucent cyan fins.
Royal Accents: A crown resembling a sea star, golden gauntlets, and the almighty trident, the symbol of his power over the oceans.
Personality: His expressions often shift between that of a protective father and a decisive ruler.
Understanding the Guide
Our guide breaks down the drawing process into 12 clear steps. Before diving in, it's essential to understand the color coding:
Red Color:

Represents the current drawing step.

Black Color:

Indicates lines from previous steps.

Gray Color:

Outlines the basic sketch for proportion.
The journey begins with a basic structure sketch, employing light pencil strokes to ensure proportion accuracy. After traversing through the intricate details of King Triton, artists can opt to ink their masterpiece. It's crucial to wait for the ink to dry before erasing the pencil marks, ensuring a neat and clear artwork.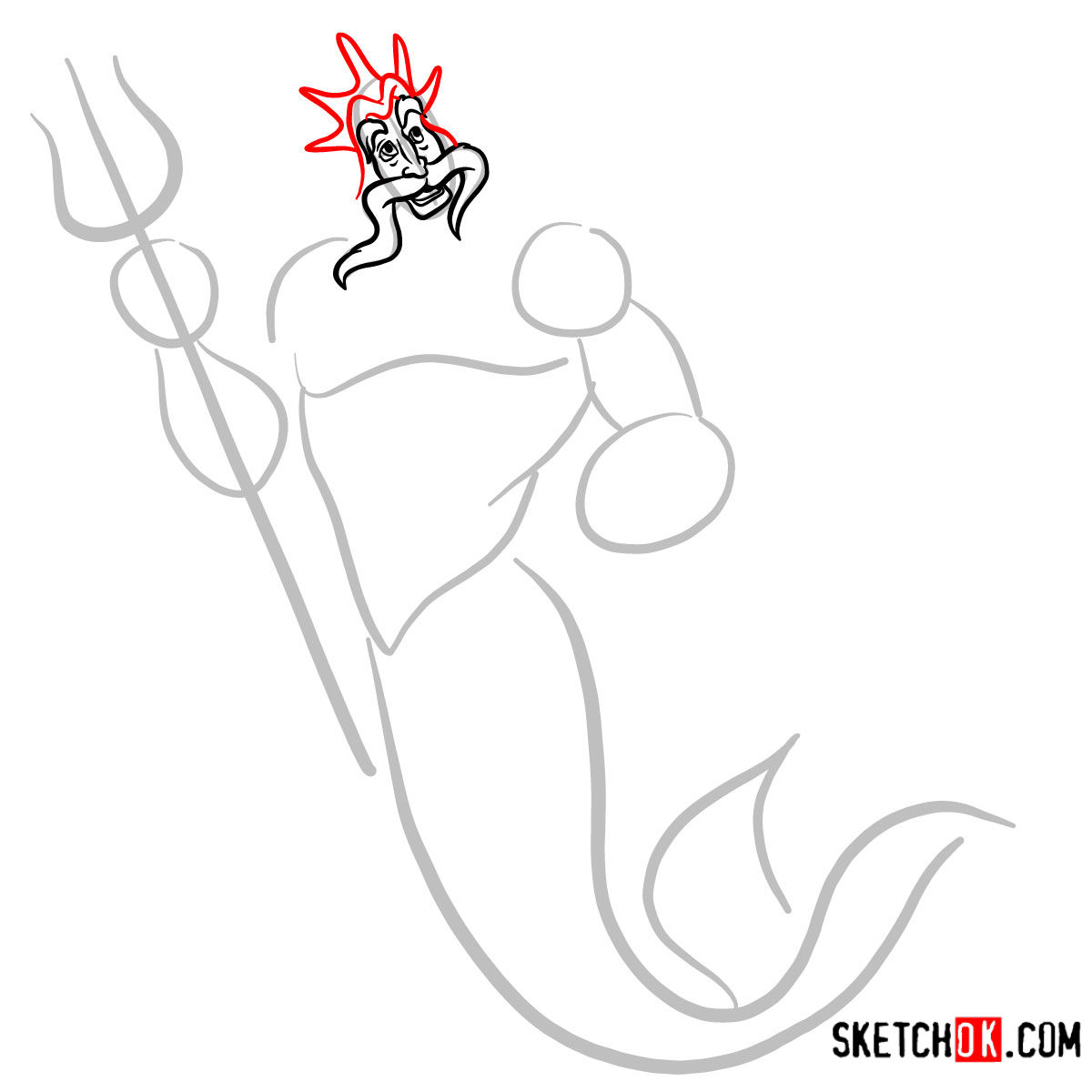 Frequently Asked Questions
What's the best technique to sketch King Triton's flowing hair and beard?
To capture the fluidity of King Triton's hair and beard, use curved and wavy lines. Begin with broader strokes and gradually refine them, adding layers and strands to provide depth and volume.
How can I ensure accuracy in sketching the trident?
Starting with a straight central line for alignment can be helpful. Break the trident down into simpler geometric shapes, and refine from there. Always ensure that the three prongs are symmetrical.
Any tips for drawing Triton's muscular physique?
Focus on the anatomy. Use rounded shapes for muscles, and observe shadows and highlights to depict muscle depth and definition. His broad shoulders and chest are especially pivotal in portraying his strength.
After mastering how to draw King Triton, we encourage you to share your artwork with the world! Every drawing tells a story, and your unique perspective adds value to the broader narrative. If you enjoyed this guide and found value in it, consider supporting the SketchOk project. By donating, you not only keep these tutorials free for everyone but also get a say in what characters we cover next! Connect with us on Facebook, Instagram, and Pinterest. Every bit of support helps in bringing more art to the world. Here's to many more drawing adventures!