Embracing the realm of fantasy, Ariel from Disney's The Little Mermaid has captured hearts around the globe. The vibrant and vivacious young mermaid princess who dreamt of a life beyond the ocean's bounds is a favorite subject for many artists. If you're aspiring to capture her beauty on canvas, you're in the right place. This guide will help you grasp how to draw Ariel full body, offering clear guidelines for each stage of the artistic process.
A Closer Look at Ariel
History: Ariel is not just Disney's invention; she has her roots in the Danish fairy tale by Hans Christian Andersen. Though Disney provided her with a happier ending, the essence of the character remains rooted in age-old stories.
Appearance: Characterized by her fiery red hair, aqua blue eyes, and a sea-green tail, Ariel's look is unique and mesmerizing. Her hourglass figure and youthful face make her an interesting subject to sketch.
Friends and Family: As you master the art of drawing Ariel, consider adding her companions like Flounder, Sebastian, or even Prince Eric to create a comprehensive scene.
About the Drawing Guide
In this step-by-step tutorial consisting of 11 stages, you'll begin with a basic sketch, helping ensure the right proportions. As you progress:
Red Color:

Represents the current step you're on.

Black Color:

Denotes the lines you've previously sketched.

Grey Color:

Highlights the basic proportion sketch, guiding you as you advance.
Upon completion, you have the option of inking your sketch. Remember, patience is key. Let the ink dry fully before gently erasing the underlying pencil lines to avoid smudging.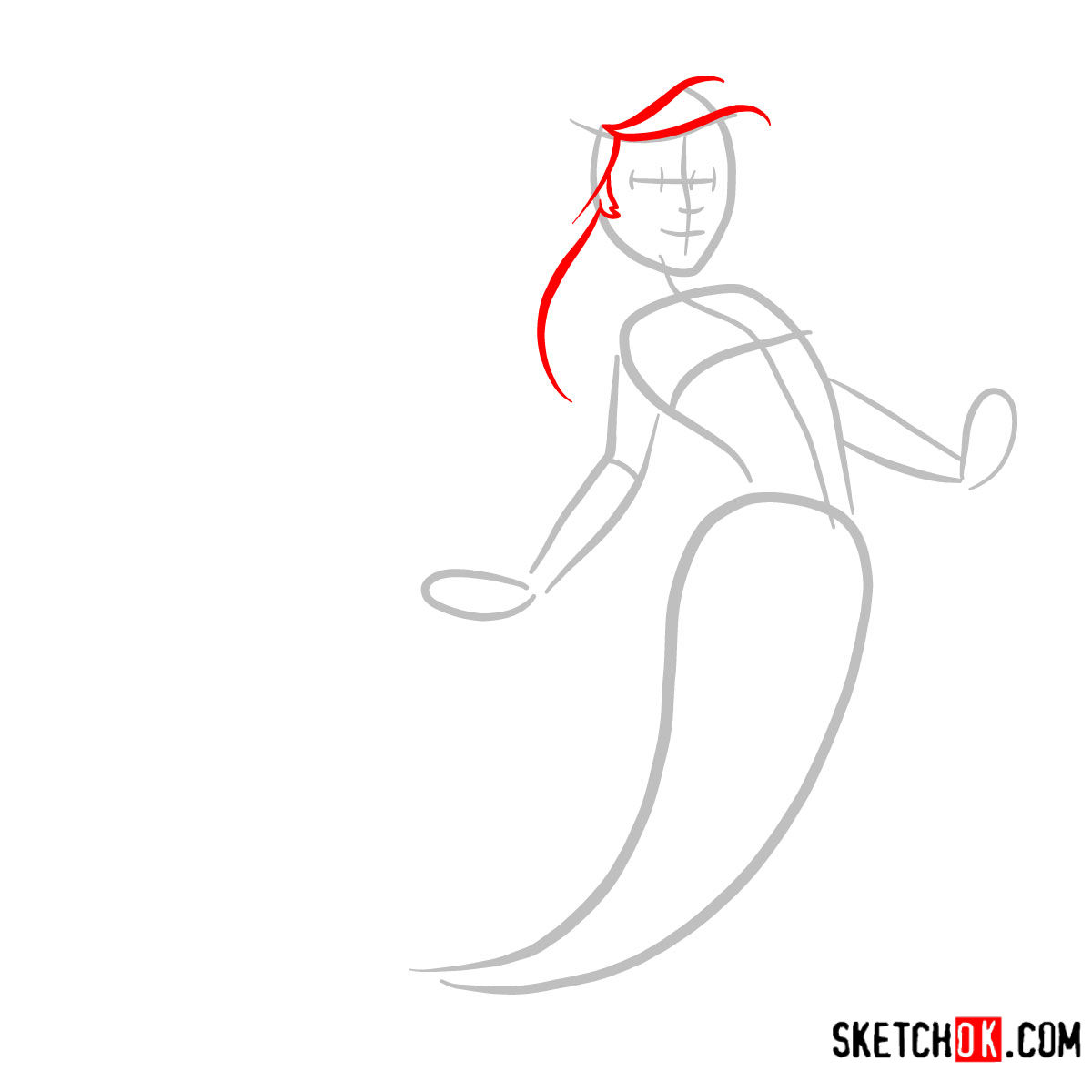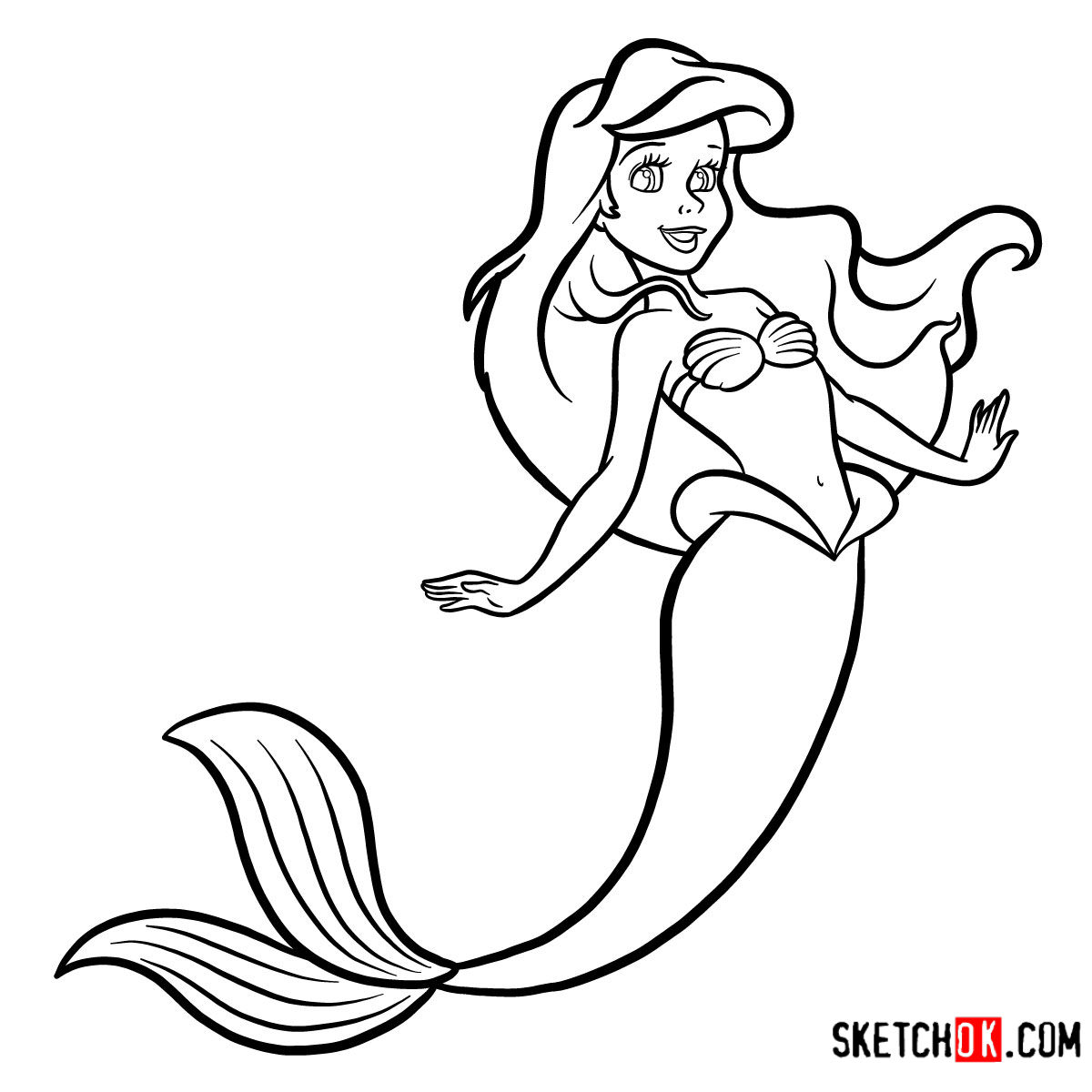 Frequently Asked Questions
What's the best technique to draw Ariel's iconic hair?
Ariel's hair is voluminous and wavy. Start with broad strokes to capture the general flow and then refine with individual strands and waves. Pay close attention to how her hair moves underwater; it has a floating quality that's central to her underwater charm.
How can I accurately sketch Ariel's tail and fins?
When drawing Ariel's tail, think of it as an extension of her body. The scales should be uniform but can vary in size. The fins are wavy, so using lighter strokes and ensuring they have a flowy appearance will yield the best results.
What posture is ideal for showcasing Ariel's full-body sketch?
Ariel is often depicted with a curious, adventurous posture. Having her gaze upwards or towards the horizon captures her longing for the world above. Position her arms gracefully and let her tail curve, giving her a dynamic and lifelike stance.
Drawing is a journey, and every sketch brings you closer to mastery. By understanding how to draw Ariel full body, you're not just recreating an iconic character but also refining your skills as an artist. If this guide was valuable to you, consider donating. Your support ensures the continuation of free drawing guides and allows you to suggest new tutorial ideas. Spread the word by sharing this guide on platforms like Facebook, Instagram, and Pinterest. Each share, like, and donation fuels the passion behind SketchOk and allows us to keep inspiring artists like you.