Meet Sebastian, the spirited Jamaican-accented crab from Disney's classic, "The Little Mermaid". Serving as King Triton's trusted advisor, he's won hearts with his calypso beats and heartfelt concern for Princess Ariel. Ready to sketch this iconic character? Let's plunge into the world of Atlantica and learn how to draw Sebastian.
Character's Appearance and Focus Points When Drawing:
Before you begin, it's essential to familiarize yourself with Sebastian's distinctive features. While drawing, keep an eye on:
Sebastian's compact body structure.
His notable large eyes, expressive and often wide-open.
The series of small legs beneath his body, crucial for his crab identity.
The claws, which are often in animated motions, displaying various expressions.
Sebastian's distinct Caribbean feel, primarily reflected in his movements and posture.
Also, consider adding other beloved characters like Ariel or Flounder for a more comprehensive underwater scene. Sketching them together would add depth and interaction to your artwork.
About the Guide:
Our drawing tutorial is uniquely designed with a straightforward color-coded system to ensure clarity and ease. To understand our guide:
Red Color:

Represents the current step to focus on.

Black Color:

Highlights the lines drawn in the previous steps.

Grey Color:

Demonstrates the basic proportion sketches, best drawn using light pencil strokes.
The guide comprises 10 progressive steps, starting with a basic sketch to establish proportion. Once you complete the sketch, you might decide to ink your drawing. If so, always allow the ink to dry before erasing any pencil marks to avoid smudges.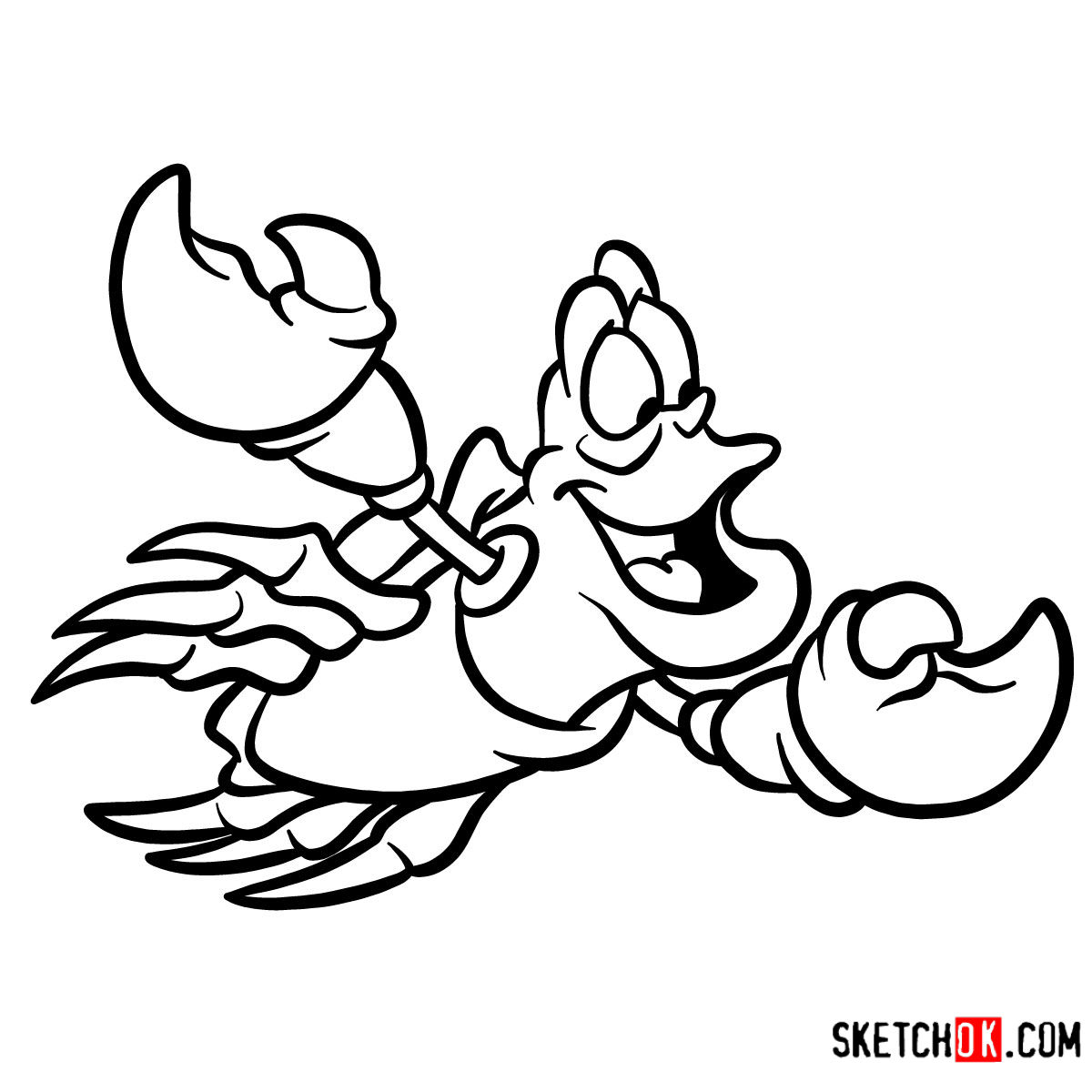 Drawing Sebastian: FAQ
What's the ideal technique to capture Sebastian's expressive eyes?
Sebastian's eyes are one of his standout features. Start with a large, rounded shape, ensuring the eyelids are well-defined. Adding a slight shine or glint can capture their animated quality, making them appear more lifelike and expressive.
How can I sketch Sebastian's body to convey his dynamic movement?
Sebastian is often seen in motion. To capture this, slightly exaggerate the curvature of his body and position his claws and legs to suggest direction and energy. Using flowing, curvy lines can add a sense of rhythm to your sketch.
Thank you for journeying with us under the sea! Now that you know how to draw Sebastian, we hope you'll share your artistry with the world. If you've found value in our guide, please consider donating. With your support, we can continue crafting tutorials and helping aspiring artists like you. Your donations also allow you to suggest topics for future guides. Connect with our community on Facebook, Instagram, and Pinterest. Remember, every masterpiece begins with a single sketch. Keep drawing!