Princess Jasmine, the sparkling gem of Agrabah and one of the famous Disney Princessess, has captivated audiences with her charm, beauty, and unyielding spirit. Beyond her royal status, her story is one of aspiration, love, and adventure. With this guide, you'll learn how to draw Princess Jasmine and the delightful birdie that accompanies her, capturing their essence in detailed sketches.
Jasmine's Distinct Appearance
Facial Features: Jasmine possesses large, expressive brown eyes, complemented by her lustrous, black hair tied in a ponytail with blue bands.
Signature Attire: Typically, she's seen in a light blue tube top, matching pants, and blue shoes. Accessories like gold earrings, a necklace, and a distinct blue headband emphasize her royal lineage.
Alter Ego: Disguised as a peasant in Agrabah's marketplace, she dons a brown robe and tan hood. For formal events, a purple outfit and a unique hair accessory take center stage.
Jafar's Influence: During Jafar's brief reign, Jasmine is adorned in red, accentuated by gold accessories like a snake bracelet and crown.
For those looking to diversify their drawing portfolio, considering sketching Aladdin or even her father would be an exciting challenge.
About the Drawing Guide
This drawing guide consists of 14 meticulously crafted steps. To make your artistic journey seamless, we've integrated a color-coded system:
Red Color:

Highlights the current drawing step.

Black Color:

Represents lines from previous steps.

Grey Color:

Illustrates the foundational sketch, crucial for accurate proportions.
The initial step is paramount, laying the foundation for your sketch. Once your drawing is complete, you may opt to ink the sketch. Remember to allow the ink to dry thoroughly before erasing the underlying pencil marks to avoid smudges.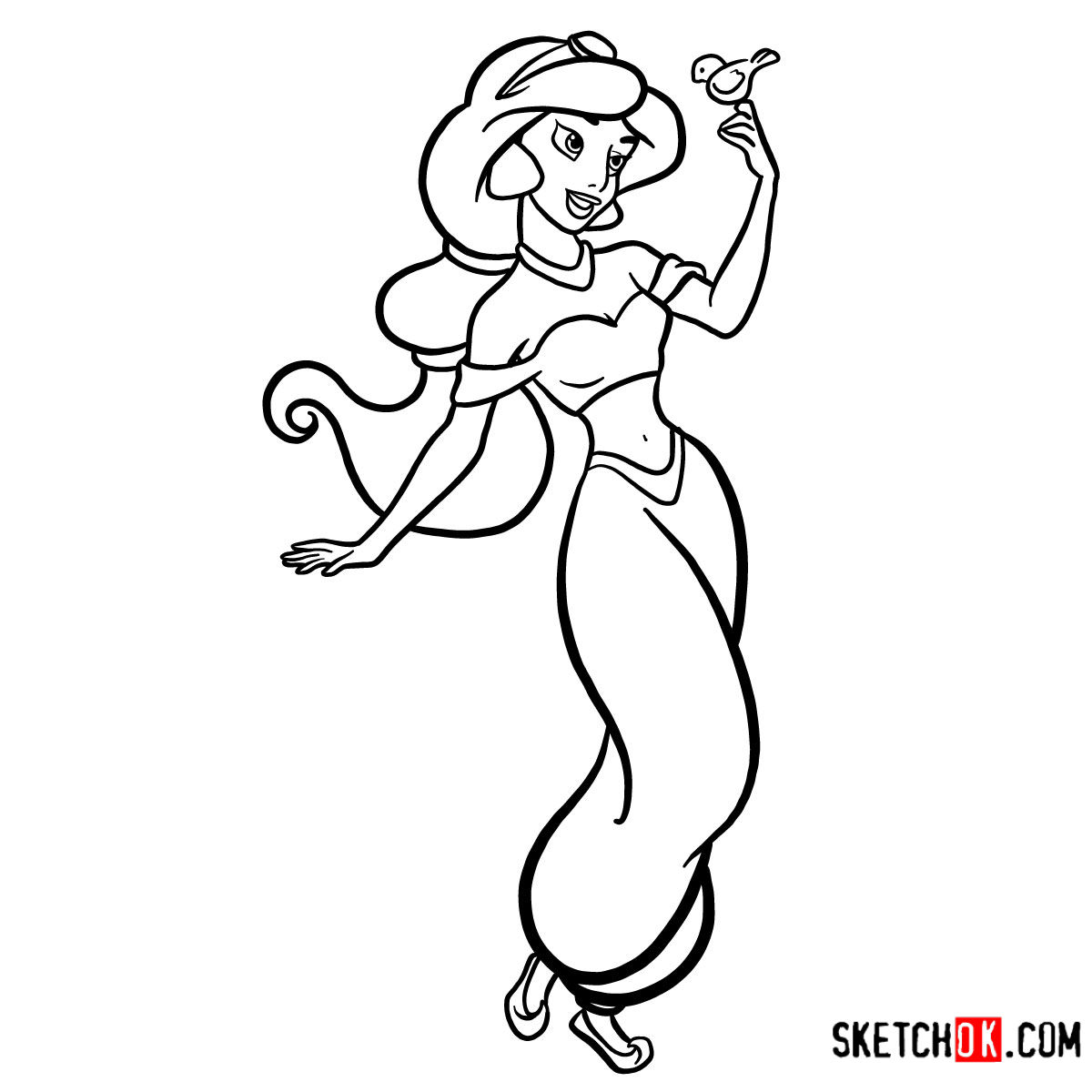 Frequently Asked Questions
What's the best technique to capture Jasmine's flowing hair?
Aim for fluid, wavy lines to depict the motion and volume of Jasmine's hair. Varying line thickness can also give depth and dimension to her tresses.
Any tips for drawing the birdie on Jasmine's hand?
Start with a basic oval for the bird's body. Pay special attention to its posture on Jasmine's hand, and use fine lines to detail its feathers and facial features.
Concluding Thoughts
Embarking on this artistic journey teaches not only how to draw Princess Jasmine but also how to observe and capture intricate details. By bringing Jasmine to life on your canvas, you keep the enchantment of Agrabah alive. If you found this guide valuable, kindly consider supporting the SketchOk project. Your donations not only aid in creating more free drawing tutorials but also allow you to suggest ideas for future guides.
Don't forget to share this guide with fellow art enthusiasts or on your social platforms. Every share brings more art lovers into our community. Connect with us on Facebook, Instagram, and Pinterest. To contribute, visit here. Together, let's make art accessible to all!