If you've ever wished for a whimsical journey through the skies of Agrabah, you're likely familiar with the iconic Magic Carpet from the Aladdin series. Not just a mode of transport, but a character with emotions, personality, and undying loyalty. With our step-by-step guide, we invite you to learn how to draw this unique character and relive the magic.
Detailing Carpet: Appearance and Drawing Focus Points
Color & Texture: The rich purple wool, intricately stitched, that gives Carpet his distinctive look. This luxurious texture is essential when sketching.
Patterns: Ornate triangles, abstract symbols, golden tiger heads, and captivating central imagery of lamps and scimitars make up the carpet's design.
Expression: Without a face, Carpet's edges, tassels, and how he 'floats' are essential to convey his emotions and intelligence.
While sketching the Magic Carpet, it might be fun to add Aladdin, Jasmine, or even Genie to give your drawing a fuller story!
Understanding the Guide: Colors and Steps
Before diving into your drawing, it's crucial to understand the guide's color system:
Red Color:

Indicates the current drawing step.

Black Color:

Represents lines from previous steps.

Grey Color:

Shows the basic proportion sketch, a foundation for the final image.
The guide comprises 11 steps. The first lays the groundwork for your sketch. Once you've completed your drawing, consider inking over the final sketch. Remember to let the ink dry before gently erasing any pencil marks to reveal a crisp, clean image.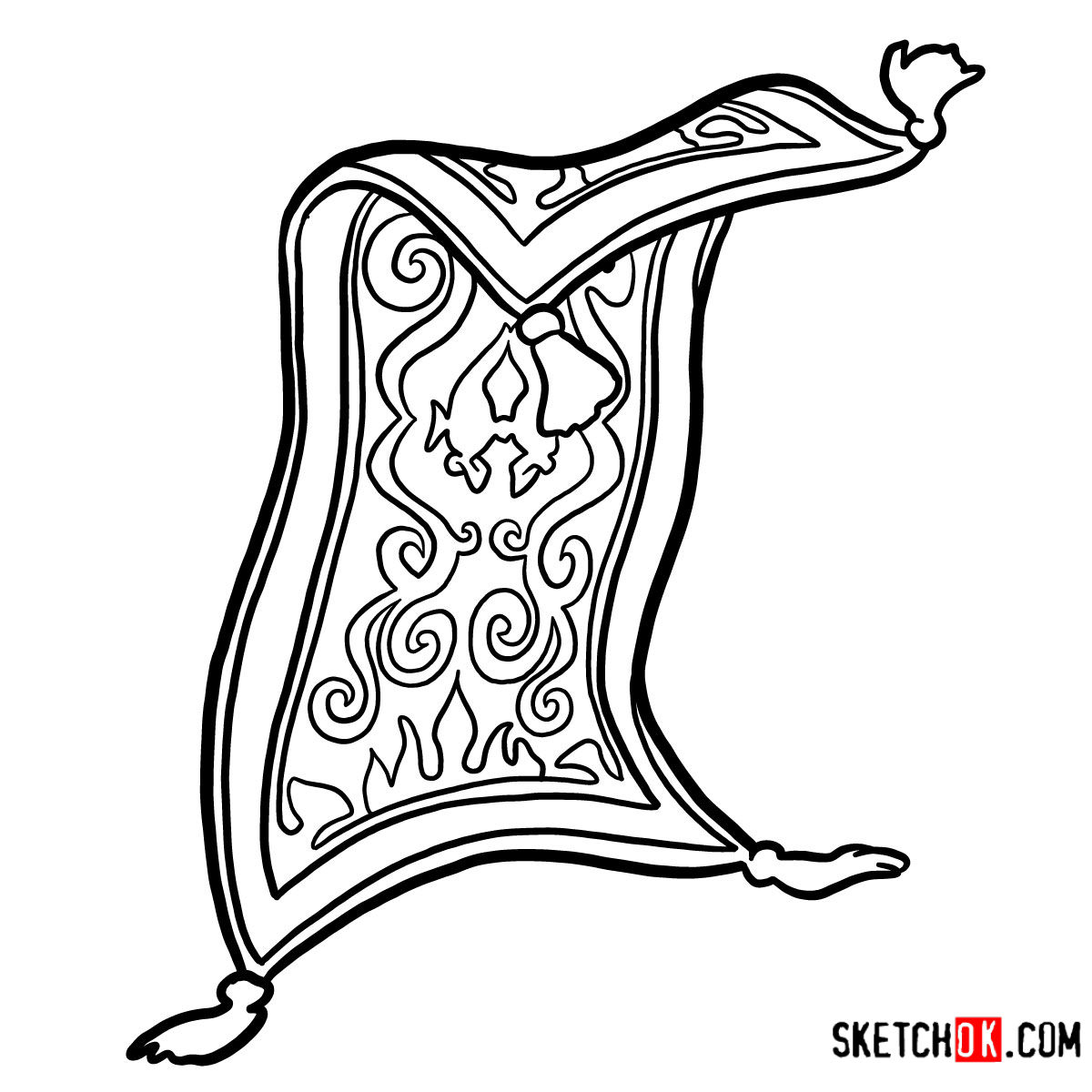 Artistic Queries: Drawing the Magic Carpet
What's the best approach to capture Carpet's intricate patterns?
Begin with broader shapes and patterns before delving into the finer details. Keep your strokes light, enabling easy modifications as you progress. Pay attention to symmetry and repetition in the patterns for a balanced look.
How can I best depict the Magic Carpet's emotions without a facial expression?
Focus on posture and positioning. A 'droopy' or 'perked up' carpet can signify sadness or excitement, respectively. Using angles and tassels effectively can also hint at Carpet's mood or actions, like shyness or eagerness.
A Magical Conclusion: Join Us on More Adventures!
We hope this guide brings the whimsy and enchantment of the Magic Carpet right onto your canvas. If you've enjoyed this experience, we invite you to share this guide with fellow art enthusiasts. By donating, you support us in creating more free drawing guides and even suggest new tutorial ideas. Connect with us on Facebook, Instagram, and Pinterest for more inspiration. Your contribution is pivotal in keeping the SketchOk project vibrant and alive. Until next time, keep sketching and exploring the magic of art!