Enter Agrabah and Learn How to Draw Abu, Aladdin's Playful Sidekick
One of the most iconic characters from Disney's animated classic, "Aladdin", Abu is Aladdin's playful, loyal, and slightly kleptomaniacal monkey companion. With his unique charm and dynamic relationship with Aladdin, this character has won the hearts of many. If you've ever wanted to capture his essence on paper, this guide on how to draw Abu will lead the way!
Abu's Unique Features
High-pitched voice, capturing his vibrant energy.
Expressive eyes that often reflect his mischievous nature.
Agile and swift movements, influenced by real-world monkey behavior.
Distinctive hat, symbolizing his connection to Aladdin.
While sketching Abu, consider exploring other beloved characters from Aladdin's tale. Perhaps you could add the cunning Iago or the enchanting Genie to bring more magic to your drawing.
About This Sketching Guide
Our guide is designed to make drawing simple and enjoyable. With 12 well-illustrated steps, you will recreate Abu in his full glory. Here's what to expect:
Red Color:

Highlights the current drawing step.

Grey Color:

Indicates the basic proportions sketch. Remember, the first step is all about creating this foundational sketch.

Black Color:

Demonstrates the lines from previous steps.
As a finishing touch, consider inking your sketch. This can add depth and sharpness to your drawing. However, ensure the ink dries before erasing the pencil lines to prevent smudging.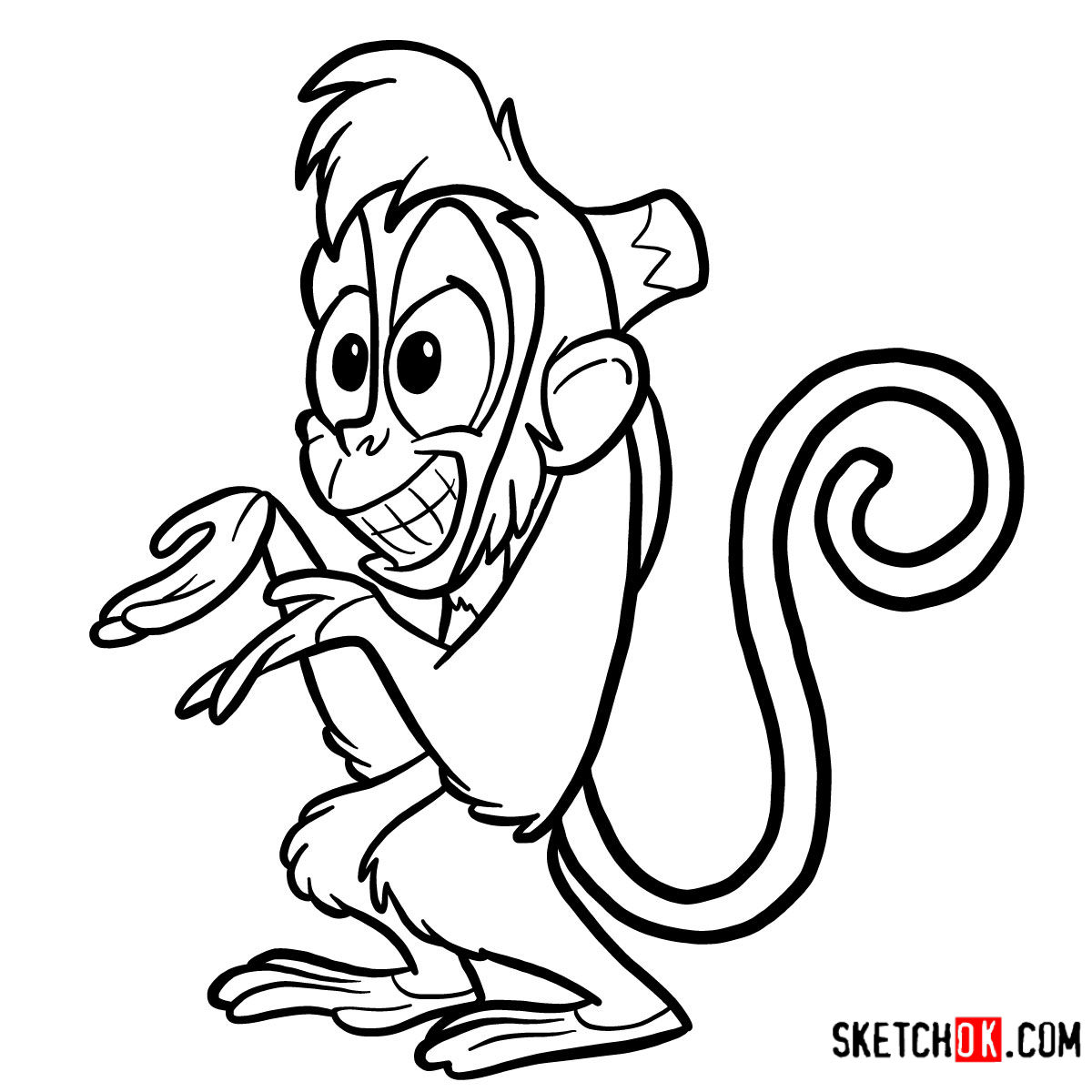 Drawing Abu: Frequently Asked Questions
What is the best technique to capture Abu's expressive eyes?
Start with an oval base, then add slight curves at the top and bottom to showcase his emotions. His pupils should be placed in the middle, but you can adjust their direction based on the emotion you want to convey.
How should I approach sketching Abu's agile posture?
Studying real-world monkey movements can be a helpful reference. Begin with a basic skeletal structure, noting key joints. This gives flexibility to pose Abu in various actions, whether he's jumping, sitting, or engaging in his kleptomaniacal habits.
Any tips for adding details to Abu's attire?
Abu's attire, especially his hat, is a significant part of his look. Start with basic shapes, then layer details like patterns, shadows, and texture. Remember, the hat sits at a slight angle, giving it dimension and depth.
Concluding Notes
I hope you enjoyed this journey through Agrabah, mastering how to draw Abu from Disney's Aladdin. Your support helps keep projects like SketchOk alive. By donating, you can suggest new tutorial ideas and ensure that we continue creating helpful free drawing guides. Don't forget to share the guide on your social media or with fellow sketching enthusiasts. Together, let's spread the magic of drawing!