Welcome, fellow artists! Today, I'm excited to guide you through a step-by-step drawing tutorial featuring the beloved character from Sword Art Online, Keiko "Silica" Ayano. Get ready to unleash your creativity as we embark on this artistic journey together.
Appearance and Story of Silica
Let's delve into the world of Sword Art Online and explore the endearing character, Silica. Ayano Keiko, also known as Silica, is a supporting character in the Aincrad Arc and a recurring presence throughout the Sword Art Online series. As a dagger-wielding Beast Tamer, Silica was one of the 10,000 players trapped in the virtual reality game. In the real world, Keiko has light brown hair tied into two tails with red ribbons, complementing her light brown eyes. Her SAO avatar sports red eyes, red robe and gloves with golden patterns, black shit, boots and long socks. Learn to capture her unique appearance as we progress through this tutorial.
Recommended Tools
Before we begin, gather the following materials and tools to enhance your drawing experience:
Pencils (preferably ranging from HB to 6B)
Drawing paper or sketchbook
Eraser
Black ink pen or fine liner
Coloring materials (colored pencils, markers, or watercolors)
Step-by-Step Drawing Guide
Now, let's jump into the step-by-step process of bringing Silica to life on your paper. Remember, the accompanying images will provide visual cues to guide you throughout the tutorial. Pay attention to the red, grey, and black colors used in the images. The red signifies the current drawing step, the grey represents the basic proportions sketch, and the black denotes previously drawn lines.
Part 1: Basic Sketch
In this initial phase, we'll focus on creating a basic structure for our drawing. Use light pencil strokes to lay the foundation, ensuring accurate proportions. Take your time to capture the essence of Silica's pose and overall posture.
Part 2: Refining the Sketch
Now that we have the basic sketch, it's time to refine it by adding details and refining the proportions. Pay attention to Silica's distinct facial features, hairstyle, and the intricate elements of her outfit. Refining the sketch will bring your drawing closer to its final form.
Part 3: Inking
Once you're satisfied with the refined sketch, it's time to ink your drawing. Grab your black ink pen or fine liner and carefully outline the important lines, giving them a bold and confident appearance. Use controlled strokes to ink Silica's character, and don't be afraid to add your personal touch.
Part 4: Coloring and Shading
Now comes the exciting part—adding color and bringing your artwork to life! Select your preferred coloring materials and start applying them to your drawing. Experiment with shading and highlights to add depth and dimension to Silica's character. Don't forget to have fun and let your creativity shine!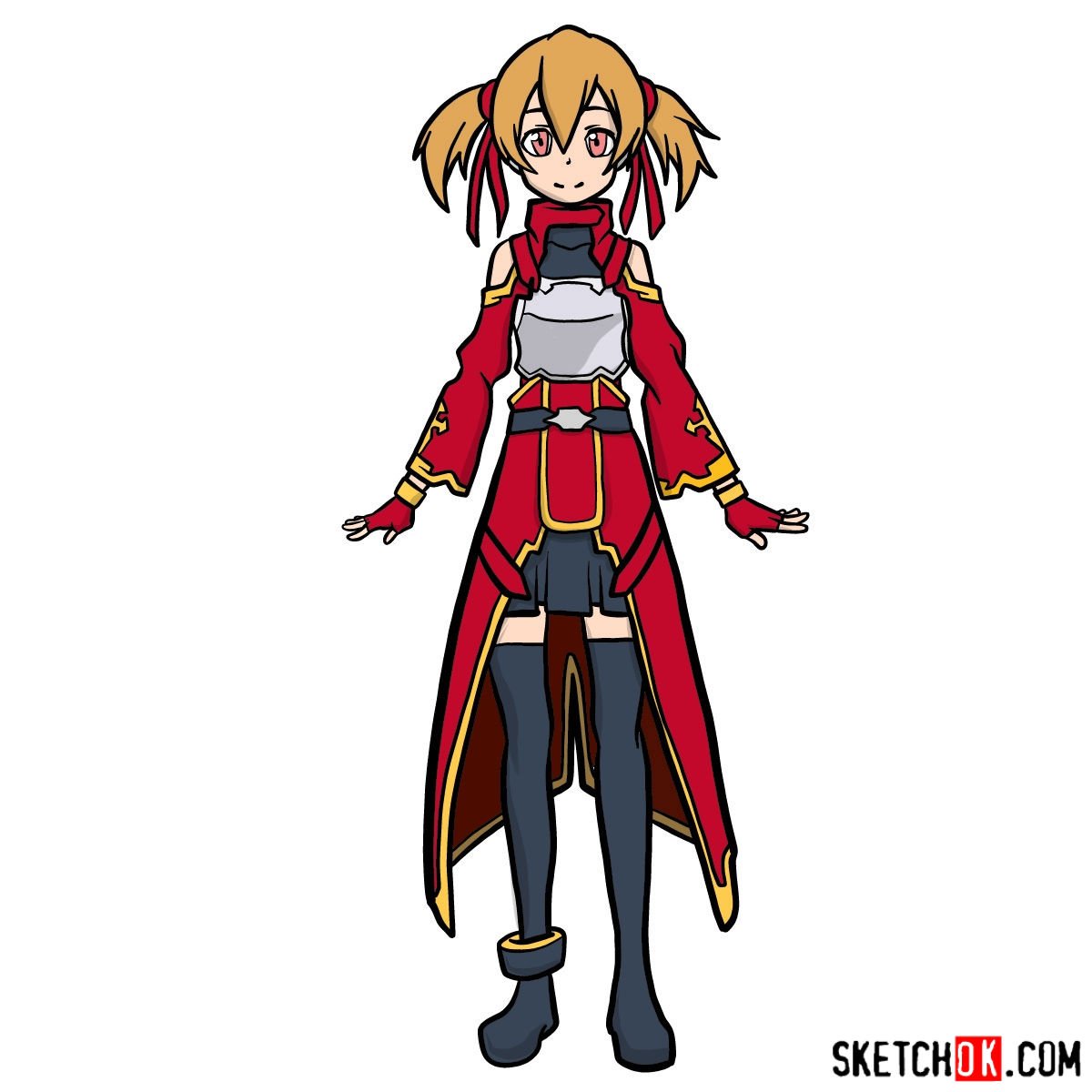 Exercises and Techniques
Looking to further enhance your artistic skills? Here are some exercises and techniques to explore:
Gesture drawing: Practice capturing Silica's dynamic poses with quick, fluid sketches.
Light and shadow: Experiment with different lighting scenarios to create mood and atmosphere in your artwork.
Expressions and emotions: Challenge yourself by depicting Silica's range of emotions, from joy to determination.
Character design: Develop your own original characters inspired by Silica's charm and personality.
Perspective drawing: Learn to depict depth and three-dimensionality by exploring various perspective techniques.
Incorporating backgrounds: Enhance your drawings by adding detailed and immersive backgrounds.
Color theory: Dive into the world of colors and explore how they can convey different emotions and narratives.
Anatomy studies: Deepen your understanding of human and animal anatomy to create more realistic character renditions.
Inking and line art: Master the art of clean line work and inking techniques to refine your drawings.
Texture exploration: Experiment with different mark-making techniques to create interesting textures in your artwork.
Frequently Asked Questions
Q: How can I make Silica's eyes look more vibrant and expressive?
A: To make Silica's eyes stand out, consider using brighter shades of red or adding highlights with a white gel pen or an eraser. Experiment with different techniques until you achieve the desired effect.
Q: What is the best way to learn drawing techniques for beginners?
A: For beginners, I recommend starting with basic shapes and practicing observational drawing. Joining art communities, taking online classes, and studying tutorials can also provide valuable guidance and inspiration along your artistic journey. Remember, practice makes progress!
More Characters to Explore
If you enjoyed drawing Keiko "Silica" Ayano and want to explore more characters from the Sword Art Online series or similar themes, here are a few suggestions to inspire your next artwork:
These characters offer diverse personalities, unique designs, and captivating stories, making them excellent choices for your next drawing projects.
Congratulations on completing this step-by-step drawing tutorial! I hope you had an enjoyable and insightful experience learning how to draw Keiko "Silica" Ayano. Now it's your turn to continue practicing, exploring new characters, and expressing your creativity through art. Remember to share your artwork, support SketchOk by sharing this tutorial with others, and consider making a contribution on Buy Me a Coffee to help me create more engaging tutorials in the future. Don't forget to connect on social media for additional inspiration and updates:
Keep drawing, keep exploring, and let your artistic journey unfold!