Welcome to our step-by-step drawing tutorial on how to draw Asuna, the beloved main heroine of the Sword Art Online series. In this guide, we will walk you through the process of creating a stunning artwork of Asuna, allowing you to unleash your creativity and master the art of drawing. Whether you're a beginner or an experienced artist, this tutorial will provide you with the knowledge and techniques to bring your favorite character to life on paper.
Appearance, Story, and Relationship of the Character
Asuna, whose full name is Yuuki Asuna, is a central character in the Sword Art Online series. She plays various roles throughout the different arcs of the story and captures the hearts of fans worldwide. In the Aincrad Arc, she is the deuteragonist, while in the Mother's Rosario side story, she takes on the role of the protagonist. Asuna is known for her skills with the rapier and her lightning-fast speed, earning her the nickname "The Flash."
Initially trapped in the virtual reality game Sword Art Online, Asuna became a sub-leader of the renowned "Knights of the Blood" guild. After the game was cleared, she transitioned her avatar to ALfheim Online, where she played as an Undine. Despite being a healer, Asuna's fierce determination led to her being called the "Berserk Healer" due to her tendency to charge into battle with her rapier.
Throughout the series, Asuna's character undergoes significant development, and her relationships with other characters, particularly with the protagonist Kirito, are explored and cherished. Her captivating appearance, dynamic personality, and unwavering courage make her a favorite among fans and an excellent subject for a drawing tutorial.
Materials and Tools
Before we begin, let's gather the materials and tools you'll need to create your masterpiece:
A set of drawing pencils
A sharpener and eraser
drawing paper or sketchbook
Fineliner pens or markers
A selection of colored pencils or markers
Note that these are recommended tools, but feel free to use any materials you're comfortable with. The most important thing is to have fun and express your creativity!
Step-by-Step Drawing Guide
Now, let's dive into the step-by-step process of drawing Asuna. Follow along and refer to the corresponding images to ensure accuracy.
Part 1: Basic Sketch
Begin by creating the basic structure of the sketch. Use light pencil strokes to outline the proportions and overall shape of Asuna. The red color in the images represents the current drawing step, while the grey color indicates the basic proportions sketch, and the black color shows the finished steps. Pay close attention to capturing Asuna's graceful pose and the unique features that define her character.
Part 2: Refining the Sketch
Once you have the basic sketch in place, it's time to refine the details and improve the proportions. Add more definition to Asuna's facial features, hair, and clothing, ensuring they match her iconic appearance. Use darker pencil strokes to emphasize the outlines and critical elements of the artwork. Remember to maintain the balance between accuracy and your artistic interpretation.
Part 3: Inking
Now that you have a refined sketch, it's time to ink your drawing. Carefully trace over the finalized lines using fineliner pens or markers. Pay attention to the thickness and weight of the lines to create depth and dimension. Once the ink is dry, erase any remaining pencil marks to reveal your clean and crisp Asuna artwork. Don't forget to add final touches and refine any areas that need extra attention.
Part 4: Coloring and Shading
To breathe life into your drawing, it's time to add color, shading, and highlights. Choose a color palette that matches Asuna's appearance and mood. Start by applying base colors to different elements of the artwork, gradually building up the layers and textures. Use shading techniques such as hatching, cross-hatching, or blending to create depth and three-dimensionality. Add highlights to make certain areas pop and create a sense of realism. Experiment with different coloring and shading techniques to achieve the desired effect.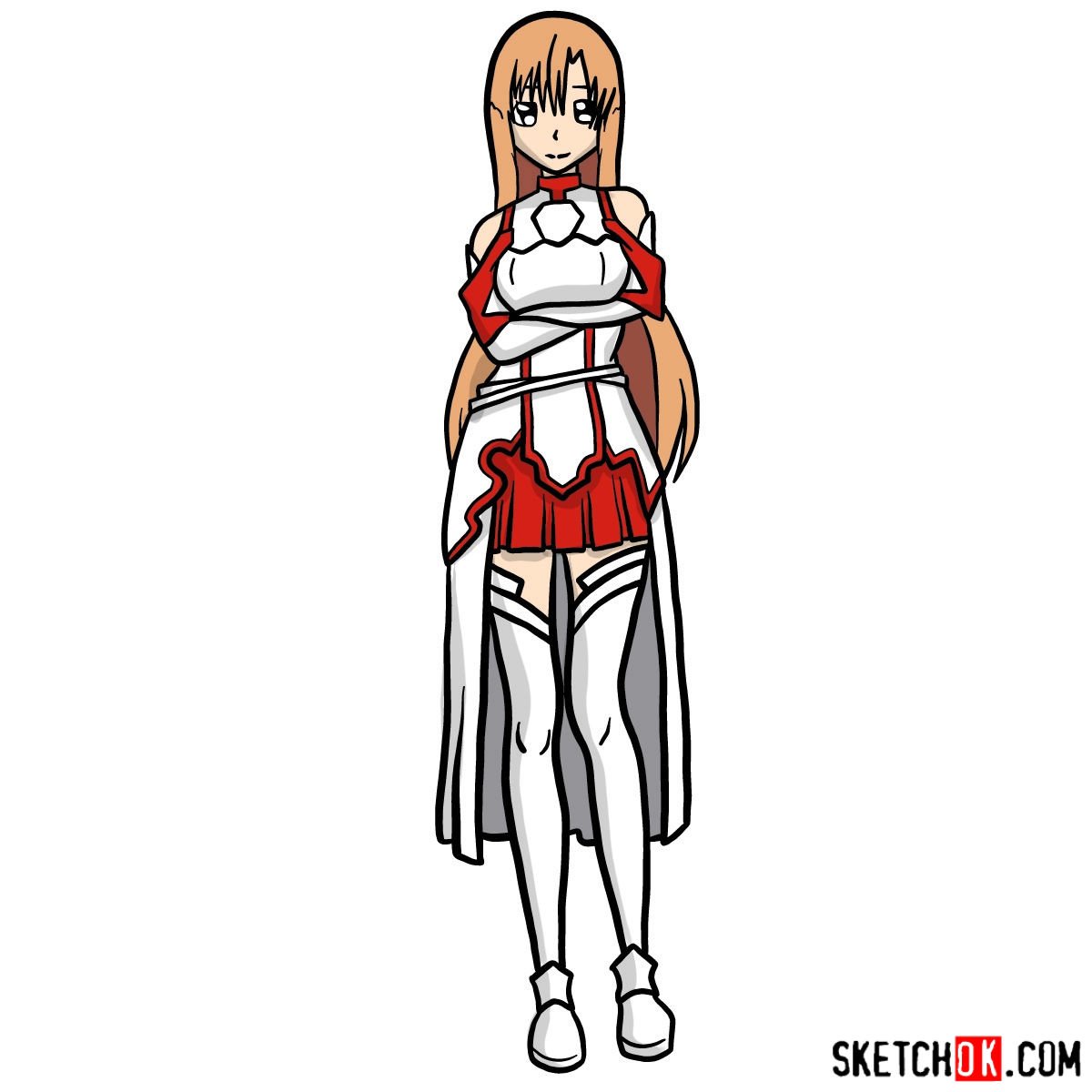 Techniques and Drawing Exercises
Now that you've completed the step-by-step guide, let's explore some additional techniques and drawing exercises to further improve your artwork:
Gesture drawing: Practice capturing the dynamic movements and poses of characters through quick sketches.
Study facial expressions: Focus on mastering different expressions to convey emotions effectively.
Anatomy exploration: Dive deeper into human anatomy to enhance your understanding of proportion and muscle structure.
Experiment with different art styles: Explore various art styles and incorporate elements that resonate with your artistic vision.
Color theory: Learn about color harmonies, contrasts, and combinations to create visually appealing and impactful artwork.
Seek feedback and learn from others: Share your drawings with fellow artists, participate in online communities, and learn from constructive critiques.
Keep practicing: Drawing is a skill that improves with consistent practice, so make it a habit to draw regularly.
By incorporating these techniques and engaging in drawing exercises, you'll continue to evolve as an artist and unlock new possibilities in your artwork.
Frequently Asked Questions
Q: How long does it take to learn to draw Asuna?
A: The time it takes to learn to draw Asuna or any character varies depending on your current skill level and the amount of practice you dedicate. Remember, learning to draw is a continuous journey, and progress comes with consistent effort and patience.
Q: What if my drawing doesn't look like Asuna?
A: Don't worry if your first attempts don't perfectly resemble Asuna. Each artist has their unique style, and it's normal to have some variations. Focus on capturing the essence and key characteristics of the character while adding your personal touch. With practice, you'll develop your style and improve your ability to capture the likeness of different characters.
Q: Are there any shortcuts to mastering drawing?
A: While there are no shortcuts to mastery, there are certain tips and techniques that can help you progress faster. These include studying from references, breaking down complex subjects into simpler shapes, practicing different drawing exercises, and seeking guidance from experienced artists. Remember, consistent practice and perseverance are essential ingredients on your artistic journey.
Wrapping up
Congratulations on completing this step-by-step drawing tutorial on how to draw Asuna! You've learned essential techniques and followed a detailed guide to create your artwork. Keep exploring different characters and subjects, apply the techniques you've learned, and don't be afraid to add your unique artistic touch.
Support us by sharing this tutorial with your fellow artists and encouraging them to unleash their creativity. If you found this guide helpful, consider supporting the content creator by donating on Buy Me a Coffee. Connect with us on social media for more inspiring tutorials and updates:
Remember, the journey of an artist is filled with continuous learning and growth. Keep drawing, stay inspired, and enjoy the process!+