Welcome to our step-by-step tutorial on how to draw Heathcliff, the formidable antagonist from Sword Art Online. In this guide, we'll take you through a series of images, detailing the process of bringing this powerful character to life on paper. Whether you're a beginner or an experienced artist, this tutorial will provide you with the necessary steps and techniques to create an impressive artwork of Heathcliff.
Appearance and Story of Heathcliff
Heathcliff, also known as Kayaba Akihiko, plays a significant role in the Sword Art Online series. As the main antagonist of the Aincrad Arc and a supporting character in the Fairy Dance Arc and Alicization Arc, he possesses immense strength and commands respect. His avatar, Heathcliff, stands tall with a muscular build and sharp scholarly features. His steel-gray hair and the distinctive strand falling over his forehead add to his imposing presence. Throughout the series, Heathcliff's dedication to the game and his position as the development director and Game Master are key elements of his character.
Heathcliff goes on to establish the renowned guild known as the Knights of the Blood, wielding the powerful one-handed sword and tower shield called Liberator. His unparalleled skills and reputation as the strongest player in-game make him a force to be reckoned with. As you embark on this drawing tutorial, remember to capture Heathcliff's commanding presence and unique features that set him apart.
Materials and Tools
Before we dive into the step-by-step process, let's go over the materials and tools you'll need for this drawing tutorial. While you can use any art supplies you prefer, here are some recommendations:
Drawing paper or sketchbook
Pencils (2B or HB for sketching, and a range of hardness for shading)
Inking pens or fine liners
Eraser
Coloring tools (colored pencils, markers, or watercolors)
Remember, these are just recommendations, and you're free to use the tools you're most comfortable with. Now that you have your materials ready, let's proceed to the step-by-step drawing guide.
Step-by-Step Drawing Guide: Bringing Heathcliff to Life
Follow these steps to create a stunning artwork of Heathcliff:
Part 1: Basic Sketch
Start by creating a basic structure for your drawing. Use light pencil strokes to outline the proportions of Heathcliff's body, focusing on capturing his powerful stance and characteristic features. The initial sketch will serve as a foundation for the later stages of the drawing process.
Part 2: Refining the Sketch
In this step, refine the basic sketch by adding more details and refining the proportions. Pay attention to Heathcliff's facial features, strong physique, and the unique attributes of his armor and weapon. Gradually build upon the initial sketch, ensuring accuracy and capturing his strength and presence.
Part 3: Inking
Once you're satisfied with the refined sketch, proceed to ink the drawing. Use inking pens or fine liners to outline the final lines, including the intricate details of Heathcliff's armor, facial features, and the Liberator sword. Be patient and steady as you bring out the crisp and bold lines that define the character.
Part 4: Coloring and Shading
Now it's time to add color, shading, and highlights to your drawing. Select your preferred coloring tools and carefully apply colors that match Heathcliff's appearance. Experiment with shading techniques to add depth and dimension to the drawing, enhancing the three-dimensional effect. Use highlights sparingly to bring out the metallic aspects of his armor and the intensity of his presence.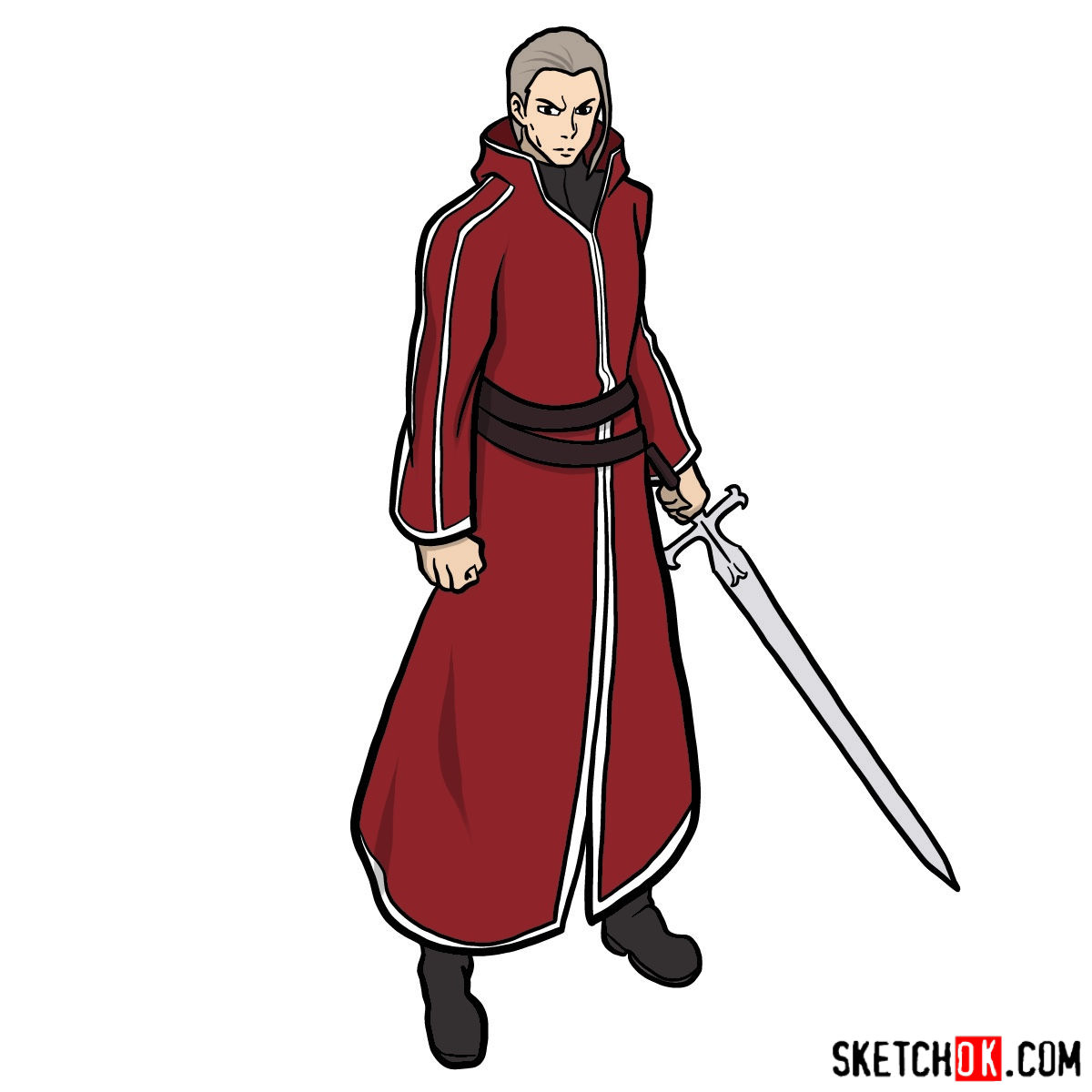 Which Characters to Draw Next?
If you enjoyed drawing Heathcliff, here are some other fascinating characters you might consider bringing to life:
Each of these characters presents unique challenges and opportunities for artistic expression. Choose a character that inspires you and embark on a new drawing adventure!
Congratulations on completing our step-by-step tutorial on drawing Heathcliff! We hope this guide has helped you master the art of capturing this formidable character on paper. Remember, practice makes perfect, so continue honing your skills and exploring new drawing techniques. Don't forget to share your artwork with the Sketchok community and encourage others to join in on the fun. Support us by sharing this tutorial with fellow art enthusiasts and consider donating to help us create more helpful content. To stay tuned on the release of new tutorials, follow us on our social media accounts:
Thank you for joining us on this artistic journey, and we look forward to seeing your incredible drawings!