Welcome to our step-by-step guide on how to draw Lucario from SSBU! By following this tutorial, you'll unlock your artistic potential and bring Lucario, one of the most formidable fighters from Super Smash Bros. Ultimate, to life on your sketchpad.
Deciphering Lucario's Design
Lucario, the Aura Pokémon, is known for its unique blend of power and elegance. When drawing Lucario, pay attention to the following key characteristics:
Its spike-studded body gives it a distinct silhouette and reinforces its martial theme.
The pair of appendages extending backward from its head resemble dreadlocks or a samurai's helmet, providing an exotic flair.
Its wide, rounded eyes and snout exhibit an intriguing blend of canine and humanoid features.
Lucario's aura sensors, located on the back of its hands, are unique to its design and integral to its character lore.
Aside from Lucario, consider adding more similar characters for an action-packed scene. Characters like Pikachu, Charizard, or Greninja can make your drawing more dynamic and interesting.
Decoding the Guide
Our guide consists of 35 steps and follows a particular color-coding:
Red Color:

Indicates the current drawing step.

Grey Color:

Displays the basic proportions sketch.

Black Color:

Highlights the previously drawn lines.
The first three steps focus on creating a basic structure of the sketch using light pencil strokes for proportional accuracy. In the final step, you can choose to ink your sketch. Remember, use a smooth hand and try to create continuous lines. Once the ink dries, you can gently erase the pencil sketch to give your drawing a cleaner look.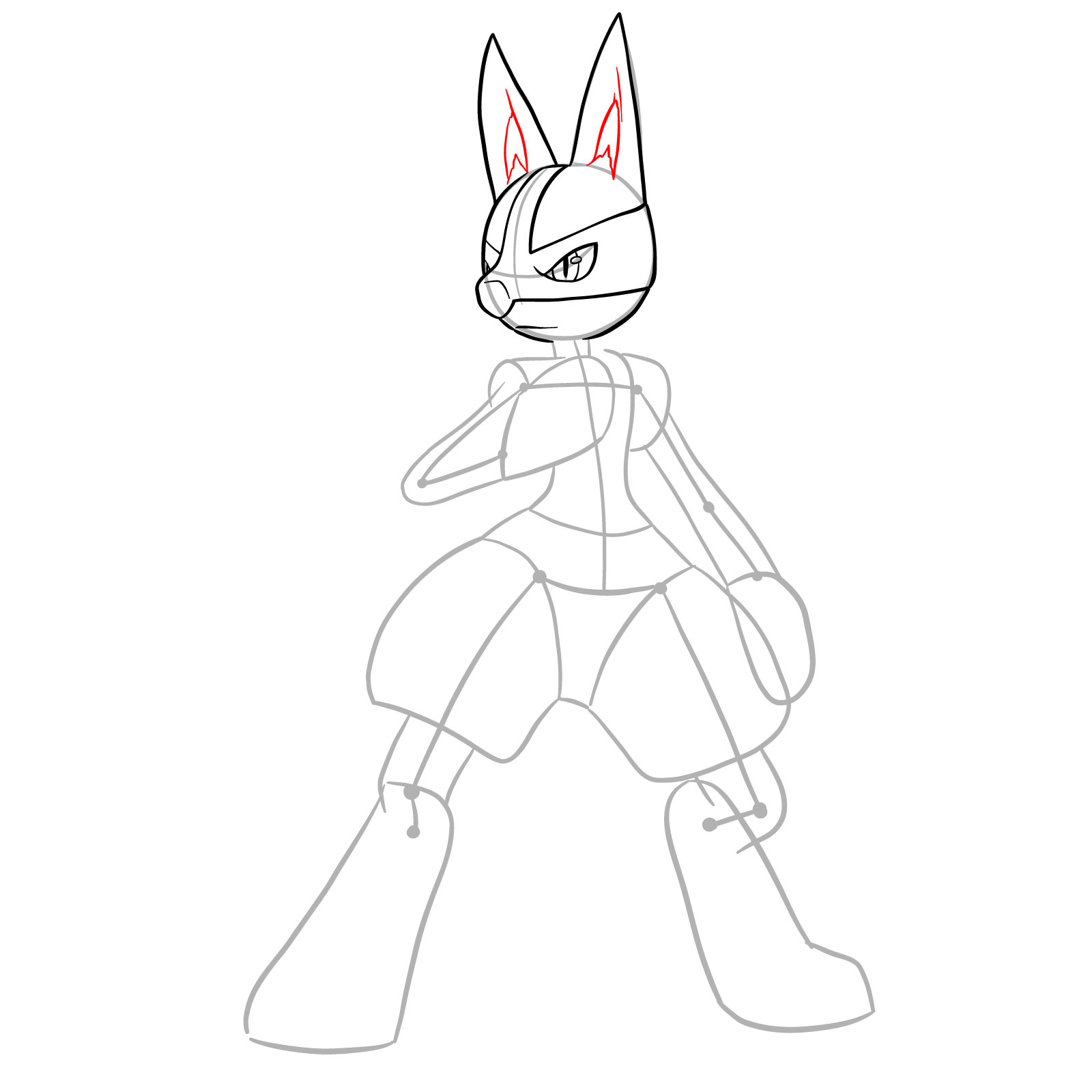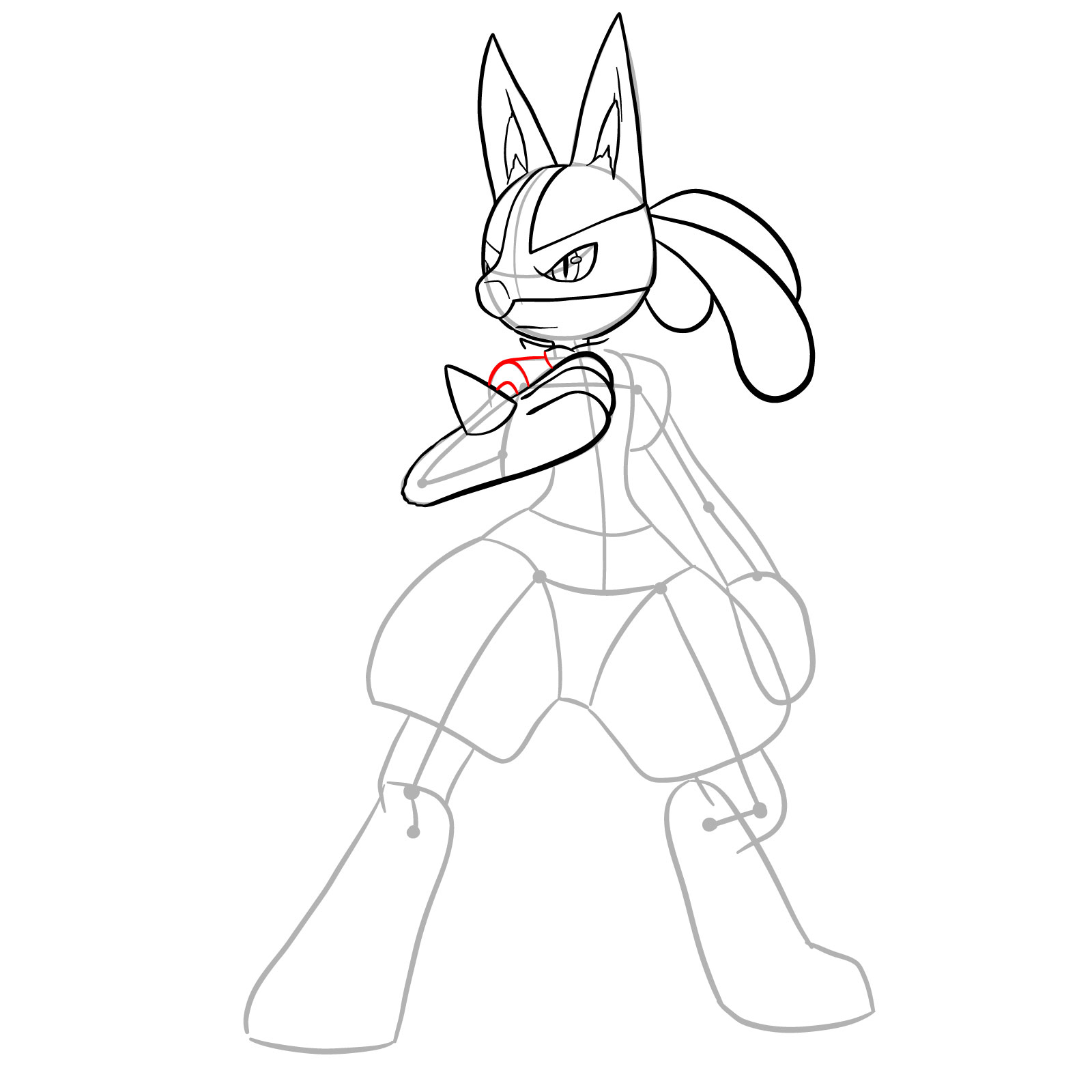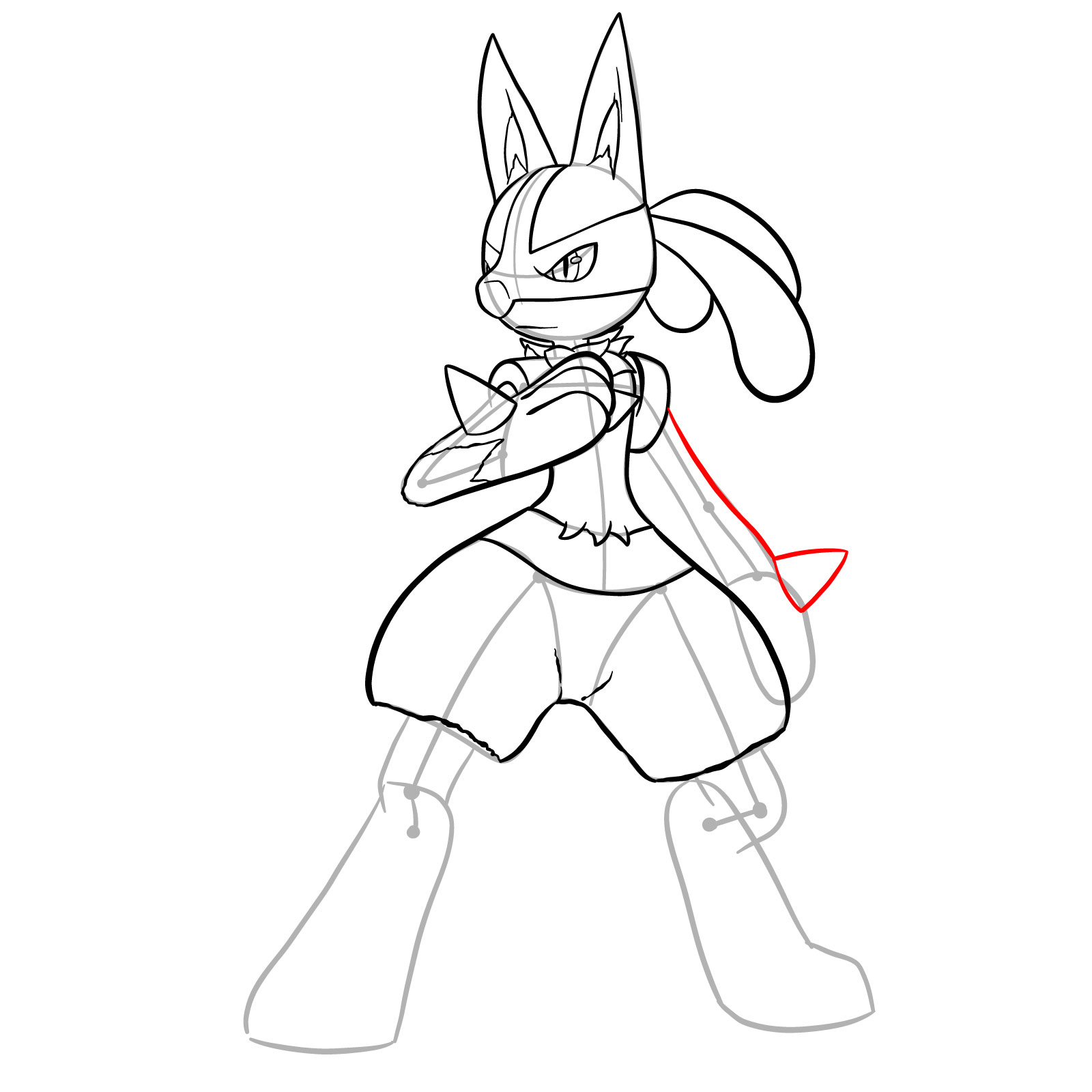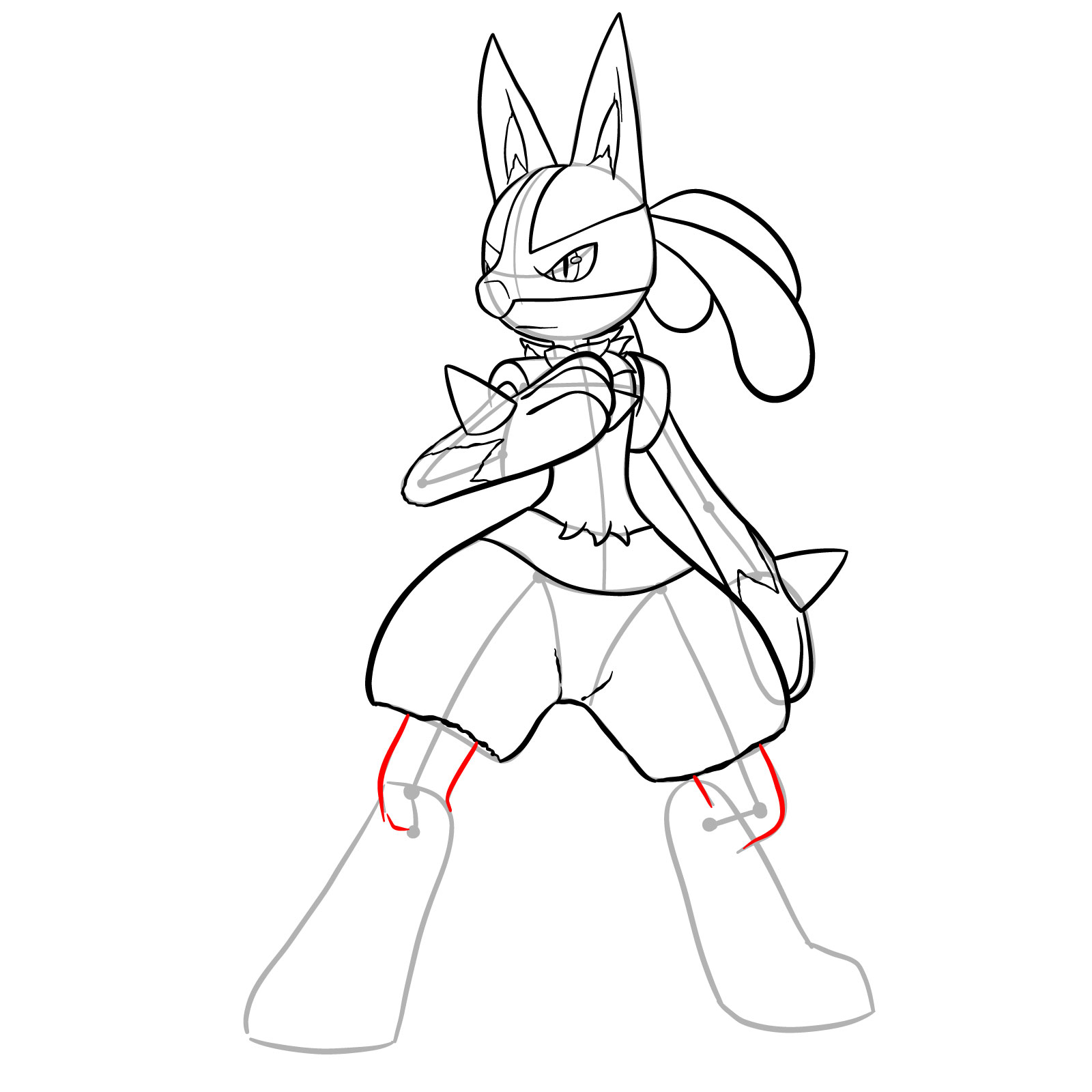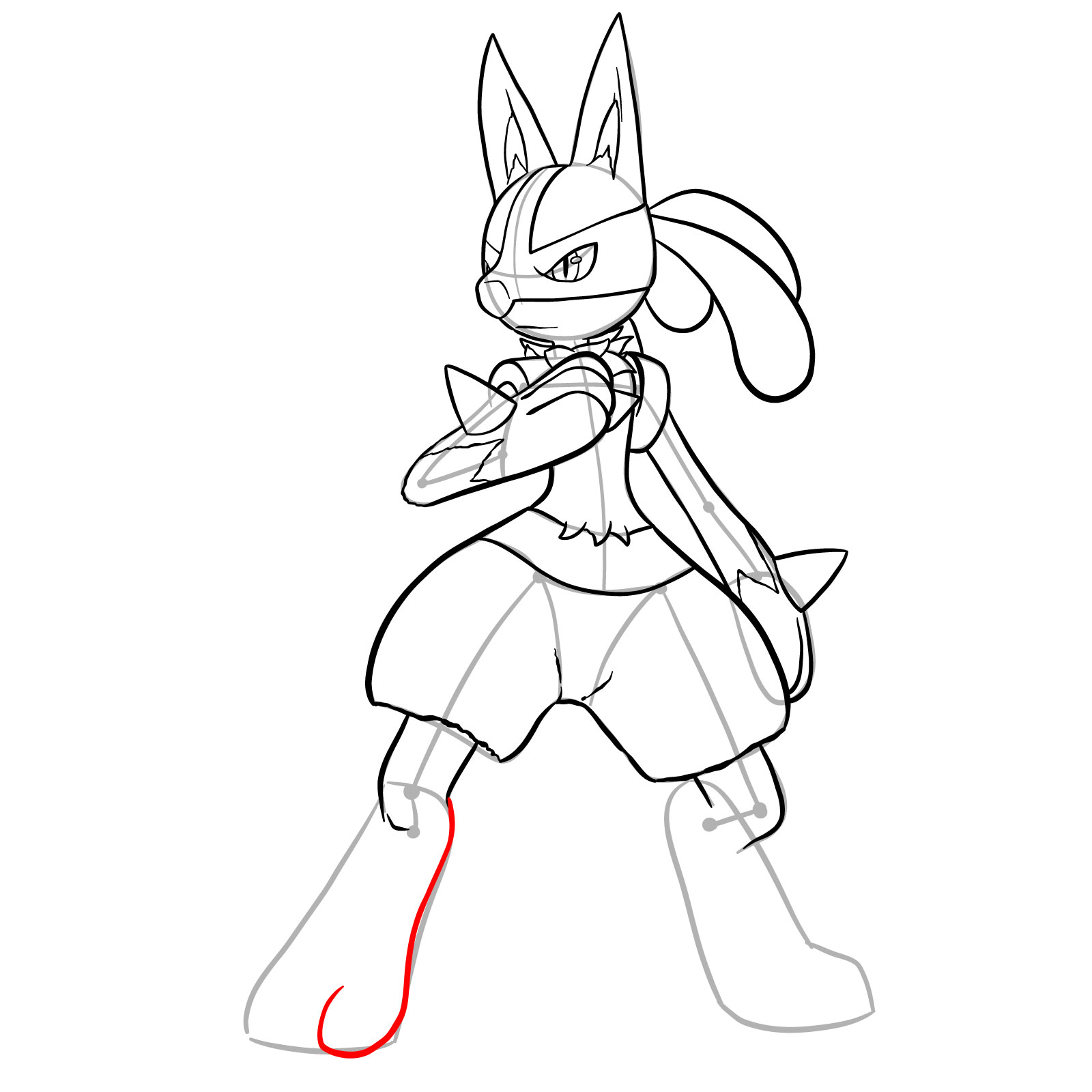 FAQs
How can I keep my pencil strokes light during the initial steps?

Try holding your pencil further back from the tip. This will naturally lessen the pressure and create lighter lines. Also, sketching rapidly with a loose wrist can help achieve this effect.

What type of pen should I use for inking?

Fineliner pens are great for inking due to their anti-smudging properties and variety of tip sizes. Choose a size that best complements your drawing style and the level of detail in your sketch.

Why is it important to wait until the ink dries before erasing the pencil sketch?

Rushing to erase the pencil lines before the ink has dried could smudge the ink, creating a messy appearance. Always be patient and give your drawing the respect it deserves.
Sharing the Love of Art
As an artist, nothing brings more joy than sharing your passion with others. If you enjoyed this guide on how to draw Lucario from SSBU, please consider spreading the word. Sharing our tutorial with others helps keep the SketchOk project alive and motivates us to keep creating free drawing guides for all.
Why not subscribe to our social media platforms? You'll stay updated with our latest guides and join a community of aspiring artists. You can find us on Facebook, Instagram, and Pinterest.
Lastly, if you're feeling generous, consider supporting our project with a small donation. Every contribution, no matter the size, goes a long way in helping us create and provide these guides for free. You can donate via BuyMeACoffee.com.
Thank you for joining me on this artistic journey. Happy sketching!