Welcome to our step-by-step tutorial on how to draw Kakashi Hatake Funko Pop Figure! Kakashi is a legendary shinobi from the popular Naruto series, and now you can bring his iconic Funko Pop version to life through your artwork. Whether you're a fan of Naruto or a collector of Funko Pop figures, this guide will help you capture the essence of the character in your drawing.
Appearance of Kakashi Hatake Funko Pop Figure
When it comes to drawing Kakashi Hatake Funko Pop Figure, there are a few key features that you should pay attention to:
The Head: Kakashi's Funko Pop version has a large head compared to the body, giving it that distinct Funko Pop style.
The Eyes: One of Kakashi's most recognizable traits is his Sharingan eye. But in our drawing, it is covered by Kakashi's headband. His right eye is visible and is closed by one third.
The Mask: Kakashi wears a face mask covering the lower part of his face. It's important to capture the shape and positioning of the mask accurately.
The Outfit: Kakashi's Funko Pop figure typically his signature Konoha headband and ninja attire. Pay attention to the details of the clothing and accessories.
As an artist, you have the creative freedom to bring out the charm and personality of Kakashi's Funko Pop figure. Don't be afraid to add your own artistic touches while staying true to the character's recognizable features.
Remember to take your time and enjoy the process. Drawing the Kakashi Hatake Funko Pop Figure is an opportunity to showcase your skills and pay tribute to this beloved shinobi.
Drawing Guide of Funko Pop Kakashi
Our drawing guide for the Kakashi Hatake Funko Pop Figure is designed to help you create a stunning and accurate representation of this beloved character. Follow the step-by-step instructions below to bring Kakashi to life on your drawing paper.
Color Scheme
The guide utilizes a color-coded system to make it easy for you to follow along:
Red:

The current step you should focus on.

Black:

Previously drawn lines and details.

Grey:

The basic sketch from the first three steps.
This color scheme helps you distinguish between the different stages of the drawing process and ensures clarity as you progress through the guide.
Steps Breakdown
The drawing guide consists of a total of 39 steps. The first three steps involve creating a basic sketch to establish the proportions and key features of the Funko Pop figure. This initial sketch acts as a foundation for the rest of the drawing process.
From step four onwards, you will gradually add details, refine the shapes, and bring out the unique characteristics of Kakashi Hatake's Funko Pop version. Each step provides visual references to help you achieve accuracy and capture the essence of the character.
Finally, in the last step, you will have the opportunity to ink the drawing, giving it bold and defined lines. At this stage, you can also erase the basic proportional sketch, leaving behind a clean and polished artwork.
Remember, take your time, be patient, and enjoy the journey of creating your own Kakashi Hatake Funko Pop Figure drawing!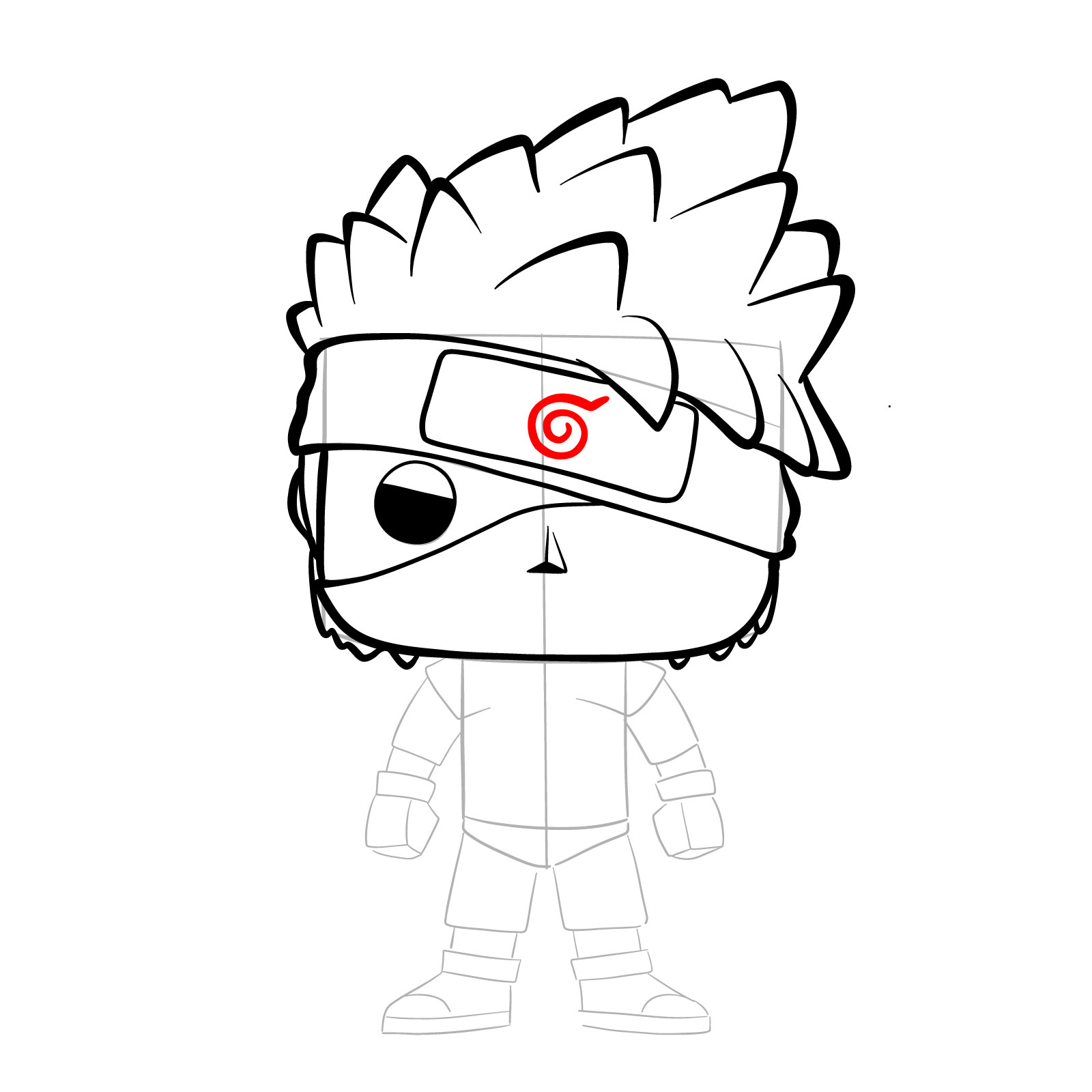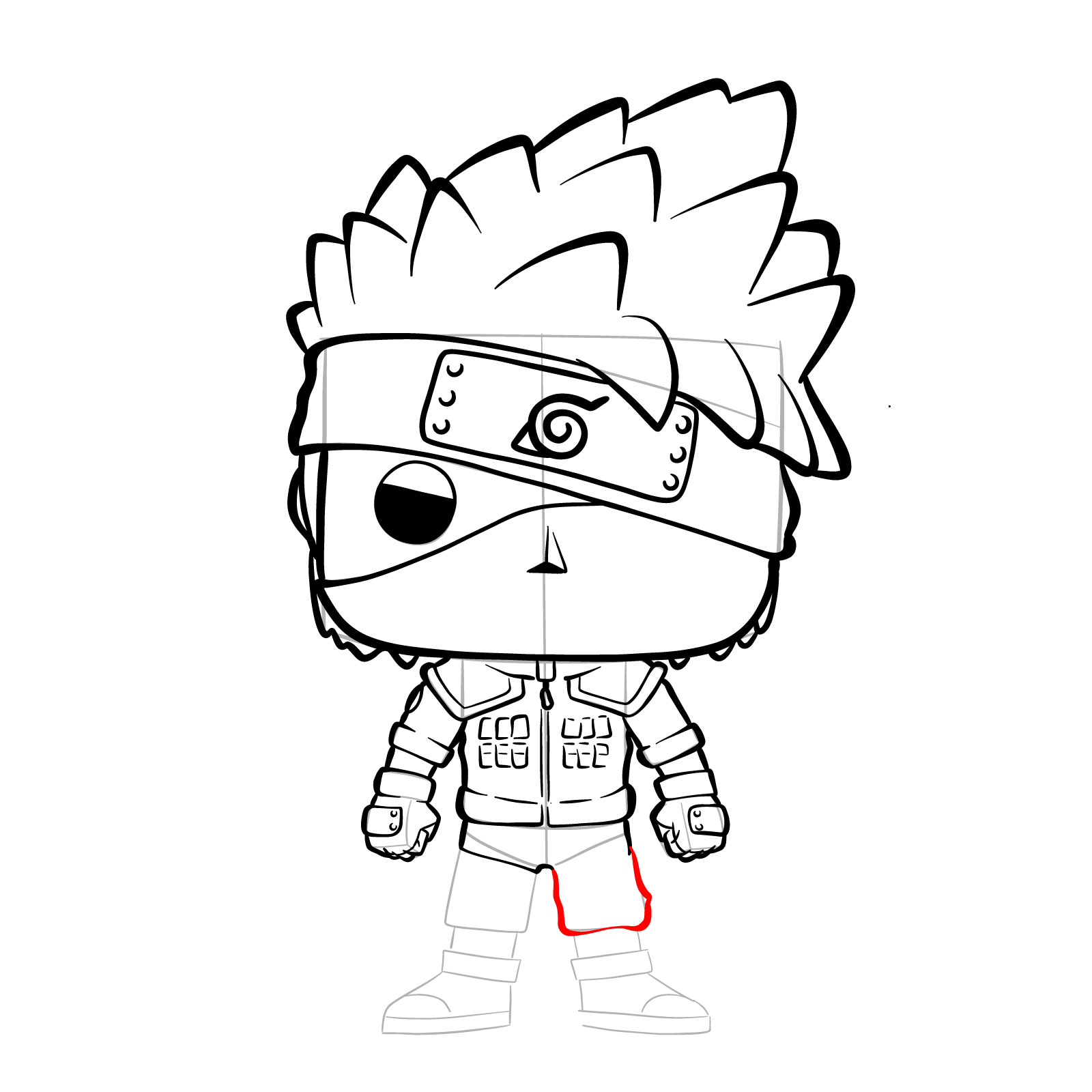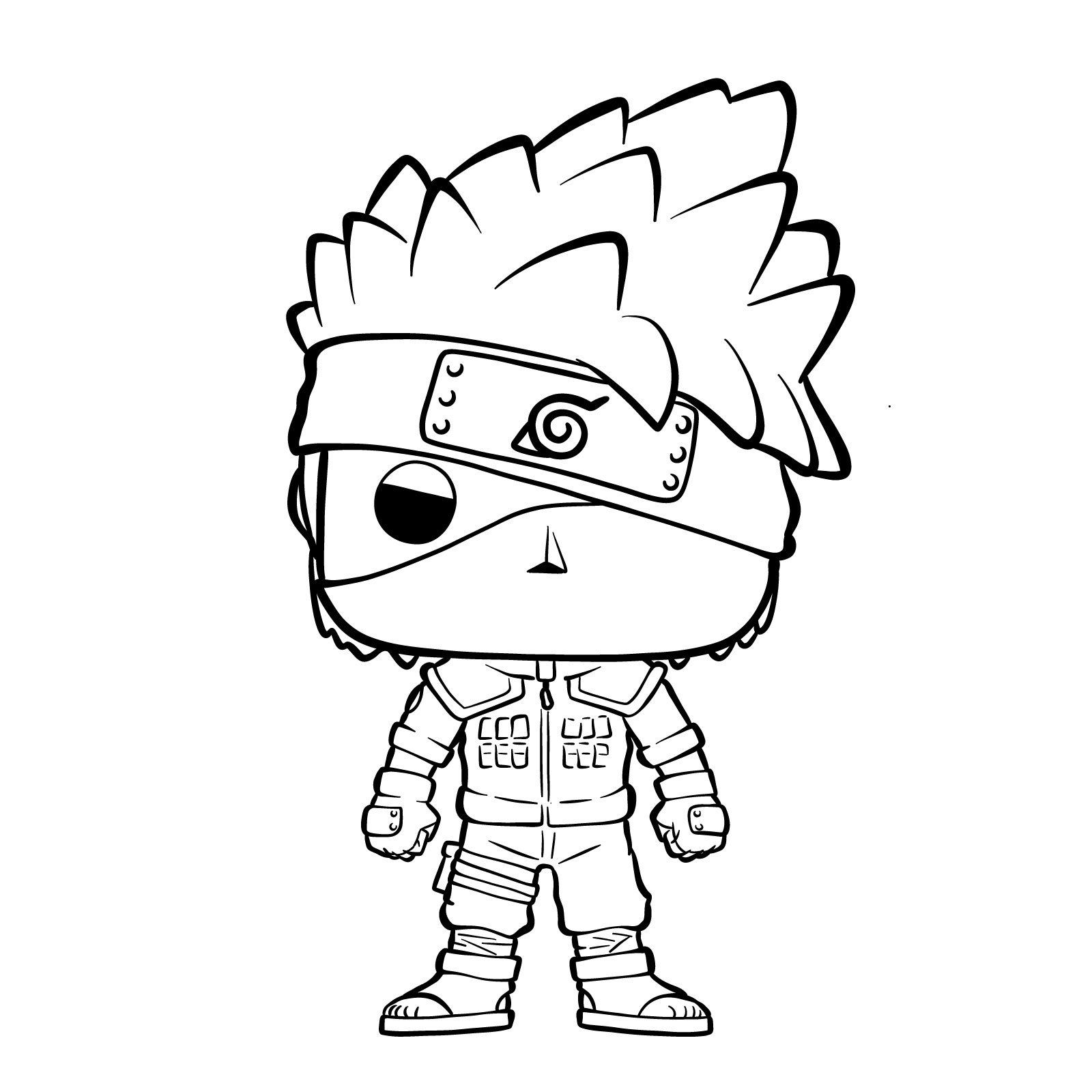 Try Your Hand on These Drawings Too
1. Drawing Kakashi's Full Growth
If you want to explore Kakashi Hatake's journey and draw his full-grown character, check out our drawing guide dedicated to capturing the evolution of this iconic shinobi.
2. Mastering Kakashi's Facial Features
Delve into the intricacies of Kakashi's face and learn how to accurately depict his unique eye shape, hair, and facial expressions with our detailed tutorial on drawing Kakashi's distinct features.
3. Unleash Your Inner Ninja with Naruto Drawing Guide
Take your artistic skills to the next level by diving into the world of Naruto. Our new Naruto Kurama Mode drawing guide will help you depict the dynamic and energetic character transformation.
Congratulations on completing the Kakashi Hatake Funko Pop Figure drawing! We hope you had an enjoyable and fulfilling experience. But don't stop here! Keep honing your artistic abilities and exploring new subjects. Drawing is not only a creative outlet but also a wonderful way to express yourself and engage with your favorite characters.
We would greatly appreciate your support in spreading the word about our drawing guides. Share the link to this guide with your friends and fellow artists. Together, let's inspire more people to discover the joy of drawing.
If you find our content valuable and would like to support us, consider donating on Buy Me a Coffee. Your contribution will help us continue creating high-quality tutorials and providing free resources to the artistic community.
Subscribe and Follow Us
Stay updated with our latest tutorials and drawing guides by subscribing to our social media accounts:
Join our artistic community and be part of the conversation. We look forward to seeing your incredible creations!