Are you a fan of the Naruto series and looking for a way to draw your favorite character in one of his most powerful forms? Look no further! In this tutorial, we will guide you through the process of learning how to draw Naruto in Kurama Mode. By following our step-by-step drawing guide, you'll be able to create an incredible depiction of him, empowered by the chakra of the Nine-Tails.
The Tale of Naruto and Kurama
Naruto Uzumaki is the protagonist of the popular manga and anime series, Naruto. Throughout the story, he forms a bond with Kurama, the Nine-Tails fox spirit sealed within him. As their relationship grows, Naruto learns Kurama's name and gains the ability to enter Kurama Mode, which grants him immense power and a unique appearance. In this form, Naruto's pupils become slitted, his whisker-like markings thicken, and his chakra shroud resembles a full-length haori, similar to the one worn by his father, Minato Namikaze.
While in Kurama Mode, Naruto can transfer his and Kurama's chakra to others, granting them enhanced abilities. This powerful form allows Naruto to perform devastating techniques, such as the Tailed Beast Ball, and even partially manifest parts of Kurama's body when needed.
Now that we've delved into the story of Naruto and Kurama, let's get ready to bring this formidable form to life on paper!
Recommended Tools:
Before we begin our drawing journey, let's gather the necessary tools to make the process smooth and enjoyable. Although you're free to use any drawing materials you prefer, we recommend the following:
Pencils (HB and 2B)
Eraser
Sharpener
Fineliner pens
Drawing paper
Step-by-Step Guide to Drawing Naruto in Kurama Mode
Our detailed, step-by-step guide consists of 44 steps, with each image illustrating the current drawing step in red, the basic proportions sketch in grey, and the previously drawn lines in black. We'll begin by creating a basic sketch, then move on to sketching the face and hair, followed by the body and finally, inking the drawing.
Creating the Basic Sketch
The first three steps involve establishing a basic sketch to capture the overall proportions and pose. Start with a stick figure and gradually build up the shapes and forms of Naruto's body in Kurama Mode.
Sketching the Face and Hair
Steps 4 to 13 focus on drawing Naruto's face, hair, and iconic features, such as his whisker-like markings and slitted pupils.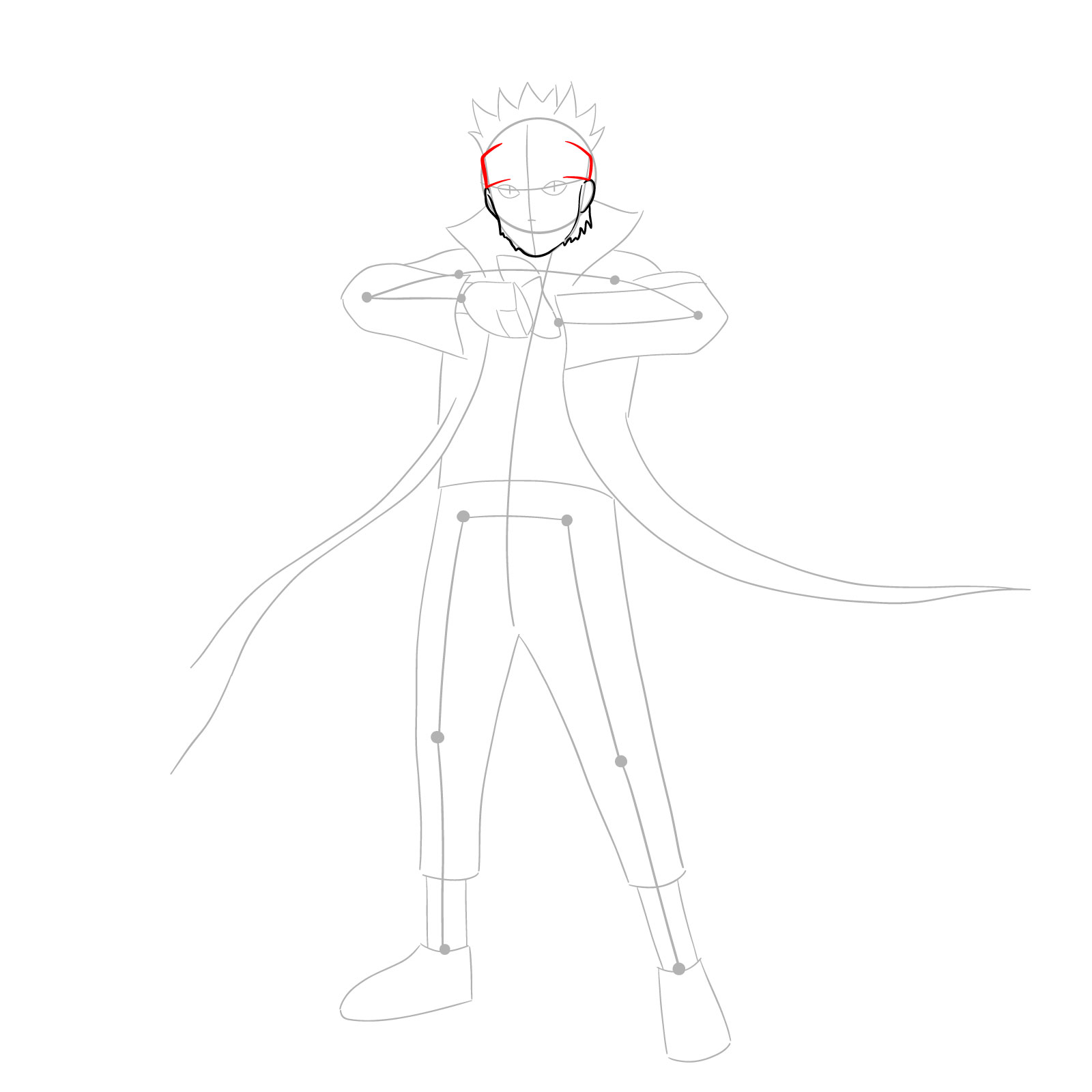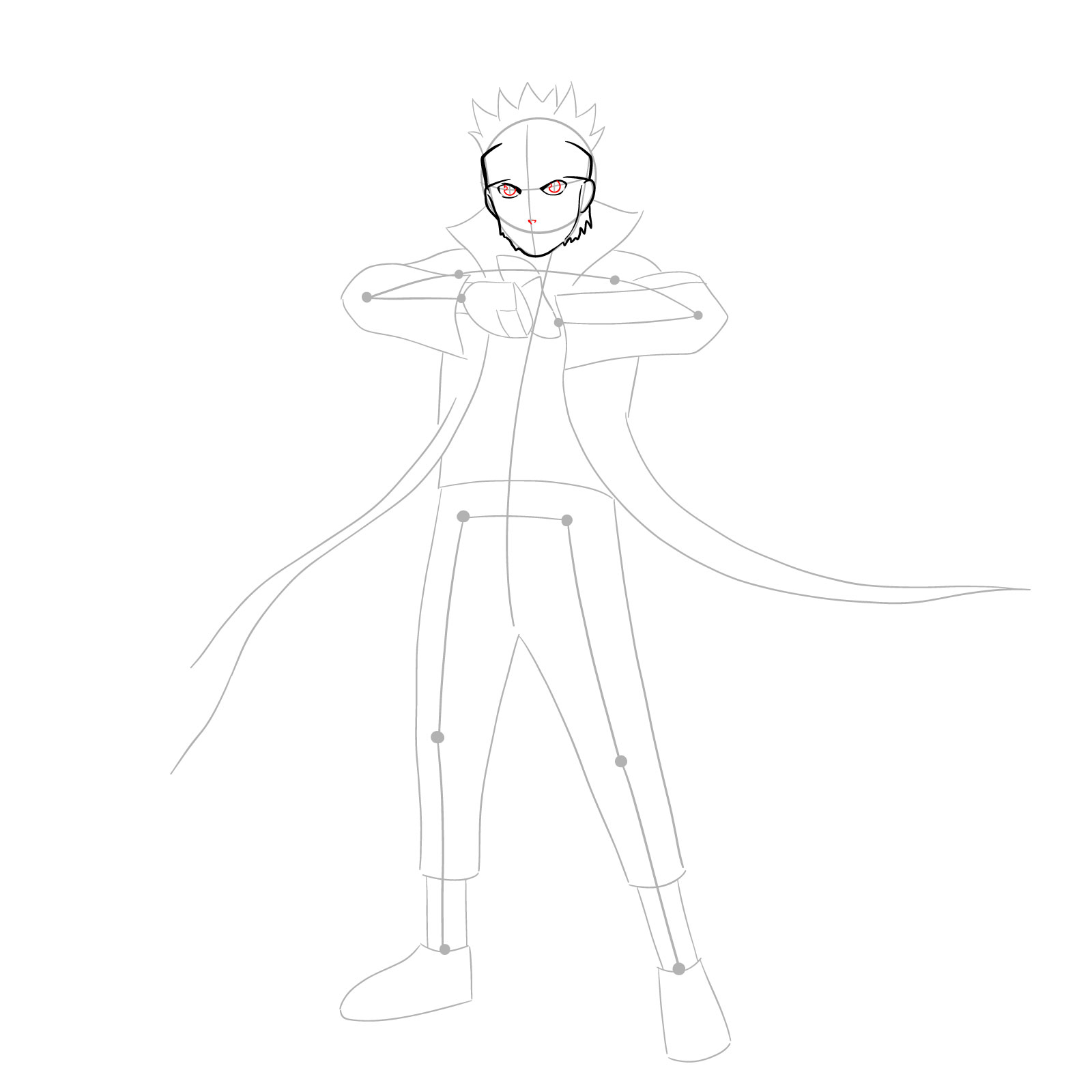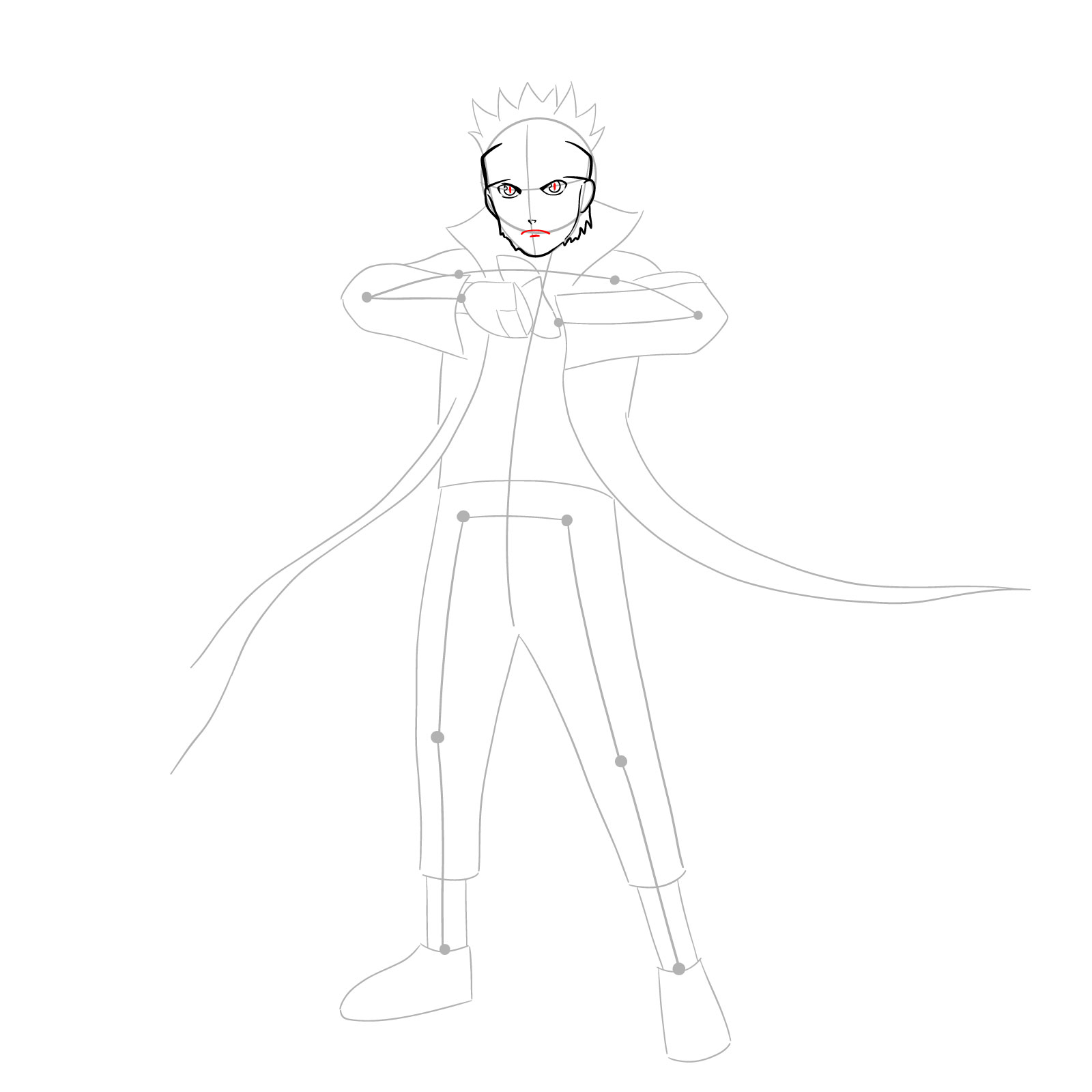 Defining the Body and Attire
From steps 14 to 25, we'll concentrate on sketching Naruto's shoulders, arms, and his flowing cloak. Steps 26 to 36 cover the waist and legs, while steps 37 to 39 add the pattern on his costume.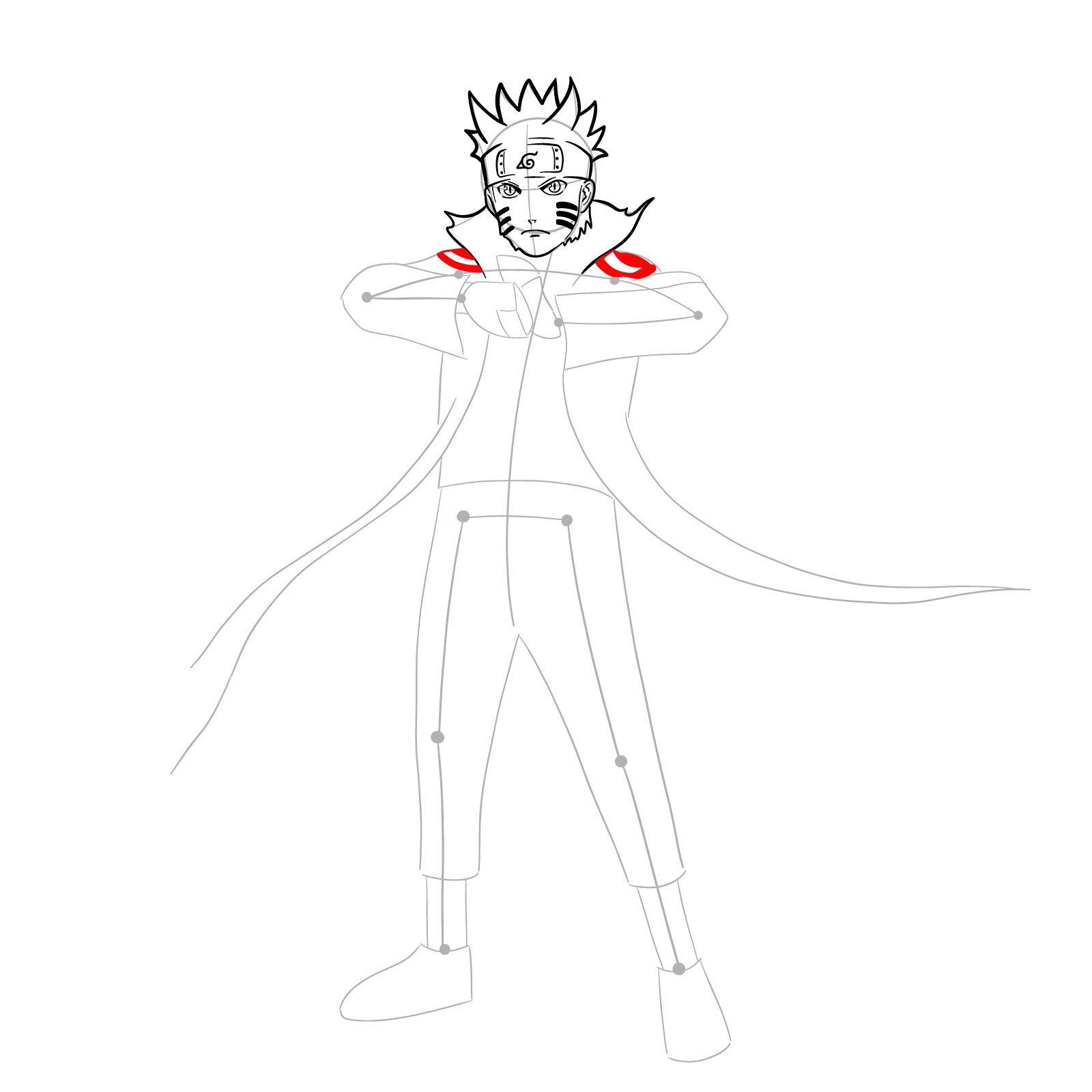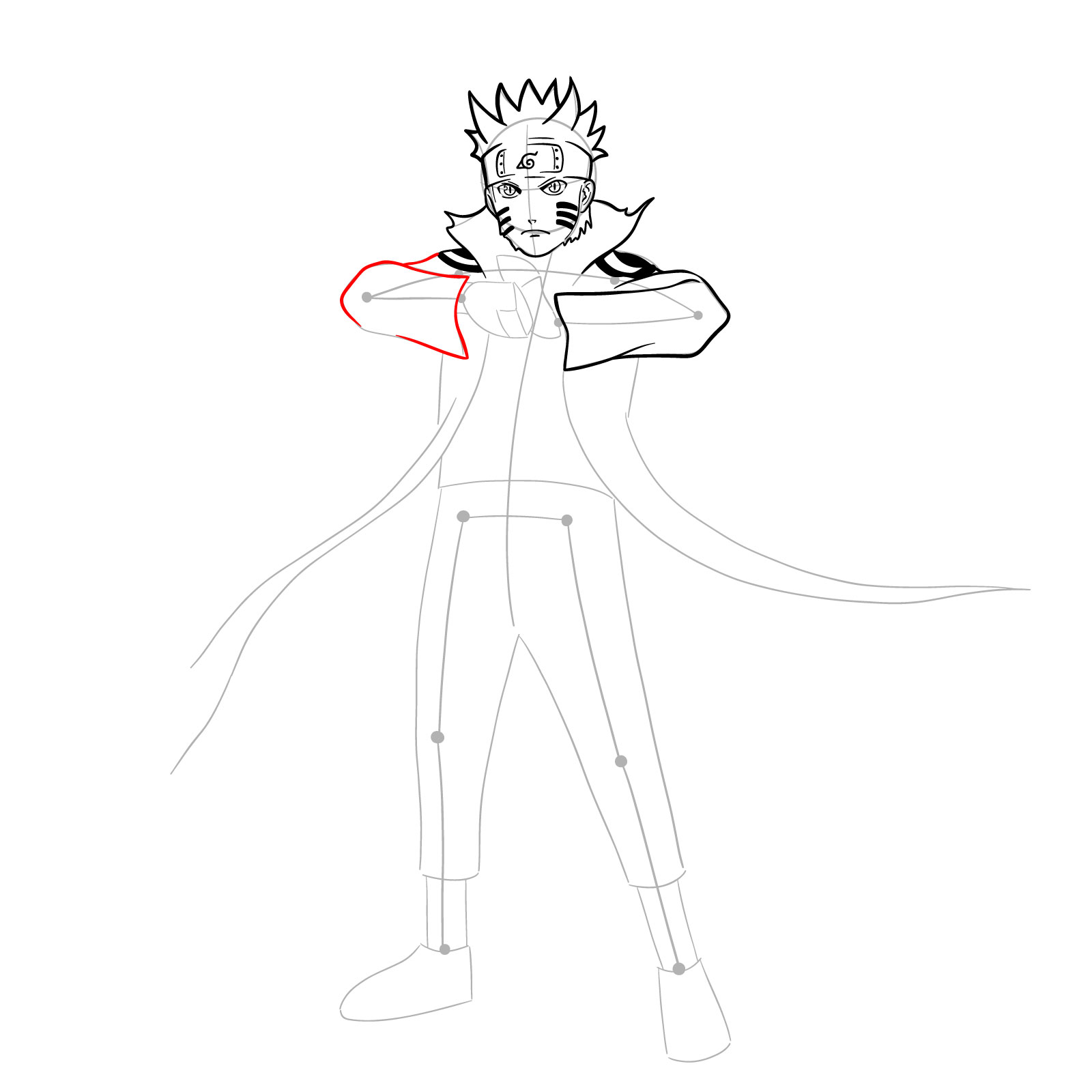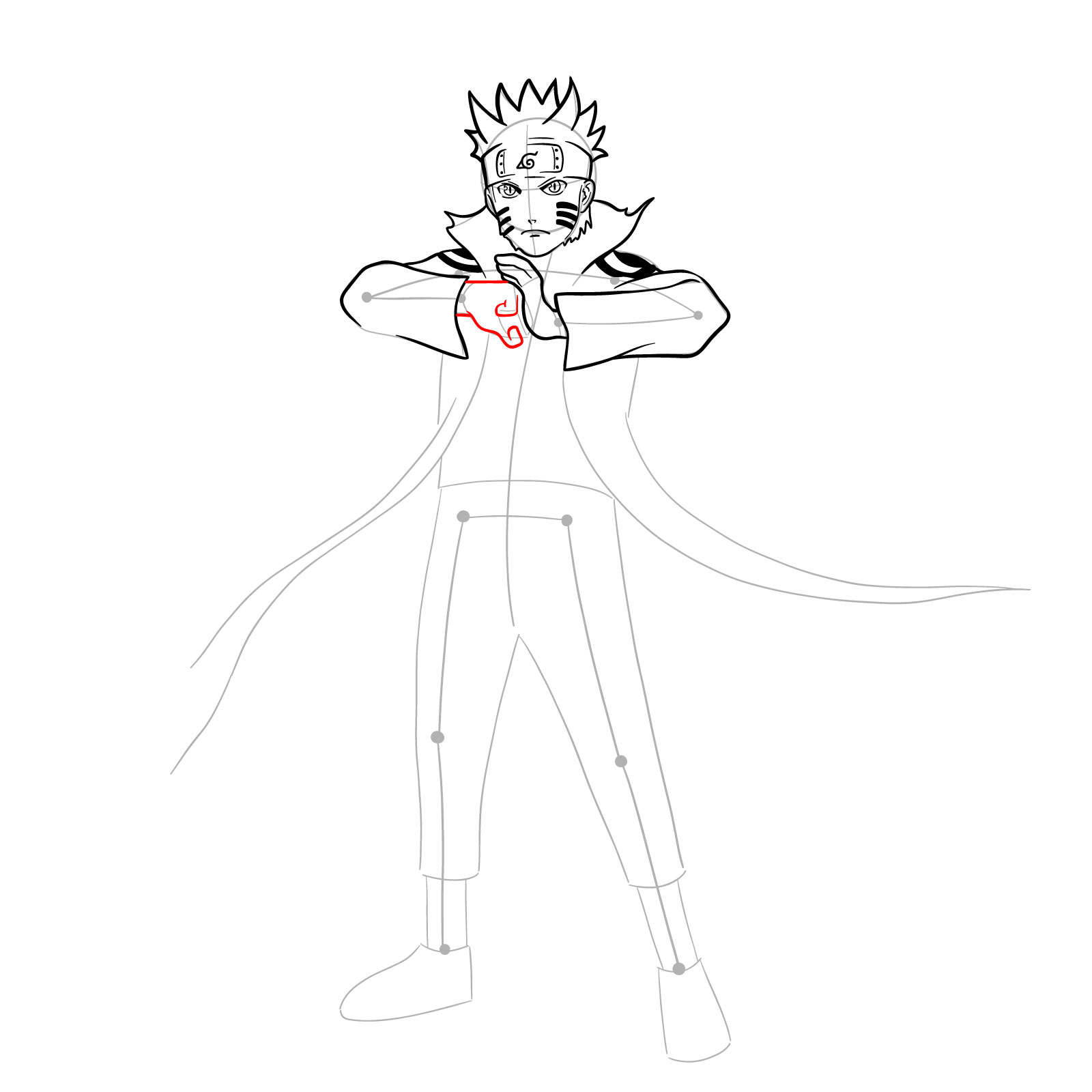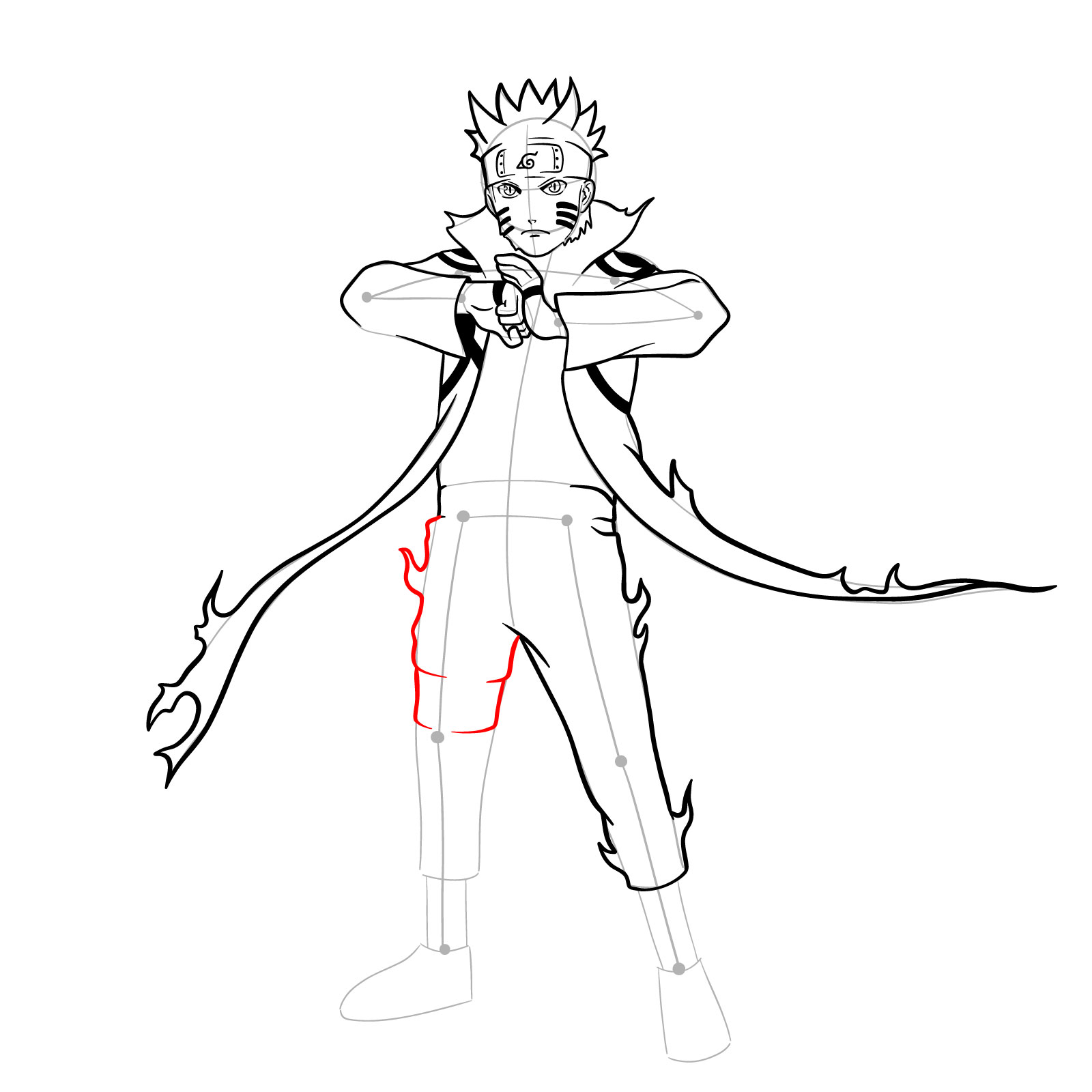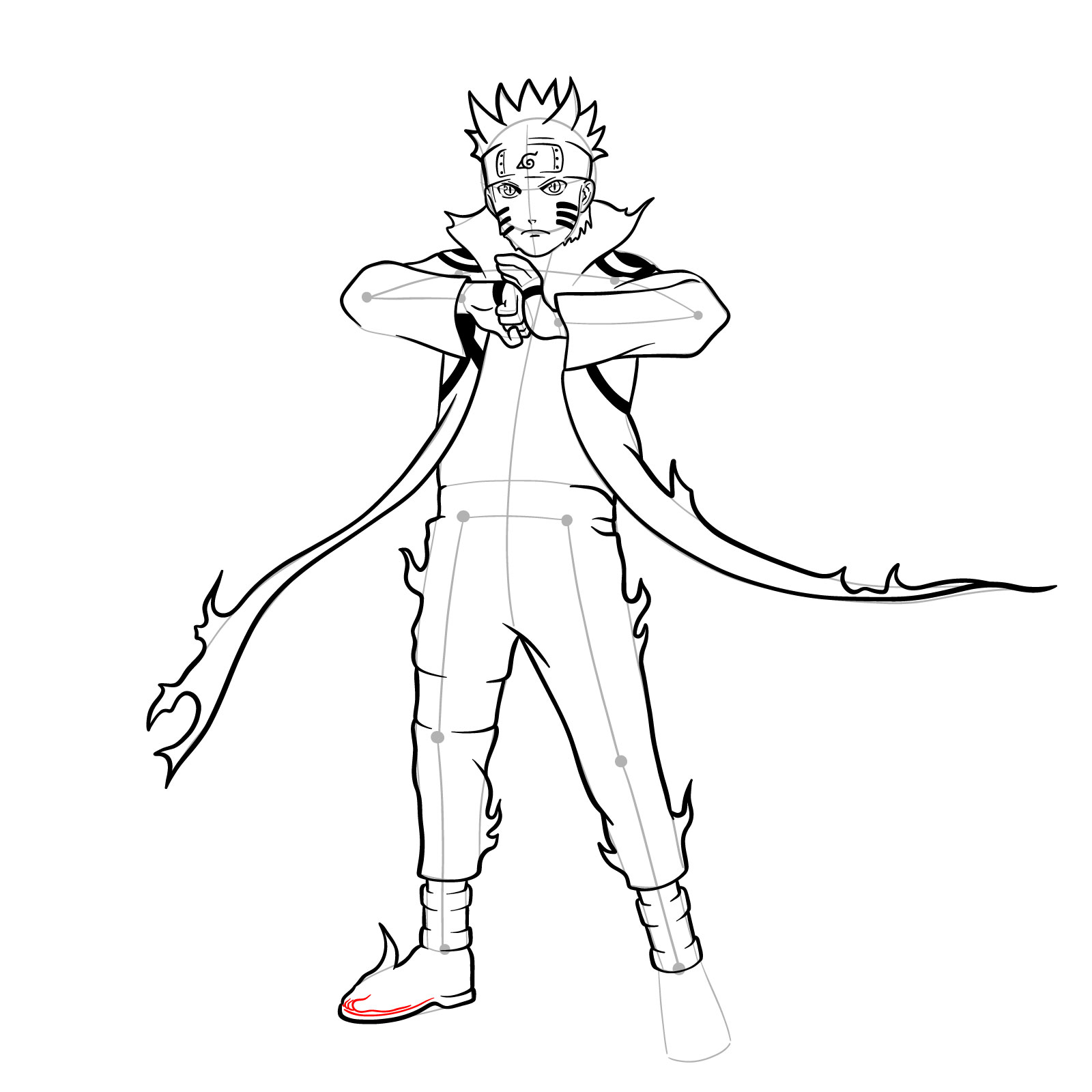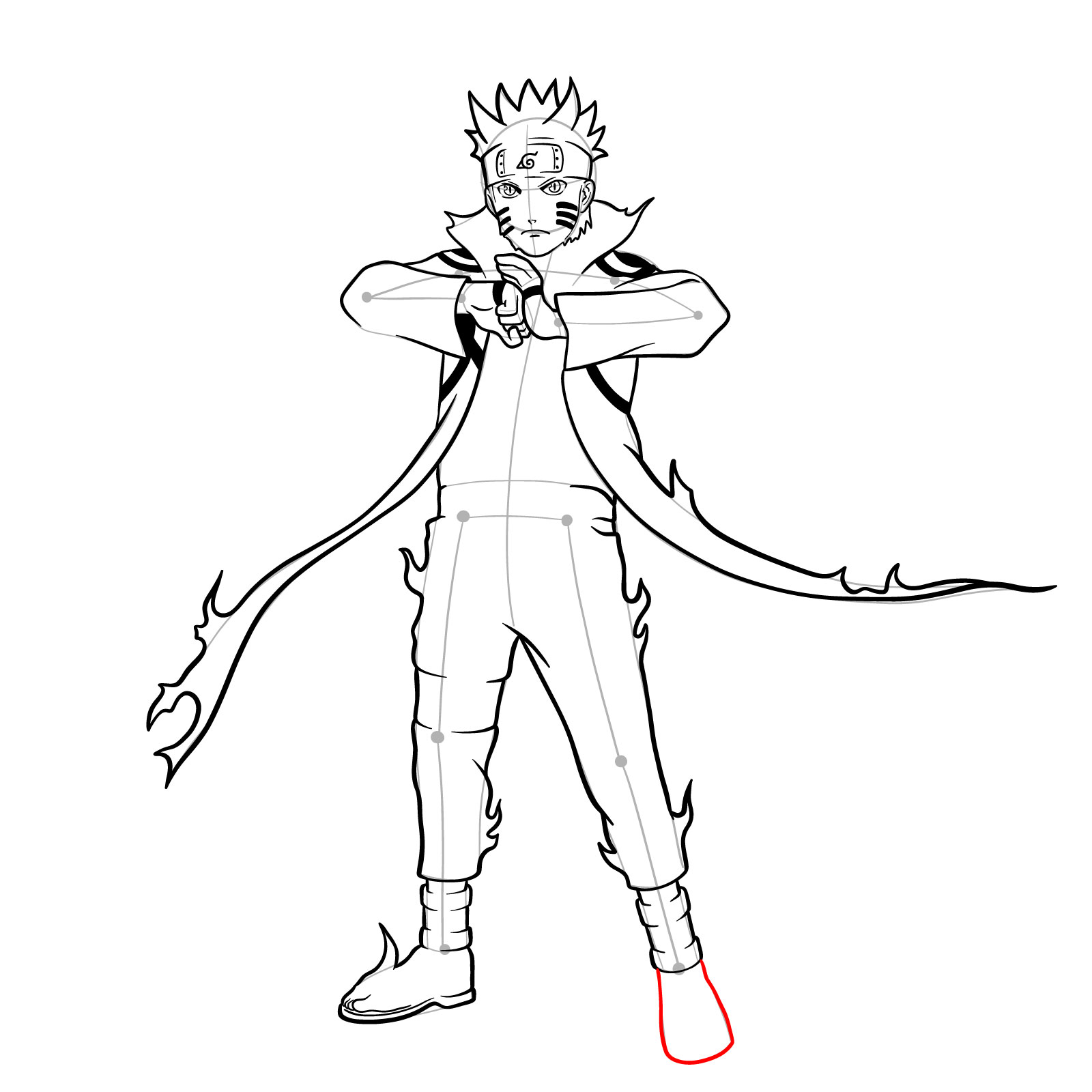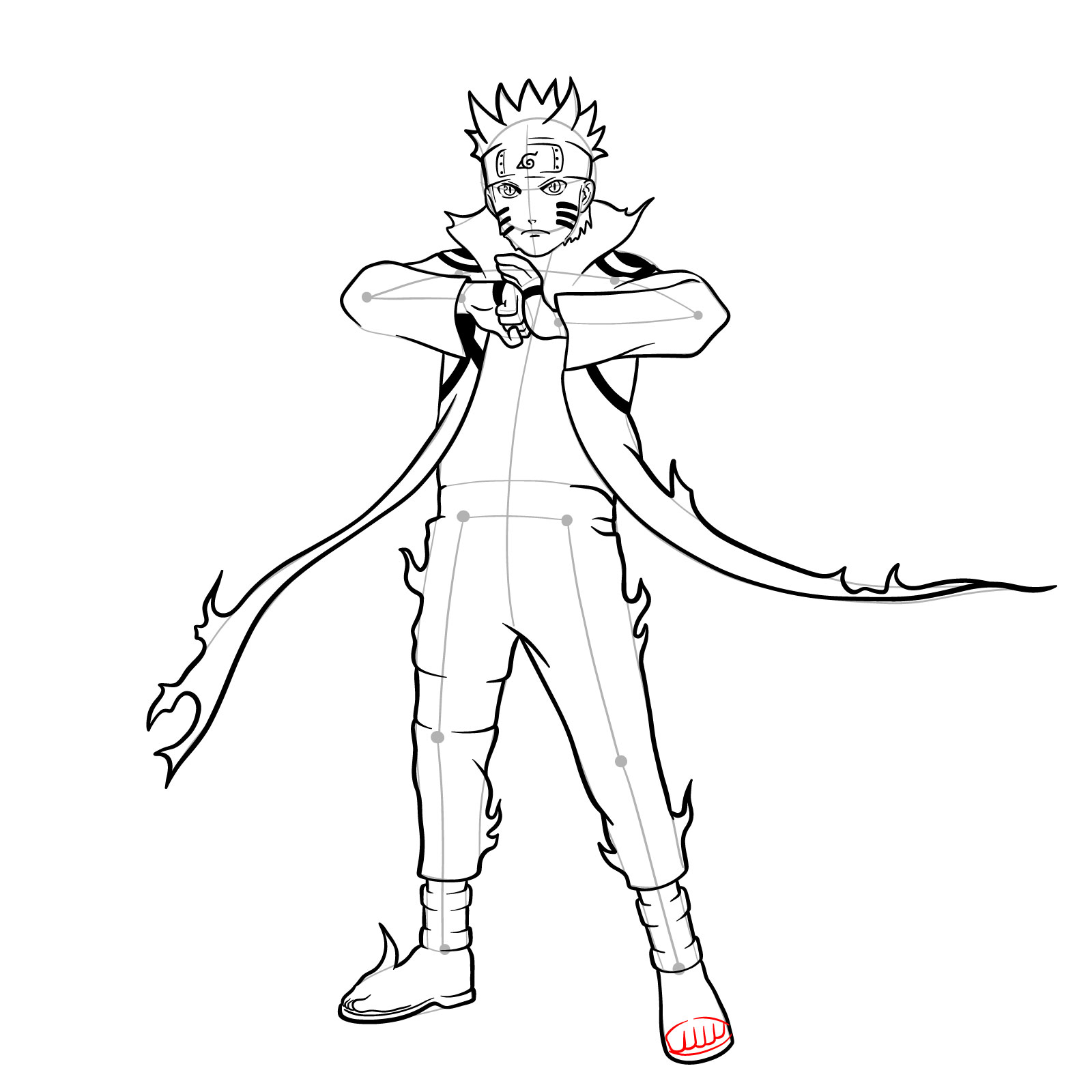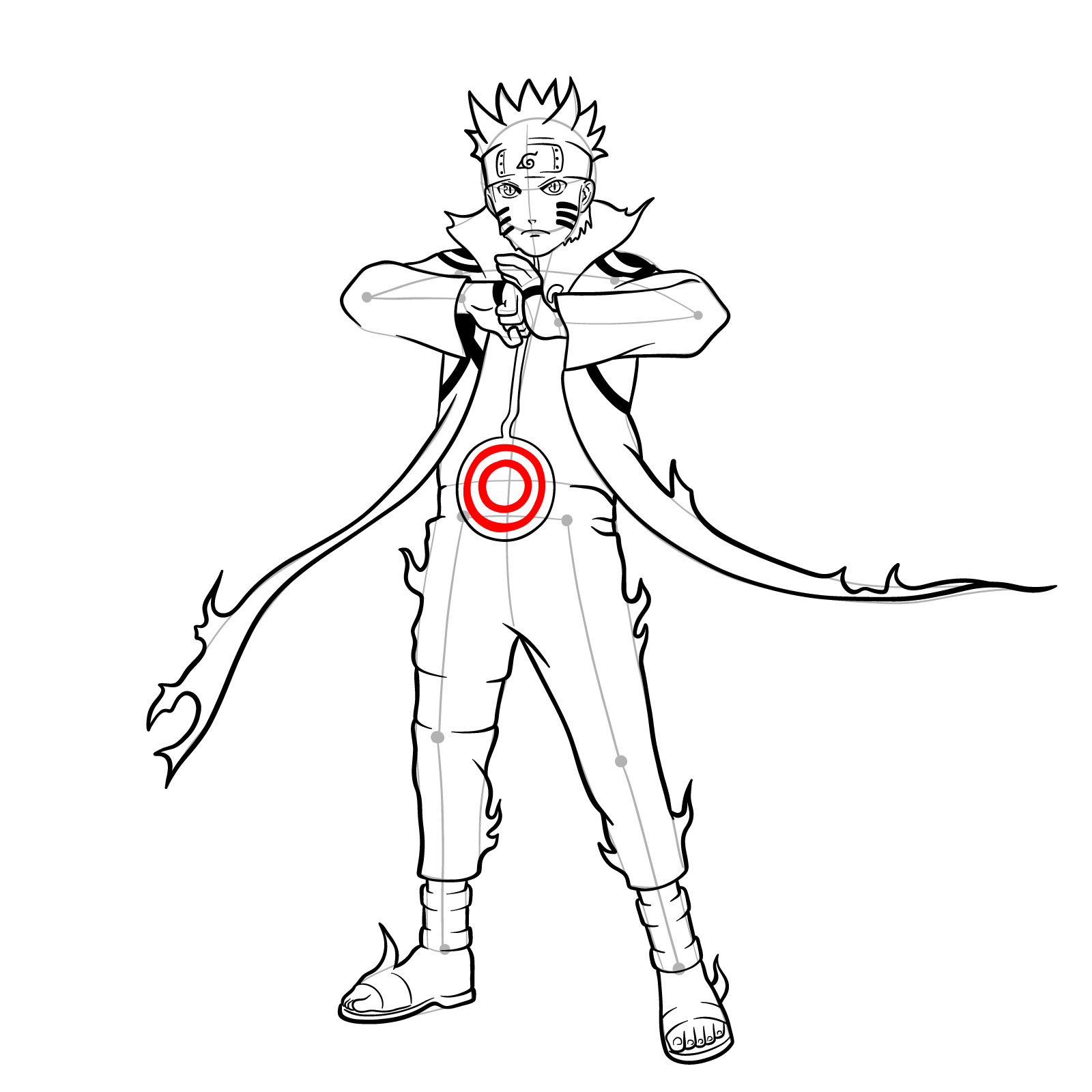 Finishing Touches and Final Details
As we approach the final stages of our drawing, steps 40 to 42 involve filling the upper part of Naruto's body and the inner side of his cloak with black, leaving some blank lines to indicate fabric folds and inner costume elements. In step 43, we'll add flames around Naruto to emphasize his powerful transformation. Finally, in step 44, ink the sketch and erase the pencil lines to reveal your masterpiece of Naruto in Kurama Mode.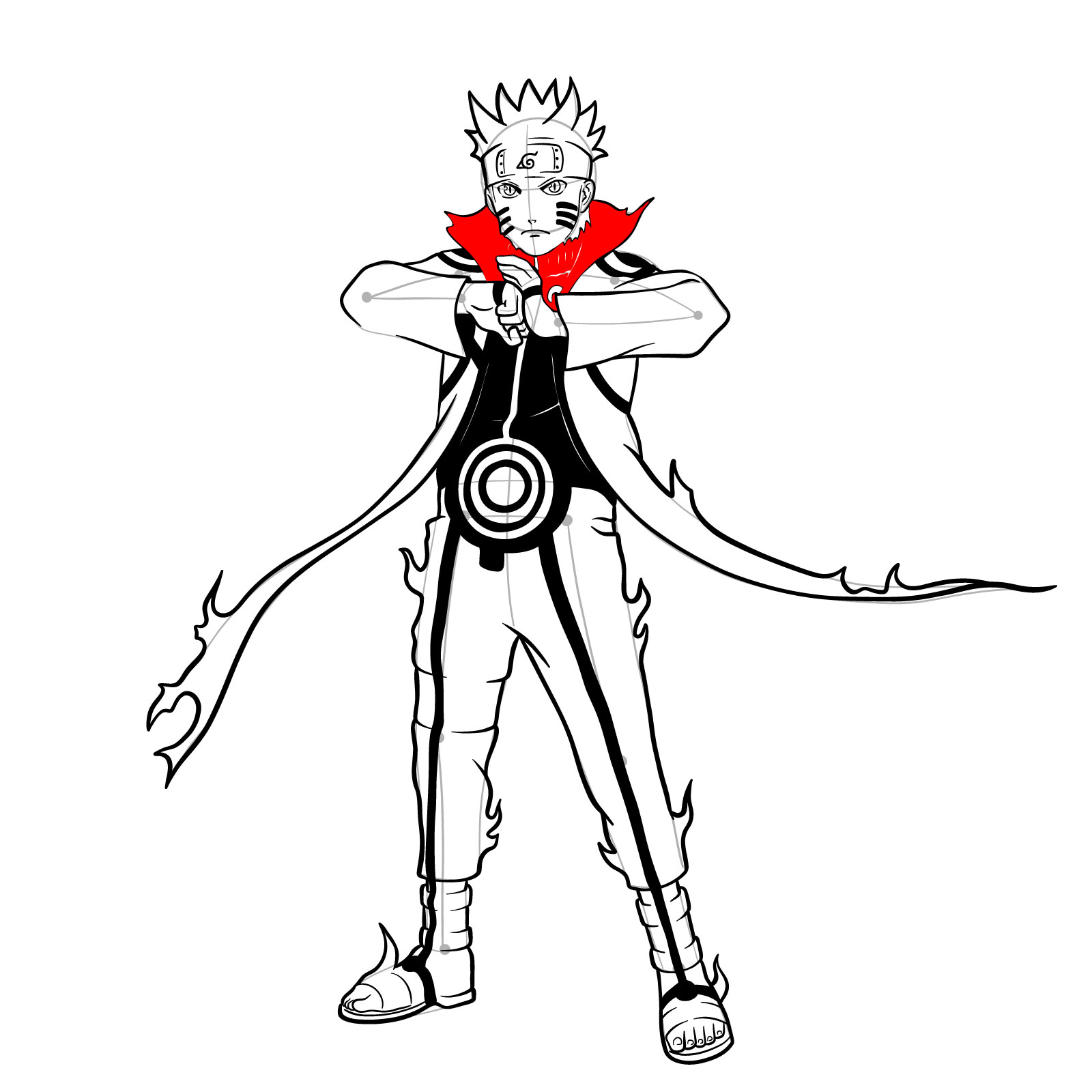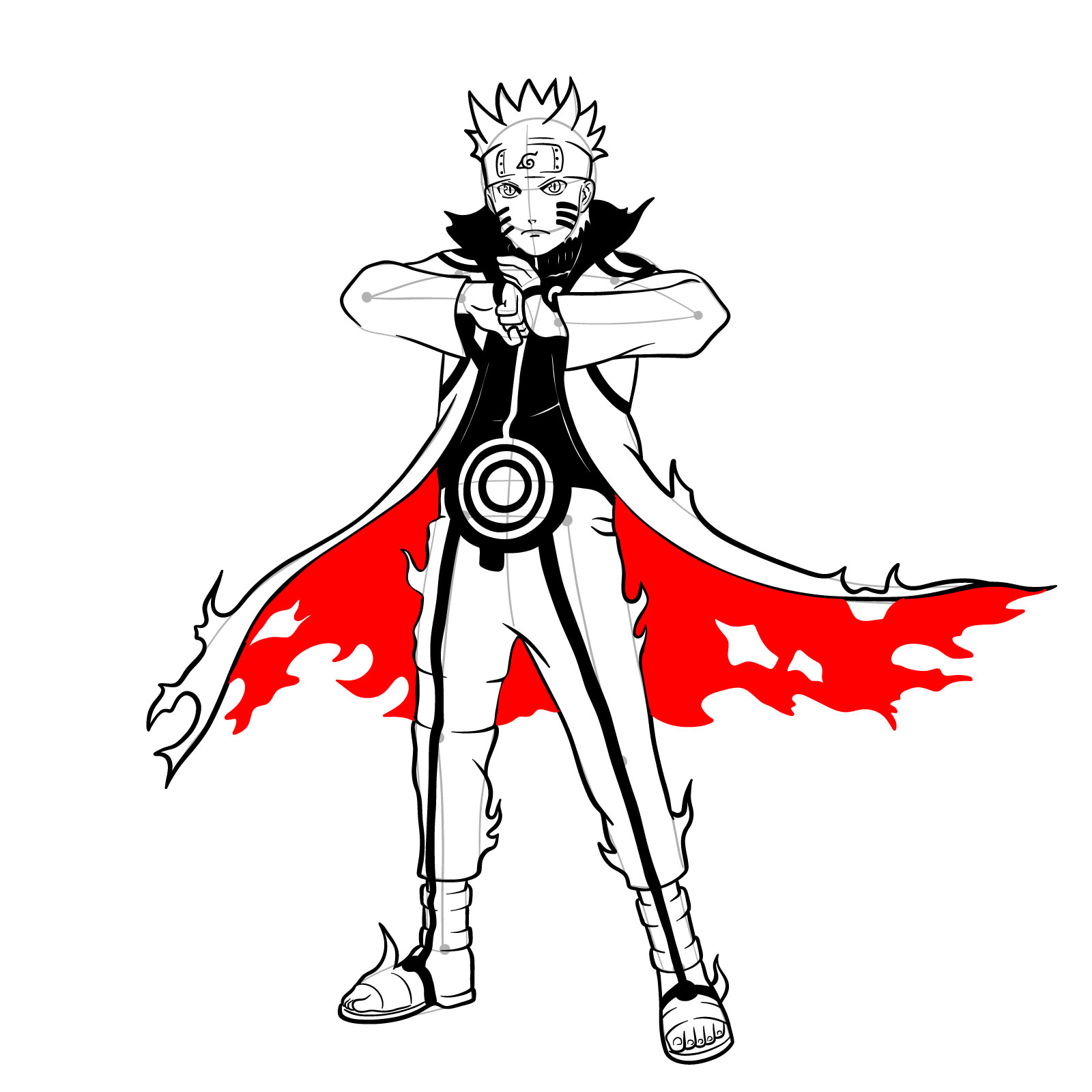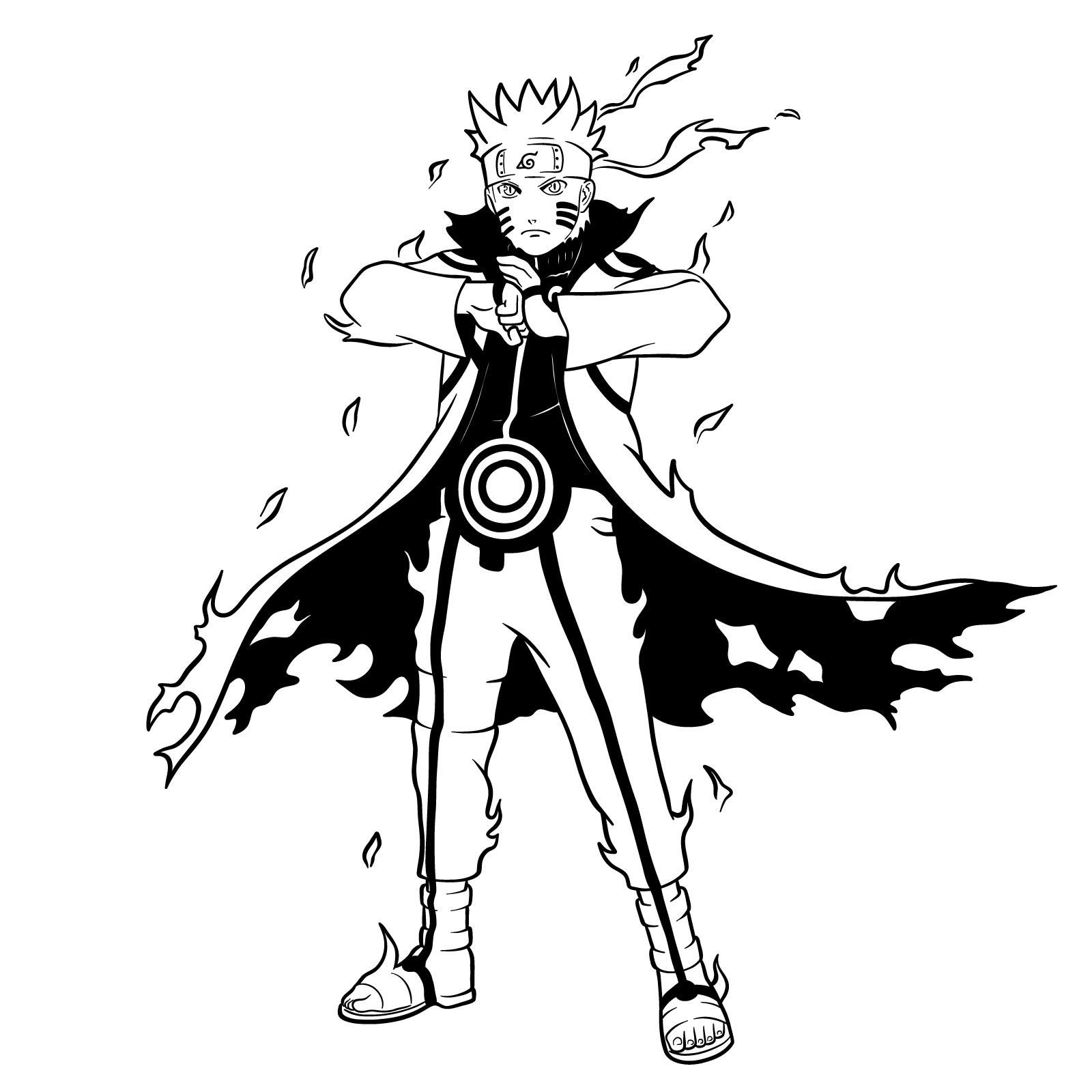 Helpful Tips and Techniques
To enhance your drawing experience and improve your artwork, consider the following tips and techniques:
Use light pencil strokes when creating the basic sketch, making it easier to erase and adjust.
Pay attention to the proportions and anatomy of the character, ensuring a more accurate representation.
Experiment with different shading techniques to add depth and dimension to your drawing.
Consider using a reference image of Naruto in Kurama Mode to guide you in capturing the details and nuances of the character.
Practice drawing various facial expressions and body poses to gain a better understanding of the character's emotions and movements.
Take breaks and step back from your work to view it from a distance, helping you spot any inconsistencies or areas for improvement.
Keep your pencils sharp for clean and precise lines.
Be patient and take your time, as rushing may result in mistakes or a less polished final product.
Don't be afraid to make mistakes or experiment with different techniques, as this is how we learn and grow as artists.
Most importantly, have fun and enjoy the process!
Frequently Asked Questions
Q: How do I improve my drawing skills and create more realistic drawings?
A: To improve your drawing skills, practice regularly, and focus on mastering the fundamentals of art, such as proportions, perspective, and shading. Study and draw from real-life references and observe how light interacts with objects. Take your time, be patient, and don't be afraid to experiment with new techniques and styles.
Q: I'm struggling with drawing hands and feet. Do you have any tips?
A: Drawing hands and feet can be challenging, but with practice and a few techniques, you can overcome this obstacle. Start by breaking down the hand or foot into basic shapes, such as rectangles and ovals. Pay attention to the proportions and the angles of the fingers or toes. Using references can be extremely helpful in understanding the anatomy and positioning of hands and feet.
By following this step-by-step guide, you have successfully learned how to draw Naruto in Kurama Mode. We hope you enjoyed the process and feel proud of your artistic creation. Keep practicing, experimenting, and challenging yourself to grow as an artist. If you found this tutorial helpful, please consider sharing the link to the guide, checking out other tutorials, and supporting the regular release of drawing guides by donating on Buy Me a Coffee. Happy drawing!