Welcome, dear artists! Today, we'll be venturing into the world of Dragon Ball to learn how to draw Vegito, the powerful fusion of Goku and Vegeta. With our detailed, step-by-step guide, you'll be able to bring this legendary character to life on your sketchpad.
Meet Vegito: Fusion of Rivals
Vegito, also known as Vegerot in the Viz English manga, is the result of Goku and Vegeta's fusion using the Potara Earrings. Known for his incredible power, Vegito is a fan favorite, appearing in both Dragon Ball Z and Super. He has a unique blend of Goku and Vegeta's physical traits, with Goku's body type and a combination of their facial features. When he transforms into Super Saiyan or Super Saiyan Blue, his signature hair remains the same, and his outfit is a fusion of Goku's and Vegeta's clothing styles.
Artistic Arsenal: Tools of the Trade
Before we dive into our tutorial, let's gather the essential materials and tools to create a masterpiece. While you can use any drawing tools you prefer, we recommend the following:
Pencils: HB or B for sketching, 2B or 4B for shading and outlining
Eraser: Kneaded or vinyl for precise erasing
Paper: Smooth, heavyweight drawing paper
Ink pens: Fine-tip for inking and outlining
Colored pencils or markers: For coloring and shading (we don't cover coloring in this guide)
Draw Vegito in 3 Fusion-Packed Stages
Our step-by-step Vegito drawing tutorial is divided into 3 parts: creating a basic sketch, refining the sketch and inking. Each step is designed to help you gradually build and refine your drawing. In the guide images, red lines represent the current step, grey lines show the basic proportions sketch, and black lines depict previously drawn lines.
Part 1: Sketching the Fusion Foundation
Begin by lightly sketching Vegito's basic structure using gentle pencil strokes. This initial sketch will help you nail down the proportions and establish a solid foundation for your drawing.
Part 2: Sharpening the Sketch
Now it's time to refine your basic sketch by adding details and improving the proportions. Focus on Vegito's unique features, such as his hair, facial structure, and clothing.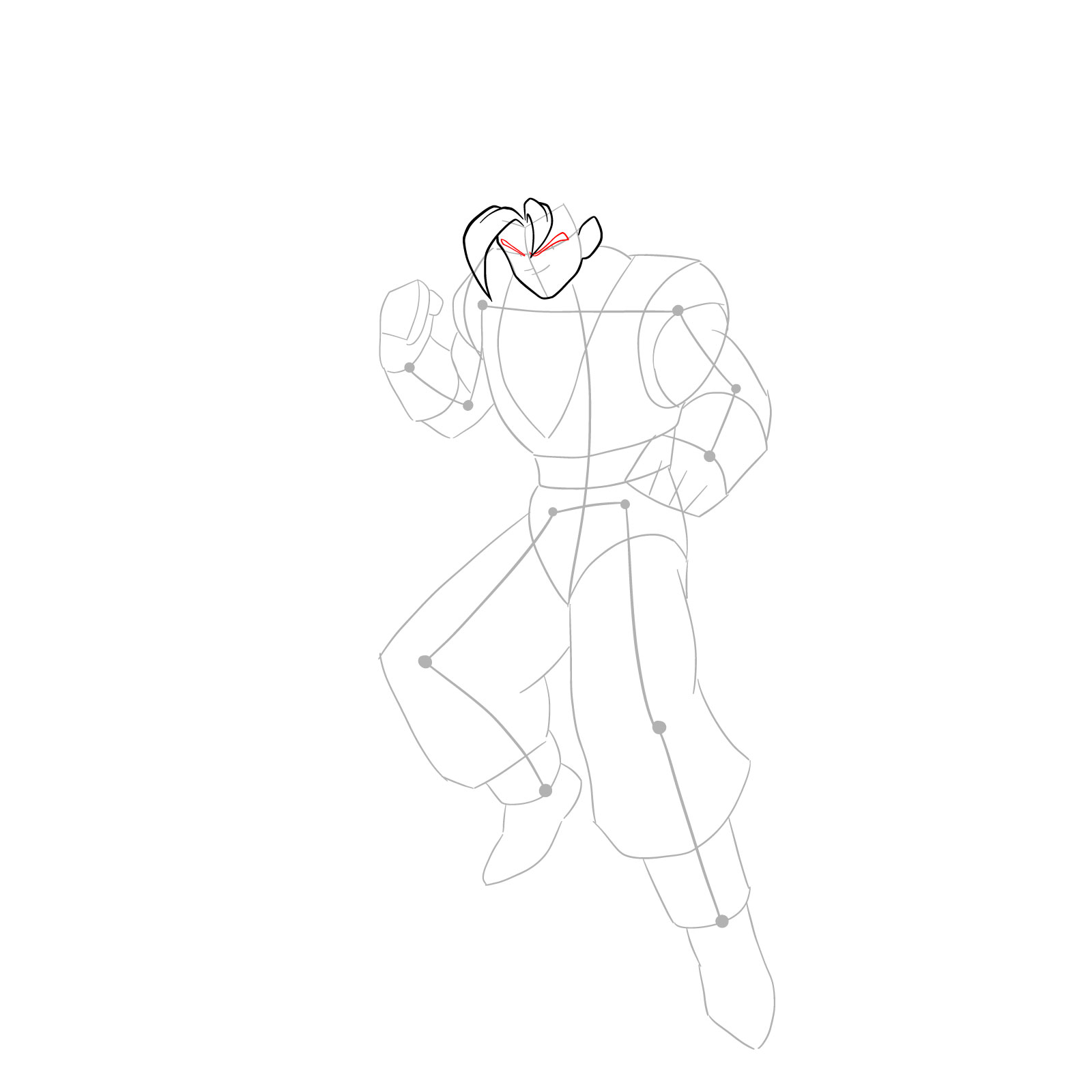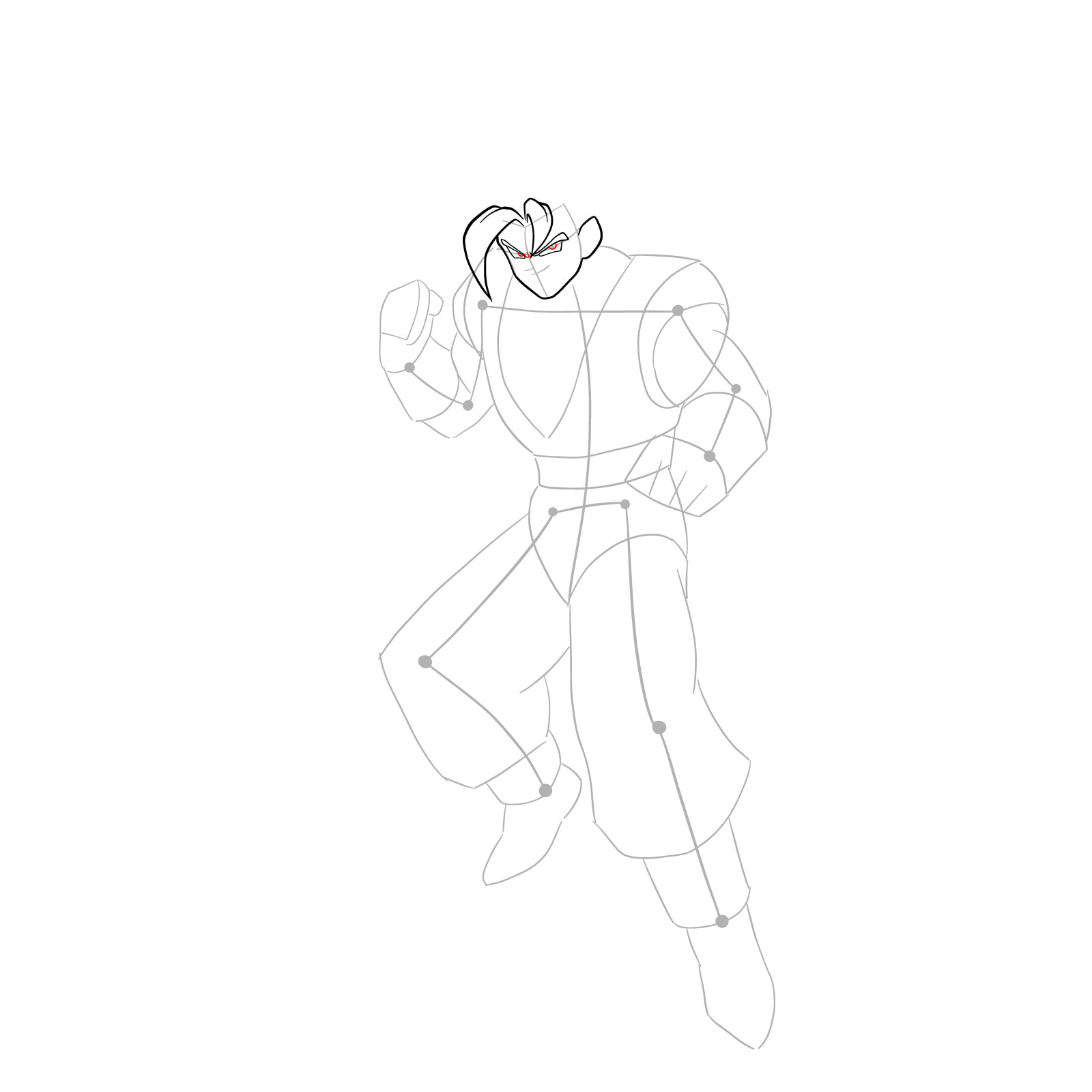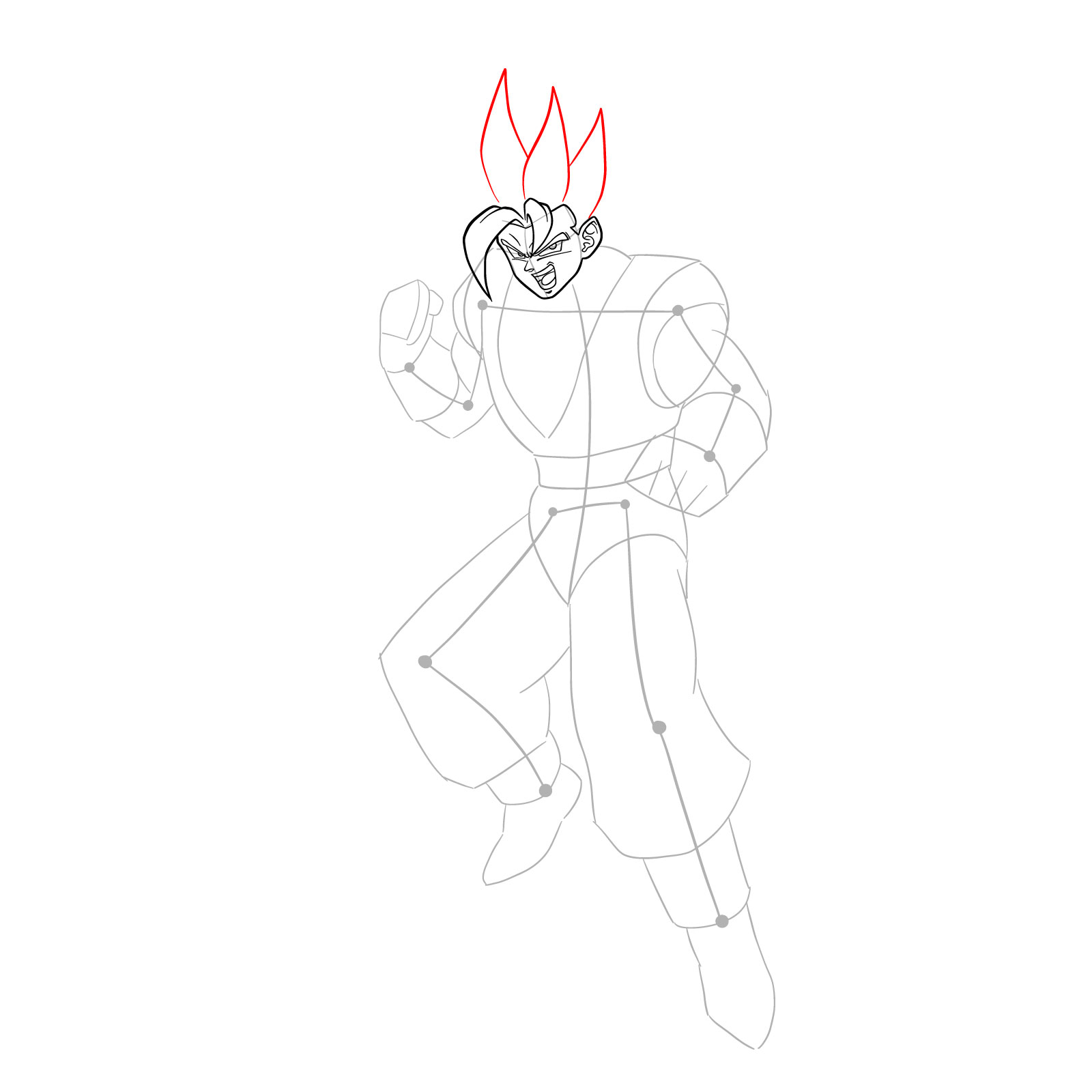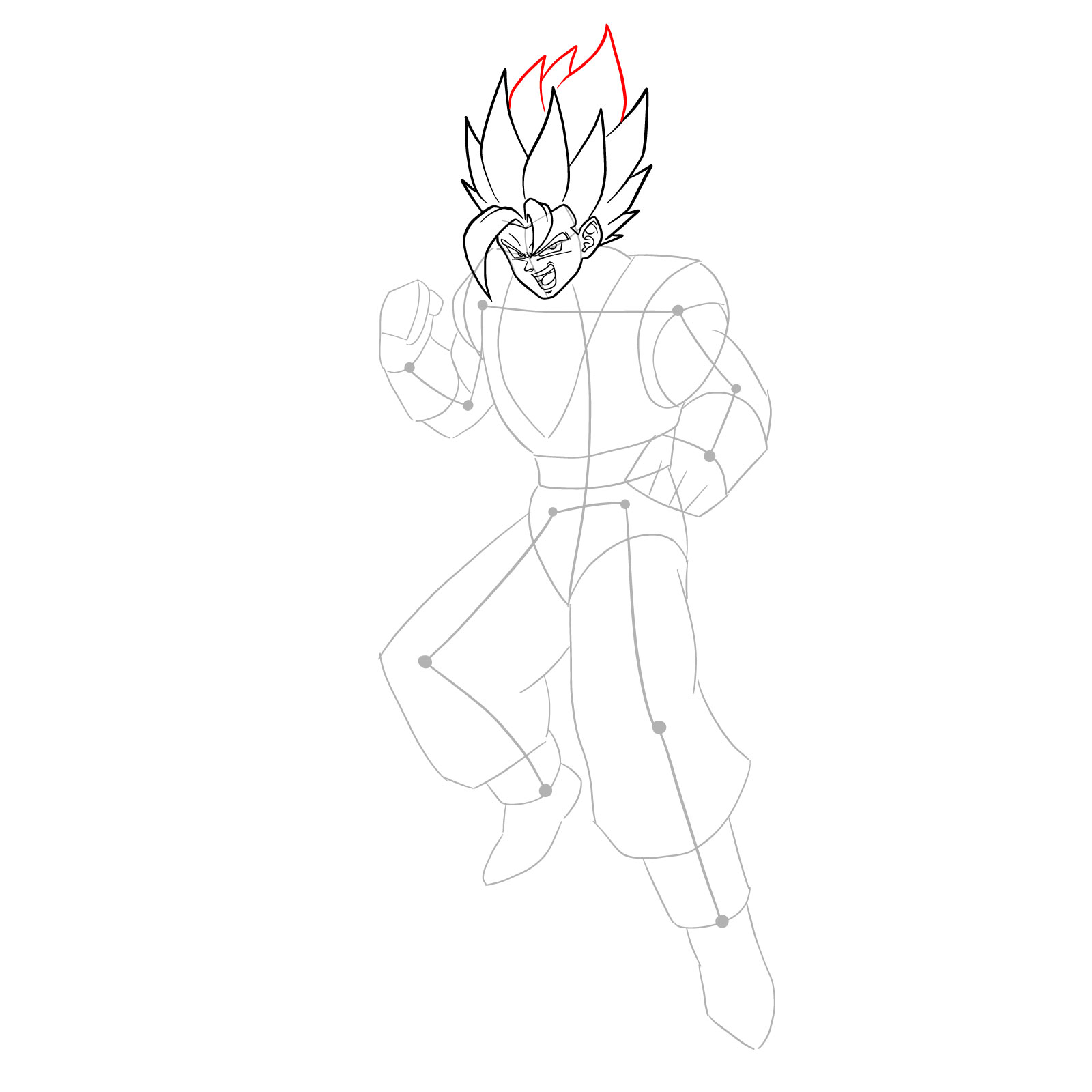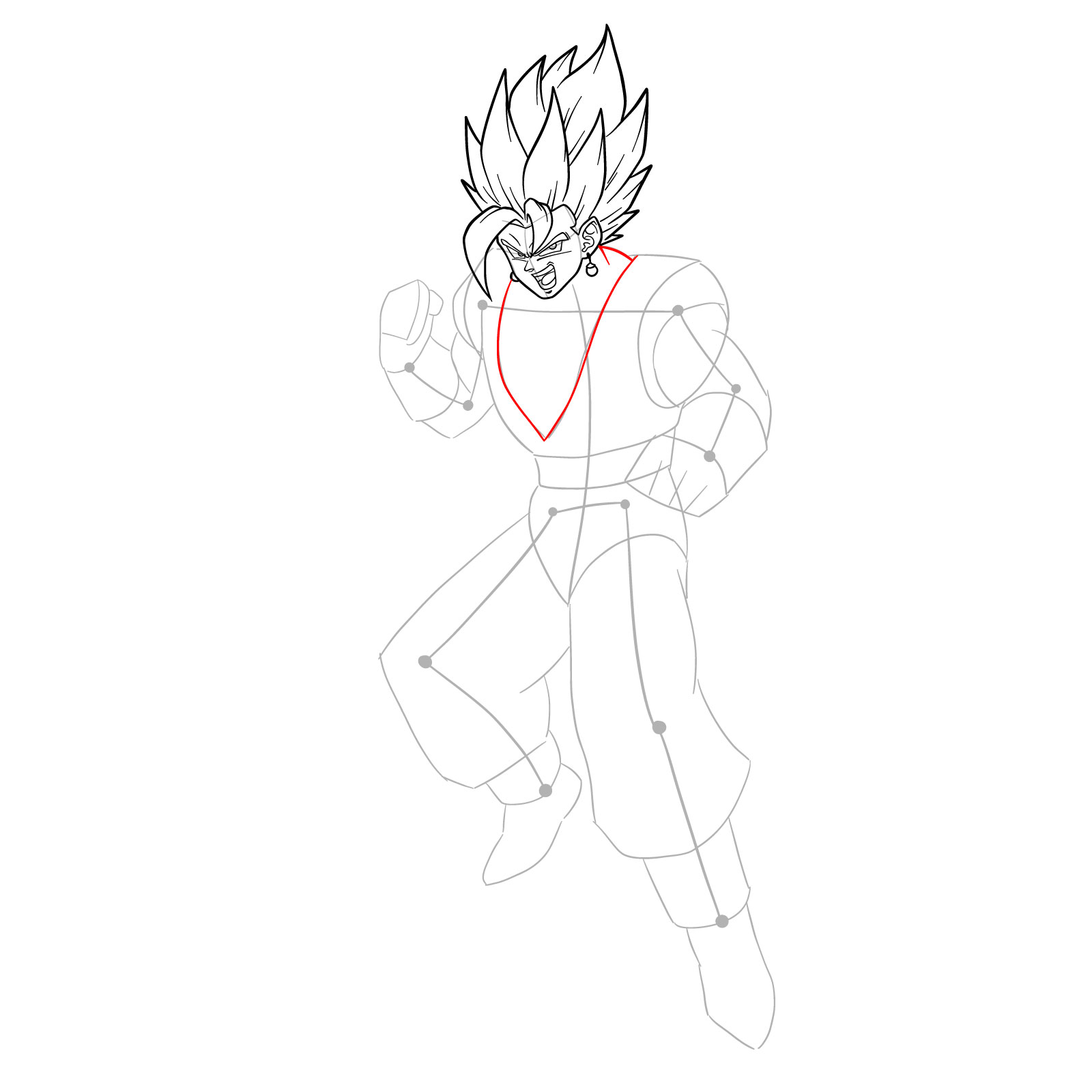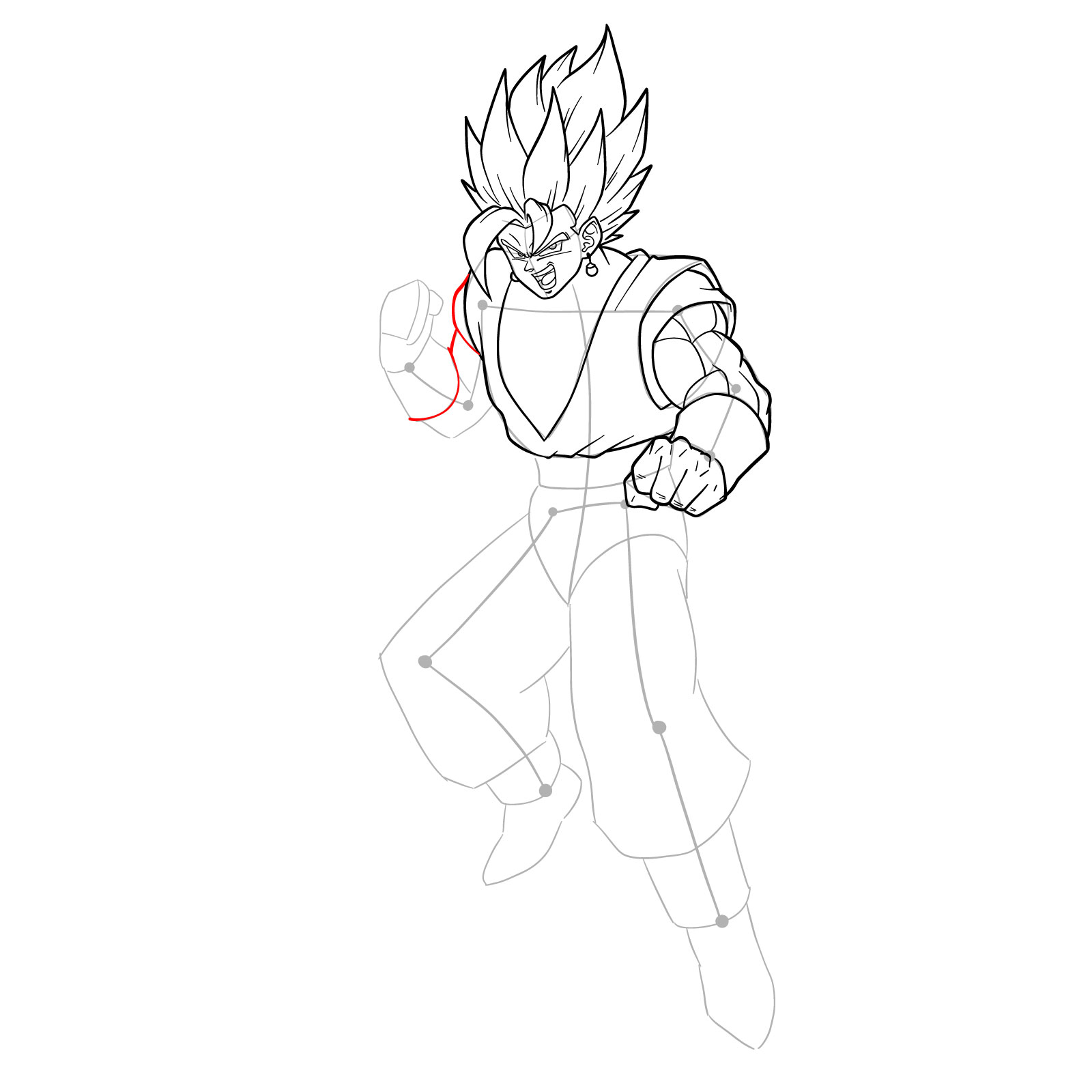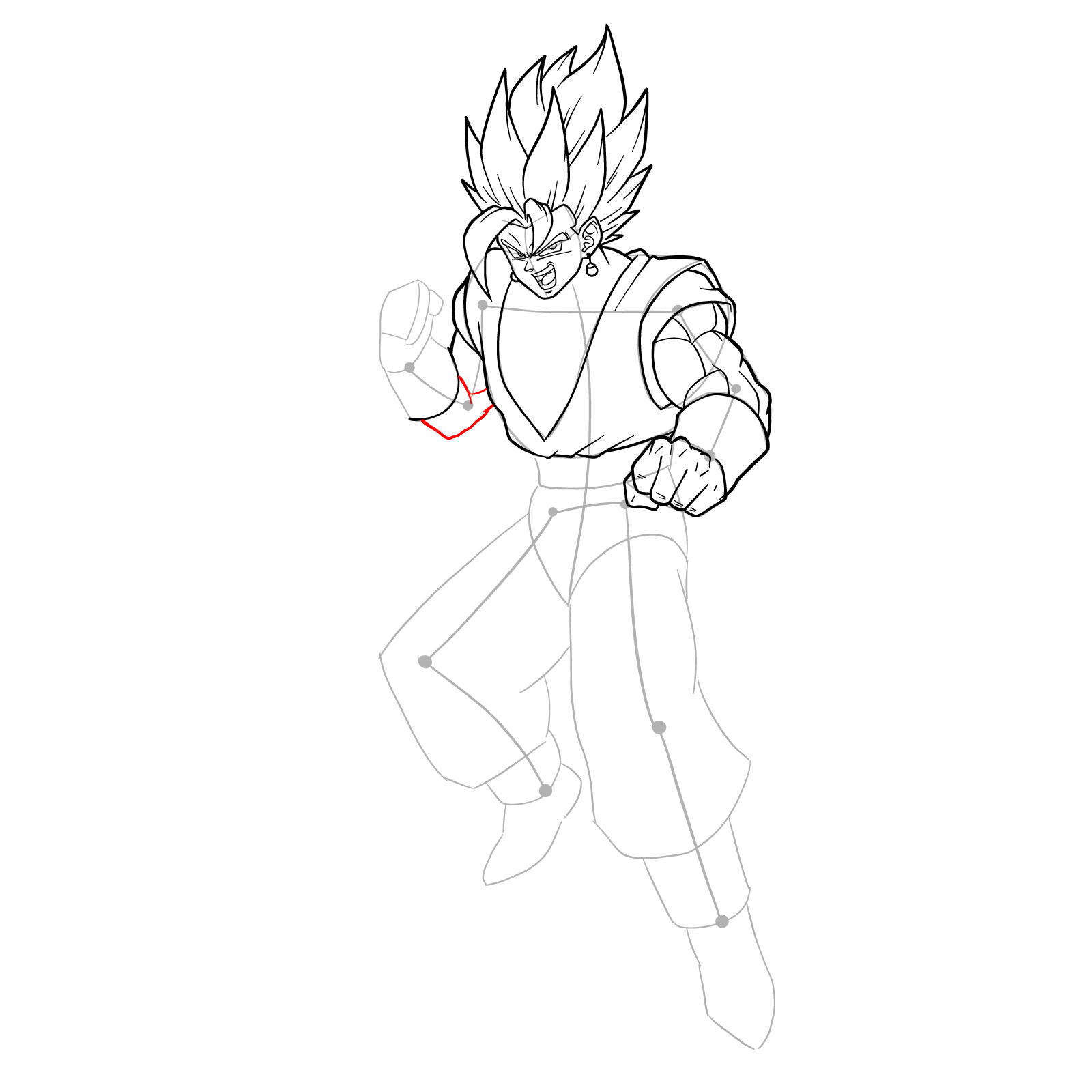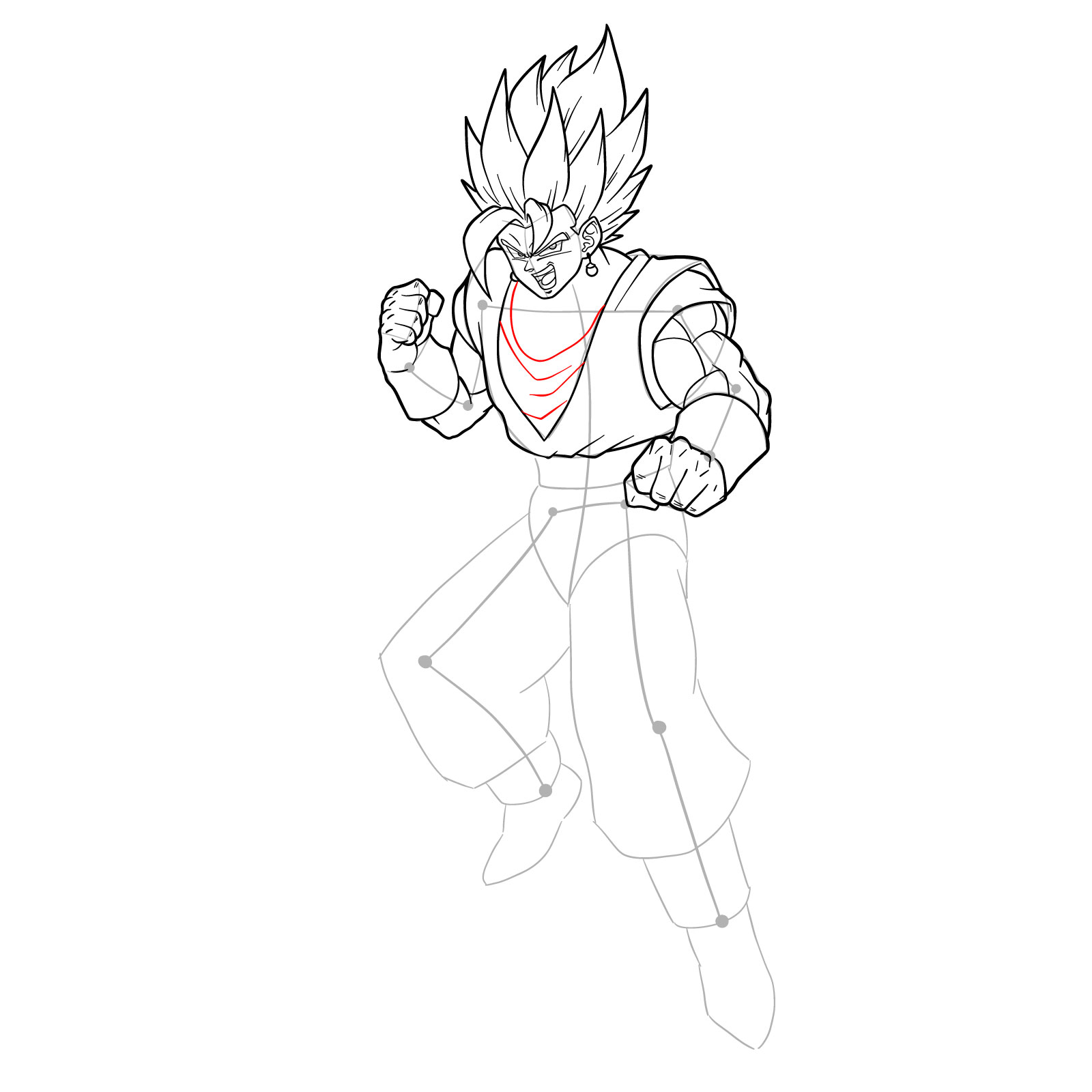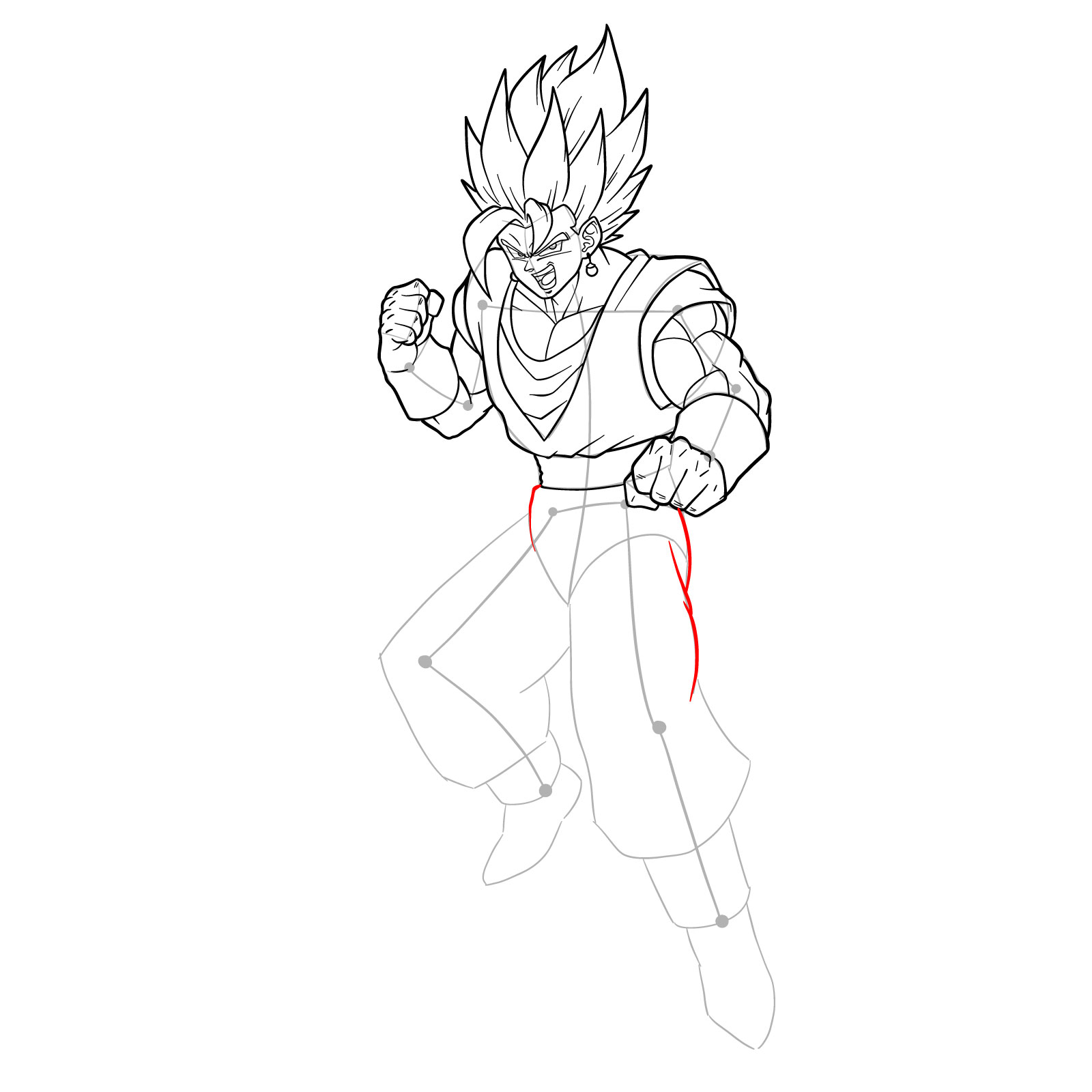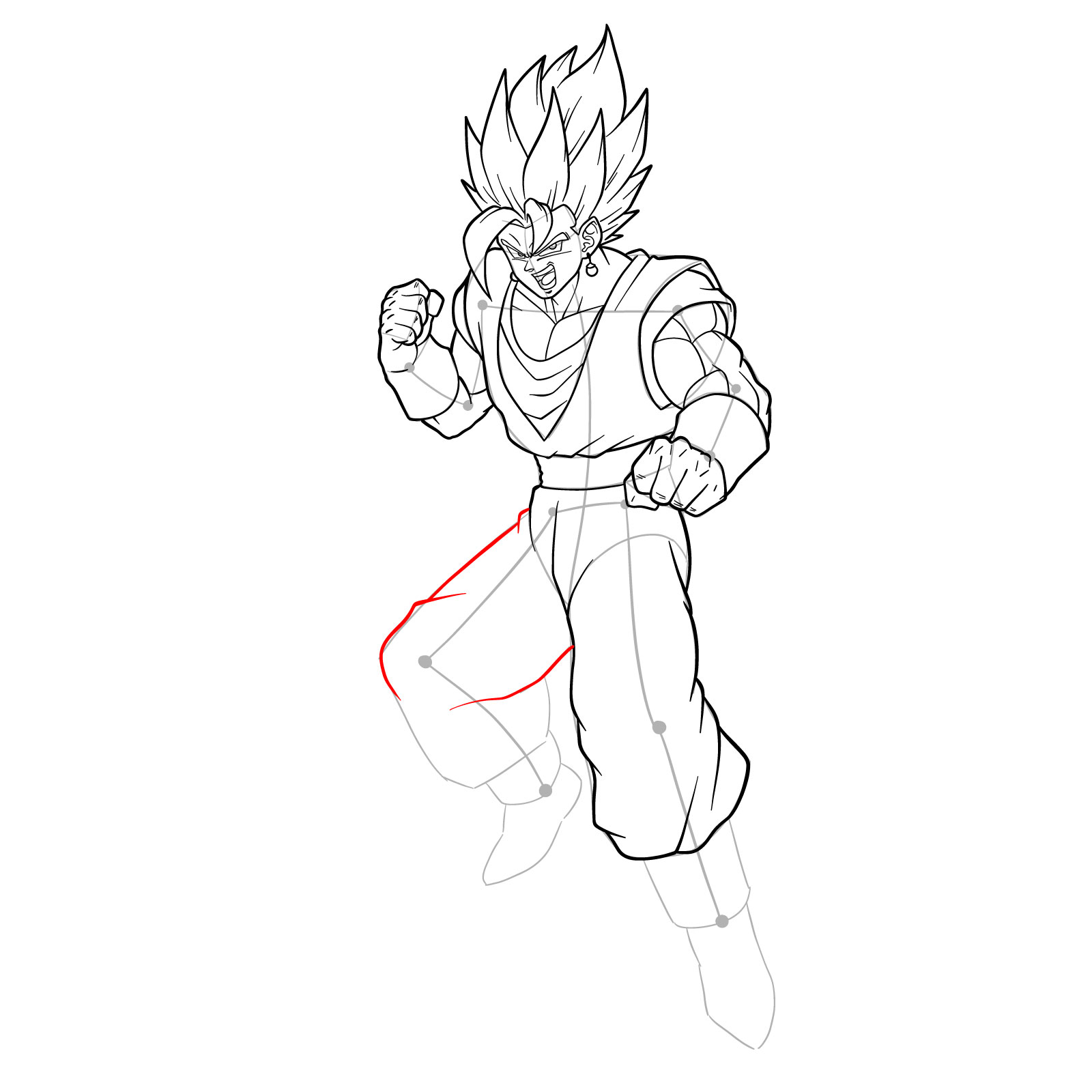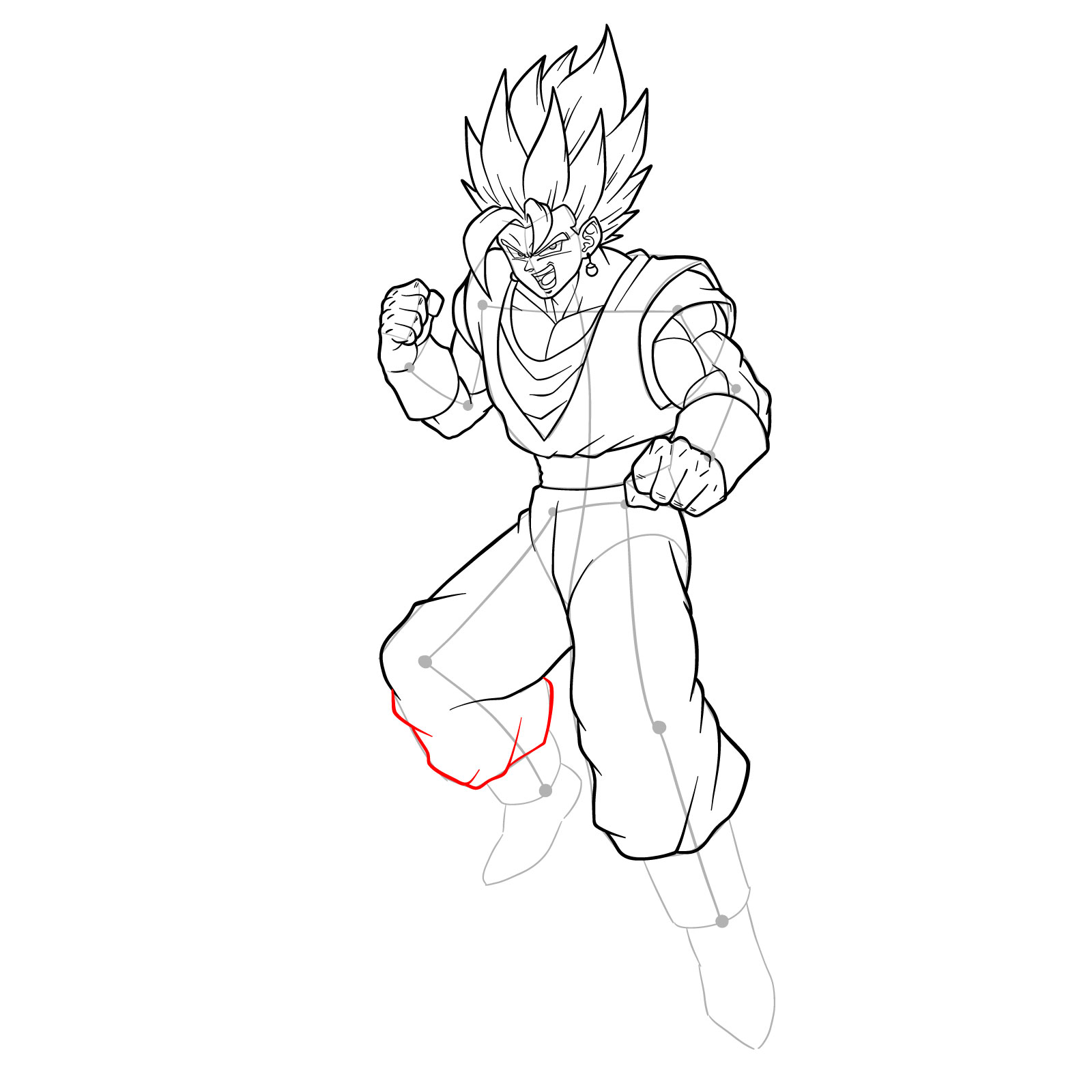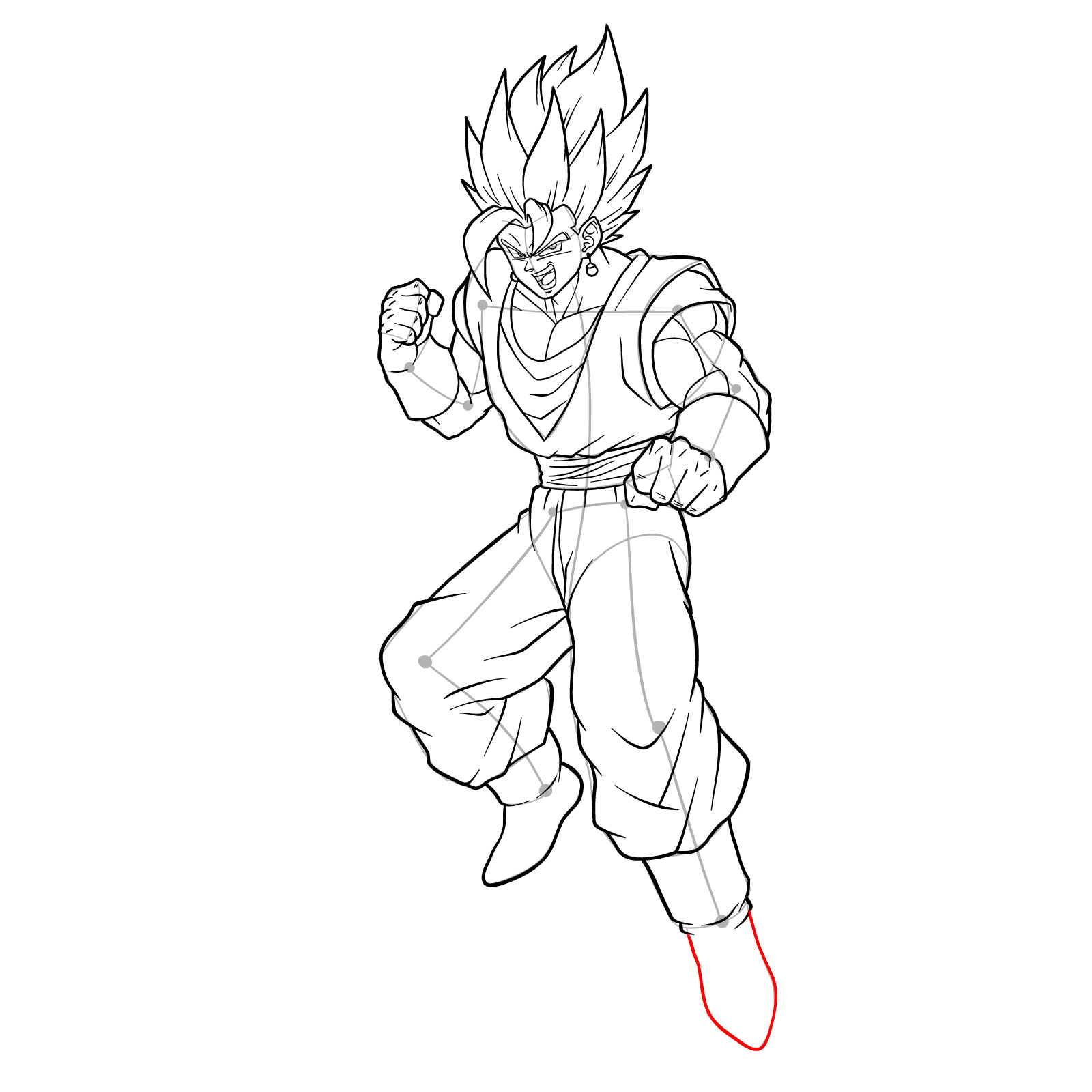 Part 3: Inking the Ultimate Warrior
With your refined sketch in hand, outline Vegito's figure using ink pens or darker pencils. Add any final touches or details to bring your character to life.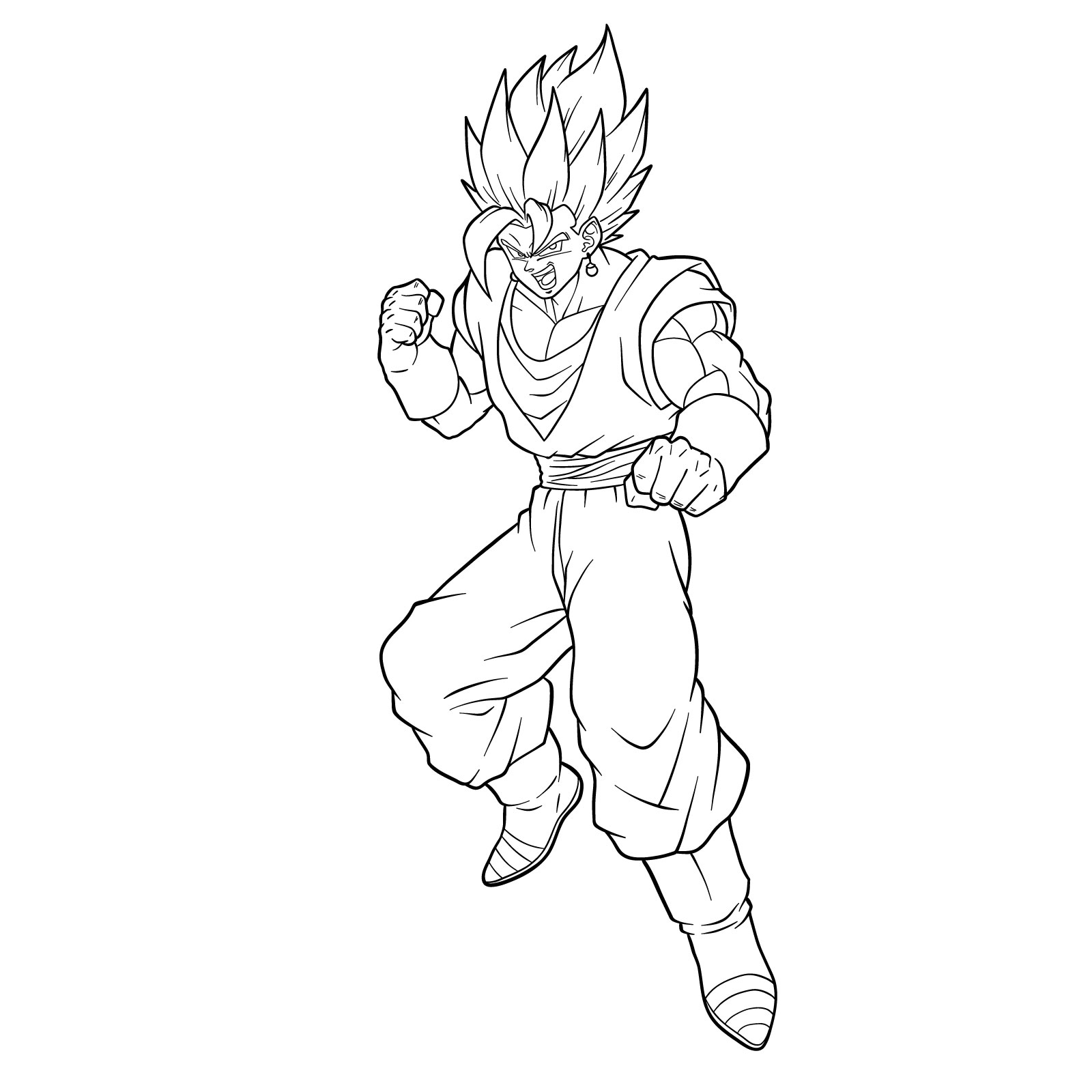 Power-Up with Tips and Techniques
Level up your Vegito drawing skills with these ten additional tips and techniques:
Start with basic shapes and guidelines to establish a solid foundation for your drawing.
Observe Vegito's unique features and incorporate them into your sketch.
Be patient and take your time with each step, especially when working on facial features and intricate details.
Experiment with different shading techniques to create depth and dimension.
Use reference images to help with accurate proportions and details.
Practice drawing Vegito in various poses and from different angles.
Experiment with different coloring tools, such as markers, colored pencils, or digital software.
Consider adding a background to give your Vegito drawing more context.
Don't be afraid to make mistakes – they're an essential part of learning and improving as an artist.
Practice, practice, practice! The more you draw, the better you'll become.
Frequently Asked Questions
Q: How can I improve my drawing proportions and accuracy?
A: To improve your drawing proportions and accuracy, start by sketching basic shapes and guidelines to establish a solid foundation. We use a stick figure in this guide. Use reference images to help with accurate details, and practice drawing Vegito in various poses and from different angles. Remember, practice makes perfect, so keep drawing and refining your skills.
Q: What should I focus on when drawing Vegito's face and hair?
A: When drawing Vegito's face, pay attention to the combination of Goku and Vegeta's facial features, such as the softer jawline and sharper eyes. For Vegito's hair, focus on the upward-standing style similar to Vegeta's, with Goku's hairline and the distinctive downward "V" shape formed by the two bangs. Remember to maintain the same hair shape when drawing Vegito in his Super Saiyan or Super Saiyan Blue forms.
Congratulations on completing your Vegito drawing! We hope this tutorial has helped you sharpen your artistic abilities and develop a deeper appreciation for the fusion of Goku and Vegeta. Don't stop here – keep practicing and honing your skills by exploring our other drawing tutorials. If you enjoyed this tutorial, please consider supporting the regular release of free drawing guides by sharing the link, checking out other tutorials, and donating on Buy Me a Coffee.