Embark on an artistic journey as we'll be showing you how to draw Naruto in The Nine-Tails Chakra Mode. This tutorial will provide you with step-by-step instructions, tips, and techniques to help you unleash your inner artist and create a stunning depiction of this powerful and iconic character. Let's get started!
A Glimpse into Naruto's Nine-Tails Chakra Mode
Naruto Uzumaki, the protagonist of the popular manga and anime series, gains extraordinary power when entering The Nine-Tails Chakra Mode. This transformation envelops him in a cloak of yellow chakra, resembling flickering flames, and alters his appearance with distinct features such as two horns on his head, six magatama markings around his neck, and a prominent circular or swirl design over his stomach.
While in this form, Naruto's physical abilities are significantly enhanced, enabling him to execute powerful attacks and perform incredible feats of speed and strength. The Nine-Tails Chakra Mode also grants him the ability to produce chakra arms, sense negative emotions, and even emit a potent life force that can affect his surroundings.
Despite its immense power, The Nine-Tails Chakra Mode presents initial challenges for Naruto, as the Nine-Tails initially refuses to cooperate. However, as their bond strengthens, these limitations dissipate, allowing Naruto to fully harness this incredible power.
Setting the Stage: Materials and Tools
Before diving into the drawing process, gather the following recommended materials and tools:
Pencils (HB and 2B)
Eraser
Pencil sharpener
Drawing paper or sketchbook
Fineliner or ink pen
Colored pencils or markers
Feel free to use your preferred drawing tools, as these are merely suggestions to help you get started.
The Art of Transformation: Step-by-Step Drawing Guide
Our tutorial comprises a series of images to guide you through the drawing process. Each image highlights the current step in red, while grey indicates the basic proportions sketch, and black represents previously drawn lines. Follow the steps, and you'll be on your way to mastering Naruto in The Nine-Tails Chakra Mode!
Part 1: Sketching the Foundation
The first step in drawing Naruto is to establish a basic structure for proportions using light pencil strokes. This foundation will serve as a guideline for refining your sketch and adding details in the following steps.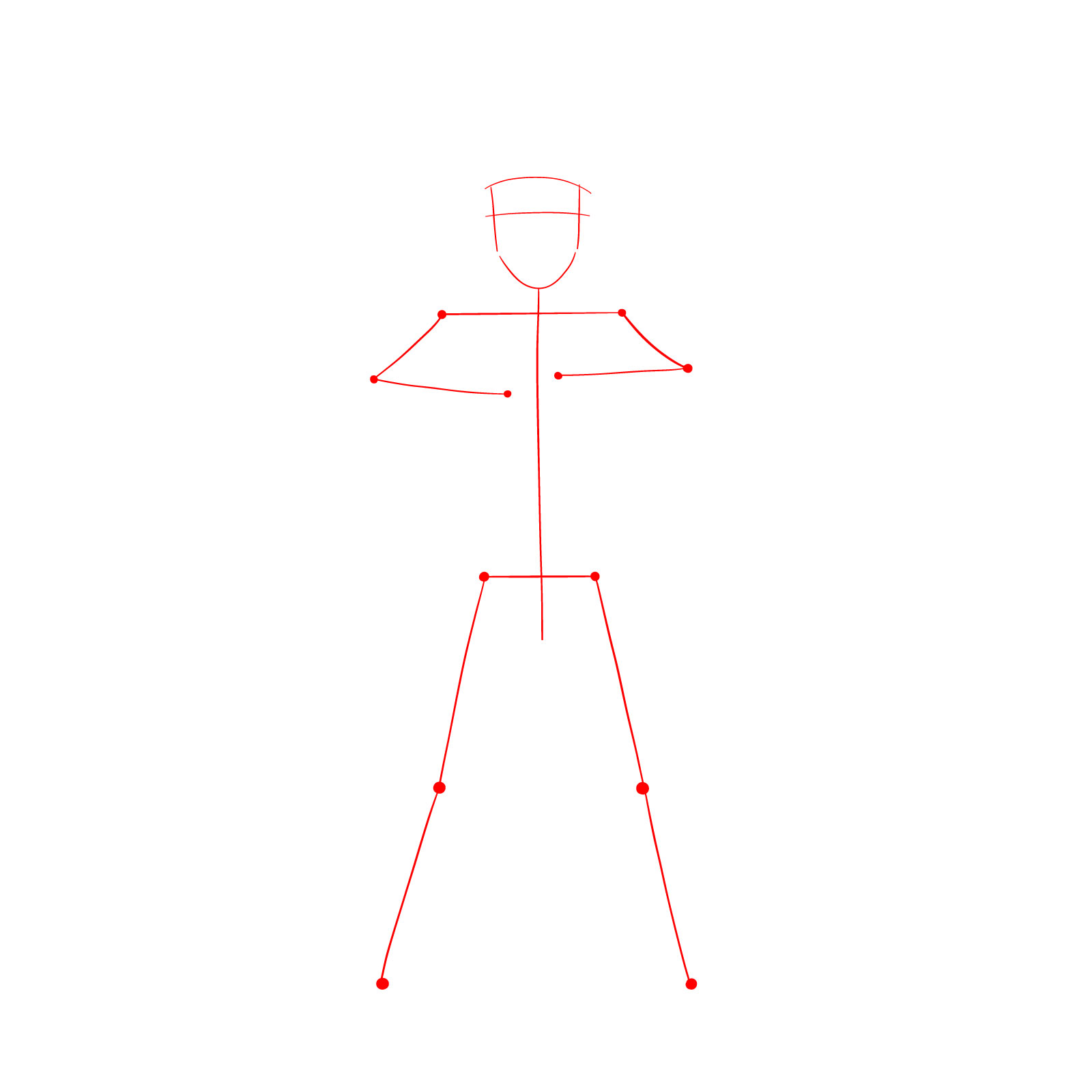 Part 2: Carving out the Details
With the basic sketch in place, it's time to add the defining features of the character. Refine the sketch by emphasizing his facial features, flame aura, magatama markings, and unique design elements, all while improving the overall proportions. Use light lines for the inner details and thicker lines for the flames and overal framing of the character.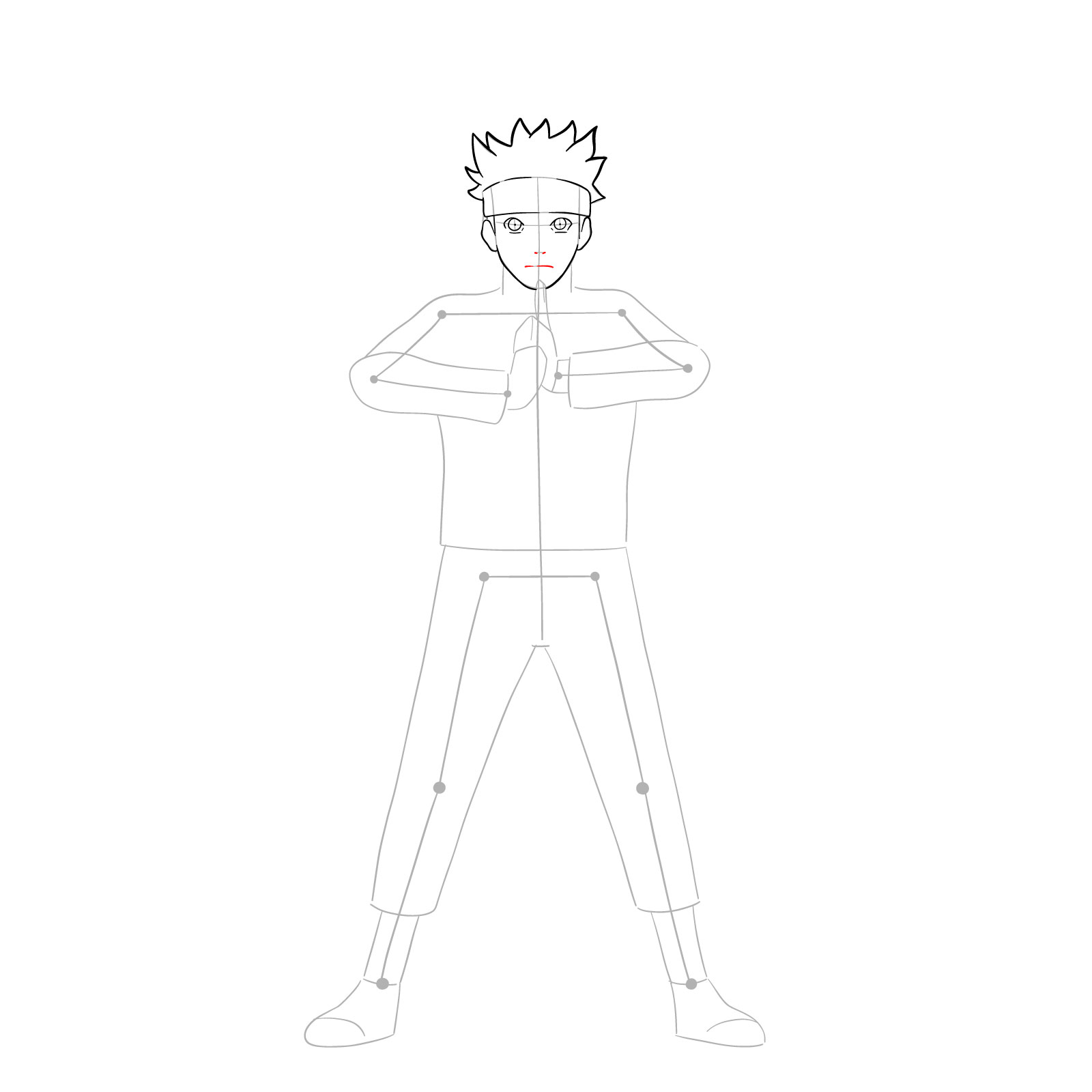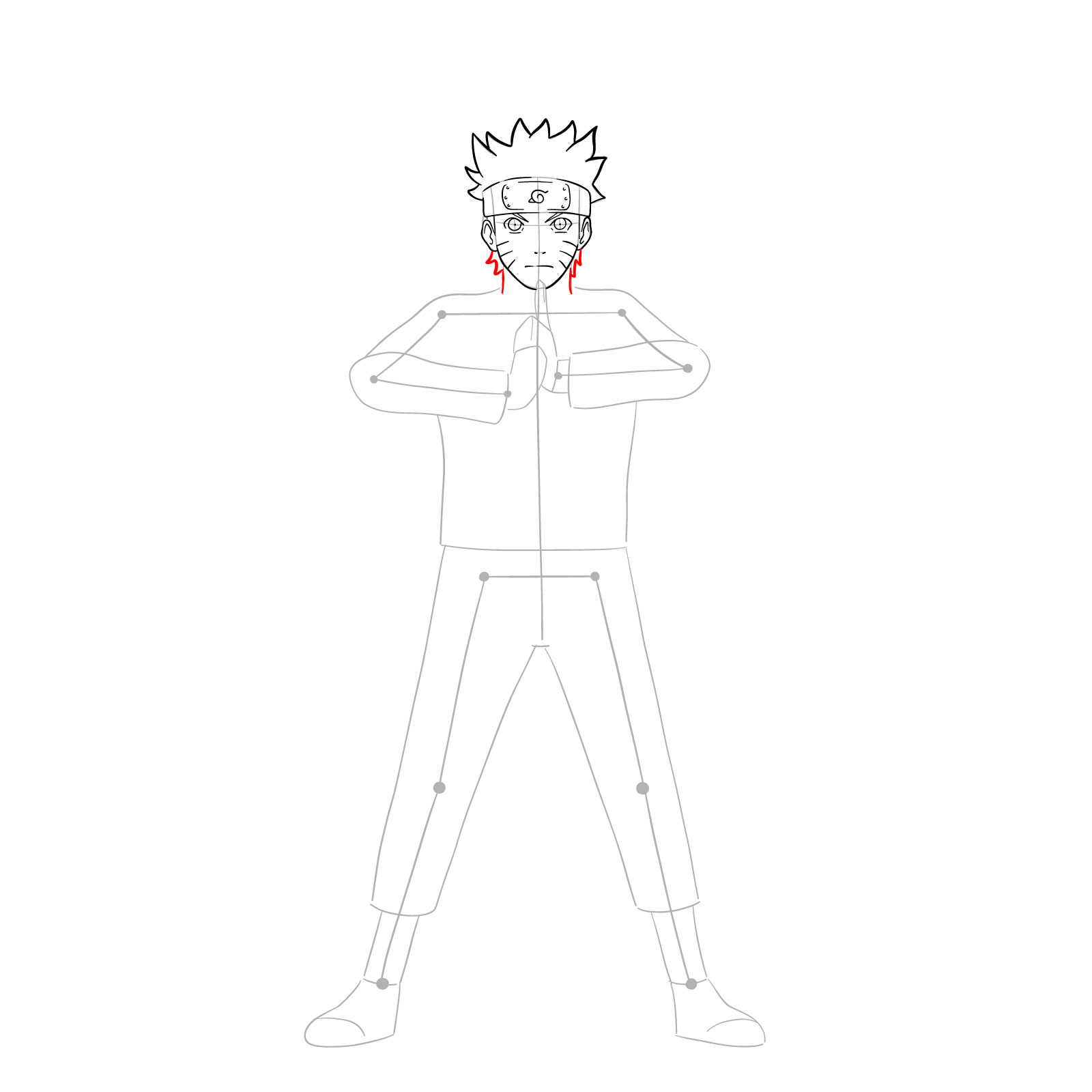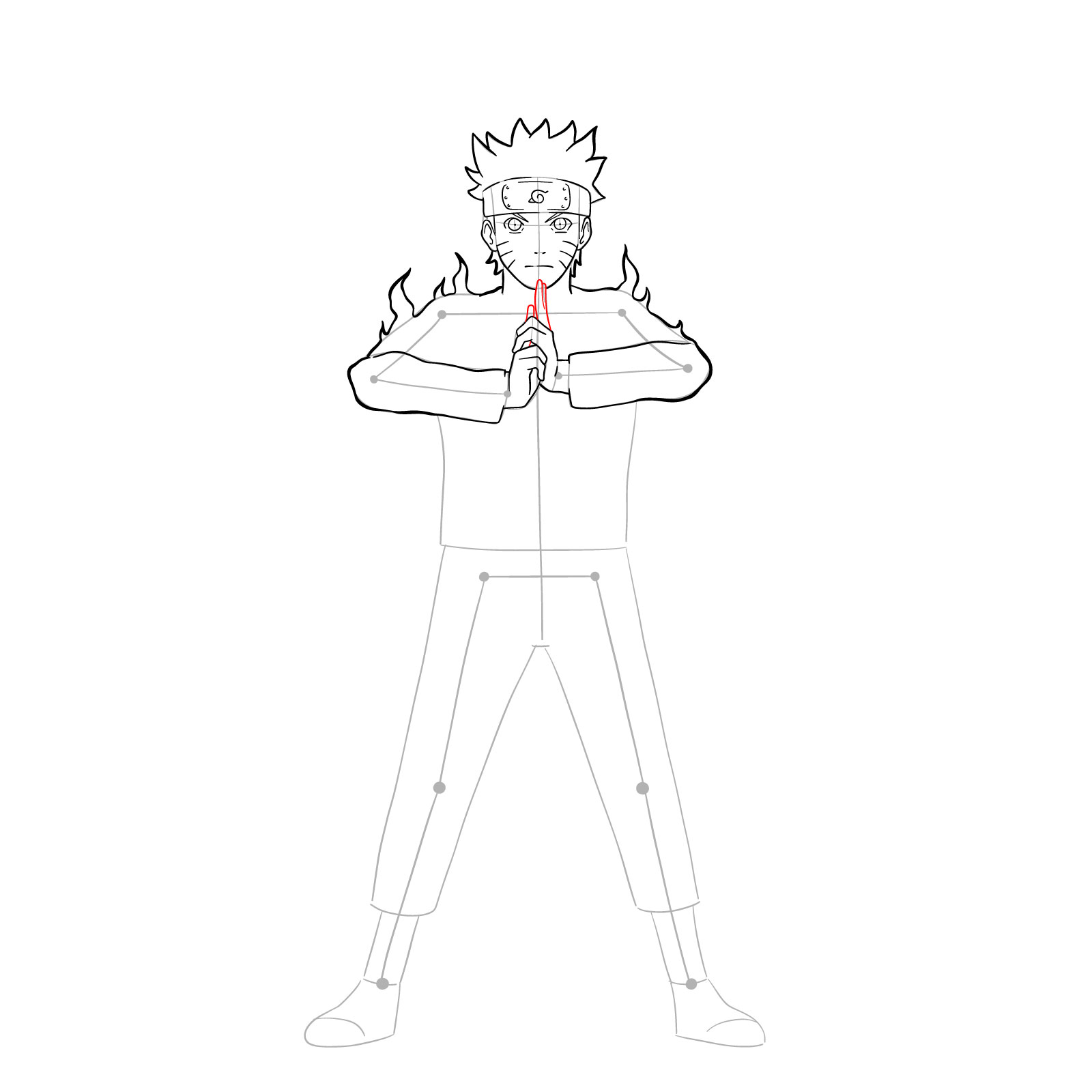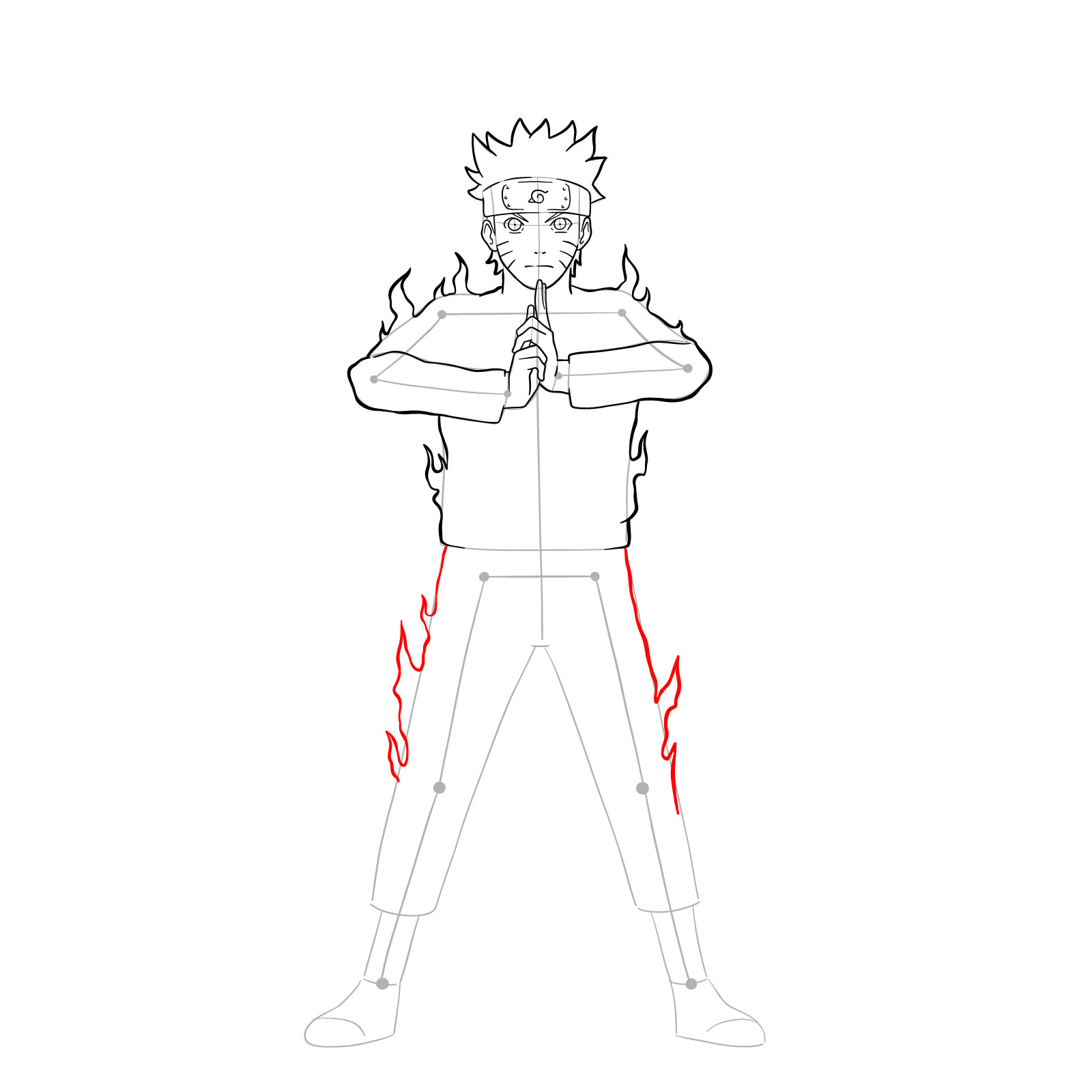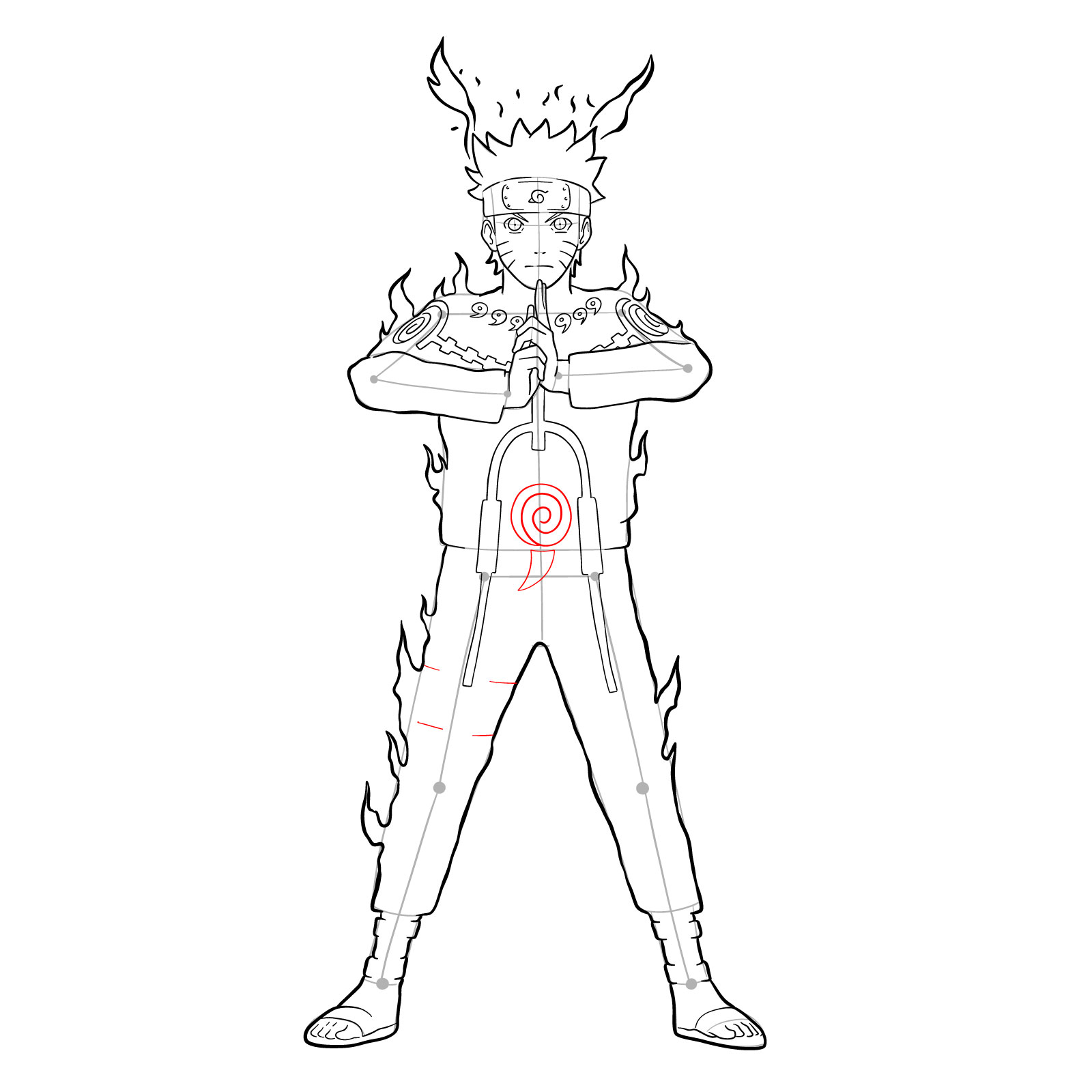 Part 3: Inking the Transformation
Once you're satisfied with your refined sketch, proceed to outline your drawing with a fineliner or ink pen. This step enhances the visibility of your lines and adds the final touches to your Naruto illustration.
Level Up Your Art: Tips and Techniques
To further improve your drawing skills and enhance your artwork, consider these ten tips and techniques:
Practice basic shapes and proportions to build a strong foundation.
Experiment with different shading techniques to add depth to your drawing.
Observe and study references to better understand the character's design.
Use a lightbox or tracing paper to refine your sketch before inking.
Try different drawing tools and materials to discover your preferences.
Break down complex forms into simpler shapes for easier drawing.
Focus on capturing the essence of the character rather than striving for perfection.
Be patient and allow yourself to make mistakes as you learn and grow.
Seek feedback from fellow artists and apply their constructive criticism.
Practice regularly to build confidence and improve your skills.
FAQ
Q: How can I make my Naruto drawing more dynamic?
A: To create a more dynamic drawing, experiment with action poses, foreshortening, and perspective. Study references of Naruto in motion and try to capture the energy and movement in your sketch. Additionally, consider adding background elements that complement the character's pose and enhance the overall composition.
Q: How do I achieve a consistent style when drawing different characters?
A: Maintaining a consistent style when drawing different characters requires practice and a deep understanding of your artistic preferences. Start by studying the art style of the original creator or develop your unique approach. Focus on proportions, shapes, and design elements that characterize the style, and apply these techniques consistently across all characters you draw.
In conclusion, we hope this step-by-step tutorial on how to draw Naruto in The Nine-Tails Chakra Mode has inspired you to create your own masterpiece and explore other iconic characters like Sasuke, Sakura, and Kakashi. Remember, practice makes perfect, so keep honing your skills and enjoy the creative process. If you found this tutorial helpful, consider supporting our content by sharing the link to the guide, checking out other tutorials, and donating on Buy Me a Coffee. Happy drawing!