Introduction: Embarking on a Super Saiyan Art Adventure
Welcome, fellow artists and Dragon Ball fans! Are you ready to channel your inner Super Saiyan and learn how to draw Goku in SSGSS form? This step-by-step tutorial will guide you through the process, teaching you the techniques and skills needed to create an awe-inspiring depiction of this mighty warrior from Dragon Ball FighterZ.
From Super Saiyan God to SSGSS: Goku's Journey
Goku's power evolution is truly remarkable, and the SSGSS form is the pinnacle of his strength. After attaining the power of the Super Saiyan God during his fight with Beerus, Goku trained with the God of Destruction to expand upon his powers. The result of this intense training is the Super Saiyan God Super Saiyan, or Super Saiyan Blue, a form that combines both Super Saiyan God and Super Saiyan abilities. This ultimate power not only features Goku with striking blue hair but also showcases his incredible strength and mastery of martial arts.
As we dive into this tutorial, you'll learn how to capture Goku's SSGSS form in all its glory. By the end, you'll have created a stunning illustration that any Dragon Ball fan would be proud to display.
Essential Tools for an Epic Drawing Quest
Here's a list of recommended materials and tools for this drawing tutorial:
Pencil
Erasers
Drawing paper
Inking pens
Colored pencils or markers
Feel free to use any materials you're comfortable with, as these are merely suggestions.
Step-by-Step Guide: Harnessing the Power of SSGSS
Our step-by-step guide will help you create a stunning drawing of Goku in his SSGSS form. Remember, the red color in the guide images represents the current drawing step, the grey color shows the basic proportions sketch, and the black color indicates the previously drawn lines.
Part 1: Laying the Foundations of Strength
Start your drawing by creating a basic sketch of Goku's structure using light pencil strokes. This first step is crucial for establishing accurate proportions and setting the stage for adding details later on.
Part 2: Honing the Details of a Super Saiyan
With your basic sketch in place, it's time to refine it by adding details and enhancing the proportions. Pay close attention to the guide images and use them to capture Goku's unique features and powerful stance.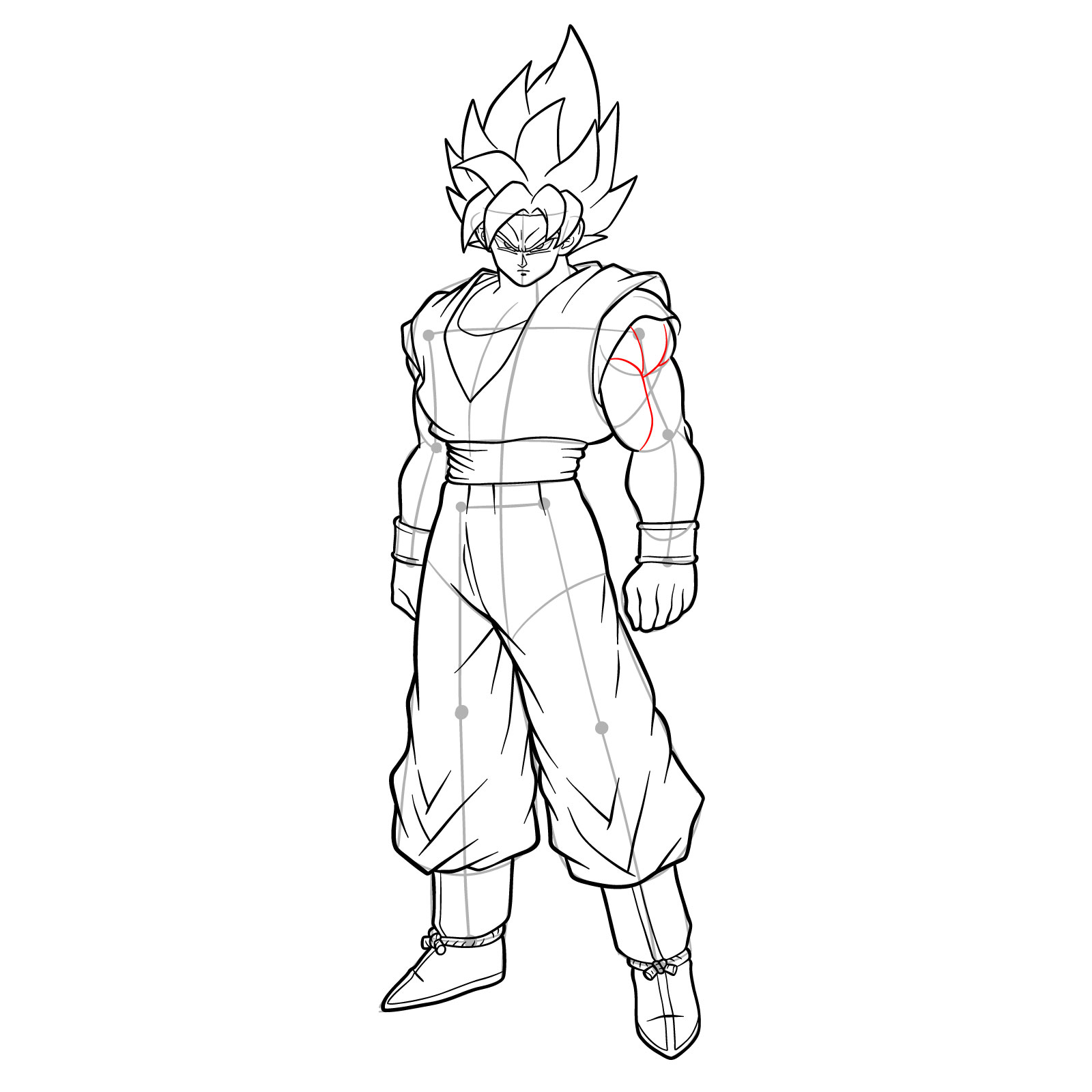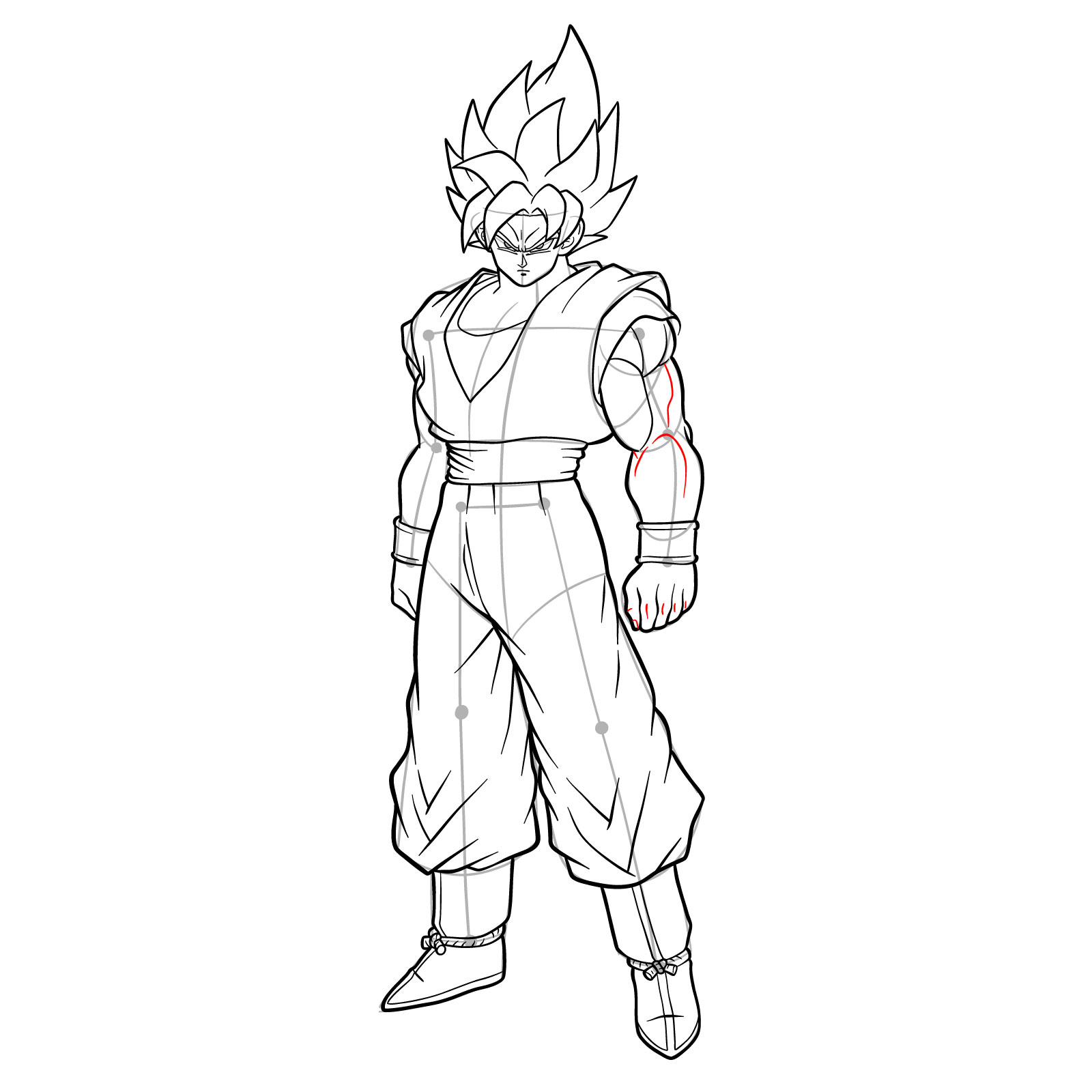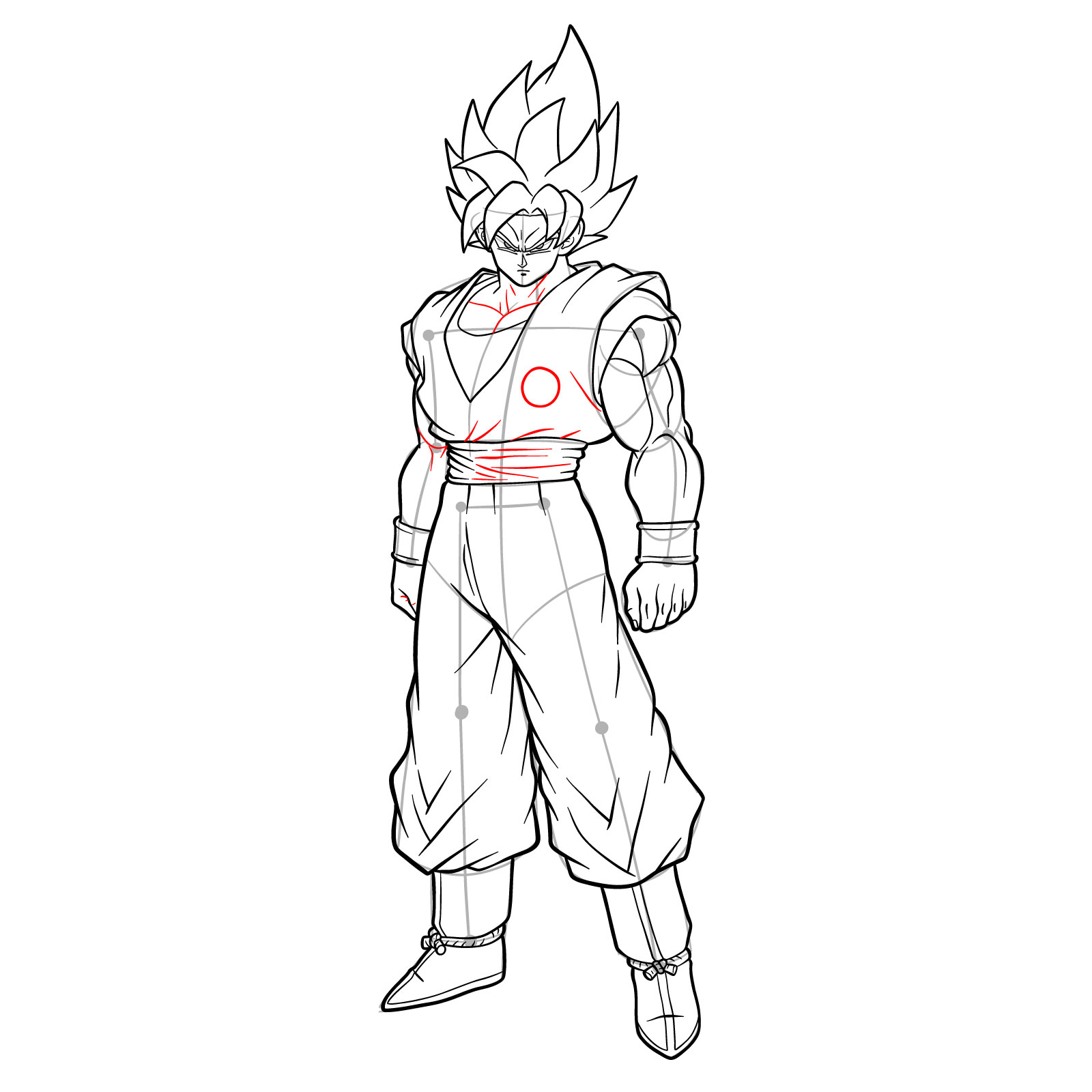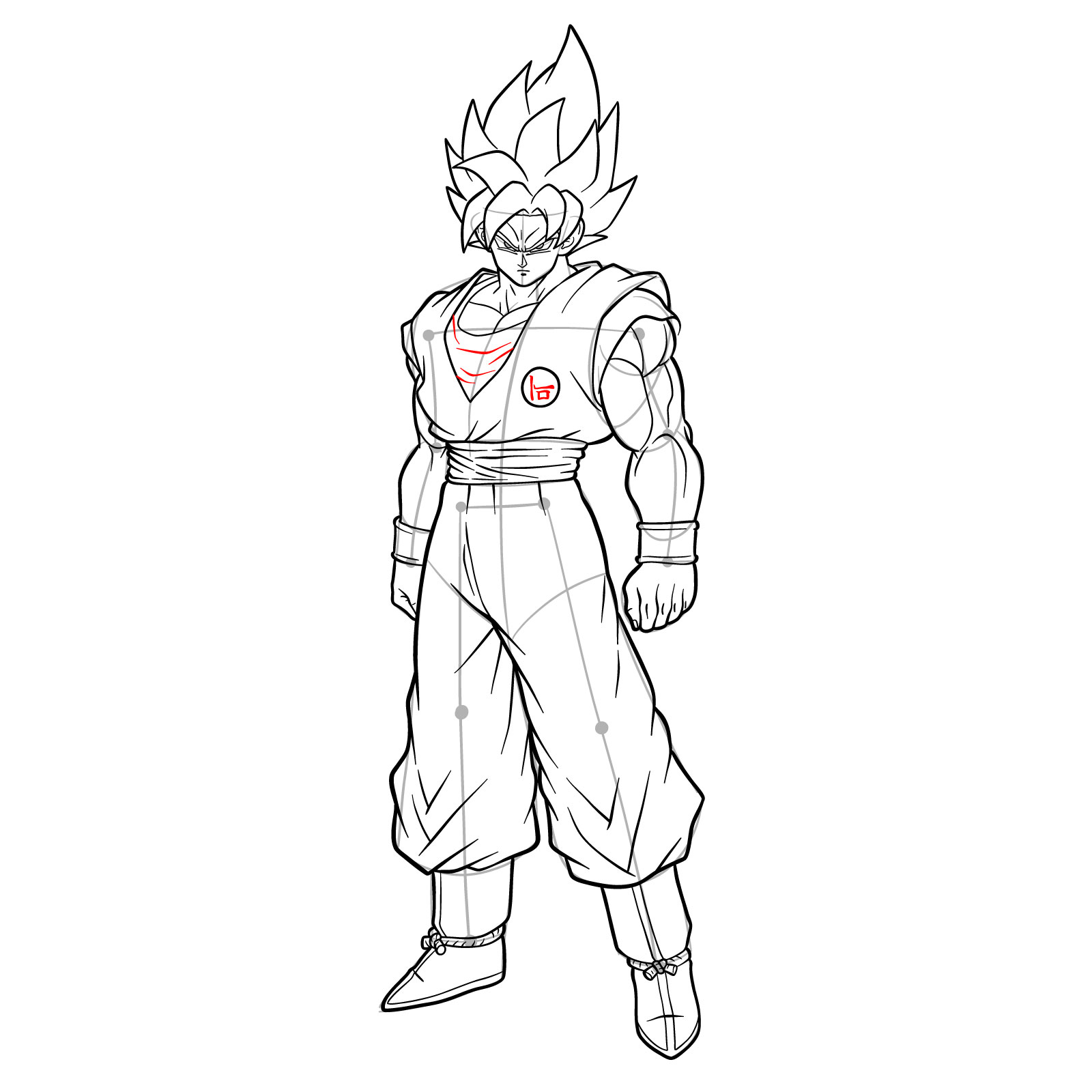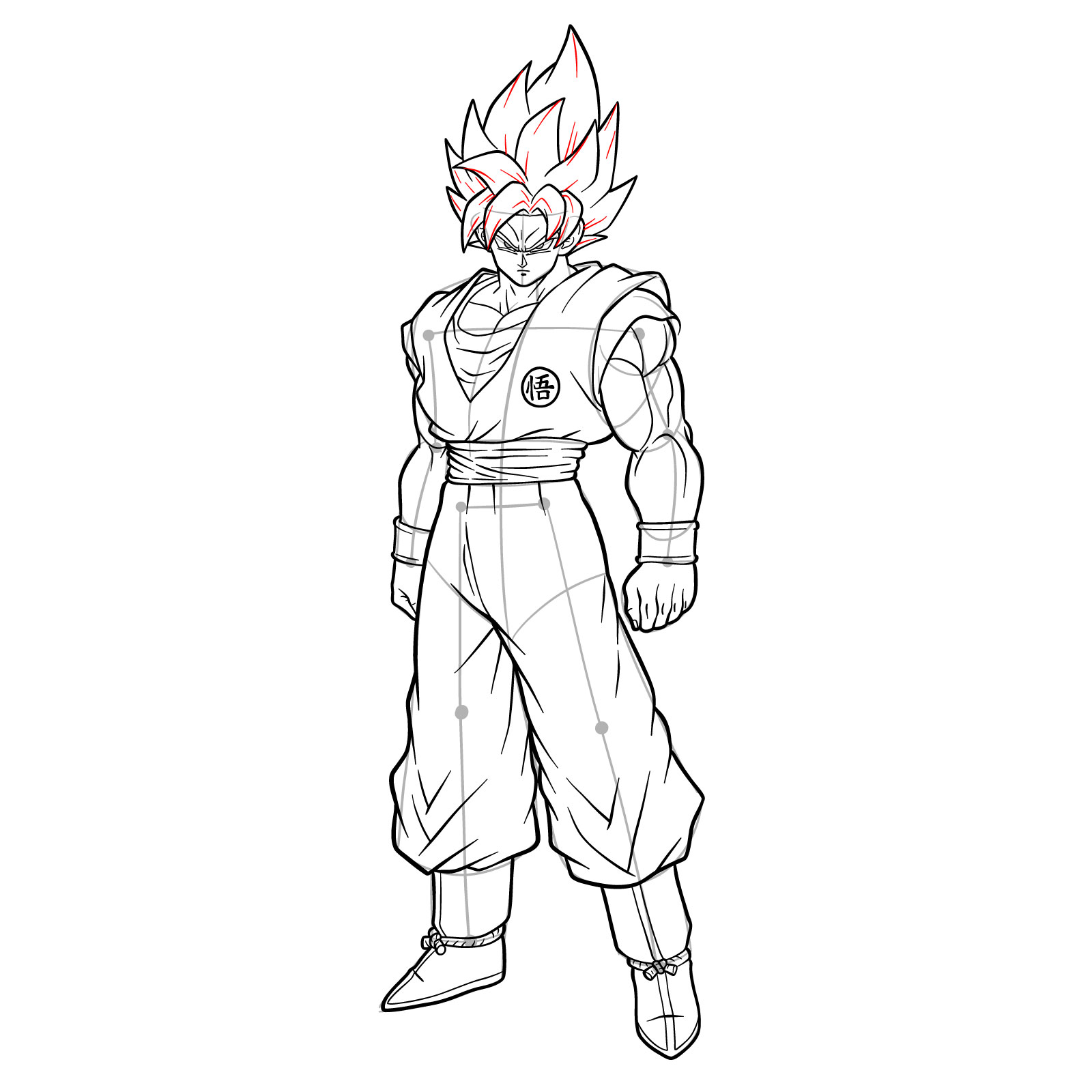 Part 3: Inking with Precision and Power
Now that your refined sketch is complete, it's time to ink your drawing. Carefully outline Goku in his SSGSS form and add any final touches to ensure he looks as powerful as he truly is. When ink dries, gently erase the pencil sketch or any pencil marks.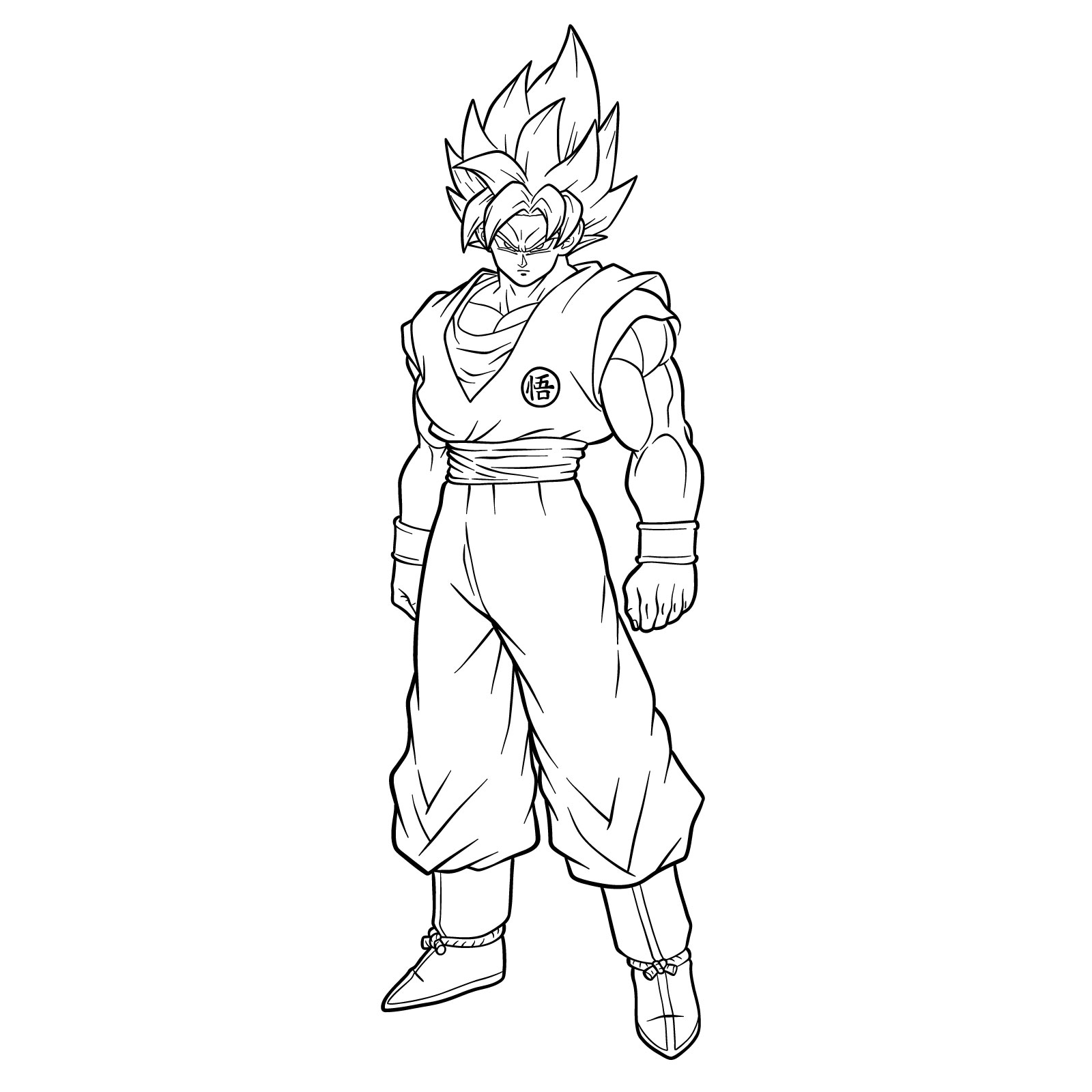 Unlock Your Super Saiyan Artistry: Tips and Techniques
Here are some additional tips and techniques to help you improve your Goku SSGSS drawing:
Study references of Goku in SSGSS form from the Dragon Ball FighterZ game to familiarize yourself with his appearance and details.
Practice drawing different poses and expressions to capture Goku's fighting spirit and personality.
Experiment with various shading techniques to create depth and dimension in your drawing, making Goku's powerful aura stand out.
Take your time with the inking process to ensure clean and crisp lines that showcase the intricacy of Goku's design.
Try drawing other Dragon Ball characters, like Vegeta, Gohan, and Goku in Mastered Ultra Instinct, to expand your artistic skills and understanding of the series' unique art style.
Use a lightbox or tracing paper to refine your sketch and correct any errors before inking.
Study anatomy and perspective to create more dynamic and realistic poses for Goku.
Share your work with other Dragon Ball fans and artists to receive feedback and support.
Be patient and persistent in your practice; drawing complex characters like Goku in SSGSS form takes time and dedication to master.
Keep exploring different coloring techniques and mediums to find what works best for you and your style.
Frequently Asked Questions
Q: How do I create depth in my Goku SSGSS drawing?
A: Creating depth in your Goku SSGSS drawing involves using shading techniques, perspective, and line weight variations. Start by studying light sources and how they affect the shading on Goku's body and clothing. Use darker shades for areas that are further from the light source and lighter shades for areas closer to it. Additionally, vary the weight of your lines to make elements in the foreground appear more prominent, while using lighter lines for background elements. Experiment with different perspectives to create dynamic poses that convey depth and movement.
Q: What should I focus on when drawing Goku's SSGSS hair?
A: When drawing Goku's SSGSS hair, focus on the distinctive shape, flow, and color of his Super Saiyan Blue hairstyle. Pay close attention to the spiky strands and the way they flow upwards and outwards from his head. Use the guide images as a reference for capturing the unique look of his hair. When coloring, choose a vibrant blue shade that accurately represents the iconic Super Saiyan Blue transformation. Add highlights and shading to give the hair depth and dimension.
Q: How can I make my Goku SSGSS drawing more dynamic and engaging?
A: To make your Goku SSGSS drawing more dynamic and engaging, try experimenting with different poses, angles, and expressions. Study the art of Dragon Ball FighterZ and other Dragon Ball series to gain inspiration for dynamic fighting stances, powerful expressions, and dramatic perspectives. Consider incorporating background elements or other characters, such as Vegeta, Beerus, or Whis, to create a more immersive and engaging scene. Keep practicing and refining your skills to develop a style that captures the energy and excitement of the Dragon Ball universe.
Conclusion: Becoming a Super Saiyan Artist
With this step-by-step guide and the tips and techniques we've shared, you're now learned how to draw Goku in his SSGSS form. Remember that practice and persistence are the keys to unlocking your full artistic potential. So, don't be afraid to experiment, learn from your mistakes, and keep pushing your boundaries.
As you continue your artistic journey, be sure to explore the vast world of Dragon Ball and its diverse cast of characters, including Vegeta, Gohan, Frieza, and more. Drawing these iconic characters will not only help you hone your skills but also deepen your appreciation for the unique art style and storytelling of the Dragon Ball universe.
Finally, we encourage you to share your work with fellow artists and Dragon Ball fans. Engaging with others who share your passion can provide invaluable feedback, inspiration, and motivation. And if you enjoyed this tutorial and found it helpful, please support our content by sharing the link to the guide, checking out our other tutorials, or donating on Buy Me a Coffee.
Keep drawing, keep improving, and keep unleashing your inner Super Saiyan artist!