Welcome, fellow car enthusiasts and aspiring artists! Buckle up, and prepare to embark on a thrilling artistic journey as we learn how to draw the Shelby Cobra Super Snake. This iconic vehicle is not only a masterpiece of automotive engineering but also a remarkable subject for sketching. Fasten your seatbelts, rev up your pencils, and let's dive into the world of this legendary muscle car.
The Shelby Cobra Super Snake: A True Legend on Wheels
Before we hit the drawing board, let's take a brief detour to appreciate the captivating history of the Shelby Cobra Super Snake. Born in 1966, this high-octane powerhouse was a custom creation by Carroll Shelby himself. With an astonishing 800hp 427cid V8 engine and twin Paxton superchargers, it was, and still is, an unparalleled force to be reckoned with.
Referred to as "The Cobra to End All Cobras," the Super Snake has etched its name in the annals of automotive history. With only two models ever built, its rarity and prowess have catapulted it to legendary status, making it a sought-after subject for artists and collectors alike.
Sketching the Beast: Tips and Tricks for Drawing the Shelby Cobra Super Snake
As we shift gears and venture into the realm of sketching the Super Snake, here are some helpful tips to keep in mind:
Study the curves: The Super Snake is a marvel of design, featuring sleek lines and captivating curves. Pay close attention to the car's contours to accurately capture its essence on paper.
Details matter: The car's unique features, such as the aluminum 'Super Snake' hood and the unmistakable twin superchargers, are vital to making your sketch come alive.
Embrace perspective: To bring depth and dimension to your drawing, experiment with different angles and perspectives. This will give your artwork a more dynamic and engaging appearance.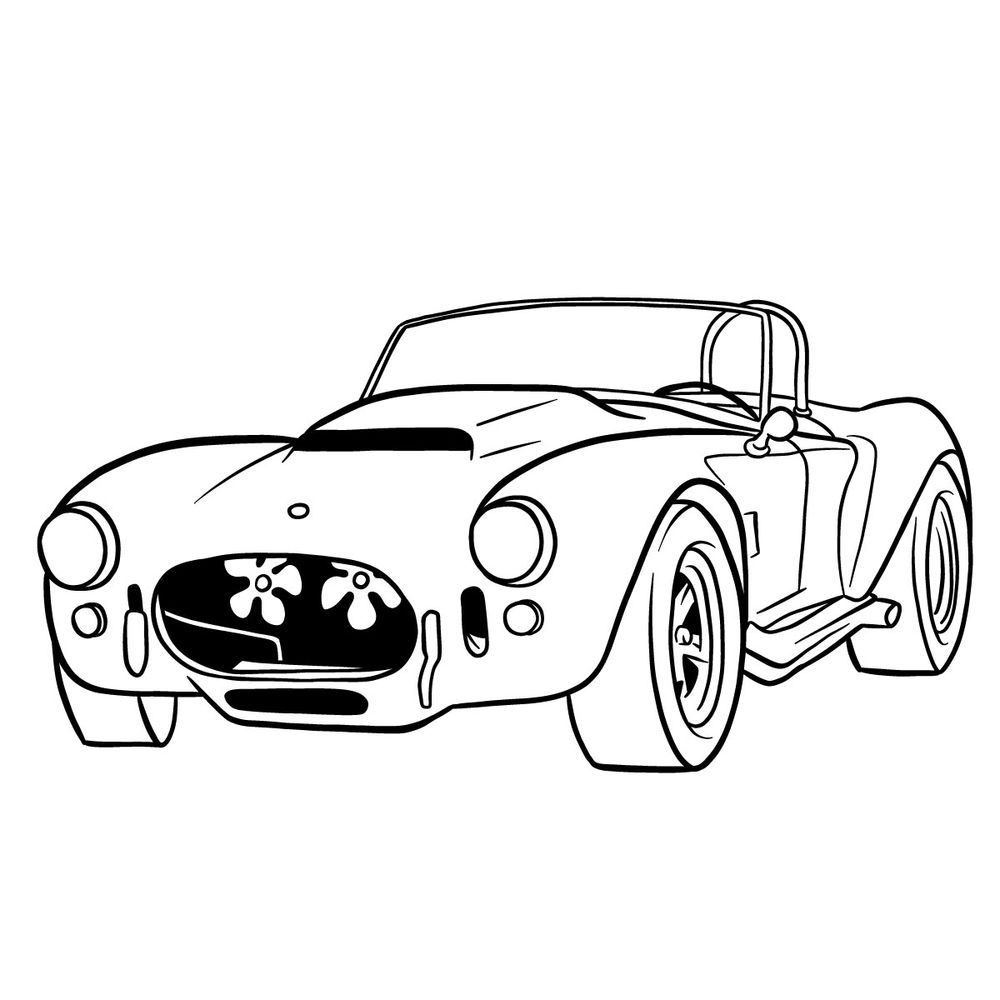 Other Classic Cars to Sketch: Expand Your Artistic Horizons
Once you've conquered the Shelby Cobra Super Snake, why not put your newfound skills to the test with other iconic vehicles? Here are some other classic cars to consider sketching:
Conclusion: Keep the Creative Engine Running
As you continue your artistic journey, remember that practice makes perfect. Keep honing your skills and exploring new subjects. Before you know it, you'll have a whole fleet of classic cars sketched and ready for display. And if you've enjoyed this thrilling ride, please consider supporting me on Buy Me a Coffee so that I can keep fueling your artistic endeavors with more engaging guides and tutorials.
Now that you've learned how to draw the Shelby Cobra Super Snake, don't be afraid to experiment with different styles, techniques, and media. The world of automotive art is vast and varied, offering endless opportunities for growth and exploration. So keep your pencils sharp, your erasers handy, and your passion for drawing alive.
Remember, the journey of a thousand sketches begins with a single stroke. Embrace the challenges, learn from your mistakes, and most importantly, enjoy the process. After all, the true beauty of art lies in the act of creation itself.
As you venture forth, don't forget to share your masterpieces with fellow artists and car enthusiasts. Inspire others with your work, and let the roar of the Shelby Cobra Super Snake echo through the artistic world.